Leclerc says Sochi may not be the best place to start from pole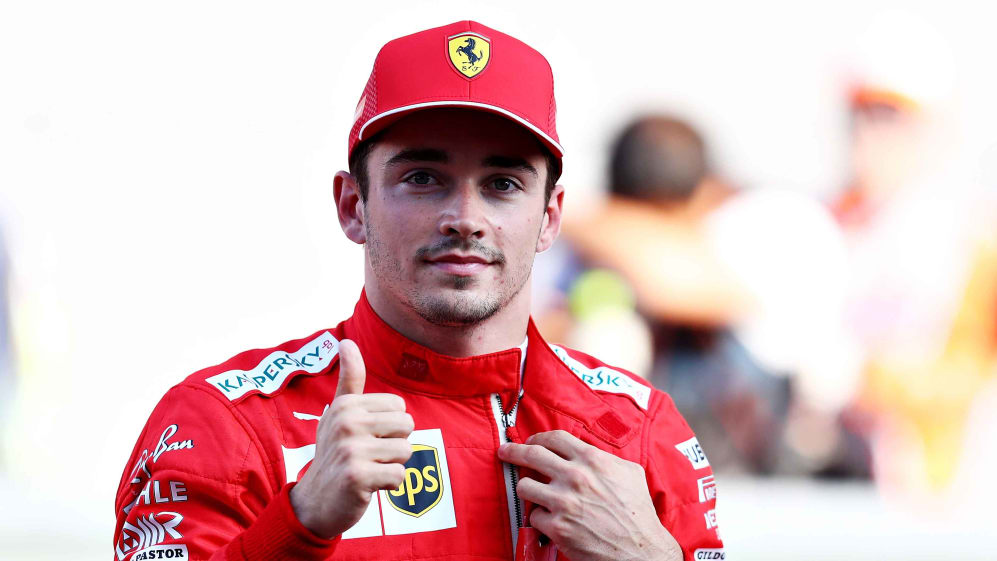 Four in a row. Pole positions for Charles Leclerc that is, after the Ferrari driver again got the better of Mercedes' Lewis Hamilton and team mate Sebastian Vettel – not to mention his 17 other F1 rivals – in Russian Grand Prix qualifying. So was he happy? Well, yes and no...
Leclerc's smile as he climbed from the car told the story of another job well done, but the Monegasque was instantly thinking of tomorrow's race, wary that the lengthy run down to Turn 2 - Sochi's first real corner - could actually make starting first a disadvantage.
"Yeah it felt amazing," said Leclerc, who will have Mercedes' Lewis Hamilton alongside him on the front row. "It definitely feels great to back on pole, but I don't know if it's the best track to start on pole.
"The straight is very long after the start, so tomorrow the start will be very important as always, but here probably even more because of the straight length."
It definitely feels great to back on pole, but I don't know if it's the best track to start on pole
READ MORE: Second-placed Hamilton hoping to 'tow the life out of Leclerc' at the start
Despite his reservations, Leclerc knows he will be the first Ferrari driver since a certain Michael Schumacher to start from pole for a fourth race in succession – another achievement the modest rookie was keen to play down.
"It definitely feels very, very special, but I don't really want to think about those stats for now," he insisted. "I just want to focus on the job - still a long way to go to tomorrow but it's definitely a good start."
Leclerc's job now is make it four wins in a row for Ferrari after his triumphs in Belgium and Italy, and Vettel's in Singapore. If the Scuderia do it, it will be the first time they've achieved the feat since 2008.
"We've been competitive all weekend long and the race simulations seem positive," added Leclerc, "so it's looking good for tomorrow."
When you can count on a driver who is so fast, that's the most you may have
Team Principal Mattia Binotto admitted he had not really expected the level of speed Leclerc has displayed over recent Grands Prix. The added bonus is that should Ferrari's race pace not be quite as strong as expected on Sunday, both his drivers have the ability to make up for that.
"It surprises me how fast he is – he's really very fast," commented Binotto. "That's something which is great and important for a team – when you can count on a driver who is so fast, that's the most you may have.
"Certainly in the races where we are maybe not our best, he can somehow try to compensate, and in the race he's learning – he's learning very fast how to manage the tyres, how to manage the entire race distance."
And speaking of tyres, what did Binotto make of Mercedes' decision to run medium tyres in Q2, and thus start the race on the yellow-marked rubber?
"[It was] surprising to us, their choice, not something we were considering to be honest. I think we need to try to understand why they did that choice.
"Certainly we believe the soft tyre has a grip advantage at the start, the start will be key tomorrow. Different straties may do something interstsing for the race for the fans."
Leclerc has only raced the Sochi Autodrom in F1 once before, but that showing bodes well – last year he came seventh in his rookie season for Sauber, the only man not in a Mercedes, Ferrari or Red Bull to finish on the lead lap.