Report
Leclerc shrugs off late reliability scare to overhaul Verstappen for Austrian Grand Prix victory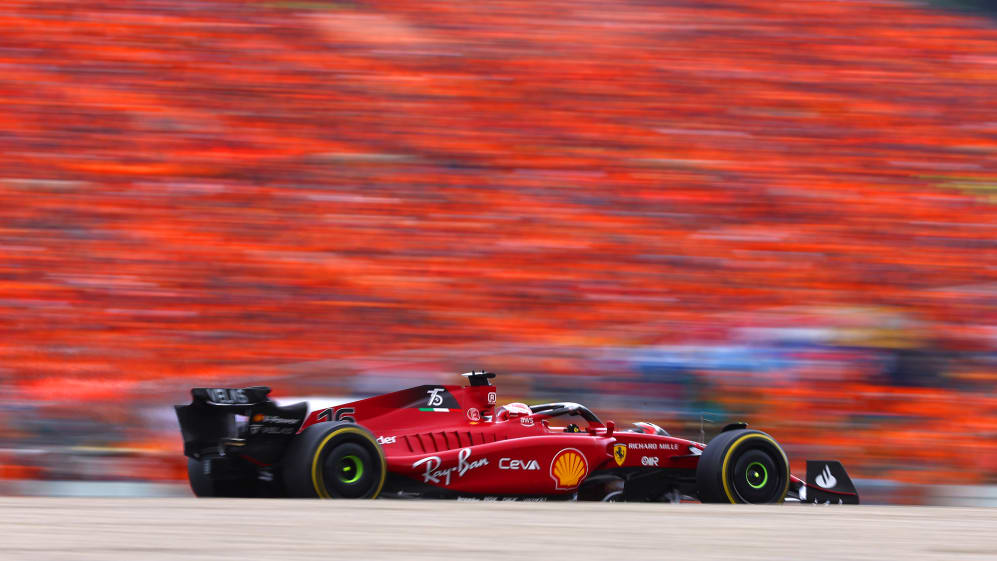 Ferrari's Charles Leclerc won the Austrian Grand Prix over Red Bull's Max Verstappen with Lewis Hamilton completing the podium for Mercedes – after Carlos Sainz retired.
Leclerc took the lead when the Sprint winner and championship leader Verstappen pitted on Lap 12. Leclerc pitted much later, on Lap 27, and retook the lead with a pass on Lap 37. With Sainz challenging Verstappen for P2, the Dutchman pitted again on Lap 37.
Leclerc took his second stop on Lap 51 and retook the lead on Lap 53. With Sainz right on Verstappen's tail, the Spaniard suddenly slowed – the fire at the rear of his Ferrari signalling the end of his race. That promoted Hamilton, who had battled from P8 to P4, to the final podium place.
Despite a late-race scare in which Leclerc reported his throttle pedal to be sticking, making downshifts difficult and allowing Verstappen to close to within 2.3s, he won for the first time since Round 3 at Melbourne, Verstappen missing out on a third-straight win at the Red Bull Ring.
George Russell was a distant fourth having started there, the Mercedes driver losing time in his first pit stop – a five-second penalty also tacked on as he collided with Red Bull's Sergio Perez early on. Alpine's Esteban Ocon rounded out the top five having started sixth, Perez having retired soon after that Russell collision.
FORMULA 1 ROLEX GROSSER PREIS VON ÖSTERREICH 2022
Austria
2022
Race results
POSITION
TIME
POINTS

1

Charles

Leclerc LEC

Ferrari

1:24:24.312

25

2

Max

Verstappen VER

Red Bull Racing

+1.532s

19

3

Lewis

Hamilton HAM

Mercedes

+41.217s

15

4

George

Russell RUS

Mercedes

+58.972s

12

5

Esteban

Ocon OCO

Alpine

+68.436s

10
Mick Schumacher was the fans' Driver of the Day, having overtaken both McLaren's Lando Norris (P7 having served a five-second time penalty for exceeding track limits) and Haas team mate Kevin Magnussen in P8. Daniel Ricciardo made it a double points finish for McLaren in P9, both the team's drivers enjoying renewed pace with their medium-hard-hard strategy.
Fernando Alonso rounded out the top 10 from last on the grid for Alpine, having had to pit three times – a potentially unsafe release causing him to come in twice during the Virtual Safety Car caused by Sainz's retirement.
Starting from the pit lane, Alfa Romeo's Valtteri Bottas made it up to P11 at Alex Albon's expense, the Williams driver having finished 12th after starting 15th.
Lance Stroll was next in the order, 13th for Aston Martin, with Alfa Romeo's Zhou Guanyu just behind in P14. Pierre Gasly and Yuki Tsunoda struggled for AlphaTauri, finishing 15th and 16th respectively. Damage picked up early on, however, left Aston Martin's Sebastian Vettel 17th following a collision with Gasly for which the Frenchman was penalised.
Sainz was the third retiree, Williams' Nicholas Latifi and Perez also bowing out, yet Ferrari have scored two consecutive victories to pile some pressure on championship leader Verstappen ahead of the French Grand Prix.
As it happened
Pre-race theatrics at the Red Bull Ring – including parachutists, a jet-engined truck and pilots pushing the limits – played undercard to the greatest show, 20 drivers facing off for supremacy in the 2022 Austrian Grand Prix.
Nineteen drivers lined up on the grid with Valtteri Bottas starting from the pit lane, pole-sitter and Sprint winner Max Verstappen to lead the field ahead of Charles Leclerc and Carlos Sainz – Fernando Alonso last on the grid with a new power unit.
Clouds hovering over the circuit, sun poking out, the formation lap got under way without a hitch – everyone bar Zhou Guanyu, Yuki Tsunoda, Sebastian Vettel and Alonso starting on medium tyres.
Verstappen scythed across the front of Leclerc at the start, Sainz going wide at Turn 1 but recovering to stay ahead of George Russell – on whom Sergio Perez attempted a move around the outside of Turn 4, ran out of room and was tapped into the gravel into last place from where he pitted with damage to take on hard tyres at the start of Lap 2.
With Lewis Hamilton taking too much of the kerb out of Turn 1 on Lap 4, Mick Schumacher blazed past for P7 and had eyes on his Haas team mate up ahead. At the very front, Leclerc was in DRS range of Verstappen, Sainz another 2.5s back and Russell struggling to keep pace after his contact with Perez, for which the Briton would receive a five-second time penalty – the Mercedes leading a train of cars up to Lando Norris in P9.
The Ferrari of Leclerc was menacing in the mirrors of Verstappen, still trailing the Red Bull – both having lapped Perez by this point – on Lap 10, when he'd make his move and almost made it into the lead down the inside of Turn 3. Leclerc tried again, switching to the outside of Turn 4, but Verstappen retained P1.
"I cannot hold this long," said Verstappen as he began to feel the heat. Lap 12, and Leclerc was right on his tail, braking late into Turn 4 and taking the lead down the inside.
Russell took his five-second penalty in the pits on Lap 12, emerging last with a new nose and hard tyres in a slow stop, releasing Esteban Ocon into P4.
Verstappen tried to hit back on Lap 13, locking up into Turn 4, and soon complied with the message to box, pitting for hards at the end of the lap. The stop wasn't ideal and the reigning champion left the pits in P8. Norris was next to pit, coming in and giving the Dutchman another place.
A little down the order, Hamilton was now on the pace, executing a stunning move on Schumacher for P5 down the inside of Turn 7 on Lap 15 and taking the next spot off Magnussen soon after. The Dane pitted but Schumacher stayed out, the Red Bull of Verstappen in his mirrors before blasting past on the run to Turn 3 on the next tour.
Up next for Verstappen was the Mercedes of Hamilton – a crucial pass needing to be made if he was to challenge the Ferraris. The seven-time champion fought off his 2021 title rival initially, but had to give way on the run to Turn 4 on Lap 18. The question now was whether Verstappen had lost too much time in the process of taking P3.
In the lead, Leclerc and Sainz continued to lap past Lap 20 with Verstappen picking up the pace and closing the gap.
Alonso made it up to P8 by Lap 20 but let team mate Ocon, on newer tyres having pitted from P4 on Lap 15, past him. Ocon battled with Zhou and passed him inside Turn 4 on Lap 23. Alonso, however, couldn't make it past Zhou for P8 and was stuck behind him for a number of laps. That allowed Magnussen to close the gap on newer tyres and send it down the inside of Turn 1 and trigger a five-car battle for position into Turn 3.
In that five-car scrap, Norris also enjoyed his tyre advantage (having stopped for hards on Lap 14) to hop into P9 behind Magnussen – Zhou pitting for the start of Lap 25 – with Alonso then losing P10 to Schumacher, who had pitted for tyres on Lap 16. Schumacher pried P8 off Norris – who felt aggrieved that he hadn't been given enough room into Turn 4 during that move.
Verstappen bearing down, Leclerc pitted and emerged third on Lap 27, seven seconds between him and the Red Bull, while Sainz held a 10-second advantage in the lead before pitting on the following lap to emerge fourth behind Hamilton. That stop for Sainz saw Verstappen retake the lead.
Hamilton would pit for hards in a stop that lasted 4.1 seconds – to cover off an undercut from Ocon – and emerge side-by-side with the Frenchman in the battle for P4 on Lap 29. Ocon edged ahead but lost out to the Briton entering Turn 3 on the following lap.
Leclerc was pushing, the gap to Verstappen down to 1.5s on Lap 31, and two laps later he had DRS on the Dutchman, cutting down the inside and taking the lead back with ease at Turn 3. The reigning champion radioed to say that the car was "unpredictable" as he stared down a 1.5 second deficit to the Monegasque – aiming to protect a four-second advantage on Sainz.
Schumacher, meanwhile, continued his strong show of pace, passing Magnussen (who ran wide at Turn 7) on Lap 34 for P6. The Dane would lose another place to Norris on Lap 42 and then pull in for another pit stop. Norris on the other hand had a five-second penalty for transgressing track limits.
Lap 37 saw Verstappen bail out with Sainz in his mirrors, the Red Bull driver pitting from P2 for hards and emerge well clear of Hamilton. The Dutchman was soon told to "just match Hamilton's lap times", the seven-time champion just over six seconds behind – Leclerc enjoying the same advantage over his team mate Sainz.
Leclerc took his second pit stop on Lap 51, one lap after team mate Sainz, to release Verstappen back into the lead – a lead that amounted to just two seconds over the first Ferrari, and just seven to the second of Sainz in P3.
Leclerc bore down on the Dutchman and on Lap 53 came the pass for the lead as he enjoyed a superior exit from Turn 4, leading Verstappen to say: "What a joke that traction is."
Sainz was right on Verstappen's tail but on Lap 57, the Ferrari driver slowed and pulled off the track. Soon, debris and flames began to pour out of the engine bay and through the scalloped sidepods of the Scuderia – but Sainz managed to climb out safely.
He sat on a grassy bank, his expression conveying equal amounts of frustration and disbelief. That triggered a Virtual Safety Car, Leclerc and Verstappen pitting for mediums with Hamilton now third, having taken a free stop for a set of mediums on Lap 52. Alonso was the other taker, pitting just as the VSC ended on Lap 60.
Leclerc led away as green-flag racing resumed, but complained that his throttle pedal felt "weird", tifosi around the world struck with pangs of worry. The throttle issue began to become clear when Leclerc explained that it was stuck, and Verstappen began to cut the gap down as the leader struggled through the low-speed sections.
But Leclerc hung on and won his first race since the Australian Grand Prix – albeit by just 1.5s by the flag. Hamilton completed the podium, a welcome result given his car was in pieces after qualifying.
Russell started fourth and finished there, his slow pit stop and five-second penalty preventing him from reaching the rostrum. He held off Alpine's Ocon, who completed the top five and was the last driver on the lead lap – making a net gain of one place thanks to Perez's retirement.
Schumacher left Norris, who served a five-second time penalty for track limits and Magnussen behind to finish sixth and take Driver of the Day honours – a second consecutive points score for him – and a double point score for Haas with Magnussen eighth. It was also a double points score for McLaren, Norris and Ricciardo's similar medium-hard-hard strategies putting them seventh and ninth, respectively.
Alonso, 10th for Alpine despite starting last, pitted during the VSC but had to come in again on the following lap, just as the VSC was ending, for another costly stop – with an unsafe release investigation to be undertaken by the Stewards.
Bottas missed out on the top 10, finishing 11th from the pit lane having closed in on Alonso at the end, he held off Albon by 4.6 seconds, the Williams driver rapid in the straights and keeping Lance Stroll, 13th, at bay.
Zhou endured a difficult day, starting on hards unlike the majority, and finishing 14th. He held off Pierre Gasly of AlphaTauri and his team mate Yuki Tsunoda, who were 16th and 17th respectively.
Sebastian Vettel complained that he had damage on his car early on, understeer making his job even harder, and his problems were compounded on Lap 40 as he was tapped into a spin while trying to pass Gasly around the outside of Turn 4. The German ended up 17th and last.
Leclerc's victory perhaps provided enough jubilation to account for Sainz's retirement, but Red Bull will feel like they lost an opportunity after Verstappen took pole and won the Sprint – with Perez's Lap 24 retirement costing them even more. Nicholas Latifi didn't make it to the finish line either, his Williams pulled into the pits on Lap 47.
At the home of the Bulls, the Prancing Horse reigned supreme – but who will take the spoils on neutral ground as the field heads to France for the next round?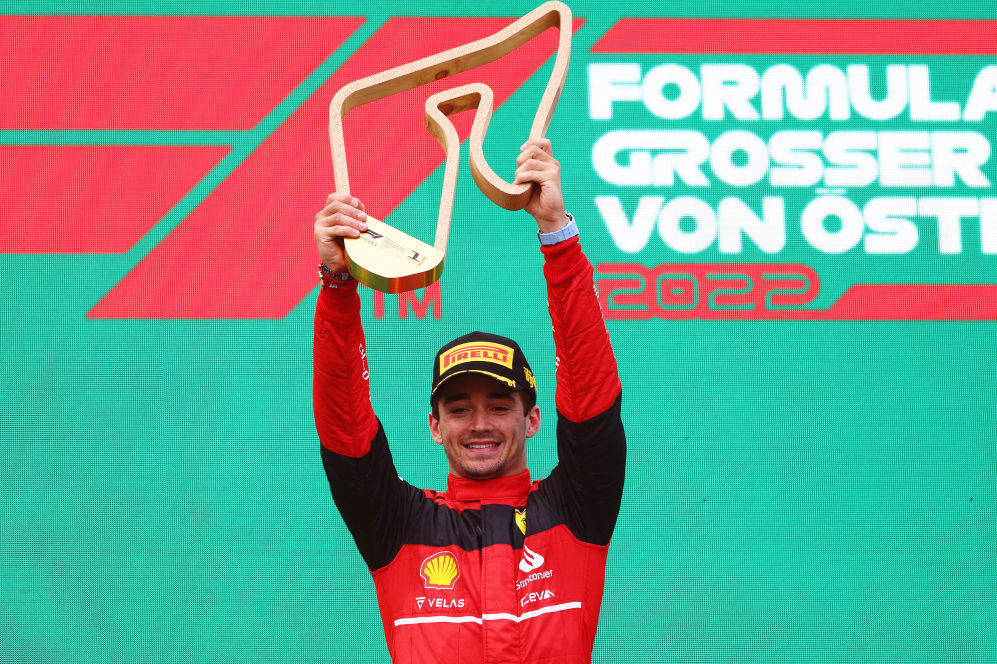 Key quote
"It was a really good race," said winner Leclerc. "The pace was there, at the beginning, we had some good fights with Max and the end was incredibly difficult. I had this problem with the throttle and it would get stuck at 20 or 30% throttle in the low speed, so it was very tricky but we managed to make it stick until the end and I'm so, so happy.
"I definitely needed that one. I mean, the last five races have been incredibly difficult for myself but also for the team obviously, and to finally show that we've got the pace in the car and that we can do it is incredible, so we need to push until the end."
What's next?
Ferrari are on a roll, Red Bull still however in the lead of both championships. Circuit Paul Ricard welcomes the field for the 2022 French Grand Prix on July 22-24. Head to the RACE HUB to find out more.