Leclerc 'very happy' with Sauber progress despite Hungary disappointment
The Hungarian Grand Prix was a race to forget for Sauber, with Charles Leclerc retiring after first-lap contract with the two Force Indias, while Marcus Ericsson's own first-corner impact with Daniel Ricciardo ended up compromising his afternoon, as he finished 15th. Taken as a whole, though, Leclerc still feels that Sauber's first half of the season has defied all expectations…
Leclerc's weekend had got off to a bad start, as he failed to make it out of Q1 for the first time since the Chinese Grand Prix back in April, ending up 16th on the grid. Life didn't get any easier when the race started, either, with Leclerc getting squeezed in between the pink and white cars of Sergio Perez and Esteban Ocon at the first corner.
"Basically in Turn 1, I was between Checo and Esteban," said Leclerc. "I think, to be honest, they just didn't see me. I couldn't do anything, I couldn't back off because obviously I had cars quite close behind and anyway my wheels were in front of their rear wheels. We just made contact and I had one piece [of debris] that went into my radiator. That broke the radiator and then it was race over."
Despite the disappointment in Hungary adding to an unwanted recent run of results – Leclerc retired in Silverstone after his front wheel wasn't correctly fitted in the pit stops, while in the changeable conditions in Germany he could only manage 15th – the combination of Leclerc and Sauber has been a potent one for the majority of 2018. The 2017 F2 champion has a highest finish so far of sixth in Azerbaijan, while he's also manhandled his Sauber C37 into Q3 on three separate occasions this season.
For a team that scored a total of seven points over the whole of the 2016 and 2017 seasons – Leclerc on his own has 13 so far this year – Sauber's transformation has been remarkable.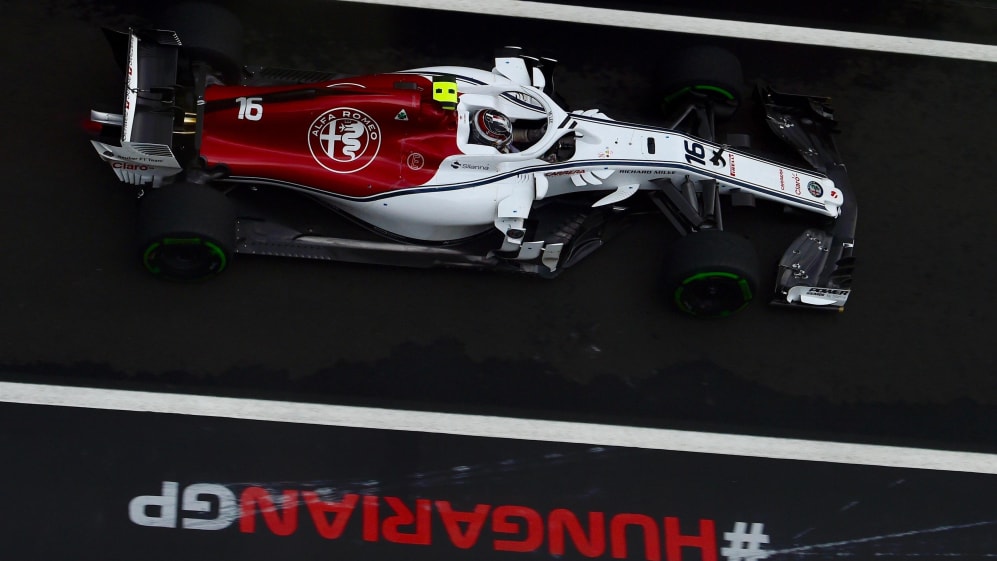 "Very happy," said Leclerc when asked what he made of the Swiss team's progress. "After the three first races, if you would have told us that we would be fighting on a regular basis at the end of this first half in Q3, we wouldn't have believed it, so I'm very happy about the progress we have made."
Despite the plaudits he's received this season – and there have been a lot – Leclerc is also aware that he's not yet the finished product. He's previously admitted that he struggled with set-up issues for the first three races of the season, revealing to Formula1.com that his lack of experience meant that he had been asking Sauber's engineers for "a very tricky car".
At the Hungaroring again, we were reminded that Leclerc is still only 12 races into his F1 career, as he bravely conceded that his driving in the changeable conditions of qualifying had fallen short of his high standards. But Leclerc, again demonstrating the startling maturity we've seen so often this season, refused to be cowed by the admission, simply adding it to the list of things he plans to work on as his career progresses.
"I feel now a lot more confident in the car," he said. "There are definitely a lot of things that I can still improve. Wet/dry conditions when it's a bit half-half, I'm not driving well at the moment in these conditions. It's either full wets or full drys and not in between, and this I need to work on. But there are plenty of positives to take."