Feature F1 Unlocked
Leclerc vs Verstappen and Williams chasing big points haul – What To Watch For in the Las Vegas Grand Prix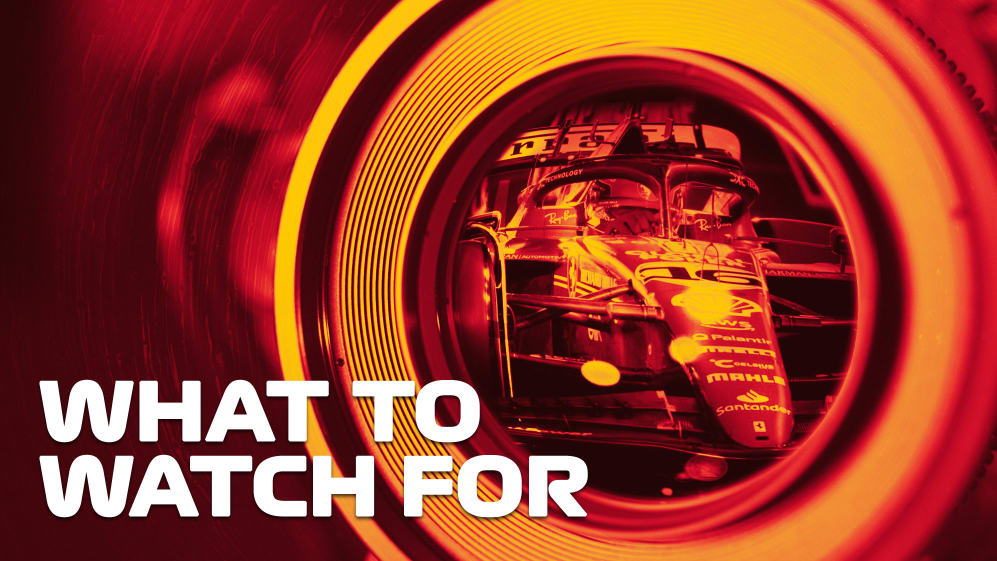 From a genuine fight for the win to Williams in excellent shape with both drivers, and from Carlos Sainz on the charge to plenty of overtaking opportunities, Chris Medland picks out five key areas to look out for on race day at the all-new Las Vegas Strip Circuit…
1. Leclerc vs Verstappen
Charles Leclerc has been on the pace right from the start of the Las Vegas weekend and duly handled the pressure of being the favourite heading into qualifying with aplomb as he secured his third pole position in four races.
READ MORE: Leclerc charges to pole for Las Vegas GP ahead of Sainz and Verstappen
It was an impressive performance right up to Q3, when the Ferrari driver felt he still didn't get his laps together despite beating everyone else. It did mean the gaps were small, though, and Carlos Sainz so nearly got the better of his team mate, but at least outpaced Max Verstappen to end up second overall.
But a grid penalty means Sainz will not start from second and it'll be Verstappen who will line-up alongside Leclerc on the front row for Saturday night's Grand Prix.
It's a mouthwatering prospect as Ferrari are clearly extremely quick in Las Vegas, and while Red Bull would usually have a notable performance advantage in race conditions, the running so far suggests it won't necessarily be easy to pass Leclerc.
Verstappen will get a chance at the start as he is on the inside line for Turn 1, but the short run from the line and the fact the next two corners turn right and would allow Leclerc a chance to fight back, mean we could be in store for some aggressive fighting in the opening few turns.
2. Williams after a big haul
Earlier in the season Alex Albon earmarked the Las Vegas Grand Prix as a particularly good opportunity for Williams to be quick, but it would still have been an ambitious call to predict that both cars would end up lining up on the third row.
The track clearly suits the Williams and they've been competitive all weekend – and rookie Logan Sargeant has capitalised on the level playing field that a new track brings to secure the best qualifying result of his career to date with sixth on the grid, one position behind Albon (thanks to Sainz's penalty moving both up one place each).
READ MORE: 'Finally I got it all together!' – Sargeant thrilled with breakthrough qualifying display in Las Vegas
A big part of that performance has come from the FW45's famously impressive straight line speed, but the car is also not as weak as Albon had feared in the opening part of the lap, making it a solid all-rounder at this track.
And that means both drivers should be hard to pass once the race settles down, which opens up the possibility to turn those promising starting positions into points for both drivers – and that could all-but-secure seventh place in the constructors' championship before the final round next week in Abu Dhabi.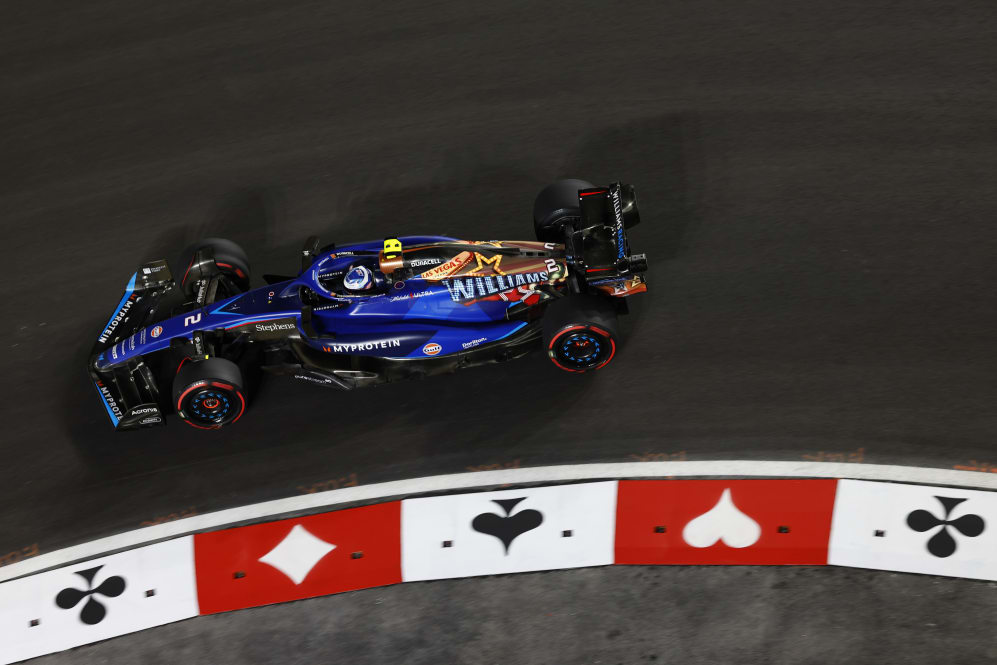 3. Carlos Sainz fighting back
Thursday was an unlucky day for Sainz, who had arrived in Las Vegas with high hopes of Ferrari fighting at the front of the field. That's because of the track's similarities with Monza – in terms of downforce levels and demands at least – a venue where the Spaniard was on pole position and finished third.
And he finished FP2 second quickest behind team mate Leclerc to back-up that optimism – but by then he already had a penalty awaiting him.
READ MORE: Sainz handed 10-place grid drop for Las Vegas Grand Prix after practice incident
Sainz was extremely unfortunate to strike the water valve cover that brought FP1 to an early end, sustaining significant damage to his Ferrari. Part of that damage required a replacement energy store (ES) that saw Ferrari exceed their component limits, resulting in an automatic 10-place grid penalty.
So after qualifying second by just 0.044s, Sainz will start from 12th place and will be looking to make overtakes in what is clearly a quick Ferrari this weekend. If you had to try and predict the biggest mover in the race, it's likely that Sainz would be top of your list for Saturday night under the lights.
4. Alonso, Hamilton and Perez ready for a scrap
There were a few shocks throughout qualifying with both McLaren drivers dropping out in Q1, and then Q2 seeing Sergio Perez and Lewis Hamilton eliminated. The weather conditions and getting the tyres to work played a central role, meaning those qualifying positions don't necessarily reflect the outright performance potential in the respective cars.
The battle for second place in the drivers' championship is now mathematically only between Perez and Hamilton, but Fernando Alonso can also still catch Hamilton for third overall and is starting ahead of both on the grid, albeit in ninth ahead of Hamilton in 10th, Perez 11th and then the demoted Carlos Sainz in 12th.
READ MORE: Hamilton rues 'pretty terrible' qualifying in Las Vegas as he explains reason for being 'caught out' in Q2 exit
The Ferrari driver is also in the mix for third overall as he sits just six points behind Alonso, although Norris splits the pair of them.
They might be at the back end of the top 10 for once, but it should be a great fight between all four even if it's difficult for them to make any significant progress through the field.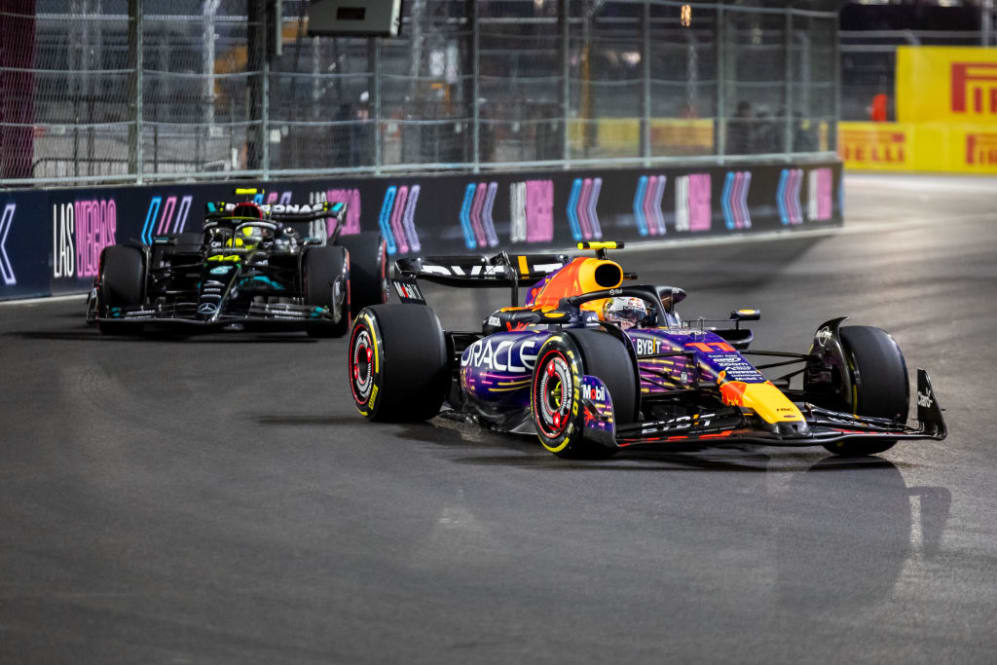 5. Overtaking opportunities
The location of the Las Vegas Strip Circuit is incredible as it means the drivers will be racing down the city's iconic boulevard – and race is very much the term that is expected to be used when it comes to lights out.
After exiting Turn 12 onto the Strip, the cars reach well over 200 miles per hour before hitting the brakes for the three-part chicane towards the end of the lap, and with a DRS zone to boot there's likely to be plenty of overtaking along that stretch. The heavy breaking area also provides a chance to get moves done, as does the following straight before a fast left-handed final corner.
HIGHLIGHTS: Relive the action from qualifying in Las Vegas as Leclerc clinches pole
But those are the chances that are coming later in the lap, with the first DRS zone located between Turn 4 and Turn 5, where a particularly tricky braking zone awaits.
We've seen multiple drivers take to the run-off area at Turn 5 and Alex Albon even hit the wall in final practice, so it's not an easy corner to get right and is likely to be the scene of plenty of battles before the field tackles the spectacular Sphere section.
The organisers worked hard to try to build a track that allowed exciting racing – we'll soon find out if they got it right…
To read on, sign up to F1 Unlocked for free
You'll unlock this article and get access to:
Live leaderboard data
Epic experiences and rewards
Money-can't-buy competitions