Feature F1 Unlocked
Leclerc's charge from the back and Sainz taking the fight to Verstappen – What To Watch For in the Spanish GP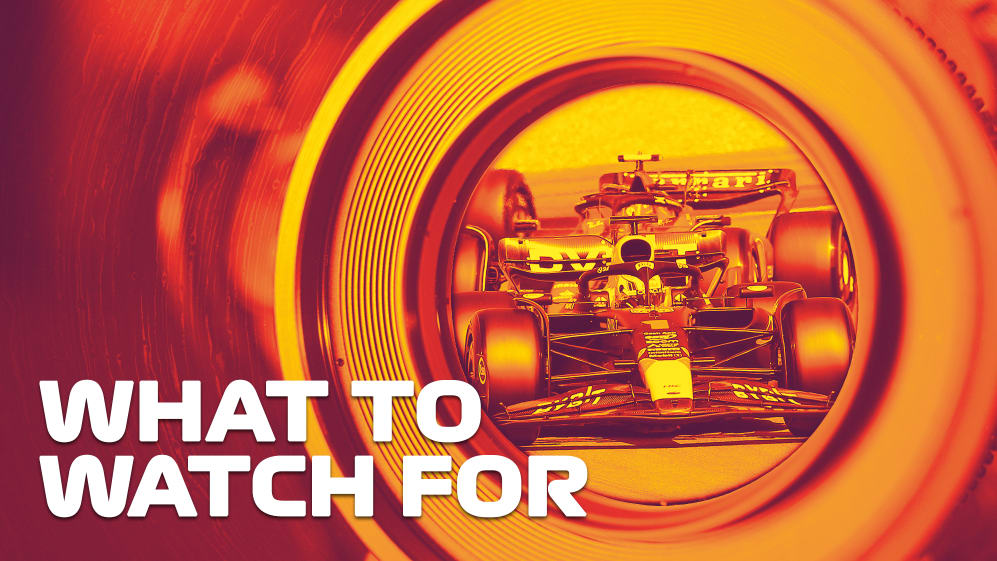 From a home hero on the front row to McLaren chasing a first podium this year, and from drivers out of position to the impact of a new track layout, we highlight some key areas to look out for when the lights go out at the Circuit de Barcelona-Catalunya…
1. Sainz taking the fight to Verstappen
This track was always expected to suit Red Bull so to not have a front-row lock-out is one of many surprises so far this weekend, even if their advantage is rarely at its biggest in qualifying.
READ MORE: Verstappen storms to Spanish GP pole ahead of Sainz and Norris after Leclerc drops out in Q1
Max Verstappen was in superb form to comfortably take pole and have the luxury of being able to abort his final attempt – but the home fans were still thrilled by Carlos Sainz joining him on the front row.
Sainz has yet to finish on the podium this season and has had some tricky qualifying sessions but he impressed with his final lap to take P2, and will have his eyes on getting the jump on Verstappen on the long run to Turn 1 on Sunday.
Whether he can stay there is another matter, but the home fans have seen a Spaniard driving a Ferrari take the lead here before…
Speaking of Fernando Alonso, he was left to rue an error in Q1 that gave him floor damage and limited him to ninth on the grid, but he also felt he had the pace to match Sainz's time – even with a hampered car – and is eyeing a fightback through the field on Sunday.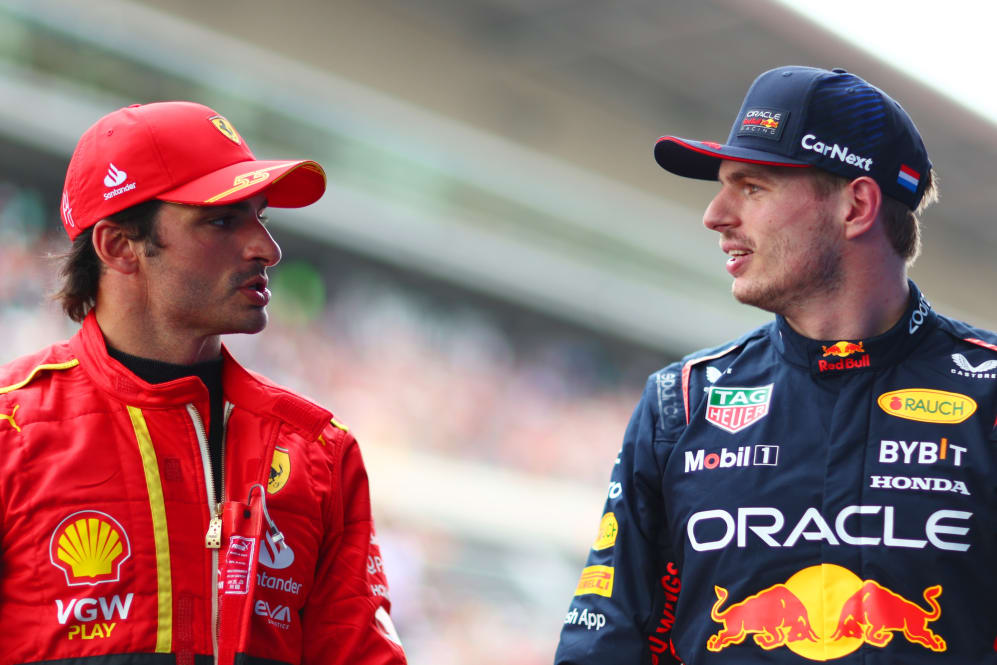 2. Norris chasing a podium
One driver who will be hoping to keep that fightback at bay is Lando Norris, who secured his best starting position of the season with third on the grid.
It's another shock result given some of McLaren's struggles this year but both drivers were quick in qualifying with Oscar Piastri also through to Q3.
READ MORE: Gasly handed two three-place grid drops for impeding Verstappen and Sainz in qualifying
Norris has scored a podium in all but one of his seasons in F1 so far – failing to do so only in his rookie year – and this is his first realistic chance to extend that run as McLaren continue to try and improve their car after a tough start to 2023.
Lewis Hamilton is alongside him on the second row after a grid penalty for Pierre Gasly and will offer the first threat to Norris, but there are a number of other drivers in quick machinery that will also be looking to work their way into the battle.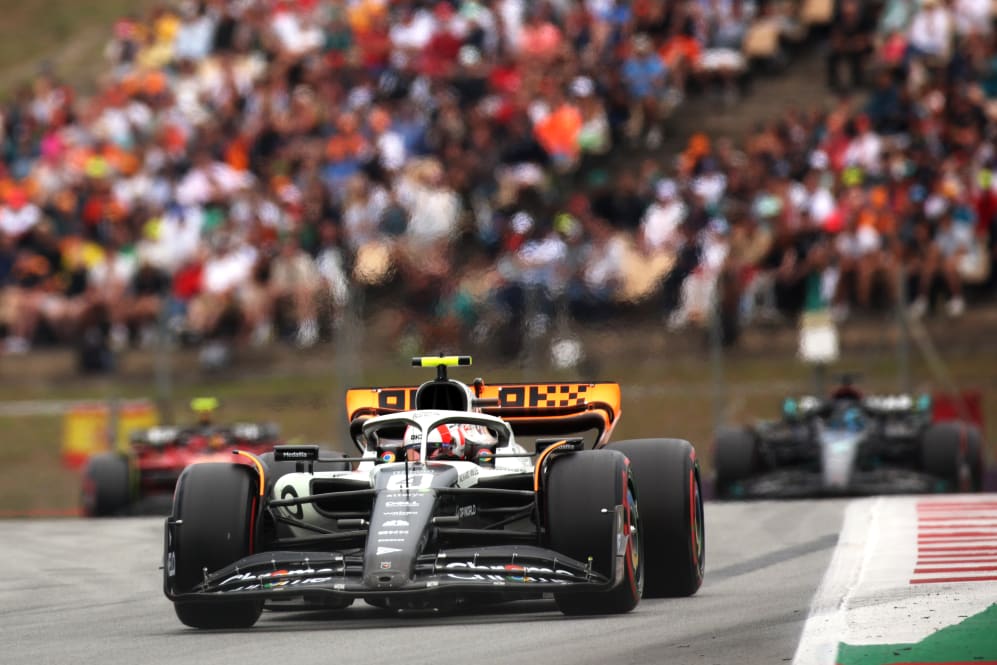 3. Perez with work to do
When we talk about quick drivers out of position, we can certainly add Sergio Perez to that list.
The Mexican went off at Turn 5 on his Q2 run and such is the close nature of the field in F1 at the moment, that was enough to eliminate him from the session in 11th place despite him getting one last go at it.
READ MORE: Hamilton forced to 'eat my words' after Spanish GP qualifying as Russell describes intra-team Mercedes clash
But as Verstappen has shown, the Red Bull can be supremely fast around the Circuit de Barcelona-Catalunya, and usually they have a larger advantage in race trim.
Simply getting back into the points is not going to be enough for Perez after he failed to score in Monaco last weekend, leaving him 39 points behind Verstappen and just 12 ahead of Alonso in the drivers' championship, so he will be aiming to get a spot on the podium at the very least despite his starting position.
4. Leclerc from the back
In contrast to Perez, Charles Leclerc probably would sign up for a points return at this point, after a perplexing qualifying session saw him eliminated as the second slowest car overall.
Leclerc was clearly struggling from early in Q1 and told his team via radio that he felt there was a problem with the car, but it wasn't something that could be identified in the limited time available and he had to try and rescue his session with a final attempt on new tyres, but could not progress.
READ MORE: Leclerc left searching for answers after 'very, very weird' feeling leads to shock Q1 exit in Spain
After admitting he wasn't even surprised that he was knocked out so early given the feeling inside the car, Leclerc is hopeful Ferrari will find something specific that was wrong and be able to fix it in time for the race. If they can, then his Friday running was a reason for optimism, with tyre degradation levels and consistency better than Ferrari has been able to enjoy at most venues so far this season.
Add in the fact that it's like to be a race featuring a number of pit stops – providing strategic options to make progress as well as the racing on track – and Leclerc could be one of the most exciting drivers to watch as he attempts to fight his way through the field on Sunday.
5. Overtaking opportunities
The biggest difference compared to last year's visit to the Circuit de Barcelona-Catalunya is the track layout, with the removal of the chicane in the final sector. Now, the penultimate corner is a fast, sweeping right-hander and the final corner is similarly quick onto the pit straight.
The changes will have an impact in a number of ways, including on tyre life with the stress put through the front left throughout the end of the lap. But the main reason for the return to what was a layout used until 2006 is to try and encourage more overtaking.
HIGHLIGHTS: Relive a dramatic qualifying as Verstappen takes Spanish GP pole ahead of Sainz
Previously, the chicane would lead to an accordion effect, where the lead car is able to start accelerating from a low speed earlier than the car behind, and it's not until they both near top speed that the DRS and slipstream really has an impact. But as drivers can follow closely thought the previous two corners, now the high-speed final two should mean top speed is approached earlier and the car behind can attack.
If overtaking proves much easier than in the past, then that could also have a knock-on impact on strategy, with teams more likely to make an extra pit stop if they know they can recover through traffic.
To read on, sign up to F1 Unlocked for free
You'll unlock this article and get access to:
Live leaderboard data
Epic experiences and rewards
Money-can't-buy competitions