Interview
Lewis Hamilton Q&A: Vettel re-signing has 'made life easier'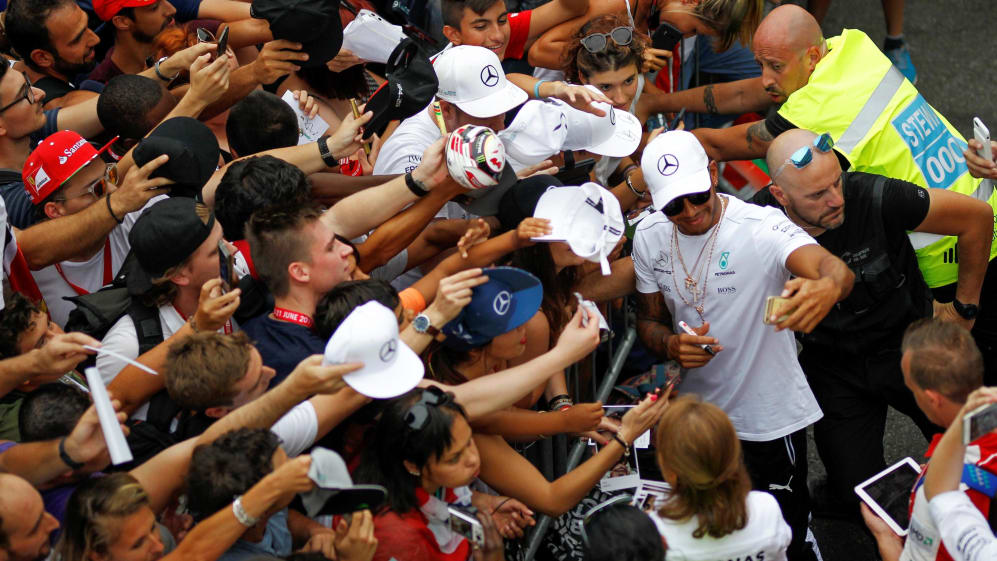 Mercedes' Lewis Hamilton comes into this weekend's Monza race knowing that if he can beat Ferrari to victory on their home turf, he will come away at least sharing with Sebastian Vettel the lead in the driver standings. Vettel, of course, has just extended his contract with the Scuderia for another three years – a move which has made Hamilton doubly certain of where his F1 future lies, as he explained to the press in Italy on Thursday…
Q: Lewis, do you feel you are in the enemy's back garden, being here in Italy?
Lewis Hamilton: Actually not anymore. Many years ago I felt that I was in the enemy's back garden, but since the last maybe four, five years I felt such a warm welcome here from the Ferrari fans, which is much appreciated as now every time I come I rather feel at home. I love it here, not only because the track is amazing. When I turn up here at the gate, obviously there are a lot of Ferrari fans here, and maybe at least 50 percent of them say "Come to Ferrari, come to Ferrari".
Q: So how do you answer them?
LH: I just say 'Thank you'! (Laughs)
Q: After the Belgian race the driver standings are looking a lot rosier for you. Do you think that from now on everyone at your team will help you secure the championship over Sebastian Vettel and Ferrari?
LH: I don't know, simply for the reason that there has been no conversation that anything will change from last to this weekend. My job is still the same, and the team has given me the best opportunity possible. I think the team wants to win both championships, so I of course hope that we will get the opportunity to do that. So far I got all the support from the team that I needed. At some point I would hope that the team makes a decision on their own, and we have the best people on the team, like Niki (Lauda) and Toto (Wolff) who will hopefully know at the right point what is best for the team.
Q: The Ferrari and Mercedes cars seem to be almost equal; maybe the Ferrari is a bit quicker as it has more downforce. Do you think it is especially qualifying that is making the difference for you, allowing you to start from pole position?
LH: It was for sure the case in the last race. If the positions had been swapped for whatever reason, I think we would have not been able to pass the Ferrari. It would have not been easy to follow them in the straight line, and in the middle sector where they had more downforce it would not have worked. Every time you arrive at a track it is about you making a compromise in the set-up, and our last one has just worked out enough to get us ahead. For sure qualifying will be interesting, and at a lot of places we go to it is almost impossible to overtake, particularly with the new cars, so the Q3 laps are very important – so it is almost my favourite part of the weekend.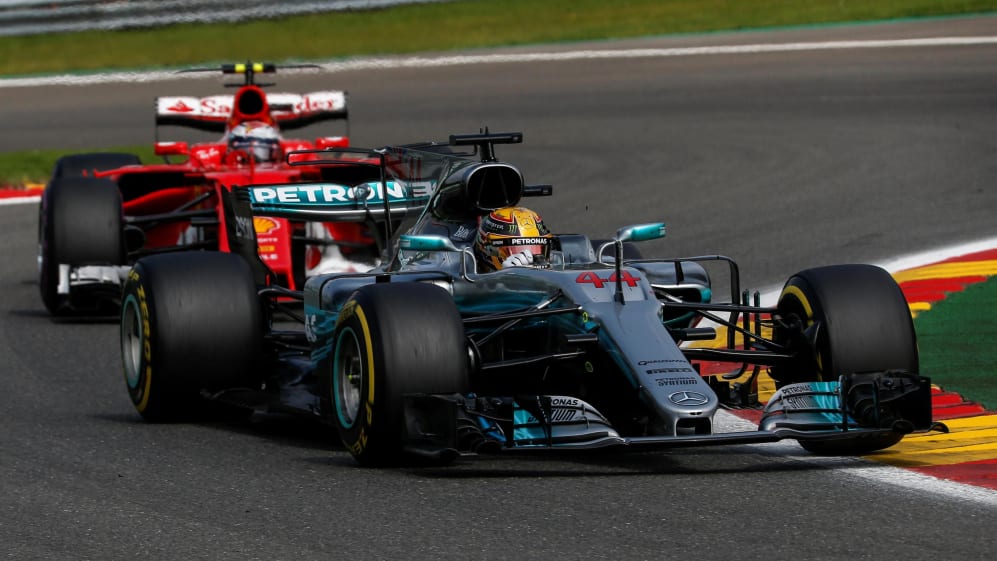 Q: The race in Monza has always been a race that you have done well in. Do you think that this year you will have a chance here, and to be ahead in the game before we go to Singapore, where it might be the other way round?
LH: We have often gone to tracks where we thought that our car is going to be strong, and then suddenly it is a lot closer than you plan. It is really difficult to say at this moment where we are going to be quicker and where not. Of course I hope that we are going to be ahead, but also in Spa we had thought we had a bigger delta over Ferrari and would be further ahead, but it wasn't the case. It is going to be interesting here with another low-downforce circuit, as we will have a different downforce package as we did at the last race.
Q: What feeling do you get racing here in Monza?
LH: This track holds incredible passion for motor racing and all its history. Today they do not make circuits like they used to. I do not know why, but the people that made this track got so much character into this circuit, and designed some incredible corners as well. This is a unique circuit that we get to go to, plus we have that incredible crowd that is coming that creates this amazing atmosphere. On top of that the food is really good and the weather too.
Q: Niki Lauda said that he had a conversation with Sebastian Vettel about his contract for next year. Does this surprise you at all?
LH: I am aware of who contacted the team and that is really down to a really good relationship with Toto (Wolff). He is very open with me about who calls, and of course sometimes it is really interesting to hear who calls and who tries to either take my seat or the seat next door to me – and then to see, following those calls, the manoeuvres that happen such as, for example, Sebastian (Vettel) signing.
Q: Does the length of Sebastian Vettel's contract rule out the possibility that you could be moving to Ferrari anytime soon?
LH: I don't know if anyone expected him to sign a three-year deal. It doesn't really change anything for me, because I plan to extend with the (Mercedes) team and this we will do in the second part of the season, towards the end of the year. The reason why Toto (Wolff) said this is simply because this is what I generally like to do. There is no rush, and I know the team is fully committed to me. I am not trying to weigh out my options, and even if I was I would just call Toto (Wolff). Currently I have no plans to do that. It is good for Sebastian (Vettel) that he has signed now. I think all things happen for a reason, and that decision made my life probably a lot easier, as I know very much now where I am going to spend my time for the few years I have left in this sport.