Podcast
LISTEN: Max's misfortune, Perez's joy, and Mercedes under pressure – The F1 Nation crew on the Azerbaijan GP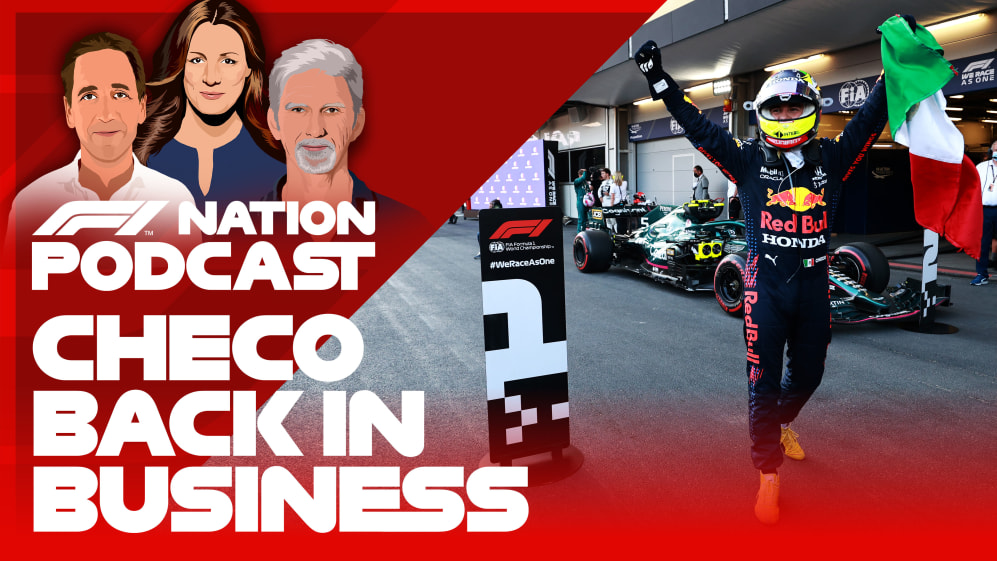 Damon Hill, Tom Clarkson and Natalie Pinkham look back on the thrilling Azerbaijan Grand Prix in this week's episode of F1 Nation – with another edition of Ask Damon…
Sunday saw Sergio Perez secure his first victory for Red Bull in a highly dramatic race that saw pole-sitter Charles Leclerc fall down the order, Max Verstappen crash out from the lead late on, and Lewis Hamilton make a crucial mistake in the dying moments of the race that dropped him out of the points from second place.
RACE HIGHLIGHTS: See all the action from an extraordinary win for Perez in the Azerbaijan GP
The hosts pick apart details from the race including the two separate accidents that saw Lance Stroll, then Verstappen, crash out at high speed. As for winner Perez, the gang discuss his brilliant win and why he's a formidable force, before turning their attention to podium finishers Sebastian Vettel and Pierre Gasly.
They also discuss what's going on with Mercedes, as the team came away from Baku without a single point. "We're seeing now, Mercedes having stress fractures. We're seeing them being put to the test by a competition that is obviously hotting up..." says 1996 World Champion Damon.
WATCH: Frustration from Verstappen but joy for Vettel – It's the best team radio from Baku
There's also another edition of Ask Damon, including questions on tech gizmos and reading material.
And you too can join in on Ask Damon by sending the 1996 F1 Champion a voicemail via AskDamonHill[at]gmail.com.
Listen to the podcast in the player above, on Spotify, or Apple Podcasts for the full analysis of the Azerbaijan Grand Prix.