Report
Lucas Blakeley beats rival Jarno Opmeer to be crowned eROC Champion 2023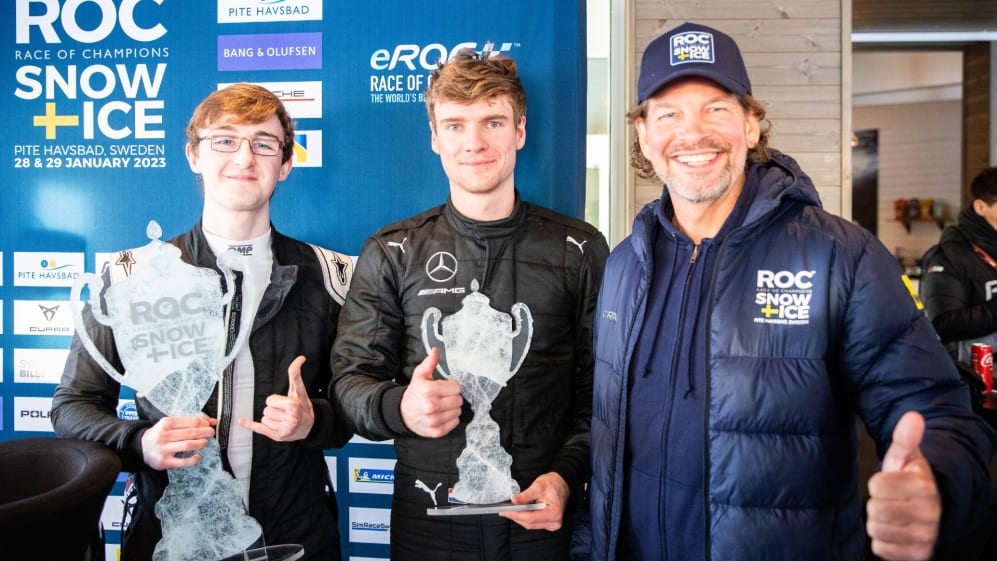 2022 F1 Esports Series Champion Lucas Blakeley kicked off his 2023 in stunning form on Friday morning, claiming the eROC title at the 2023 Race of Champions in Pite Havsbad, Sweden.
Blakeley defeated fellow F1 Esports contenders Jarno Opmeer and Michael Romanidis during the round-robin tournament, as well as sim racer Martin Palm.
READ MORE: Blakeley crowned 2022 F1 Esports Series champion as Rasmussen takes final victory of 2022 in Abu Dhabi
Romanidis shone in the sim racing segment, but dropped points in the physical aspect, and so Blakeley and Opmeer – who were judged to have performed perfect laps – made it through to the final.
It was here where Blakeley took control, besting Opmeer in the Polaris RZR on the snow and ice by more than four seconds. They then switched to the simulator, where two slender victories for the Scot gave him the overall title.
The unique event sees megastars from sim racing compete against one another on simulator rigs, before each doing a flying lap on the snowy track – the very same one as used on the sims.
The flying laps are scored by a panel of experts, and these scores mix with their sim racing points tallies to form a final leaderboard. The top two drivers face one another in the final, with the third and fourth competing for best-of-the-rest honours.
It is this final and third-place playoff that really sees the event come to life, with the drivers fighting it out on the sims, before racing on-track just seconds later. It showcases that the gap from digital to physical racing is one that can be bridged, with the twin-ring circuit layout providing an intense showdown.
F1 Esports Series Pro Championship: Lucas Blakeley dominates in Brazil to put one hand on the trophy
Top two drivers Blakeley and Opmeer also get the honour of representing Team eROC in the Nations Cup, where they will face off against Team Finland, made up of two-time F1 world champion Mika Hakkinen, and 10-time race-winner Valtteri Bottas.
It should be noted that Blakeley famously took a victory from Sebastian Vettel in the 2022 event, and both have proven themselves as F1 Esports champions, as well as capable on-track racers. Tune in on Sunday, January 29, to see how they get on.
Oops! Error retrieving Twitter post