Magnussen bemoans 'over the top' black and orange flag after P12 finish at Singapore GP
It was a sixth consecutive point-less outing for Kevin Magnussen after the Dane finished 12th at this weekend's Singapore Grand Prix. And although encouraged by his team's performance, he was left frustrated by an early black and orange flag that took him out of contention.
Magnussen made contact with Max Verstappen and the back of Lance Stroll's car on the opening lap, sustaining damage to his front wing endplate. He then received the black and orange flag – shown to drivers with a mechanical issue who need to pit – forcing him to box on Lap 7, and dropping him to the back of the field.
Magnussen then made the switch to another pair of intermediate tyres before making a second stop for the slicks. However, he struggled to make an impression on the cars ahead, crossing the line in 12th, and leaving Magnussen frustrated by that costly extra pit stop.
5 Winners and 5 Losers from the Singapore GP: Who shone under the lights at Marina Bay?
"I don't know who the contact was with, but the damage was minor," said Magnussen. "I don't know why I got this black and orange flag. It seems completely over the top to give me that flag. There is no safety concern; that thing has tethers, the endplate, the little wing that comes up at the end of the front wing.
"It wasn't flapping, it was just bent, so obviously had a crack in it but it wasn't about to fall off. We explained that to the FIA because it's the third time this year I get the flag because of that part. Anyway, frustrating day because of that."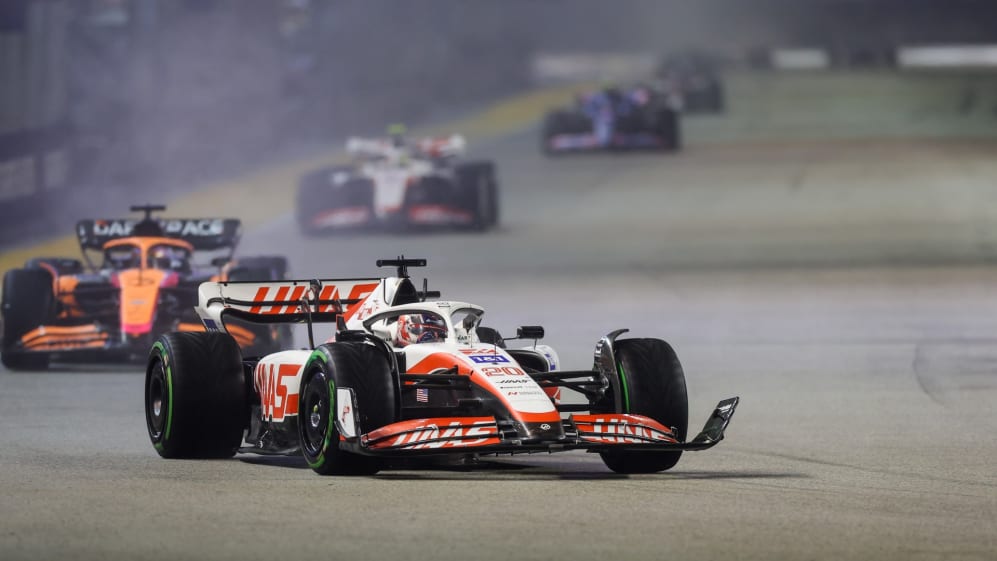 He continued: "We finished P12 when we had an extra pit stop that I didn't need, so it's frustrating. It was a positive Saturday, and we've seen the car has some pace, so that's at least encouraging. Hopefully, we can keep it up moving forward."
F1 NATION: Sergio the street specialist strikes again – it's our Singapore Grand Prix review
As he mentioned, it was Magnussen's third black and orange flag of the season – having received the warning in Montreal and Hungary – much to the frustration of Haas Team Princial Guenther Steiner. Speaking before the Singapore GP, Steiner made it clear that his team should be the ones to decide if the damage sustained is dangerous or not.
"I'm still upset about the two black and orange flags we got for Kevin!" said Steiner, speaking on Thursday in Singapore. "Twelve years apparently there was no black and orange flags and now in one year we get two and there was never a risk that we are losing parts on the car, you know? They just invented this, or I don't know where they found this rule again and now are happy to apply it, and especially to us.
"So, we tried to explain to them that we have a say in that one, because we would never leave a car out there if it isn't safe. That is what people have to understand. We are not this stupid. If it is unsafe, we are not stupid and leave it out there. It's our first thing of the technical people to make sure the car is safe."
He continued: "There is always something that can happen, but we know exactly what is happening, we know how the front wing is built, that it cannot fly away. If we think it's dangerous, we call it in on our behalf; we don't need to be told, you know? I think we have got a lot more qualified people to say it's safe or not than the FIA has got."