Magnussen: 2019 regulations have made it easier to follow other cars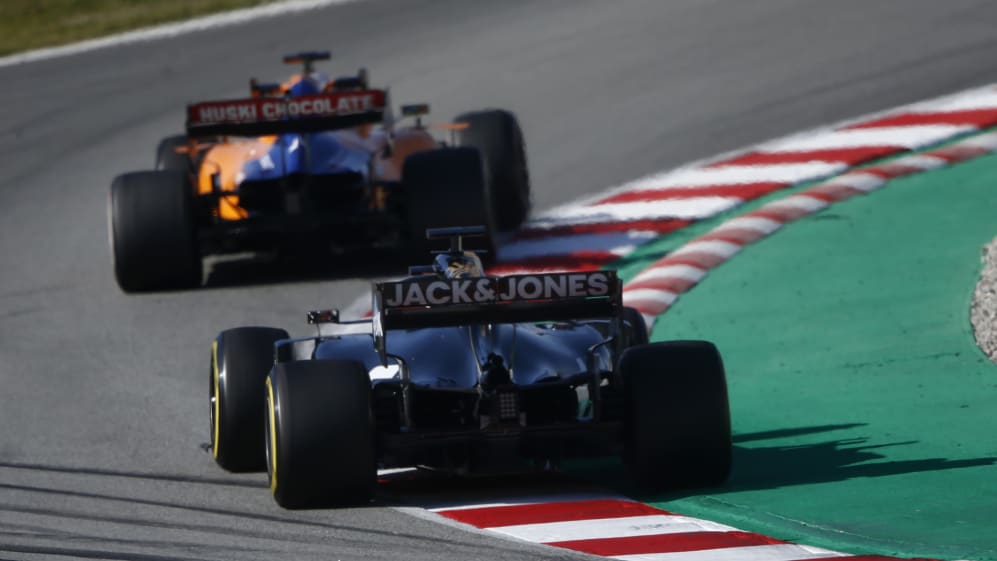 One of the big talking points of 2019 pre-season testing was whether the drivers would feel the effects of the revised front wings, introduced this year with the intention of improving cars' ability to follow at close quarters to one another. And one driver who was clearly a fan was Haas' Kevin Magnussen, who told the media that driving in the wake of other cars around Barcelona had felt 'a lot better than last year'.
The new, simplified front wings offer a two-pronged solution to dealing with the problems of cars following each other, with the leading car's front wing now creating less 'outwash' – a big contributor to 'dirty air' – while the taller, wider wing also helps the chasing car create higher levels of downforce, helping to keep grip levels up while following a rival.
F1 RULES & REGULATIONS: What's new for 2019?
And after two weeks of experimentation around Barcelona, Magnussen has hailed the results as a significant improvement.
"[The cars] are still very, very fun to drive," he said, speaking on the first day of Test 2. "And I would say, I followed a car today and it really, really feels a lot better than last year.
"A lot of people were saying it wouldn't make any difference. It's not a big difference but I could actually follow, so it will be interesting to see. I was a lot faster than the guy I was following, and the lap that I caught him, I got past him. I must have been around two seconds faster – in which case you would have also passed him last year, I think – but feeling the car behind the other car felt different, much better… than last year, I would say."
Pushed on what the feeling had been like in the cockpit while chasing another car, Magnussen replied: "The whole car just feels more consistent and stable behind another car, so I'm looking forward to seeing if other tracks are the same. There are always different factors that you might have overlooked, so you go to another track and it's different. But first signs are good, I would say, in this following aspect."
The Winners and Losers of F1's final pre-season test
It wasn't all positive for Magnussen, however, with the Dane's two weeks of testing in Barcelona hampered by an ill-fitting headrest on his Haas VF-19 that pushed his head forward uncomfortably under braking. But here, again, Magnussen was happy about the introduction of another new regulation for 2019 which increases the drivers' minimum weight to 80kg fully kitted up and including their seat – and which has permitted Magnussen to increase his muscle mass over the winter to help make him more robust in the cockpit.
"I have a problem with my neck, because the head rest is pushing my neck too far forward," Magnussen explained, "so I'm in an uncomfortable position for braking, my head is falling forward.
"We made some changes and it's much better [but] I'm still having to sit with my head forward a bit which is not great for your strength under braking. But I can feel on the sides [of my neck] that I'm strong. And then just generally, in my body, I've been telling my trainer today that it's so nice to feel that improvement. I can see stepping onto the [scales] I've gained four kilos, and those four kilos have paid off, that's very clear."