Magnussen hails best lap of career after front wing drama in qualifying
Not many escape a flirtatious kiss with the Monaco barriers. Kevin Magnussen not only came through unscathed, but bounced back in style to pick up a third-row grid slot for Sunday's race. Furthermore, the Haas driver believes his lap ranks as one of the best of his career.
Magnussen slipped down to 12th after making contact with the inside wall at Mirabeau with just 10 minutes of Q2 remaining. What followed was an urgent front wing change that his Haas mechanics were barely prepared for, before the Dane returned to the circuit to not only move into Q3, but also take his and the American team's best-ever Monaco grid slot – sixth place, which became fifth after Pierre Gasly's penalty.
"I hit the wall and damaged the front wing", said Magnussen. "I had to abort that lap and come in and change it. That wasn't planned so they were stressing like hell. They still did it and turned it around and enabled me to get out and do the laps that I was meant to. Just brilliant!"
When asked whether his Q3 effort was the best lap of his F1 career, Magnussen replied: "I think so - it was good."
Haas brought a sweep of upgrades to the last round in Spain which saw them secure their first double points finish of the season. The increased pace has seemingly transferred to the streets of Monaco which has given Magnussen and the team confidence in their machine.
"We've had a good car all weekend so we haven't really touched it actually", said Magnussen. "We just [ran] the set-up that we started in FP1 basically. We've just tried to go forward a little bit on mechanical balance and then we've gone back again and kind of just left it. It's been really good."
Magnussen's fastest lap was over one and a half seconds quicker than Haas' best time in last year's qualifying session, on an afternoon where the official track record fell three times.
"It felt amazing," he added. "It's such a thrill going around these streets at that speed. It's bloody good fun you know, it's really good."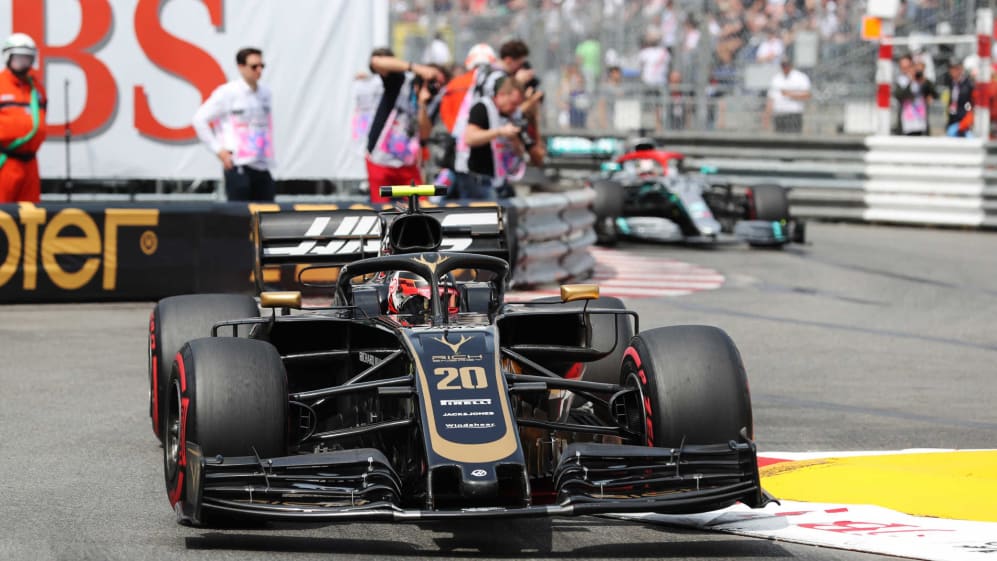 The result is Magnussen's best qualifying since Bahrain, where he was also sixth and he will now be looking to secure his first back-to-back points finishes since the final two races of last season.
"Well for me, fingers crossed it won't rain. A good start… I'm just happy if I can stay where I am and get through there and then we'll see. You know [tyre] graining is an issue, but we'll see if we're worse than others. It's a pretty difficult track to overtake, so I'm not too worried."
In the sister Haas, Romain Grosjean failed to qualify for the top 10 shootout for just the second time this season after he was blocked by fellow Frenchman Pierre Gasly on the outside of Casino Square on his final quick lap.