Mazepin explains his US Grand Prix was compromised after headrest came loose on his Haas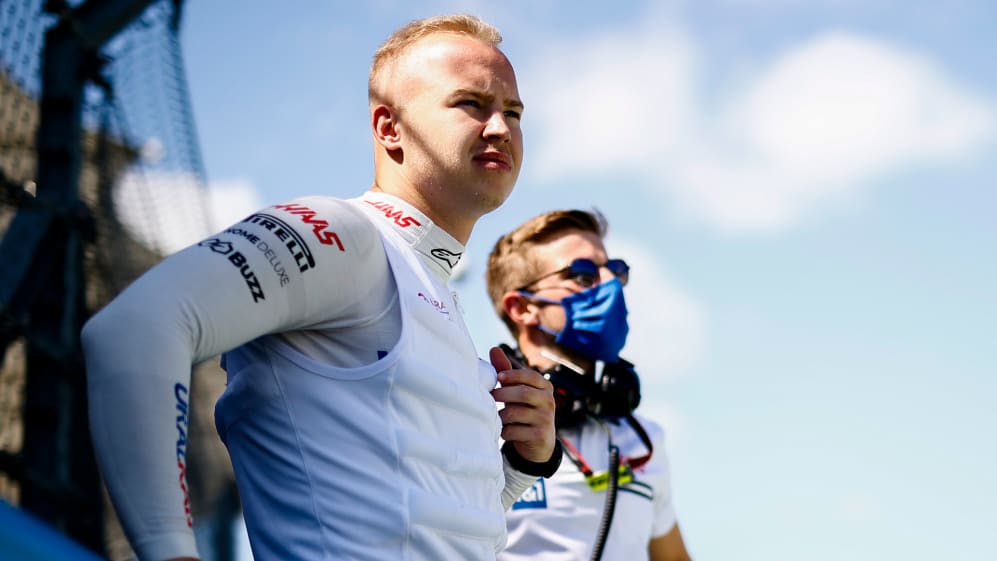 Haas are already having a tough season without freak incidents such as the one that befell Nikita Mazepin in Austin on Sunday.
Mazepin was starting from 17th due to the numerous power unit penalties that were taken by George Russell, Fernando Alonso and Sebastian Vettel, giving him a chance of fighting with quicker cars in the early part of the race. Unfortunately, by the second corner any hopes had vanished, as his vision became impaired by a loose headrest.
READ MORE: Ross Brawn on the title fight, Perez stepping up at the perfect time, and the rise of F1 in the US
"Unfortunately not very busy because in Turn 2 the headrest came off in my car!" Mazepin said after the race. "That did two things. One it was quite a sketchy first lap because it lifted the back of the headrest and blocked both mirrors, so I had to ask the team if there was any people around me - hoping that there wasn't because I didn't know where I could turn in and not.
"And the second thing was that obviously adds over 25 seconds to our race time for an unnecessary pit stop, so it made it pretty difficult from there onwards because I was just driving on my own and tying to make one pit stop work but with these temperatures and these tyres it just wasn't possible."
The problem appeared to stem from the headrest not slotting into position properly when Mazepin first got in the car - rather than being forced loose for any reason – with Team Principal Guenther Steiner saying it turned out to be the only real error of the afternoon for Haas on Sunday.
"The only issue we had was with the headrest of Nikita," Steiner said. "It just jumped out, it wasn't properly in, that was the only unfortunate thing that happened. All the rest, I would say, went to plan. We learned some things, especially the drivers, how to manage these tyres, they were difficult to manage but that was for everybody. I think they did a good job, they got the best out of what we've got.
PODCAST: Jean-Eric Vergne on his F1 regrets – and the inside story of his 2014 exit
"Apparently what the guys told me when they put it on the grid, there are two pins in the back which weren't engaged completely so therefore we didn't have to take the headrest off when he got in the pits, they just pushed it down and in.
"It didn't engage. I don't know the exact details but it didn't engage. It came off in Turn 3, I think he said Turn 3 or 4 and you need to come in the pits because otherwise you get a black flag for safety reasons. It's part of your protection here so we called him in immediately but again it was difficult because if the headrest is up you cannot see in the mirrors.
"Anyway, we got him in and they just pushed it in and off he went and we changed tyres obviously when we had the chance."