Mazepin gets his own back on Haas boss Steiner for 'Maze-spin' present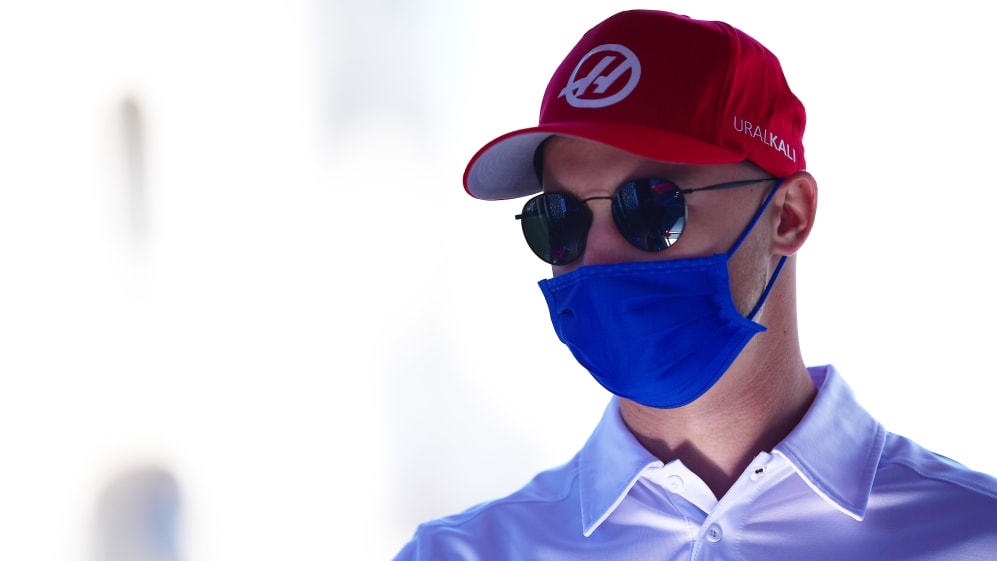 Guenther Steiner has always been something of an unconventional Formula 1 team principal, as he proved last week when he gifted his driver Nikita Mazepin a spinning top – a joke in reference to the 'Maze-spin' nickname the Russian has earned among some fans in his debut year in F1.
"Spin this one – it's better than spinning the car," joked Steiner when he handed over the toy.
And this week, Mazepin has returned the favour with his own gift of choice for his boss: a door which he carried into the Red Bull Ring circuit with a sign that reads '***smashdoor' – a reference to a moment captured in the first series of the Netflix Drive To Survive programme when a furious Steiner reacted to his then-driver Kevin Magnussen slamming a door in frustration by saying "he does not ****smash my door".
READ MORE: Mazepin to get new Haas chassis after summer break after as Steiner says current car 'slows him down'
"Guenther you know as Russian people, if we receive a present and don't give anything back, that's known to be not polite, and we're everything but not polite," Mazepin explained to his boss. "We have got very good manners and that's why I came up with an idea with some of my followers that you have got a broken door from last year or the year before with Kevin, and there's your '***smashdoor'."
Oops! Error retrieving Twitter post
Steiner accused Magnussen himself of being involved in the idea, before telling Mazepin: "You said in Russia you need to be polite – yeah you are Russian, but you're not polite!"
"I appreciate the door, thanks for the door," he added, "but the rest of it I'm not so sure about, and for sure somebody is missing a door at the hotel."
READ MORE: 'I felt like a carrot that was about to be caught by a rabbit' – Mazepin explains his 'painful' Styrian GP
Steiner was asked about the gift in Friday's press conference ahead of this weekend's Austrian Grand Prix and explained: "Apparently in Russia, if you get a present you need to give a present back. So we gave him a present of the 'Maze-spin', so his present back was the door, and the door was a present because of two years ago with what happened with Kevin – Romain [Grosjean] was not involved with that one, he was the good guy this time – so he thought I needed a new door."
So Russian honour is satisfied, and Guenther has a new door. Will that be the end of it – or will Haas's Christmas party see a particularly unusual round of Secret Santa...?
Oops! Error retrieving Twitter post