McLaren gives Alonso new chassis for Italy after Spa crash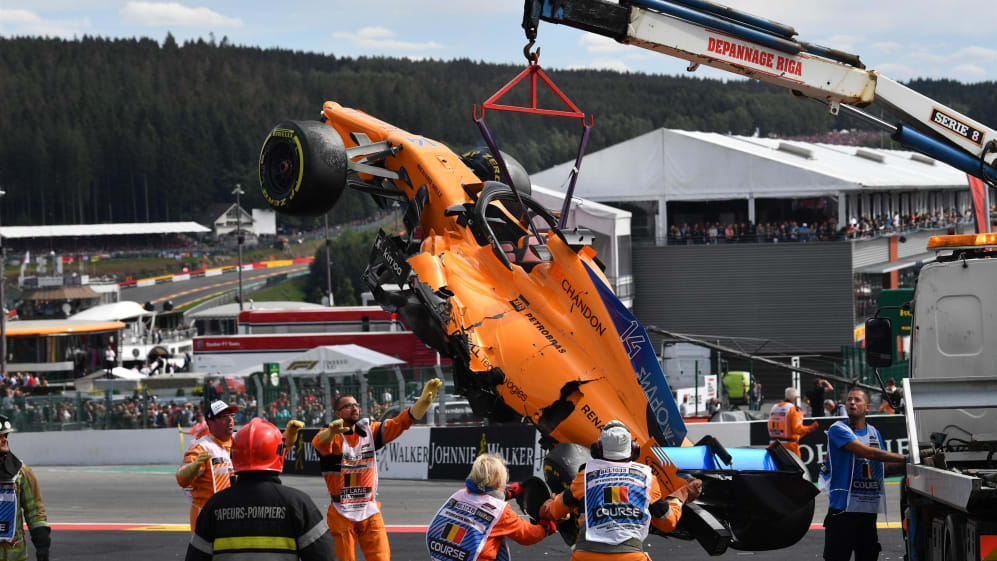 Renault's Nico Hulkenberg got his braking all wrong on the approach to Turn 1 at the start and careered into the back of Fernando Alonso's McLaren. That sent the Spaniard flying haphazardly over Charles Leclerc's Sauber, with all three drivers eliminated instantly.
Along with the chassis change, the double world champion said he is also without latest specification spare parts. That means he will have to revert to older generation components if he suffers any failures or damage, while it remains unclear as to whether he will require an engine change.
"It is a chassis I used in winter testing or the first races, so it's something that we already raced with but it's a new chassis," Alonso told reporters in Italy on Thursday. "On the engine side we think it could be OK but we will probably find out tomorrow in FP1.
"We want to put it in tomorrow to run on Friday and confirm that everything's OK. There were some concerns on Sunday, then Monday and Tuesday they checked everything properly and it seems OK so hopefully we can run still with that engine.
"But the full car, not only the chassis but also the floor, the front wing - things we are limited on parts as well - have gone. It was quite expensive.
"We have enough [parts] luckily but probably we'll run out of spare parts. We have just what we have on the car, and all the rest will probably be a different specification.
"It's quite tough because the damage on the cars was quite extreme, especially on my car, and then you have four days only to build a completely different car for Monza. It's the way it is."
Alonso added that he suffered pain in his wrist and back on the Tuesday after the crash, but "every day it is less and less" and "it should be OK for tomorrow."