Melbourne to host first ever Formula 1 season launch event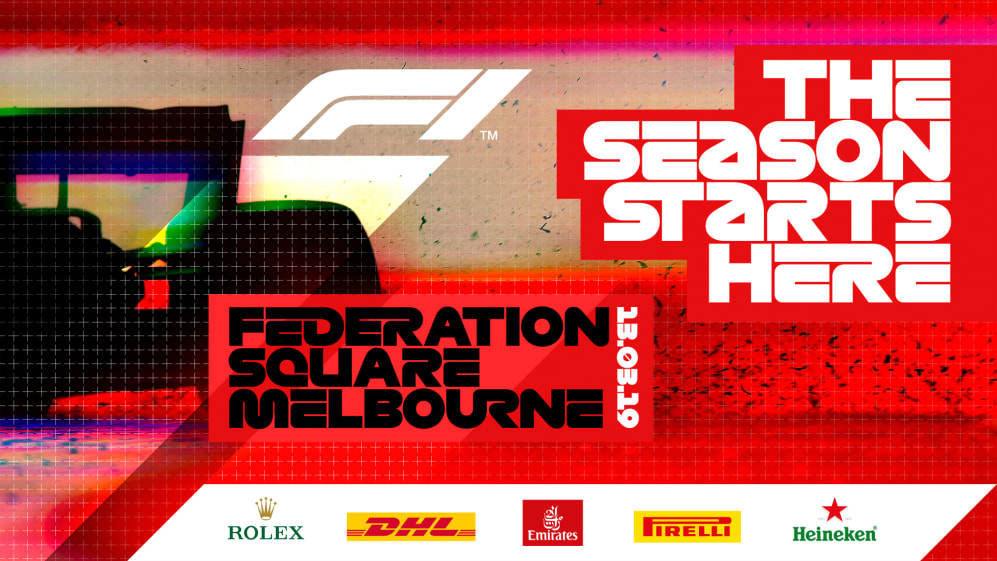 To mark the start of the 2019 Formula 1 season, it's been announced that Melbourne will play host to the inaugural F1 season launch event on Wednesday 13 March, ahead of the Formula 1 Rolex Australian Grand Prix 2019.
Taking place right in the heart of the city, the free event will give fans the opportunity to see all 20 drivers and their respective team principals in Melbourne's Federation Square as they help to launch the new season, the first time an event like this has taken place.
The season launch will also feature a line-up of some of the sport's legends, plus an array of music acts to add to the vibrant atmosphere ahead of the race weekend. The event will also be streamed across Formula 1's social platforms to ensure fans across the world don't miss out on the action.
Global partners Rolex, Emirates, Heineken, DHL and Pirelli will also be supporting the launch, hosting a variety of activities for fans to take part in.
"Since 1996, except on two occasions, Formula 1, the greatest racing spectacle in the world, has kicked off its year in Melbourne," said Sean Bratches, Formula 1's Managing Director of Commercial Operations. "There really couldn't be a location better than this fantastic city. The passion, knowledge and enthusiasm of the Melbourne crowd deserved a special thanks and this is why we have decided to organise the first ever season launch event in the history of the sport.
"We are incredibly excited to be putting on such a spectacle for our fans. It's vital that we put them at the heart of everything we do, and this event provides us with a platform to engage with fans not just locally but also globally. The 2019 season also marks another historic moment for the sport as we celebrate our 1000th Grand Prix in China later this year and we are excited to see all the teams come together to kick off the season with a bang."
"This is a once in a lifetime event for lovers of motorsport," said Martin Pakula MP, Victoria's Minister for Tourism, Sport and Major Events, "and there is no better place to host the first-ever Formula 1 season launch event than Melbourne.
"We are excited to be hosting a fantastic event that will attract legions of supporters from around the world and give Victorian F1 fans a chance to meet their heroes."