Mercedes '90 percent certain' Bottas can escape penalties after crash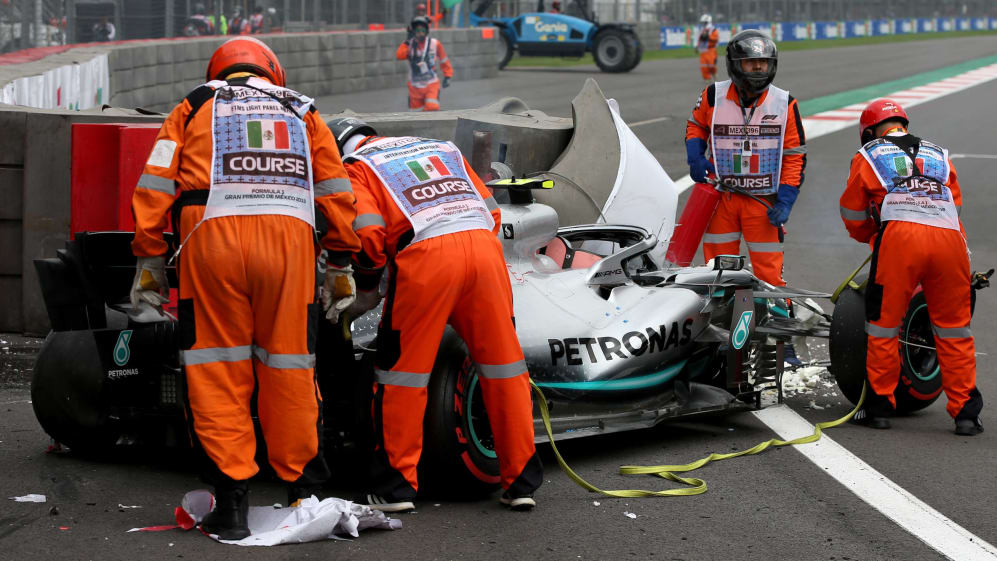 Once it became clear Valtteri Bottas had escaped unhurt from his crash in the closing stages of qualifying, attention turned to the damage his W10 incurred and the implications for his race. Mercedes chief Toto Wolff is optimistic the title-chasing Finn can escape grid penalties and take up sixth place on the grid…
As Bottas rounded the final corner, he lost control of his Silver Arrow and pitched into the barriers front-first. The Finn confirmed he was OK but was sent to the medical centre as a precaution and was later given the all-clear.
READ MORE: Verstappen stripped of Mexican GP pole for ignoring yellow flag, Leclerc promoted to P1
Work is on-going inside the Mercedes garage, but initial investigations are positive. "We are 90 percent confident we can fix without any penalties," said Wolff. "It was an unusual angle of impact so I think we got away with that.
"They are rebuilding it as we speak. We have to look into the detail but we have not seen any damage to the gearbox but we do not know if it is leaking."
Bottas, who admitted he initially felt pain in his right knee following the impact before it went away, was also hopeful of avoiding penalties following a discussion with his engineers.
"We have had a debrief and the team are optimistic," said Bottas. "There is a lot of hard work to do but it was a strange incident, so a lot of parts that usually get damaged in a normal crash, so we think we will be ok."
Bottas is the only driver who can stop team mate Lewis Hamilton taking a sixth world title – and fifth in six years. Hamilton can clinch the crown – which will be his third in a row in Mexico - if he outscores the Finn by 14 points.