Mercedes admit they pushed their 'package and our drivers too far' in Baku, as they predict improved Montreal pace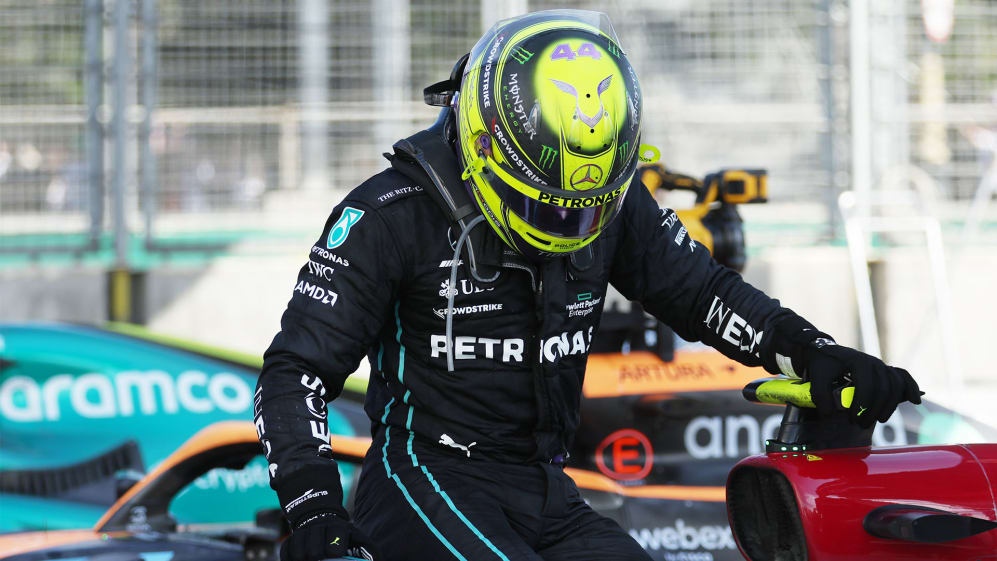 Mercedes' W13 was frequently seen bouncing over the course of the Azerbaijan Grand Prix weekend. And the team's Motorsport Strategy Director James Vowles has conceded that the team had taken their set-up direction to extremes in Baku, pushing "the package and our drivers too far" in pursuit of performance.
Lewis Hamilton was heard vocally complaining of back issues on team radio over the course of the race, with the former world champion driving through the pain to finish P4. Vowles, speaking on Mercedes' YouTube channel, confirmed that Hamilton claiming his seat had gone cold at one point had actually been "numbness that [had] set in".
TREMAYNE: Why Hamilton's gritty P4 in Baku was a timely riposte to his critics
But Vowles added that Hamilton had recovered from the Baku weekend and "will be back in the car in Montreal", before admitting that Mercedes couldn't afford a repeat of that kind of performance going forward.
"[Lewis] is an elite athlete that will push the bounds of endurance of himself and the car," said Vowles. "That's what Formula 1 drivers do, that's what makes them exceptional.
"On this occasion, though, we pushed the package and our drivers too far; we are putting them into significant discomfort and we simply can't do that again. Our drivers are not the only ones suffering, you will see in the media a number of comments from a number of drivers who are equally in discomfort and pain. And we have a responsibility now to make sure that this doesn't carry on."
Looking ahead to Montreal, meanwhile, Vowles said that he expected the Mercedes pair of Hamilton and George Russell – who finished P3 in Azerbaijan – to be closer to the leading Red Bull and Ferrari cars than they were in Baku where Russell was the team's lead qualifier, but over 1.3s off the pace in P5.
"We didn't expect perhaps to drop back as much as we did in Baku, but that provided a platform to learn from," said Vowles. "Montreal isn't going to be substantially different to the last two races [Monaco and Baku]; I think we will still have a package that isn't at the front on merit. Red Bull and Ferrari will still be the benchmark that we have to compare ourselves to.
READ MORE: Wolff backs Mercedes technical team to get W13 'back on track' after labelling car 'a s***box to drive' in Baku
"I think though that the large gap that you saw in qualifying in Baku perhaps won't be that big in Montreal – it will be back down from where it was and as we go through all the races from then onwards, I am fairly sure we will find small steps and developments that push us back towards the front."
Mercedes' consistent scoring in spite of their 2022 issues means that the team sit just 38 points adrift of Ferrari in P3 in the constructors' standings – despite having neither a pole nor a victory to their name so far this year – as they prepare to return to Montreal for the first time since 2019.