Mercedes drivers looking forward to change of conditions after 'hard day of driving' at Silverstone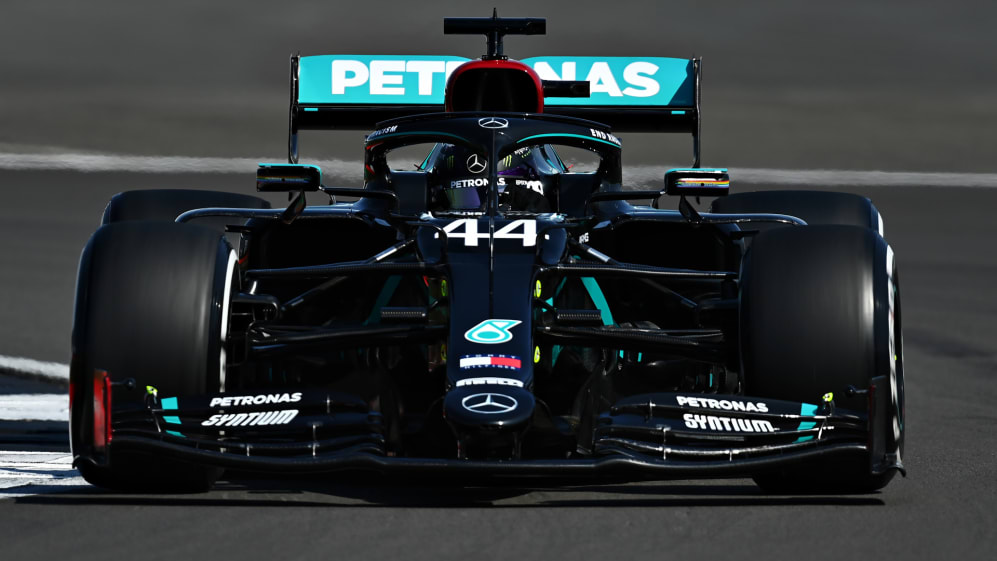 Regular visitors to Silverstone will know that you can never be sure what kind of weather you're going to get on any given day, regardless of the forecast or the time of year. On the opening day of running for the British Grand Prix, the drivers were greeted by both extremely warm temperatures and gusty wind – and it didn't seem to suit 2020 pace setters Mercedes…
Championship leader Lewis Hamilton entered this weekend's event chasing a seventh home win, but admitted the first day of running had been a struggle, as Red Bull and Racing Point set the pace in practice.
READ MORE: Albon says RB16 feeling 'more balanced'... despite heavy FP2-ending crash at Silverstone
"Difficult day to be honest," said Hamilton, who placed P2 and P5 in FP1 and FP2 respectively. "It's always windy here, which is actually a good thing about this track – wind in different directions. But it's made it really tricky today, with the car, and the balance is not as good as I would like.
"So we're going to work on it tonight and try to see if we can figure it out. It's not a disaster but it's definitely been a hard day of driving. The balance is not right, so I'm not feeling comfortable in general.
"We'll work through it, we've got great engineers – that's the great thing about this team. We continue to dive deep into the details and hopefully make some good changes overnight. I think it's going to be cooler as well tomorrow."
Valtteri Bottas, trailing Hamilton by five points in the drivers' standings, shared similar views to Hamilton after coming P6 and P3 in the two sessions, though like Hamilton he wasn't overly worried at this stage.
"First session was a bit more tricky balance-wise," explained the Finn. "Obviously still work to do, but practice two was not a bad feeling. The gaps are quite small and normally we are able to make some good steps for qualifying. So not too worried really because the overall feeling is quite good.
"Racing Point and Red Bull they seem quite strong as well, but it's going to be completely different conditions today with track temp and the wind is going to change direction and that normally has quite a big effect at this track."
READ MORE: FP2: Stroll fastest for Racing Point at Silverstone as Albon crash brings out the red flags
Asked if tyre overheating had been the reason why Mercedes lagged behind Racing Point and Red Bull on soft tyre runs, Bottas said: "We for sure had some tyre overheating, but I'm not too worried. [We're] going to focus on our things tonight and see if we can squeeze some more performance.
"We know we've got work to do, but as I said, it's going to be completely different conditions [tomorrow] and it will be who can react quickest in FP3."