Mercedes: Ferrari pace not worrying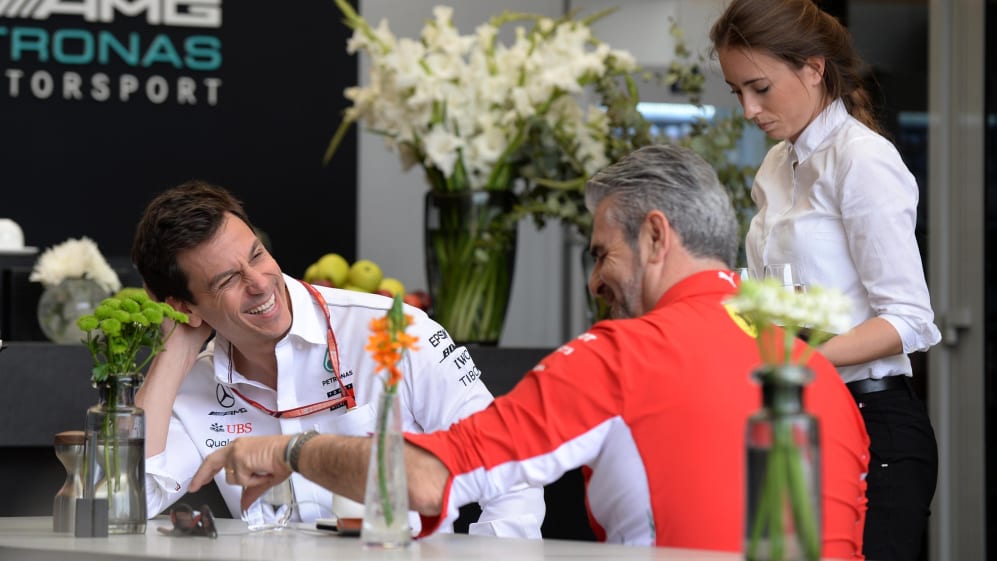 Ferrari's pace on Friday in Bahrain looked dominant. Mercedes trailed pacesetter Kimi Raikkonen by half a second. But despite the sizeable gap, Mercedes chief Toto Wolff isn't too worried…
At this point I wouldn't draw any conclusions...
Raikkonen clocked a best lap of 1m29.817s on the supersoft tyres to edge out Ferrari team mate Sebastian Vettel by just 0.011s under the floodlights in Sakhir in second practice.
It was an impressive performance from the Italian team, with Valtteri Bottas the best of the rest 0.563s adrift, with reigning world champion and Mercedes team mate Lewis Hamilton a tenth further back.
But Wolff said the high engine mode Ferrari were running skewed the ultimate performance.
"They [Ferrari] were in a pretty high-power mode when they were on the lap, so it isn't so worrying, but it was a good lap and what we have seen in Melbourne and again here is that at various stages the teams are very close together, so I can't really judge," he said.
"I think Ferrari and Red Bull [could be a threat here] – I might be sounding too pessimistic, but it depends on the form of the day: how you have been able to put the set-up together, how the driver has been able to do a good lap, then that can make a difference of two or three-tenths and that makes everything."
Vettel also played down Ferrari's strong pace, suggesting the Prancing Horse had work to do ahead of qualifying and the race.
"It looked like we were a bit quicker than the rest but it depends a bit on the programme," said the German. "At this point I wouldn't draw any conclusions.
"We will focus on ourselves and the set up mostly to try and get a bit of a better feel, which at times was good and other times not yet there. There's still some stuff to do."
Raikkonen, who was released from the pits with a loose wheel in FP2 after a mistake during a stop (leading to a €5000 fine for Ferrari), was equally keen not to get carried away.
"I think if you purely look at the lap times then yes [it was positive], but obviously it's only Friday and there were things we started to learn, things we have to improve for tomorrow and there we see where we are.
"But it wasn't too bad, it was a pretty normal Friday for me."