Mercedes got it wrong on strategy says Hamilton – but admits Verstappen was 'on another level'
Lewis Hamilton had to settle for second as Formula 1 returned to Zandvoort for the first time since 1985 – but even though he thought Mercedes got it wrong on strategy, the reigning champion said ultimately he had no answer to home winner Max Verstappen's pace on race day at the Dutch Grand Prix.
Having started second on the grid, Hamilton followed pole-sitter Verstappen off the line and into Turn 1, with the pair remaining 1-2 until Lap 20, when Hamilton blinked first and pitted for a new set of medium tyres. Verstappen covered him off with a stop of his own a lap later.
RACE REPORT: Verstappen sends home fans wild with victory over Hamilton amid party atmosphere at the Dutch GP
On Lap 39 Hamilton pitted again, this time for a used set of mediums, as Mercedes tried to pull an undercut on Verstappen. But Hamilton emerged into traffic, while Verstappen pitted a lap later for hards and came out comfortably in the lead.
Hamilton was then heard repeatedly questioning the strategy over the radio, and did a final, late stop for softs to grab the extra point for fastest lap. After the race he maintained the team had got it wrong with their race plan.
"I definitely think that wasn't our best strategy but it was really hard out there. At the end of the day they were just too quick," he said.
"We'll take it offline and try and figure out how we can improve it, but I think we stopped too early in that second part and it had just been a point where we got through traffic – I'd lost a good second to him [Verstappen] and I needed time to close that gap up before we did a stop. Then I came out behind traffic so couldn't actually implement [the plan] and I don't know how they didn't see that."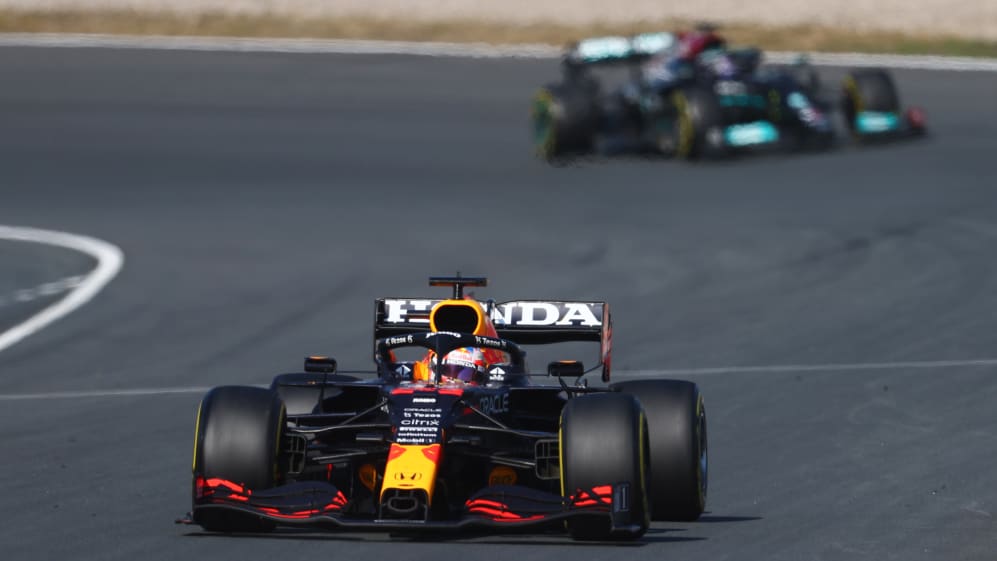 "But it is what it is and we work through it. Congrats to Max – they put an upgrade on at the last race and whoo – they're quick!"
Despite his radio messages complaining that his tyres were going off, Hamilton said he was able to push throughout – and conceded that he simply didn't have the pace to match Verstappen.
"The tyres were actually pretty good this weekend – I was flat-out the whole race. There was no tyre management, I was just trying to keep as close as possible, but I tell you he [Verstappen] was fast today. They were on another level today that I genuinely couldn't answer really to most of those laps."
READ MORE: 'It's an amazing day' says Verstappen after retaking title lead with emotional home win
Team boss Toto Wolff agreed with his driver's assessment, and said they were hoping to be able to jump Verstappen with that second early stop, but that it didn't work out when Hamilton emerged behind three slower cars.
"We had a sniff of an undercut there, [but] we didn't time it right," he admitted. "When they have the quickest car on track, whatever you try on strategy it's difficult. But credit to him [Verstappen], credit to Red Bull, they were really faultless today," he added.