Mercedes promise rapid evolution before Australia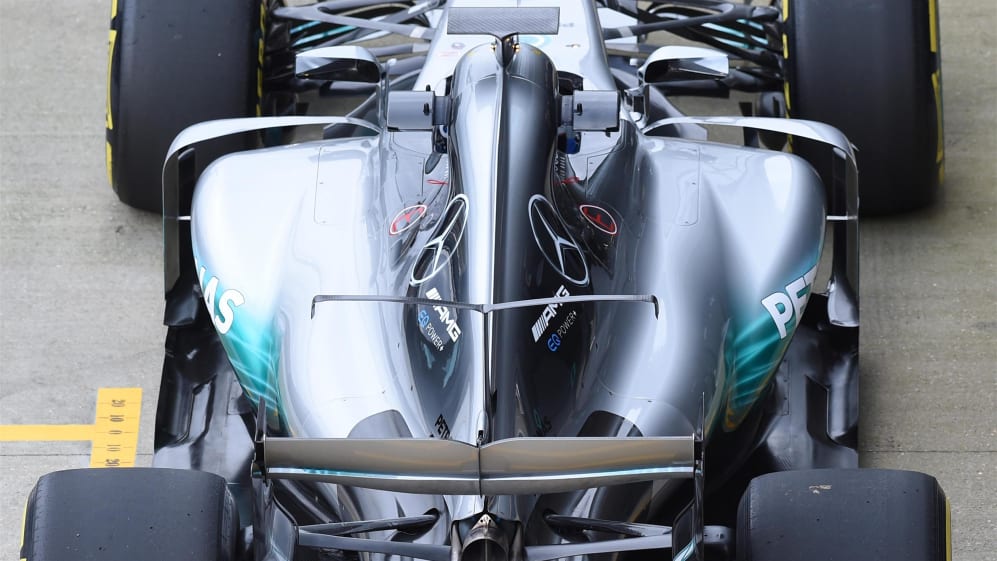 Mercedes' brand-new F1 W08 challenger will undergo an aggressive evolution before the first race of the season in Melbourne, with engineering director Aldo Costa saying that every surface of the car 'will change'.
The Silver Arrows shook down their 2017 car during a launch event at Silverstone on Thursday, and immediately went about testing different configurations, with an unusual 'T-wing' on view for one run. Costa said this was the first step in "a continuous programme of evolution" throughout pre-season testing, which gets underway at Barcelona on Monday.
"As you have seen, the launch spec was without the little T-wing, and then we tested it – and then we will carry on in Barcelona day by day testing different configurations," Costa explained.
"We will have as well a longer tail configuration to be tested in combination with new rear wings for Melbourne.
"The car in essence from now until Melbourne will change all the aerodynamic surfaces."
Power unit gains
On the power unit front, Andy Cowell, Managing Director of Mercedes AMG High Performance Powertrains, said that the Silver Arrows have made improvements "in pretty much every single area", though he remained coy on where it would leave them relative to their opponents.
"The base architecture of our ERS system is similar to what we started with in 2014. Is it the same for this year? No, it is not, there is improvement in the high power switches, they are more efficient. There are several improvements in reliability within the box, which means we can run it harder for longer.
"We are not as vulnerable to having to derate the system for cooling reasons because of heating effects within the module.
"The MGU-H is completely new as a consequence of the drive cycle change and the MGU-K is new as well. It is a big evolution.
"So we've made an improvement. Is it a big one? That depends on where you are against your opponent."