Mercedes report 89% reduction in CO2 freight emissions after Spa-Zandvoort-Monza biofuels truck trial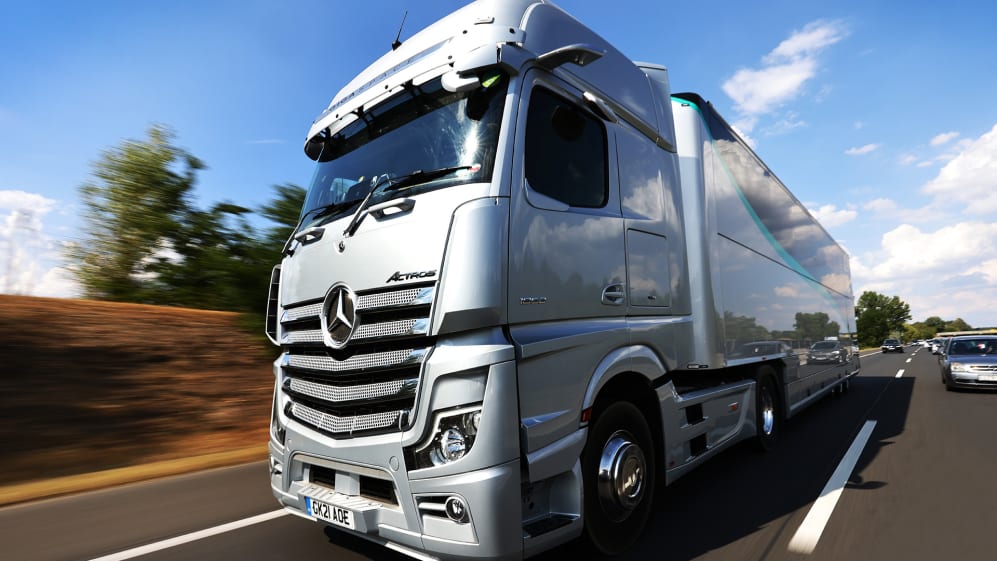 Mercedes have shared the findings of a recently concluded trial that saw their F1 race trucks use biofuels for the final three rounds of the European season – with the team reporting a staggering 89% reduction in freight emissions.
As part of Mercedes's push to cut CO2 emissions and be verified Net Zero by 2030, their 16 Actros Gigaspace trucks used Hydrotreated Vegetable Oil (HVO 100) biofuel – a 100% renewable fossil fuel-free product derived from vegetable oils, waste oils and fats – to transport equipment between venues.
READ MORE: F1 continues push to hit Net Zero Carbon by 2030 target
The trial spanned the Belgian Grand Prix at Spa-Francorchamps, the Dutch Grand Prix at Zandvoort and the Italian Grand Prix at Monza – following a successful test drive from the Hungarian Grand Prix back to Mercedes' headquarters in Brackley, UK.
The trucks – 13 that spent the summer break in Belgium and three from the UK – made use of locally sourced biofuel to travel 300km from Spa to Zandvoort and then 1,100km from Zandvoort to Monza – diesel fuel only being used for the final 20km of the journey due to supply challenges.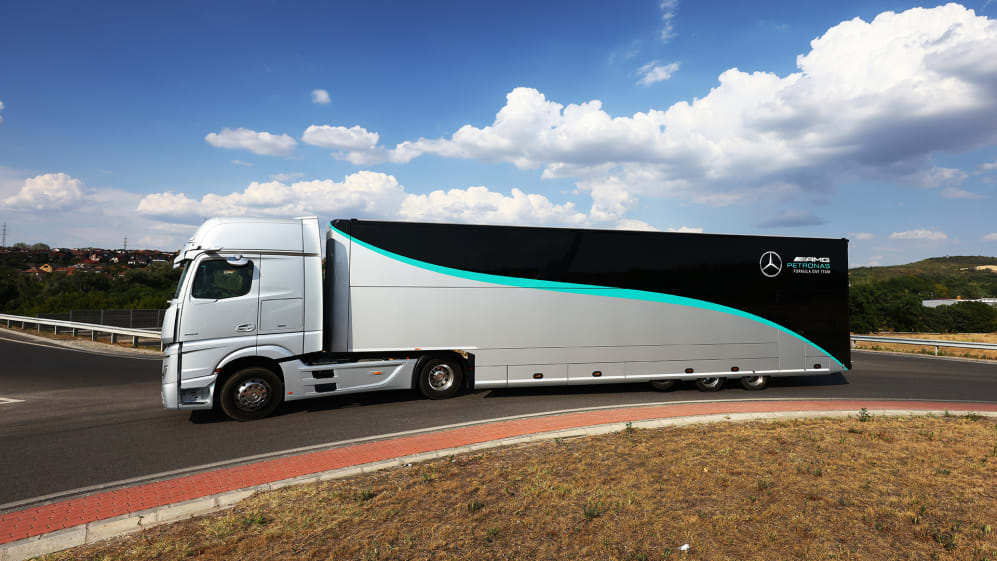 According to the team, analysis showed that using biofuel across the overall distance of approximately 1,400 kilometres saved 44,091kg of CO2 and reduced freight emissions by 89%.
It is the latest move from Mercedes in a series of sustainability-focused initiatives, after announcing earlier this year that they had become the first global sports team to invest in Sustainable Aviation Fuel.
READ MORE: Formula 1 on course to deliver 100% sustainable fuels for 2026
Fuel developments have already made the headlines in F1 this season, with E10 biofuels being introduced to the sport as part of a planned shift towards a 100% sustainable solution in the cars from 2026 onwards.
F1 is also working on a host of other sustainability goals – alongside the 10 teams, race promoters, partners, suppliers, broadcasters and the FIA – as it races towards its Net Zero Carbon by 2030 target.
Reflecting on their recent F1 truck trial, Mercedes team boss Toto Wolff said: "Sustainability is at the heart of our operations. Trialling the use of biofuels for our land freight is another example of our commitment to embed sustainability in every decision we make and action we take.
"We aim to be on the cutting edge of change and hope we can make the adoption of sustainable technology possible as we are all in the race towards a sustainable tomorrow."
READ MORE: Williams announce they will part ways with Latifi at the end of 2022
Alice Ashpitel, the Mercedes team's Sustainability & Environmental Manager, added: "We are committed to using our global motorsport platform to be leaders in the journey towards not just sustainable racing but a more sustainable future.
"The outcome of this trial with an 89% reduction in emissions is another example of our drive to become the most sustainable sports team and comes following a period of commitments from the team to invest in industry-leading sustainability strategies."