Mercedes say it's their 'duty' to give Hamilton a car 'where it's more difficult for him to make mistakes'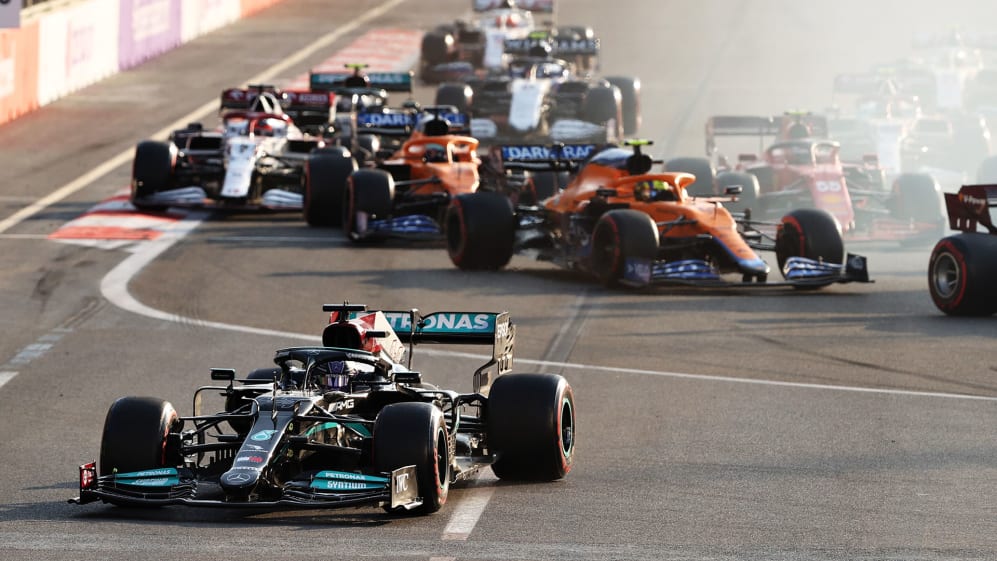 Mercedes are famous for not beating about the bush when it comes to fixing any problems they encounter. And after the mistake that saw Lewis Hamilton hit his 'brake magic' button and cost himself second place at the Azerbaijan Grand Prix, the team have said that changes were already in motion – and set to be in place ahead of the upcoming French Grand Prix.
Hamilton was taking the Lap 50 race restart in Baku – following title rival Max Verstappen's crash, which brought out a red flag – when, according to the team, he hit a button on his steering wheel that shifted his brake balance forward, causing him to lock up and skate off into the Turn 1 run-off.
READ MORE: What is the 'magic' brake setting that cost Hamilton in Baku – and why do Mercedes struggle at low-grip tracks?
The mistake dropped Hamilton from his P2 on the grid to P15 at the chequered flag, as Red Bull's Sergio Perez went on to win the race – with Mercedes' Technology Director Mike Elliott explaining how the incident had played out from Hamilton's side.
"Lewis had done all the right things, he got the car to the grid, he switched off the various buttons and settings he needed to switch off, switched on the ones he needed to switch on, and was all set to start the race properly," said Elliott, speaking on Mercedes' YouTube channel.
"He made a fantastic start, got himself up alongside Perez, and as he and Perez were sort of shuffling position, Lewis swerved, and in the process of swerving he just clipped the 'magic button' and unfortunately he didn't feel he had done it. So, he had completely no awareness he was going to have a problem.
"The point he then braked, which was the normal point for him to brake, he was in the position where he got all of the brake balance shifted forward," added Elliott. "Which put all of the load through the front tyres and as a consequence they locked, and from that point there was nothing that he could do other than go wide."
WATCH: Hamilton laments 'really painful' day after late brake mishap sent him back 14 places in Baku
The mistake contributed to Mercedes leaving Baku with zero points, the first time the team have failed to score since the 2018 Austrian Grand Prix.
But despite there being just over a week until Hamilton's Mercedes W12 is due on track again at the Circuit Paul Ricard, Elliott said that Mercedes planned to have a workaround available to the seven-time champion in time for the French Grand Prix – with Elliott adding that Hamilton's lack of mistakes across the eight-and-a-bit seasons he's been with the team made it easier to accept what happened in Baku…
"I know speaking to Lewis… that Lewis sort of feels a chunk of blame for [the incident]," said Elliott. "But the reality is Lewis makes so few mistakes and that's what really sets him apart from some of the other drivers.
READ MORE: Wolff calls Mercedes' Baku performance 'unacceptable' as he says team in toughest ever period
"It's our duty to try and give him a car where it's more difficult for him to make mistakes. We need to take our share of that, look at how we can improve that and that's something we will put in place for the next race."