Report
Russell beats Sainz to take shock maiden pole at Hungaroring as Red Bulls hit trouble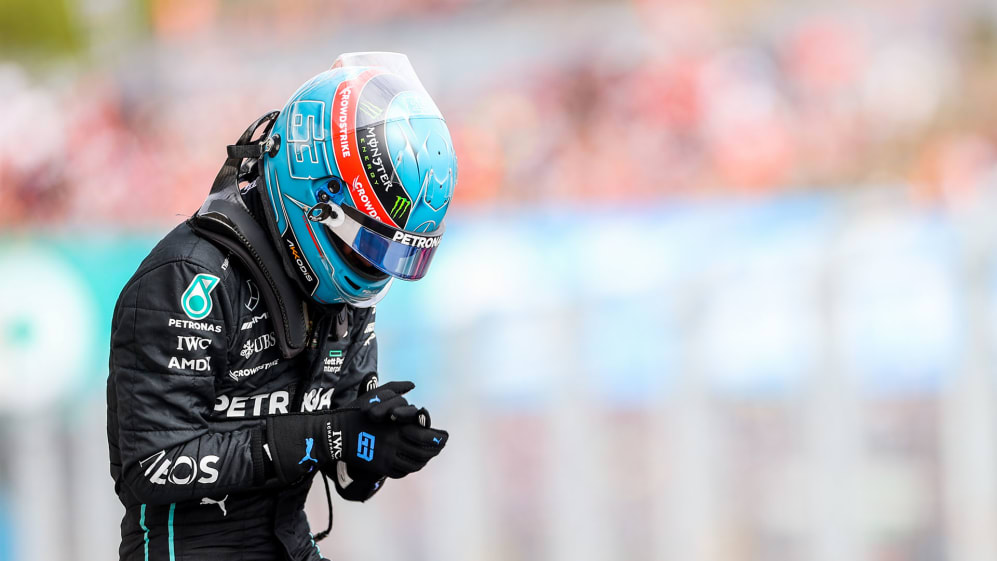 George Russell took his maiden F1 pole position at the 2022 Hungarian Grand Prix to keep the Ferraris of Carlos Sainz and Charles Leclerc at bay, while Max Verstappen will start a provisional 10th having suffered a loss of power in Q3.
After a wet final practice session that was led by Nicholas Latifi, qualifying took place in dry conditions. Q1 was topped by Mercedes, Lewis Hamilton taking advantage of track evolution to lead team mate George Russell. Drivers continued to pick up the pace in Q2, where Verstappen led Leclerc.
In Q3, Verstappen was left in despair by a loss of power, and with the Ferraris in provisional pole he could only watch his hopes of pole fade away. Russell however caused a huge shock to the Scuderia with a lap of 1m 17.377s that kept Carlos Sainz at bay by 0.044s, and Charles Leclerc third by almost two-tenths.
Lando Norris qualified on the second row while Esteban Ocon will share row three with his Alpine team mate Fernando Alonso.
Meanwhile, Lewis Hamilton was seventh and former team mate Valtteri Bottas qualified eighth, to leave Daniel Ricciardo ninth and Verstappen an unfortunate P10.
FORMULA 1 ARAMCO MAGYAR NAGYDÍJ 2022
Hungary
2022
Qualifying results
POSITION
TIME

1

George

Russell RUS

Mercedes

1:17.377

2

Carlos

Sainz SAI

Ferrari

1:17.421

3

Charles

Leclerc LEC

Ferrari

1:17.567

4

Lando

Norris NOR

McLaren

1:17.769

5

Esteban

Ocon OCO

Alpine

1:18.018
Red Bull's Sergio Perez was a shock elimination from Q2 in P11 – Perez frustrated to hit traffic on his final effort. Zhou Guanyu was pleased with his P12 performance for Alfa Romeo, while Kevin Magnussen took P13 in the upgraded Haas – though he was the driver who drew Perez's ire.
Lance Stroll settled for 14th, and Mick Schumacher was last in Q2 as he is set to start the Hungarian GP a provisional 15th.
Yuki Tsunoda missed out on Q2 by 0.035s as he qualified 16th, ahead of Williams' Alex Albon and Aston Martin's Sebastian Vettel in P18. Pierre Gasly lost out due to track limits and qualified 19th to make it a double-Q1 elimination for AlphaTauri and FP3 star Nicholas Latifi rounded out the standings thanks to a mistake at the final corner.
After a painful showing in France, Ferrari have made their first steps towards redemption – while Mercedes are back at the top. At least, for the time being...
AS IT HAPPENED
Q1 – Hamilton and Russell start on the front foot
After a soaked FP3 session – in which Nicholas Latifi took top spot – qualifying got under way in dry conditions – with swathes of ashen clouds painting a foreboding background.
Max Verstappen went top early on with a lap of 1m 19.020s while the Ferraris stayed in the garage for the first few minutes of Q1. With more and more rubber laid down, times duly tumbled, and Verstappen improved to lead the brunt of Q1.
Late runs from Mercedes saw Lewis Hamilton crash the party with a time of 1m 18.374s, his team mate George Russell just 0.033s off with his effort. Carlos Sainz improved to P3, 0.060s off the pace, while Verstappen was bumped down to P4 by a margin of 0.135s to leave Lando Norris to round out the top five for McLaren.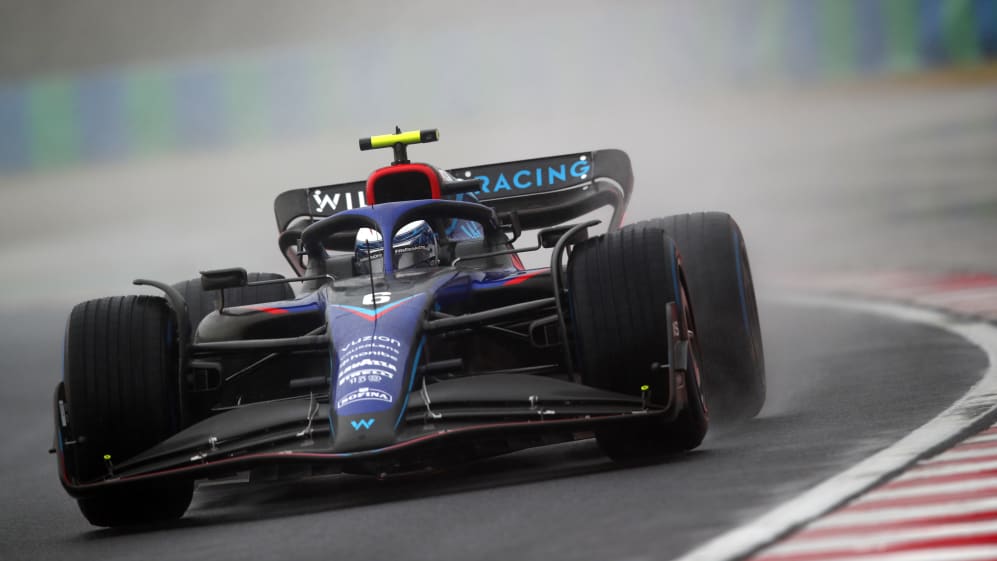 Fernando Alonso was under a tenth off Norris in P6, Ricciardo just behind the two-time champion in seventh, while Charles Leclerc struggled to P8.
Esteban Ocon finished ninth and Valtteri Bottas rounded out a top 10 split by 0.561s. Zhou Guanyu was just behind his team mate, keeping Kevin Magnussen at bay in P12. Sergio Perez was anonymous in P13, with 14th-place Mick Schumacher and then Lance Stroll the last two drivers making it to safety.
Yuki Tsunoda lost out on a Q2 place by 0.035s, Alex Albon next on the board in P17, while Sebastian Vettel – whose FP3 crash damage was fixed by the hard-working Aston Martin crew, along with Vettel himself – was dejected to finish 18th.
Track limits at Turn 5 cost Pierre Gasly, who finished 19th, and FP3 leader Latifi finished last with a mistake at the final corner, despite setting a purple first sector on his final run.
Knocked out: Tsunoda, Albon, Vettel, Gasly, Latifi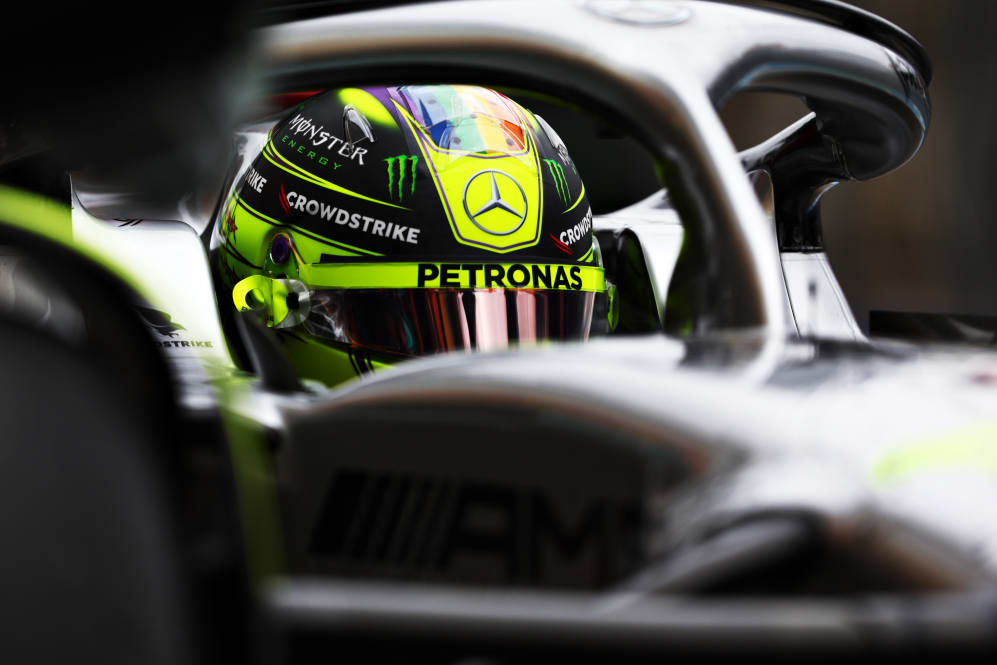 Q2 – Perez loses out while Verstappen and Leclerc set the pace
Times in Q2 were threatening to drop below the 1m 18s mark, given rapid track evolution, and Verstappen was the first to break that barrier with a time of 1m 17.703s, keeping Alonso at bay by 0.201s. A lock-up on his first effort cost Q1 leader Hamilton; Perez's time was chalked off for track limits.
Verstappen didn't improve on his first effort, but Leclerc jumped to P2 by 0.065s to bump Alonso down to P3. Sainz was 0.038s behind his compatriot in P4 with Hamilton rounding out the top five.
Ricciardo improved with his final effort to find safety in P8, Ocon just off the McLaren in P9, and Bottas the last driver to make the top-10 shootout.
Although Perez's lap was reinstated, he lost out on Q3 by 0.071s, and the Red Bull driver raged at traffic in the form of Magnussen (P13) in Sector 1 on his final run. Between the Red Bull and the Haas was Zhou in P12, the rookie pleased with his showing.
Stroll was almost seven-tenths away from safety in 14th – leaving Schumacher last and almost eight-tenths off safety.
Knocked out: Perez, Zhou, Magnussen, Stroll, Schumacher
Q3 – Ferrari have pole snatched away by magic Russell lap
The clouds declined to unleash but Q3 was anything but dry action-wise, with at least three drivers in the race for pole position. Sainz set the early benchmark of 1m 17.505s, Russell going second – nearly half a second off – while a mistake in Sector 3 saw Leclerc go a provisional third ahead of Hamilton.
As for Verstappen, his first run put him seventh, 1.318s off the pace. He soon reported a loss of power, which triggered a furious flicking of switches and dials in the RB18 cockpit. "Nothing works," Verstappen barked as his hopes of pole began to fade.
Sainz knew he left time on the table and shot to the top on his final run with a time of 1m 17.421s. But Russell's breathtaking effort trumped all, the Briton delivering his first career pole position and Mercedes' first of the season with a blistering time of 1m 17.377s.
Leclerc therefore settled for third, with Norris to share the second row with P4 – just under four-tenths off Russell's pace.
Ocon rounded out the top five and Alonso ensured Alpine will occupy the third row as he qualified sixth. Meanwhile Hamilton wasn't happy as he settled for seventh, former team mate Bottas going eighth.
Ricciardo qualified ninth while a beleaguered Verstappen will start a provisional 10th on Sunday, after Red Bull could not diagnose his costly power unit glitch.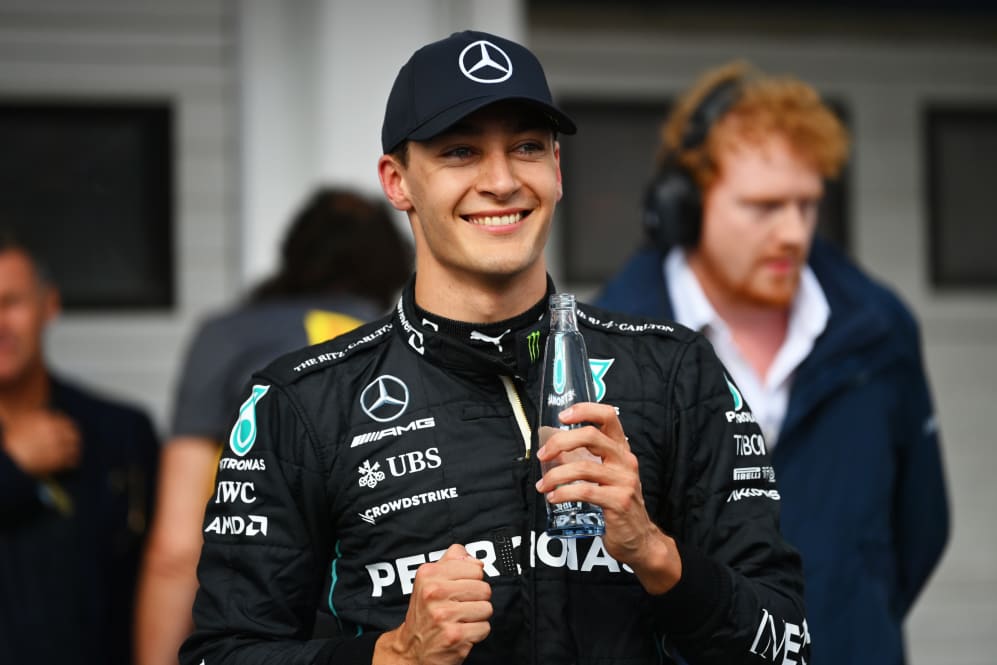 Key quote
"I'm over the moon, absolutely buzzing. Yesterday was probably our worst Friday of the season, and everybody last night was working so hard. We didn't really know what direction to go in and then that last lap, got round Turn 1, mega Turn 1, went round Turn 2, Turn 2 was mega, and the lap time just kept on coming, kept on coming. I came across the line, looked across at the screen and saw we went P1. That was incredible feeling!" – George Russell, Mercedes
What's next?
Russell's on pole, Ferrari chase, and the Red Bulls have it all to do to recover when the 2022 Hungarian Grand Prix gets under way at 1500 local time on Sunday.