Bottas hails Mercedes upgrades after setting the pace in Spain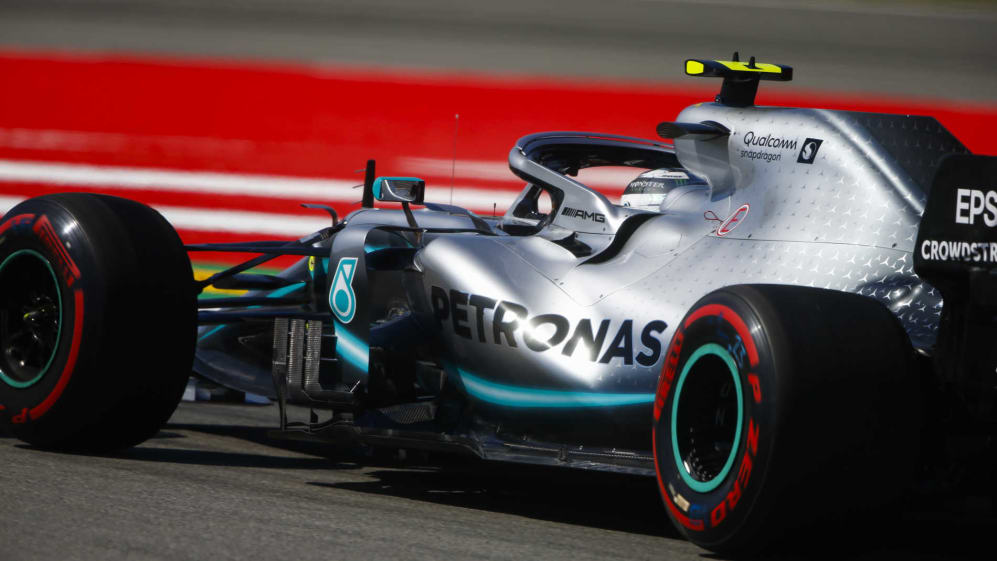 Mercedes won the first battle in the Spanish Grand Prix upgrade war, outgunning rivals Ferrari by three-tenths of a second in Free Practice 2 in Barcelona after both teams unveiled significant upgrade packages. And it left Valtteri Bottas, who headed both Friday's sessions, pleased that the team appeared to have developed the car "in the right direction".
Bottas and team mate Lewis Hamilton finished FP2 in first and second, with the Ferrari of Charles Leclerc 0.301s adrift after the session's usual qualifying simulation runs. And with Mercedes having appeared to be outpaced by Ferrari during pre-season testing at the same venue a few months ago, Bottas admitted it was nice that the performance shoe was now on the other foot.
READ MORE: Bottas beats Hamilton in FP2 as Mercedes put Ferrari in the shade
"It really felt good today," he said. "Our cornering performance has improved, a whole lot different feeling from winter testing with the car, so that's nice to feel and see.
"The balance around the lap is a lot more together so we've definitely gone in the right direction since testing and we also feel our downforce level is better. That's good news but in the end it's only Friday and Ferrari is not that far behind… we have to see tomorrow in qualifying when Ferrari turns their new power unit up how they are going to be."
Despite finishing FP2 less than half a tenth behind his team mate, Lewis Hamilton seemed less happy than Bottas had been with his day, admitting that his own car had felt worse, rather than better, compared to pre-season testing.
"I think in winter testing [when it was] a little bit cooler, it felt better then," said Hamilton. "It just feels harder today with the track. It feels not particularly great in terms of grip. There's a lot of sliding around on this tyre as opposed to in winter testing, on the last day it felt really, really good, probably on lighter fuel and everything. But once we get to qualifying it will be a different story."
But while Hamilton also echoed Bottas' warning about Ferrari's potential in qualifying, he admitted that it was still gratifying for Mercedes to be a decent step ahead of their rivals going into Friday night.
"The Ferraris seem to be gaining something like four-tenths again on the straights," he said, "so I don't know if that's because they're up on power or what that is. But as for us, we've got work to do with the balance [but] it's definitely really positive to be up there."
Both Hamilton and Bottas will now work hard overnight to ensure they're well-placed to defend Mercedes' qualifying record in Barcelona, with the team having occupied the P1 spot on the grid every year here since 2013 – with five out of six of those years featuring a Mercedes front row lock-out.