Mercedes: We won't allow Hamilton-Bottas partnership to deteriorate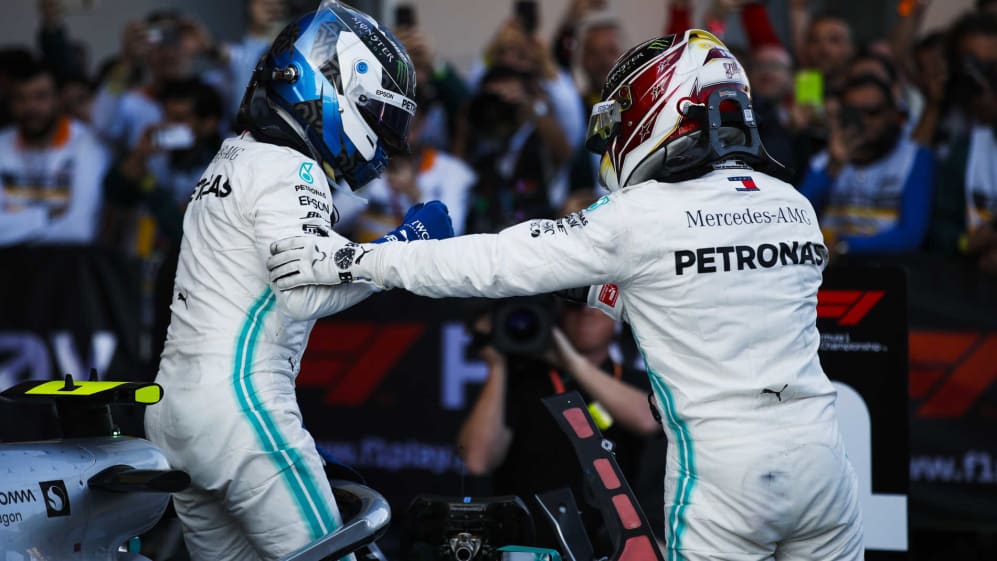 Mercedes are no strangers to friction between team mates. Lewis Hamilton and Nico Rosberg didn't exactly see eye to eye during their time together as team mates between 2013 and 2016. Chief Toto Wolff admitted Hamilton's 2019 battle with Valtteri Bottas reminds him a little of that, but he insists he's not afraid to bring out the "yellow or red cards" as they bid to prevent a repeat…
The Silver Arrows have made a commanding start to 2019, with Bottas and Hamilton taking two wins apiece and ensuring Mercedes opened with four consecutive one-two finishes. Bottas is a fraction ahead in the championship, courtesy of the bonus point earned for the fastest lap in Australia.
In Baku, they raced side-by-side off the line through three corners before Bottas got his nose in front. The racing was tight but fair, with Bottas coming out on top, and their close proximity in the drivers' championship opens up an intriguing prospect of another inter-team fight.
"It reminds me a little bit of the situation [in 2014-2016, when Hamilton and Rosberg fought almost exclusively for the title]," said Wolff. "You have two drivers that have the ambition and the ability to win a championship, and it's up to us together with them to be very aware of that situation and remember that very quickly [Ferrari's Sebastian] Vettel or [Charles] Leclerc could be back into the game and that definitely the relationship matters in order to avoid what we went through between Nico and Lewis.
"We are lucky that they have a very good relationship. They get on with each other. There is not a lot of games in the background, and I am very happy about that. But we have to be conscious as we have seen a relationship deteriorate.
"Both of the drivers have an ambition to win the championship. We want them to be lions in the car, so you can't expect the behaviour of a sheep. But equally the respect needs to stay in there.
"We are very strong as a team and we wouldn't allow a relationship between drivers to deteriorate to a point that it has a negative effect on the team. If that would ever be the case again, after Nico and Lewis, we will ensure we would issue yellow and red cards. But we are far, we are not there."
Can Mercedes continue their dominance in Spain, at a circuit where Ferrari dominated during pre-season testing? And if so, can Bottas continue his fine form and stop Hamilton getting a third successive victory at the Circuit de Barcelona-Catalunya? It's just over a week until we find out!