Report
Hamilton closes in on title with supreme Mexico victory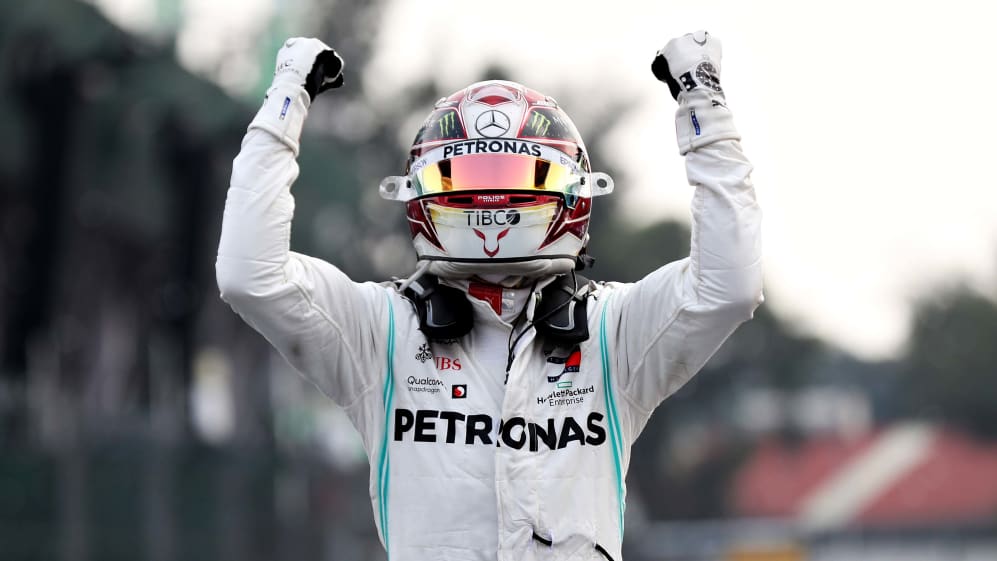 Lewis Hamilton triumphed in a nail-biting finale to the Mexican Grand Prix, brilliantly making an ambitious one-stop strategy work to win out from Ferrari's Sebastian Vettel and his Mercedes team mate Valtteri Bottas – although it wasn't quite enough for the Briton to secure his sixth drivers' title over Bottas at the Autodromo Hermanos Rodriguez.
Hamilton superbly eked out the tyre life out of his hard rubber, making a 48-lap stint work to take his second win in Mexico, and Mercedes' 100th as a constructor – although it was the first time in three years that he hasn't claimed the title in Mexico City.
A slow second pit stop helped consign early race leader Charles Leclerc to fourth, ahead of the Red Bull of Alex Albon in fifth.
READ MORE: Hamilton dedicates strategic Mexican GP win to absent race engineer 'Bono'
Having lost his pole position yesterday, Max Verstappen endured a disastrous Mexican Grand Prix, with Lap 4 contact with Bottas – after first-lap contact with Hamilton – causing a puncture that saw him forced to recover to a distant sixth place, behind his Red Bull team mate Albon after a mammoth 66-lap stint on hard tyres.
Home hero Sergio Perez drove a fine race to finish 'best of the rest' for Racing Point in seventh, holding off the late charge of Renault's Daniel Ricciardo, while the Toro Rosso pair of Daniil Kvyat and Pierre Gasly finished ninth and 10th on the road – but only after late contact between Kvyat and Nico Hulkenberg that saw the Renault driver end up clattering into the Turn 16 wall and losing his rear wing.
The stewards had a look, and decided to issue a 10-second penalty to the Russian, dropping him back to 11th, with Hulkenberg classified 10th to mark a double points-scoring day for Renault as rivals McLaren endured their first non-score since Belgium.
FORMULA 1 GRAN PREMIO DE MÉXICO 2019
Mexico
2019
Race results
POSITION
TIME
POINTS

1

Lewis

Hamilton HAM

Mercedes

1:36:48.904

25

2

Sebastian

Vettel VET

Ferrari

+1.766s

18

3

Valtteri

Bottas BOT

Mercedes

+3.553s

15

4

Charles

Leclerc LEC

Ferrari

+6.368s

13

5

Alexander

Albon ALB

Red Bull Racing

+21.399s

10
AS IT HAPPENED
Both Ferraris fairly matched each other off the start, launching away from the team's record 65th front-row lock-out – earned after Verstappen's pole demotion on Saturday – while Hamilton's getaway from third was searing. As he swept left, though, his progress was arrested by a rather cheeky squeeze from Vettel.
As Leclerc led Vettel into Turn 1, Verstappen and Hamilton went through the corner behind side-by-side. As they both struggled for grip, their cars swinging wildly, they made light contact, both running off the track and allowing Albon and Sainz to sweep past into third and fourth, Hamilton re-joining in fifth, Verstappen eighth. There was brief contact, too, between the Ferrari pair, Vettel lightly running into the back of his team mate as the Monegasque appeared to dawdle on the apex on Turn 3.
Further back, meanwhile, Kimi Raikkonen found himself in a George Russell/Kevin Magnussen sandwich, with the resulting debris from that and Hamilton vs Verstappen briefly bringing out a Virtual Safety Car.
If Verstappen had been annoyed by losing pole and then his contact with Hamilton, he would have been livid on Lap 4 when, with racing having resumed, he nailed Bottas into the Foro Sol stadium, only for the Finn to lightly tag his right-rear. The resulting puncture only manifested after the Dutchman had passed the pits, meaning a whole lap around for Verstappen with his tyre delaminating, the eventual pit stop bringing him out plum last. His third successive win in Mexico was clearly not to be…
Having comfortably run in third – the first time he'd ever reached such lofty heights – Albon was the first of the frontrunners to pit on Lap 15, with Leclerc going in a lap later from the lead, both drivers putting on a second set of mediums, indicating their intention to two-stop.
We were then treated to an intense strategic showdown. Hamilton was the next of the top drivers to pit, putting on hard tyres on Lap 24 for what would be his sole stop of the race, his out-lap then compromised by his old karting buddy Robert Kubica, who'd punchily passed his Williams team mate Russell for P18, and didn't appear in the mood to cede track position.
Speaking of moods, Hamilton didn't appear to be in a great one, several times calling Mercedes' strategy to pit him so early into question, and eventually forcing Chief Strategist James Vowles to step in and reassure him over team radio.
Up in first and second, Vettel and Bottas had committed to going long and one-stopping, Bottas eventually bringing his Merc in for hards on Lap 37, matched by Vettel a lap later. With Leclerc and Albon taking their second stops on Lap 44 and 45 – Leclerc stationary for a painfully long time, as his Ferrari mechanics struggled to affix his right-rear hard tyre – we were then set up for a scintillating grand finale.
With 10 laps to go, it was an edgy Hamilton leading by three seconds from a tightly bunched, fresher-tyred pack of Vettel, Bottas and Leclerc, Albon eight seconds adrift in fifth, with Verstappen having clawed his way back into P6, over half a minute further back.
But unfortunately for Vettel and Ferrari, Hamilton's misgivings about his tyre life proved unfounded, the Briton with enough in hand to sweep through to his second victory in Mexico City – and the 55th time that he and Vettel had finished one-two – with the order in the top six unchanged by the chequered flag.
Sergio Perez delighted him home fans by claiming a joint-best Mexico result of P7, having resisted a Daniel Ricciardo dive-bomb 10 laps from the end, the Australian eventually settling for eighth, having made a 50-lap first stint on the hard tyres work brilliantly for him from his frustrated P13 on the grid.
There was controversy right at the end of the race however, with Daniil Kvyat appearing to dust off his 'Torpedo' sobriquet and clattering into Nico Hulkenberg's Renault to claim P9, sending the German half-spinning into the wall and costing him a rear wing.
The stewards immediately opened an investigation, though, and quickly issued Kvyat with a 10-second penalty that demoted him back to P11, with Hulkenberg classified 10th, Pierre Gasly claiming ninth.
It was a bad day for McLaren, meanwhile, a two-stop strategy failing to yield the desired results for Carlos Sainz, who finished P13 (having run as high as fourth), while a botched pit stop for Lando Norris ruined his race, with McLaren eventually opting to retire him to save parts on Lap 48, while an overheating issue forced Alfa Romeo to do the same thing to Kimi Raikkonen 10 laps later, taking him out of P15.
Up at the front, though, Hamilton had once again triumphed over his doubts – as he did in Monaco, as he did in Hungary – to secure win his second Mexican Grand Prix win, as Mercedes swept to their 100th victory as a constructor on a weekend where they had appeared to be the third best team on the grid.
Yes, the title fight drags on to Austin – but any disappointment Hamilton might have felt about that was assuaged by his first podium appearance here since 2016, and a mighty spectacular one too, as his W10 borne was aloft onto the rostrum, Hamilton standing proudly atop it, with win #83 in the bag.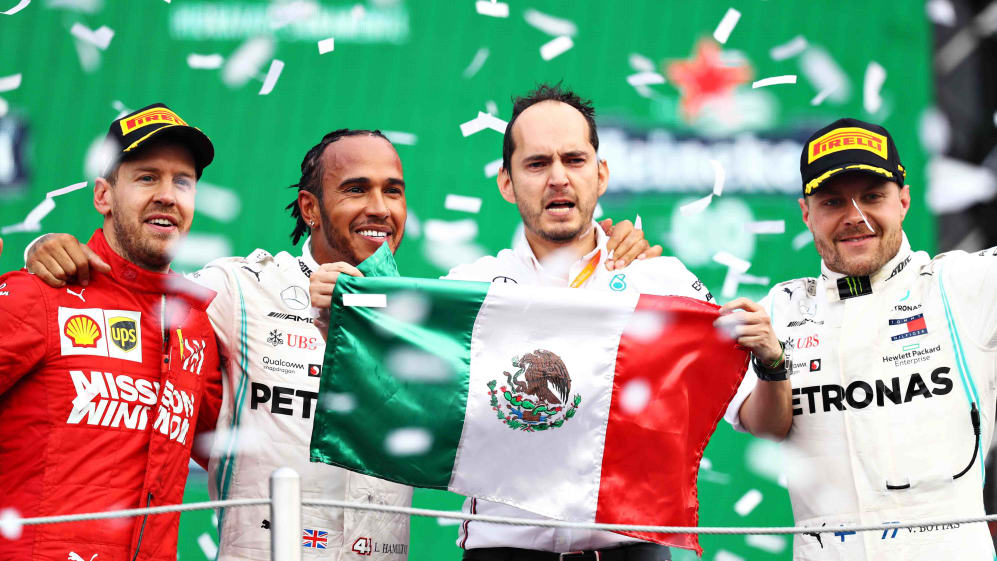 The key quote
"Today's an incredible result. I have to say a huge thanks to our team, Mercedes and our partners today. The guys have continued to work incredibly hard, stayed focused, we came here thinking we were on the back foot, knowing it was a difficult race for us. But we pulled through. I had quite a bit of damage on the car so the race was quite a bit of a struggle. Kept my head down. It felt like a long second stint. Oh man, I'm so grateful for today." – Lewis Hamilton
What's next?
F1 fans have just one week to wait until the circus arrives at Austin's Circuit of The Americas for the 2019 United States Grand Prix on November 1-3, for what could now be the 2019 title-decider. You won't want to miss it.