Hamilton dedicates strategic Mexican GP win to absent race engineer 'Bono'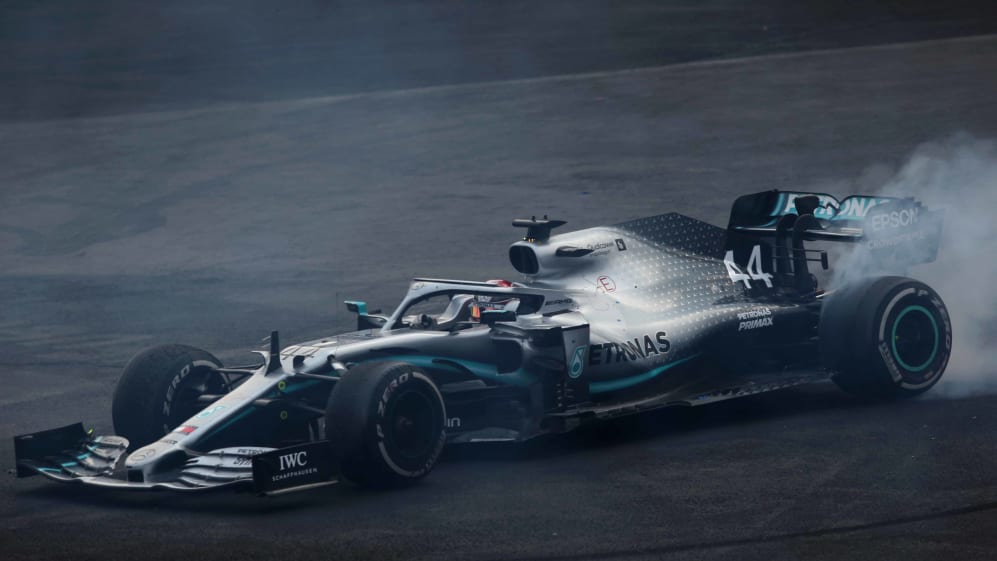 Formula 1 is a team game, so it was perhaps no surprise to hear Lewis Hamilton dedicate his nail-biting victory in Mexico to his long-time race engineer Pete 'Bono' Bonnington, who was absent owing to a medical procedure in the UK…
This was Hamilton's 10th victory of the season, taking him to the brink of a historic sixth world championship. But it was Bono, the man who has engineered the Briton to all four of his F1 titles to date with Mercedes and with whom he has worked for seven years, who was at the forefront of Hamilton's mind.
MUST-SEE: Hamilton celebrates Mexico win with donuts
"Bono has been with us in spirit, obviously not here physically but he's been with us on the radio, in all our meetings, while he's been at home recovering," said Hamilton.
"He's done a huge amount of work before the weekend happened to make sure everyone's up to speed. Marcus [Dudley, Hamilton's Performance Engineer who stepped up in Bonnington's place] has done a fantastic job.
"This is not an easy job to come and to be the forefront, the #1 engineer for a world champion. It's not easy, there are a lot of demands there and it's his first time. Him and Dom, who's my #2 [and usually heads up Mercedes' race support team at the factory], both stepped up to the plate and done a fantastic job.
"Of course I wanted to dedicate this win to Bono because he's going through - it's not been the easiest of times. I love the dude. We've come a long way together, and I wanted to make him proud this weekend."
READ MORE: Mexico Facts and Stats: Hamilton emulates a Schumacher record
It was a remarkable team performance from Hamilton and Mercedes in Mexico. The Silver Arrows opted for an impressive one-stop strategy with Hamilton negotiating a chaotic start, where he ran close with Sebastian Vettel and Max Verstappen and even picked up damage with light contact with the latter, and delivering what he needed to do to make it work at a track where Ferrari and Red Bull appeared to have the edge.
"The guys have continued to work incredibly hard and stayed focused," said Hamilton. "We came here thinking we were on the back foot, knowing it was a difficult race for us. But we pulled through. I had quite a bit of damage on the car so the race was quite a bit of a struggle so I kept my head down. It felt like a long second stint. Oh man, I'm so grateful for today."
Results didn't quite go the way Hamilton needed to win the title, but he now has a 74-point lead with just 78 left on the table – not that it seemed to bother him.
"I don't mind," he said. "I love racing and I take it one race at a time. This is a race I've wanted to win for some time and it's always been tricky for us and I'm incredibly humbled by today's opportunity and the car holding up as it did and the team executing the best strategy."
Regardless of where Bottas finishes next weekend in Austin, Hamilton simply needs an eighth-place finish or better to secure title number six. Given he's won four of the last five US Grands Prix and finished third in the other, it's looking rather good for the Mercedes driver.