Mixed feelings for Perez after fine Monza recovery drive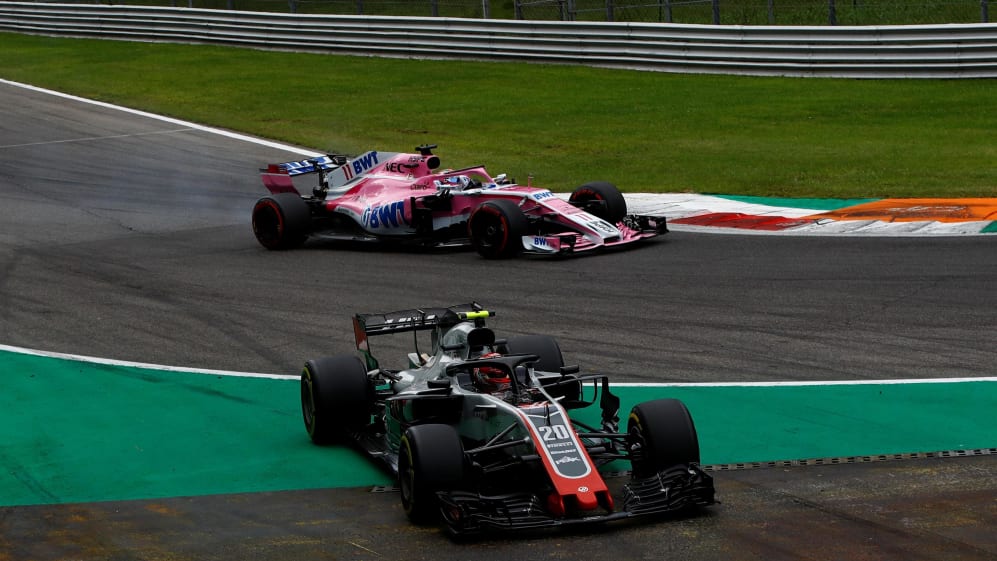 At the 2012 Italian Grand Prix, Sergio Perez produced a stunning drive from 12th to land a memorable second place. And on Sunday, he fought his way through the Monza field again to secure vital points for Force India, an impressive feat given the early damage sustained to his VJM11...
The Mexican knew he'd need to be at his best if he was to finish in the points in Italy, after a disappointing qualifying performance saw him finish down in 16th only to be pushed up two grid places due to the penalties handed to Renault's Nico Hulkenberg and Red Bull's Daniel Ricciardo.
His recovery mission was made even harder in the early stages of the Grand Prix on Sunday when a coming together with Haas' Kevin Magnussen resulted in damage to both cars, with Perez suffering steering issues.
But Perez was able to eventually find his rhythm – and while he was pleased to come home in eighth (which later became seventh following Romain Grosjean's disqualification from the race), he couldn't help but feel that on another day it could have been a better result.
"I am happy to come away from here with points, especially considering we were starting pretty far back on the grid," said Perez.
"Unfortunately, I had to carry really big damage for the whole of the race: I was in a battle with Kevin [Magnussen] and he cut the chicane twice when I had already passed him. He was not told to give the position back but I managed to get alongside him again at Lesmo.
"He just didn't give me enough room and put me all the way to the inside. In such a fast corner, there was always going to be contact and it ended up damaging my car badly. I had lots of understeer so it was a very difficult race.
"The best of the rest was achievable today. You can see where I started and the pace we had today, so I definitely should have been up there today.
"Despite these problems, we had strong pace and I was right behind Esteban [Ocon] in the final part of the race as we both tried to get ahead of [Romain] Grosjean. We didn't quite manage to be 'best of the rest', but all things considered we did a good job today."
Magnussen, meanwhile, felt his race was over after the first lap, with the Haas driver forced to make an early, unscheduled pit stop and he ultimately finished way down in 17th.
"It was a pretty long race for us today," said Magnussen. "We had some damage on the rear tyre after the first lap. I had to box for mediums and just went nowhere from there. Our race ended on lap one. We were then doing the whole race on one set of medium tyres – the slowest [compound] – so it was never really going to be a case of us getting back in the race."
Perez will now turn his attention to the next round in Singapore, with the Mexican hoping to continue his team's fine start to their new era with another solid weekend.
"The results from the last two weeks show how strong this team is. We would be theoretically fourth in the championship and we are scoring good points. In Singapore we will get some upgrades, which hopefully means we can keep performing well in the final few races of the championship."
Force India's second successive double points finish helped move them up two places, above Toro Rosso and Sauber, into seventh in the constructors' championship. Now on 32 points, they trail McLaren by 20 with seven races to go.