Mixed fortunes for McLaren as Norris left frustrated by mistakes but Sainz 'achieves maximum' with P8
With Carlos Sainz starting eighth and Lando Norris 15th, neither McLaren driver was particularly elated with their qualifying performance for the Sakhir Grand Prix. While Sainz said he extracted the "maximum" from his MCL35, Norris rued mistakes from himself and the team that led to his Q2 elimination on Saturday.
With two minutes of Q2 remaining, Norris was in the drop zone. He headed out on track, only to abort his first flying run. With enough time for a second attempt, he was on course to improve before a mistake in the final sector, which saw him peel into the pits to settle for 15th on the grid.
READ MORE: Russell 'gutted' to miss pole but says if someone had told him he'd be P2 they'd be 'having my pants down'
"I just need a weekend where I don't make any mistakes and today I made one, or, I think we made one a little bit," said a disappointed Norris after the session.
"We ran out at the wrong time, so to make up for that I had to do a very slow outlap which ended up being too slow and the tyres going out of the right window, which meant they weren't in for Turn 1," he explained. "So it was just a messy run, which was a little bit on my behalf and I think a little bit from the team."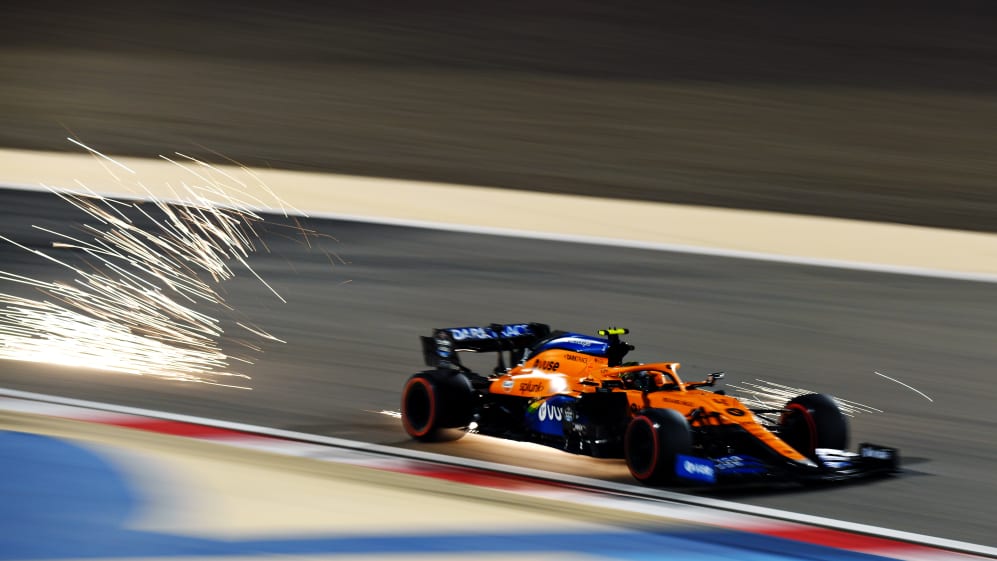 Norris clarified that his final flying run of the session was aborted because he made a "big mistake" in qualifying – which he called his first significant qualifying error of 2020.
"The second lap was still on me and I didn't do a better job then," he said. I was a bit frustrated by that and annoyed with myself of course, but yeah, it's the first, let's say, big mistake I've done all year in terms of qualifying.
READ MORE: Leclerc delighted with surprise P4 in Sakhir qualifying, as Vettel exits in Q2 after middle-sector struggles
"Still not happy about that but it happens sometimes, but I'll try to do a better one tomorrow."
Sainz, on the other hand, made it to Q3 and took eighth on the grid – but admitted that his McLaren had little performance left in the tank, even if he produced the fourth fastest lap in Q2.
"I know there was a lap there in Q2 that I looked really, really quick but that was also [down] to some slipstreaming, and probably an overperforming of the slipstream, and a really good lap," he explained.
"Honestly once we got to Q3 and we did a normal lap without slipstreams and anything else we did a 54.0 [second lap], that is the maximum our car could do today that put us P8, with two new sets of tyres for tomorrow."
HIGHLIGHTS: Watch all the action as Bottas beats Russell to pole in Sakhir GP qualifying
The Spaniard, who sits one point behind team mate Norris in the standings, was still content with his showing on Saturday.
"Honestly, if you told me before quali we were going to be in this position I would have signed," he concluded.