Monaco win 'redemption' for 2016 loss - Ricciardo
"I finally feel like the redemption has arrived." Two years ago, Daniel Ricciardo stood heartbroken on the Monaco podium after victory was cruelly snatched from him by a botched pit stop. This year, his infectious smile was back as he clinched a sensational victory despite a power problem.
Starting on pole, Ricciardo retained the lead after the one and only round of pit stops - but then a power issue crept in. With Sebastian Vettel hovering menacingly behind and more than half the race left to run, the Australian optimistically asked if it would get better - the response was that it would not.
Instead Ricciardo was forced to manage the problem, using only six of his eight gears, to brilliantly secure his second victory of the season and first in the Principality.
"I think I can show more emotion today than yesterday," said Ricciardo, who became the first pole-sitter to win in Monaco since 2014. "Two years in the making this.
"I finally feel like the redemption has arrived. We had problems. I don't know how much the [team] radio broadcast. We had a lot to deal with during the race. Before half way, I felt a loss of power and I thought the race was done.
"We got home just using six gears. Thanks to the team, we got it back. So I'm stoked. There was a few doubts that came in mid race. We won Monaco. It feels good."
Ricciardo said Red Bull first discovered an issue on lap 18 of the 78 lap race and then after the pit stop, when he went on the throttle, he said he had "pretty much no power compared to what I'm used to".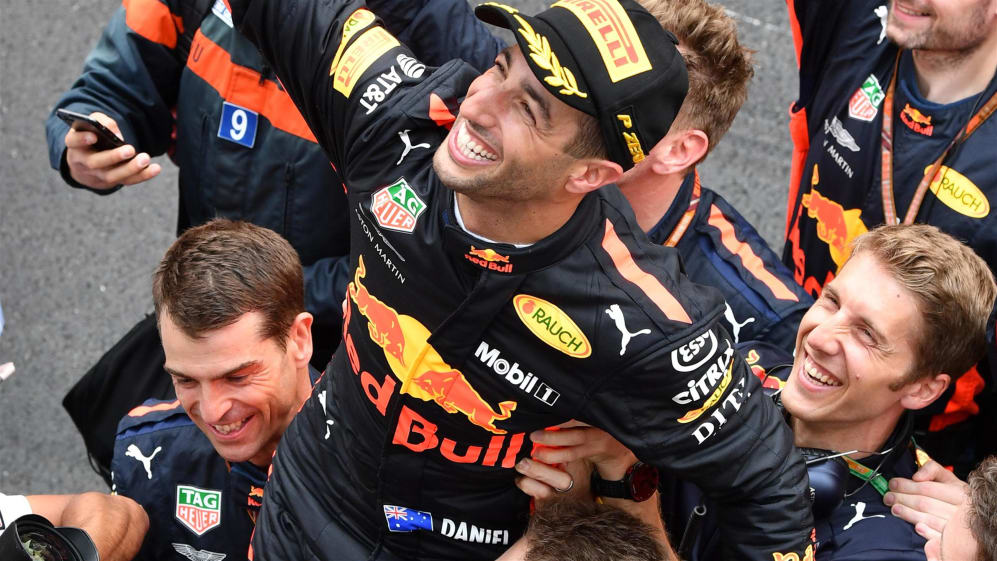 "I wanted to close my eyes and start crying because I thought that was it, the race was over," he explained. "We changed a lot of things that didn't fix the problem. We had to survive with that problem all race. It wasn't fun. It sucked. I'm exhausted."
Speaking to Sky Sports, Red Bull Team Principal Christian Horner said Ricciardo's issue was an MGU-K problem which meant he lost "25% of the power of the engine".
In the circumstances, Horner said Ricciardo's performance - in Red Bull's 250th race - was 'unbelievable'.
"He was not going to give this race up this weekend. We lose the MGU-K 17 or 18 laps into the race. Then your brake temperatures go out of control. The tyre temperatures start going up. And he just managed it like he's on a Sunday afternoon drive.
"They're telling me on the intercom we're going to have to retire the car in one or two laps. I said we're in the lead of the Monaco Grand Prix, we're keeping going. He drove an unbelievable race this weekend."
Red Bull motorsport advisor Helmut Marko was equally effusive in his praise of the Australian. "I don't think any other driver could have done it," he purred.
In securing victory, Ricciardo completed a brilliant clean sweep that including topping all three practice sessions, plus all three segments of qualifying. The win was the seventh of his career, but his first when starting from within the top three.
Ricciardo has now jumped Mercedes Valtteri Bottas to move into third in the drivers' standings, 24 points behind Vettel and 38 behind Hamilton. All three men have won twice this season.