Feature F1 Unlocked
MONDAY MORNING DEBRIEF: Ferrari have a quick car but Mercedes' risky call on tyres paid off in Mexico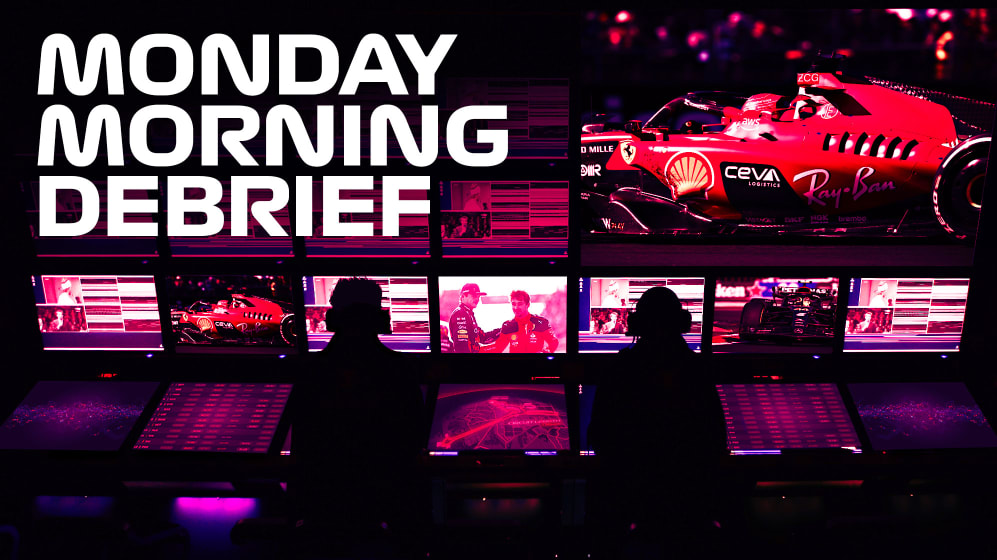 Kevin Magnussen's lap 34 crash in Mexico broke up a Max Verstappen two-stop vs Charles Leclerc one-stop contest. With the race red-flagged everyone got to change their tyres for free and had no need of further pit stops. In this re-booted contest Verstappen simply drove off into the distance for his 16th win of the season, leaving behind a sometimes-enthralling dice between Leclerc and Lewis Hamilton for runner-up.
The background to that particular battle was the difficult choice over which tyres to fit for the remaining 36-lap distance. This was no simple calculation and it was a decision being agonised over by pretty much every team.
READ MORE: Verstappen 'very proud' after record-breaking 16th win of the season in Mexico City GP
Thirty-six laps was a fairly challenging distance for the calculated wear limit for the medium tyre, but comfortably within the range of the hard. On the other hand, the greater traction of medium tyre was reckoned to be worth five metres off the grid – and its quicker warm-up would see it significantly faster for at least the first five laps.
The pattern is always different car-to-car and some teams had the hard down as the faster tyre over a stint, more than making up in its slower degradation what it lost in the first few laps to its slower warm-up. Others had the medium as faster – but only if you could control the wear.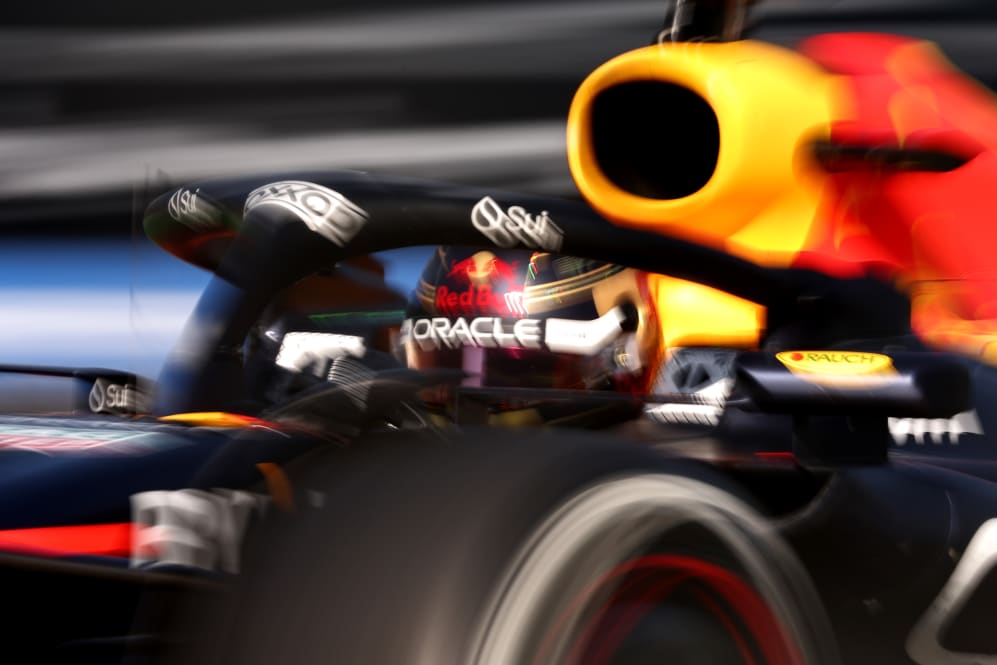 The situation was different for each team. At Red Bull, Verstappen had already used his only set of mediums and had only just put his second set of new hards on a lap before the red flag. So there was no decision to be made. "I was a little nervous about the start," said Verstappen afterwards, "because I thought Ferrari would put Charles on mediums, but then I saw he was on hards too."
Unlike Red Bull, Ferrari did have a choice. Leclerc and Sainz each had a set of used mediums available. The hards they had just fitted before the red flag still had plenty of life in them. Leclerc had been quite happy in the three laps he'd been on them.
READ MORE: Hamilton has 'total faith' Mercedes can build a contending car in 2024 after finishing second in Mexico
Sainz was not sure about being able to get to the end on mediums. "With our deg the medium would have been too optimistic," he said. But he had just done a 30-lap first stint on mediums – and that was with a full tank of fuel. Everyone would be restarting with about 40kg less than when fuelled up for the original start.
But Ferrari's numbers suggested the hard would be the faster tyre over a stint, because of their quite high tyre degradation. Ferrari kept both its cars on the hards, which had just been fitted at their pit stop a few laps earlier.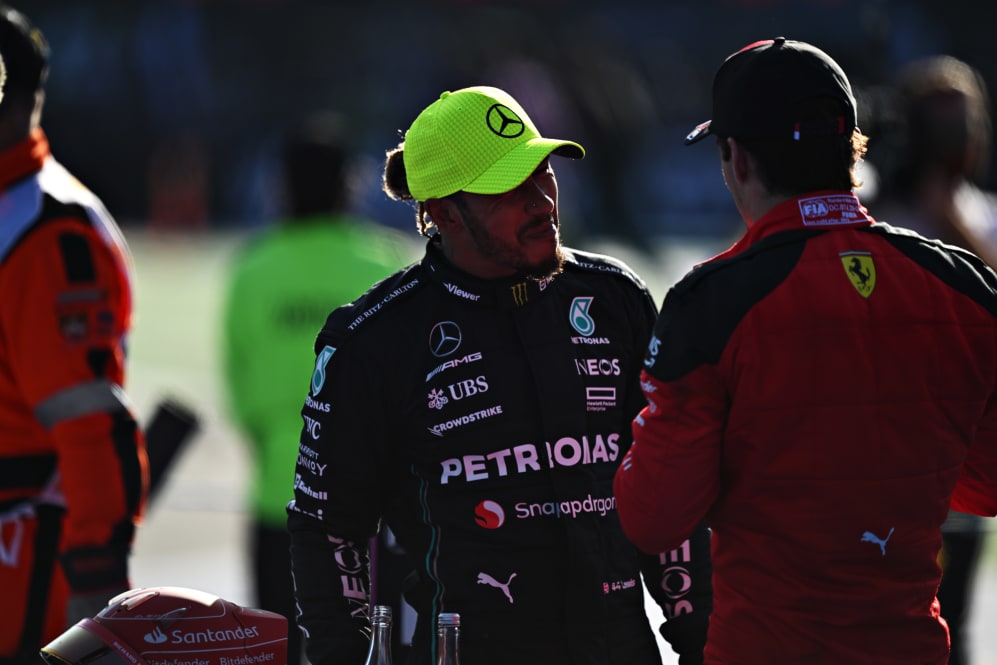 Mercedes' numbers were different, as was its situation. Hamilton would be restarting third, between Leclerc and Sainz. George Russell would be starting seventh. They each felt they could move forward from there. Their numbers suggested the medium was actually faster over a stint – if the wear could be controlled.
It was a risk, but one they felt worth taking. Besides, their only available hards were the ones they'd had fitted at the stops, but Hamilton had stopped seven laps earlier than Leclerc, Russell six laps earlier. Those hards would therefore be significantly older than Ferrari's hards. By contrast, Hamilton's available set of mediums had done only four laps, Russell's had done five laps. Mercedes fitted both cars with the mediums.
FACTS AND STATS: AlphaTauri's best result of the year and another Verstappen record
McLaren's thinking was very similar to that of the Silver Arrows. After Magnussen's crash brought out an initial Safety Car (before the subsequent red flag), Norris was asked if he thought the hard would be okay for a restart. "I guess I have to say yes," he said. "There's just too far to go for the mediums." But he was overruled and fitted with a one-lap old set of mediums. Team mate Oscar Piastri was fitted with a lightly used set of the same.
Hamilton's getaway off the grid was very little better than Leclerc's and he slotted into third. But he knew his advantage would be at its greatest in these early laps as Leclerc's hards came up to temperature. The Mercedes was not fast enough on the straights to challenge the Ferrari without DRS, which was only enabled after two laps.
That allowed Leclerc's tyres those laps to find more temperature, so increasing the imperative for Hamilton as DRS was enabled. Even with DRS, the Mercedes was not significantly faster than the Ferrari without it. But on the fifth lap after the restart Hamilton made a perfectly-timed run on the Ferrari, allowing him to get close enough to go by, albeit not without putting a wheel on the grass as Leclerc tried to fend him off.
Hamilton was through but there was a concern that Leclerc may have come back at him as the mediums degraded faster. Yet it didn't work out like that. The relatively slow pace imposed by having to keep the brake and power unit temperatures under control meant that the mediums did not get over-stressed, particularly as the track temperatures began falling.
READ MORE: 'I paid a high price' – Perez admits he 'took a risk' in race-ending incident after hoping to win in Mexico
Furthermore, Leclerc's hards were just not working for him. "Ours is a very peaky car," he said, "and whenever we get out of the optimal window of the car, we are losing too much time. And that's exactly what happened on the hard.
"At first, I thought I could do quite a good job once we stopped. But then there was a red flag, the tyres cooled down, we went back out and the feeling was just not the same and I couldn't find the feeling again with the tyres."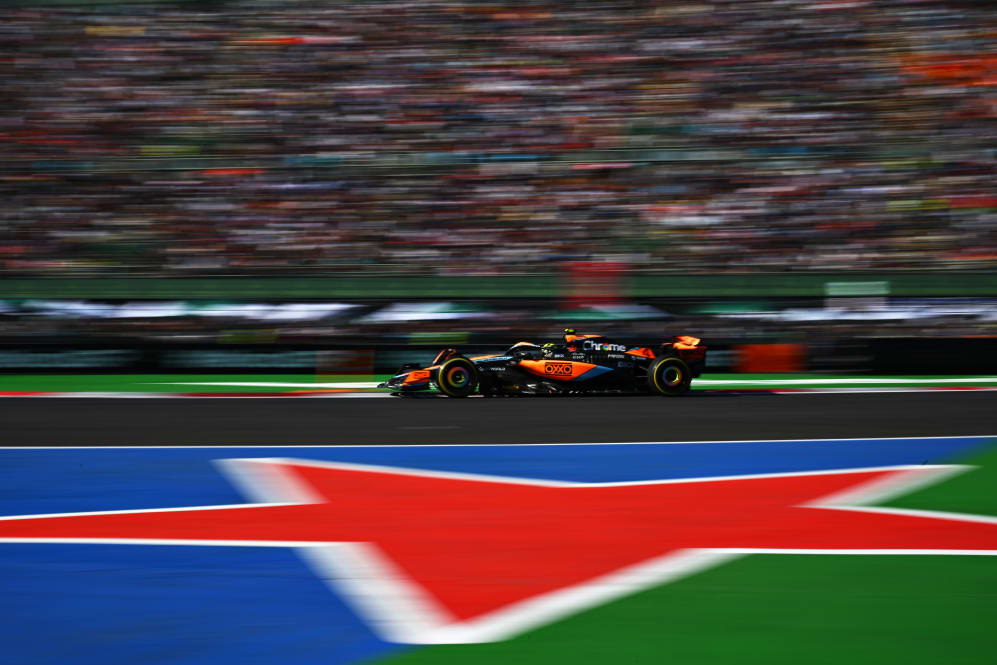 Russell had not met with as much success as Hamilton. He'd initially been pressuring Carlos Sainz hard for fourth place but faced the same straightline speed problem as Hamilton. After a few laps of this, his tyres began to suffer and he fell back.
Suffering quite high wear, his tyres cooled off as he slowed down to control his brake calliper temperatures. But the thin tread meant it was impossible to get them back up to temperature once he'd brought the brake temperatures under control. "It was like driving on ice for the last few laps," he reported.
HIGHLIGHTS: Catch the action from an exciting Mexico City GP as Verstappen takes record-breaking victory
Norris's McLaren meanwhile was suffering no such problems and he was charging through the pack on his mediums from 14th – where he had fallen to at the restart. Five laps from the end, he passed Russell for fifth and was closing down Sainz fast as the chequered flag fell.
The victorious Verstappen had not given his tyres another thought once he'd led at the restart. He had margin enough that he could have probably won with any tyre combination. It was a luxury the others didn't have.
To read on, sign up to F1 Unlocked for free
You'll unlock this article and get access to:
Live leaderboard data
Epic experiences and rewards
Money-can't-buy competitions