Feature F1 Unlocked
MONDAY MORNING DEBRIEF: The key strategy call came on Lap 14 in Austria, so who got it right – Red Bull or Ferrari?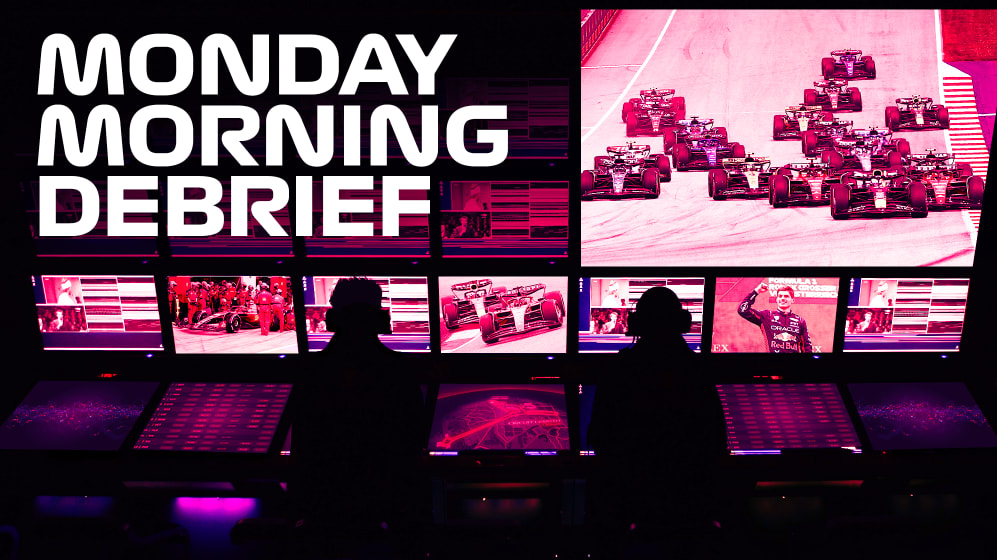 Max Verstappen could probably have won the Austrian Grand Prix any way he liked. He was already dominating the race, over 5 seconds in the lead on the 14th lap, when he and Red Bull faced a moment of decision about how to react to the Virtual Safety Car thrown when Nico Hulkenberg's Haas broke down.
Verstappen and the two Ferraris of Charles Leclerc and Carlos Sainz were already past the pit entry when it came, but most of those behind took the decision to pit, thus saving time over a normal pit stop taken with the field at full racing speed. The VSC was still in force as the lead trio came by on the next lap and this time the two Ferraris came in – but Verstappen stayed out.
READ MORE: Verstappen beats Leclerc for victory in Austria to make it five wins in a row
Who got that call right – Red Bull or Ferrari? Neither was a disastrous choice, given that the destiny of the victory was not going to be changed by it. But Red Bull's call – and they made the same one for their other car of Sergio Perez, running ninth before the VSC – worked extremely well.
Lap 14 was around seven laps short of the ideal first stopping point for a two-stop race using a combination of the medium and hard tyre. At a mathematical level the question for Verstappen's car was whether the time saved to the field by pitting under a VSC would be more than gained by having a better spread of tyre performance over the three stints.
At a practical level it was also about where it would place him relative to other cars upon rejoining and how that might impact his race.
Even before the VSC, Red Bull could already see that the degradation rate of pretty much everyone was high enough to have moved the race decisively towards a two-stop, whereas pre-race many felt that one-stop would be favoured. So, the risk of coming in a few laps earlier than ideal wasn't a big one.
But Red Bull's reasoning for staying out was different for each car. Christian Horner gave the case for Verstappen, saying, "Staying out put us on an offset to the others and although it meant we conceded track position [to the Ferraris] when we came in [nine laps later], the tyre advantage it provided meant it was easy to recover that."
READ MORE: Austrian Grand Prix results confirmed as Sainz and Hamilton among drivers demoted
Furthermore, Ferrari did not get the full advantage of stopping under the VSC because it was rescinded just as Leclerc and Sainz were entering the pit lane. "The VSC came about 5s too late for us," rued Ferrari's Frederic Vasseur, "and ended about 5s too early."
When they rejoined with the field back up to full racing speed, Leclerc was around 18s behind Verstappen, meaning the VSC had saved him only around 7s. For Sainz, having to be stacked behind the other Ferrari, it was a definite disadvantage.
It lost him around 6s to Verstappen and put him behind Perez plus Lando Norris and Lewis Hamilton (both of whom had also stopped). Sainz was able to repass all of them to climb back up to the third position he'd held before the VSC but doing so used up valuable tyre life.
Staying out was particularly advantageous for Perez, for as the slower cars ahead of him (Pierre Gasly's Alpine, the two Aston Martins, Lando Norris's McLaren and Hamilton's Mercedes) pitted out his way, he was able to use the clear air to utilise the Red Bull's performance to essentially leapfrog them all.
EXPLAINED: Why did the Austrian Grand Prix race result change?
It was similar to what Ferrari did in Montreal two weeks ago when they were running out of position on account of their poor qualifying.
Verstappen, meanwhile, on his older tyres, was being caught by Leclerc at about half-a-second per lap. Max was always going to come out behind him. By the 24th lap he was only 13s in front and the pit stop loss here is around 20s.
The timing of Verstappen's stop was defined not only by the state of his tyres but also by the progress of Sainz who had overtaken the yet-to-stop Perez on the 20th lap. With Sainz back up to third, Red Bull no longer had the Perez buffer to help create a space for Verstappen to drop into.
Sainz's pace was around the same as Verstappen's at this stage of the race and so the 20s gap remained stubbornly stable. After stopping, Max exited behind both Ferraris, but was able to deal with Sainz immediately and with Leclerc after 11 more laps. Thus the foundation for victory was now solidly in place, as the Ferraris would have to pit earlier.
FACTS AND STATS: Leclerc gives Ferrari their 800th Formula 1 podium
The greater lengths of their second and third stints over Verstappen ensured they could not use the tyres as hard and Verstappen's lead was out to over 24s when he chose to come in three laps from the end for a set of soft tyres on which to set the race's fastest lap.
Similarly, Perez's later stop ensured he had far greater tyre performance than Sainz, helping him to repass the Ferrari to take third.
To read on, sign up to F1 Unlocked for free
You'll unlock this article and get access to:
Live leaderboard data
Epic experiences and rewards
Money-can't-buy competitions