Video
MUST-SEE: Hulkenberg barrel rolls into barriers after contact with Grosjean
It was a moment that left onlookers with their hearts in their mouths – but Nico Hulkenberg has played down his spectacular opening lap barrel roll in Abu Dhabi as 'nothing really dramatic'...
The Renault driver was sent on his collision course with the barriers after tangling with Haas's Romain Grosjean on the opening lap of the race at Yas Marina, as the duo fought over seventh place.
Hulkenberg was taken to the medical centre for checks after the smash, but was soon back in the paddock and ruing a disappointing end to the season.
"I'm totally fine physically, just disappointed and gutted to be out of the race so early and to finish the season like this," said the German.
"My head was spinning around, as was the car, which is never a good sign – something had clearly gone wrong! It looked spectacular, but it was not a hard crash. There was no heavy G [force] impact, so no problem from that point of view.
"It's obviously not what I was looking for. It's such a long build up and obviously everyone is putting in the hard work over the weekend, and then to be out on lap 1 like this, with a lot of damage on the car as well, feels bad.
"It's very disappointing but I think we have to put it down as a racing incident. I was racing Romain into Turn 8 and we both locked up. I went really wide, he went even wider, so I thought he ran off the track and I had Turn 9 to myself. That's why I went for the apex but obviously he was still there and you know, the wheels make contact and the rest we've seen. The flips looked spectacular but nothing really dramatic."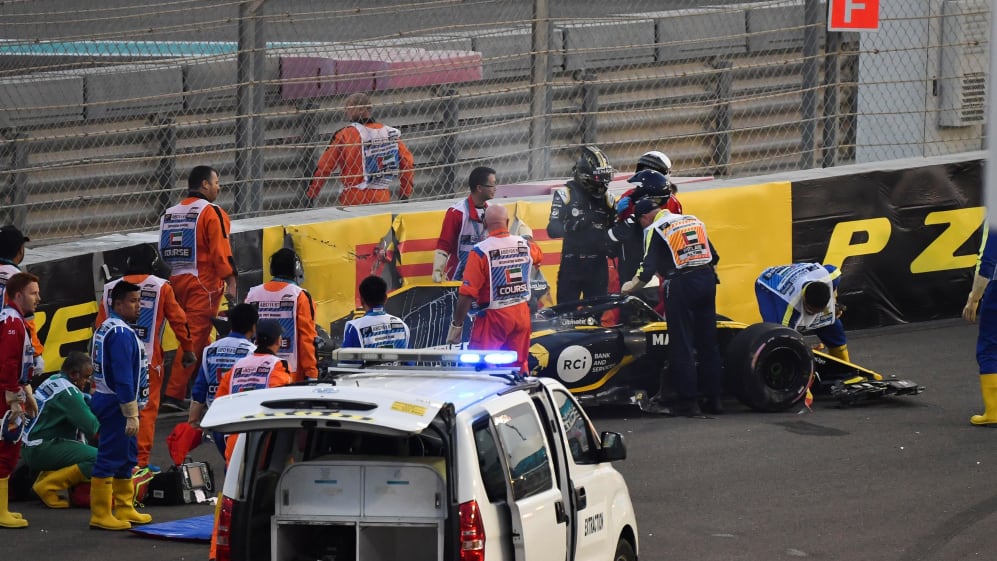 Getting out
Hulkenberg may not have seen the drama in hanging upside down against the barrier 'like a cow' (as he memorably put it over team radio), but as the flames started to lick at the rear of his Renault, there was clearly an urgency to remove the German from his car as quickly as possible – and the marshals were on the scene in no time, righting the yellow and black machine and extinguishing the flames.
Why didn't Hulkenberg slip out sooner?
"To the right I had the barrier and then there was a very small gap. When you're upside down it's not so easy to find all the buttons because everything feels very different. It's the first time for me to end up in a car on its roof. I was just sitting tight and waiting for the marshals and they reacted very quickly and got me out."
Seventh all tied up
He may have gone out on the first lap, but that didn't prevent Hulkenberg from sewing up a career-best seventh place in the drivers' standings, which has taken on greater meaning this year because of the dominance of F1's current big three teams – Mercedes, Ferrari and Red Bull.
"We will take it for now," said the 31-year-old, "but obviously we want to be up there playing the music with the big boys in the future."
Is that a realistic aim? Well, with Renault sealing fourth in the constructors' standings and Daniel Ricciardo's arrival imminent, the momentum is clearly on their side…