Video
MUST-SEE: Leclerc ends second practice for the Miami GP in the barriers with late crash
Charles Leclerc's opening day of practice for the Miami Grand Prix ended badly with a trip to the barriers that caused significant damage to the front-end of his Ferrari.
Leclerc was completing a late run during FP2 at the Miami International Autodrome when his car snapped away through Turn 7, after which he slammed on the brakes and slid into the Tecpro lining the track.
READ MORE: First pole confirmed how 'strong' Ferrari package is says Leclerc ahead of Miami and Red Bull challenge
While his front wing was left worse for wear, Leclerc quickly reported that he was unharmed, before hopping out of the car and onto a scooter to take him back to the pits and debrief with his engineers.
Watch Leclerc's crash by hitting go in the video player above.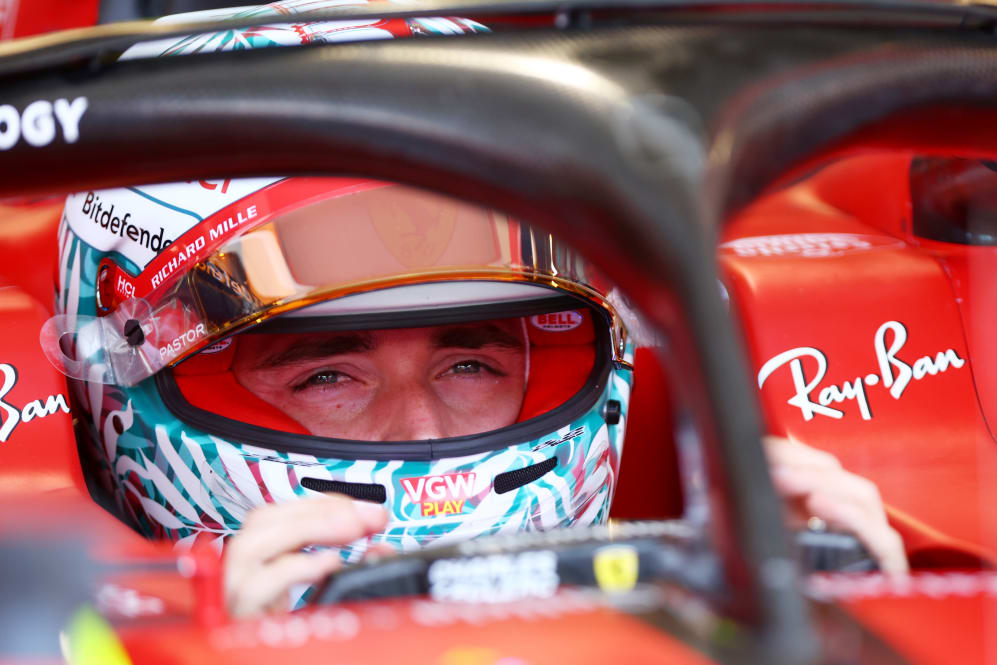 "Yeah overall it's very tricky because there's only one line and whenever you get off line there's really, rally poor grip and that's basically what happened: I pushed a bit too much, I lost the rear, tried to recover from it, but I had no grip to turn the car, so that was it," said Leclerc.
"No big damage – obviously the front-right is gone but apart from that no damage to the rear of the car which is the most important, so yeah, tomorrow is another day so I'm sure it will go well."
READ MORE: Verstappen enjoys Friday practice after topping FP2 while team mate Perez laments tough start in Miami
The Ferrari driver, who took pole position in Azerbaijan, added that his team showed promising qualifying pace but conceded that he did not expect to be able to take on the Red Bulls on Sunday.
"Apart from that I think the feeling is pretty good over one lap; over the race we are so far behind. I mean, Red Bull is again in a league of its own, they are very, very far in front, and yeah in the race we definitely have a lot of time to find.
"But in quali pace, we are more or less there," he said.