Feature F1 Unlocked
'My time and my chance will come' – Russell reflects on his 'scrappy season' 12 months on from his Sao Paulo triumph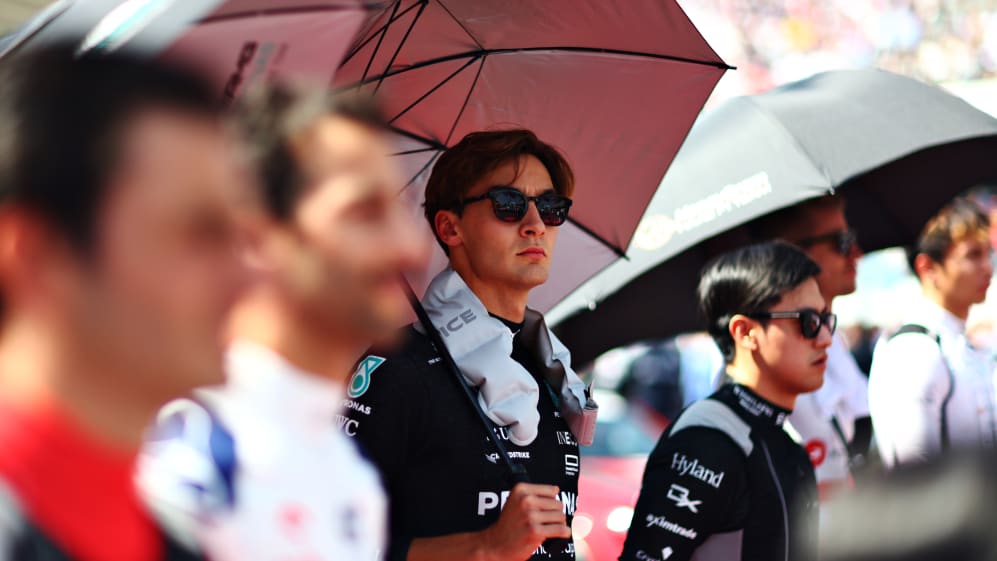 It hasn't been the easiest campaign for George Russell, but with effective late-season upgrades pushing the Silver Arrows up the grid and with confidence returning, the Mercedes ace is sure his time will come.
This time last year George Russell was about to experience his most magical weekend in Formula 1 to date. Third in qualifying, the Mercedes driver charged through to win the Sprint on Saturday and, starting from pole on Sunday, bossed the race in Sao Paulo to take his first F1 victory.
READ MORE: 'Only fools are optimists' – Wolff urges caution over Mercedes hopes in Brazil as he keeps 'both feet on the ground'
At the tail end of a troubled year for Mercedes, it should have been the sign of an upswing in fortunes for the former Williams driver whose elevation to the Silver Arrows had the misfortune to coincide with a slump in the multiple title-winning team's own fortunes.
It hasn't quite worked out that way. While Mercedes have undoubtedly closed the gap to front-running Red Bull, it has been Lewis Hamilton who has best exploited the potential of the W14, racking up six podiums to Russell's one (scored all the way back in Spain in early June). And while Hamilton sits third in the drivers' standings with 220 points, Russell is down in eighth, with 151.
And as the younger Mercedes driver heads back to the scene of his first F1 victory, there's one thing he's seeking – consistency.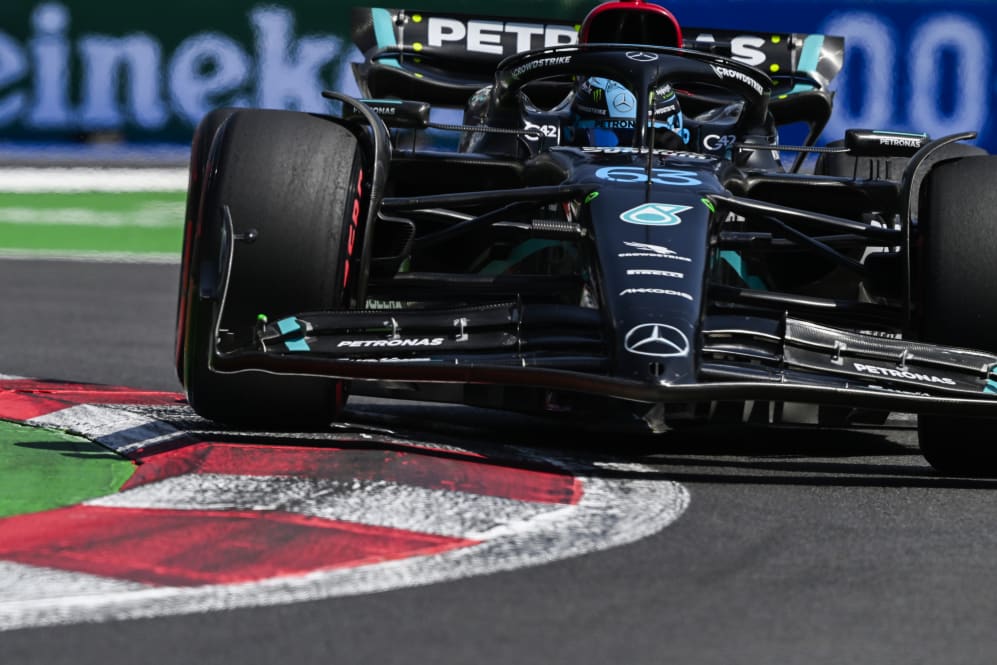 In Mexico last weekend, Russell put in a gritty performance on fading tyres to finish sixth ahead of AlphaTauri's hard-charging Daniel Ricciardo and after the race, the Briton said the one thing he's seeking is a clean weekend.
"I felt really good in the car, the pace was there so definitely a positive from this weekend," he said before lamenting a brake problem. "I was right behind Carlos [Sainz] wanting to overtake when my brakes overheated. We were concerned about making it to the end, so I had to back off and that's where I lost all the temperature in the tyres and didn't manage to get them back into the right window. It was like driving on ice for the last 20 laps so I'm glad I managed to finish in P6.
READ MORE: Hamilton has 'total faith' Mercedes can build a contending car in 2024
"Another difficult weekend for us but the car was performing well. We just need to have some clean weekends and show consistency, but I'm confident we'll achieve that. I'm looking forward to Brazil and I hope that we will show some good pace there too and hopefully we will be in a position to fight for the podium."
It was a similar story the week before, in Austin, where Russell cut a frustrated figure after a race in which he crossed the line in seventh place.
"It's a bit disappointing finishing P7 knowing we could have been on the podium today," he said after bemoaning an inexplicable lack of pace on the hard tyres. "Standing here now, [I'm] a little bit frustrated by a missed opportunity, which is the story of the season.
"I feel like every time I stand here, I'm saying a missed opportunity, whereas last year, out of 22 or 23 races there was only one race that was a missed opportunity. So, we need to have a think about what's going on, because it's not a lack of pace or performance.
"We know that the upcoming races will probably suit us better than this weekend," he added in Austin. "So, we need to wait and see how we get on, but on a personal note, it's been a really scrappy weekend – a scrappy season as a whole."
READ MORE: Russell says no team mate has pushed him as much as Hamilton
That quest for consistency and pace has been aided by upgrades in the closing stages of the 2023 season, in particular a new floor added to the W14 at the Circuit of The Americas that Technical Director James Allison said would add performance and point the way for 2024.
"It should be good at any circuit for the remainder of the year. It's not transformative, [it] should be about a tenth of a second," he said. "It's in the direction we think is decent, both for producing downforce in the right place, and hopefully being resistant to the bounciness that all these cars nibble at as soon as you try and get much downforce from them."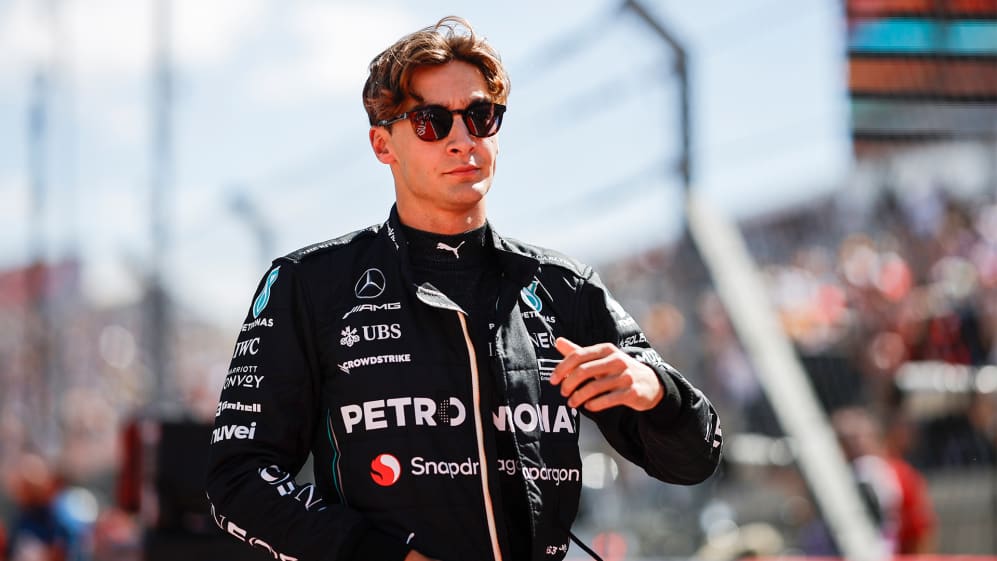 For Russell it's an improvement that he's sure will boost his performance in the future.
"I think we've made some good gains this season," he says. "I think it's clear that we made some mistakes ahead of the 2022 season, and again over this winter, but I'm definitely confident that these mistakes are going to aid us and help us a lot for the future.
READ MORE: Russell inspired by Alonso as he explains change in approach after F1's summer break
"And, you know, you need those setbacks, and you need those errors to set you on the right path. And I think, as a team, we're incredibly motivated to get back to the top. The lessons we've learned over these two years will only help us in the years to come."
And while Russell admits to frustration with the way his season has evolved, he is confident of one thing: that's he performing at the right level, particularly with a seven-time champion alongside him as a reference.
"I don't think I've ever been pushed in my whole career like I've been pushed in the last year and a half and to see that I'm swimming, and swimming well, gives me so much faith in myself, so much confidence, that I always had – but there's no doubt now," Russell said on the F1's Beyond the Grid podcast recently.
"I truly believe in myself, the team believe in me, and that's been really down to the fact that I've been team mates with Lewis and held my own."
And that inner confidence is likely to be boosted further by a return to Interlagos, where he took the fight to his illustrious team-mate and won one year ago.
BEYOND THE GRID: George Russell on his belief in Mercedes, being pushed by Hamilton and much more
"I really feel like I'm only just getting started," says Russell. "There's obviously a lot of races per season, so they rack up quickly and I don't feel like I've even begun yet. I think I'm performing at a really high level.
"I'm really happy with my own performance, but I recognise that you need to sustain this performance and be ready for when the car gives you that opportunity. But I've got no doubt that my time and my chance will come."
To read on, sign up to F1 Unlocked for free
You'll unlock this article and get access to:
Live leaderboard data
Epic experiences and rewards
Money-can't-buy competitions