Feature
Need to know: Abu Dhabi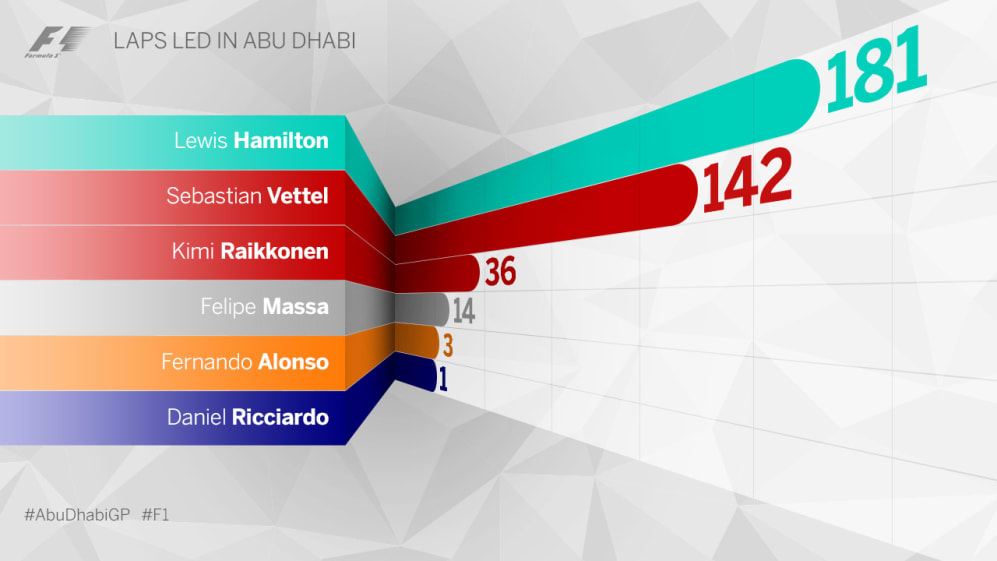 From session times to previous winners, we break down the key facts, stats and information ahead of the 20th and final round of the season...
Keep on turning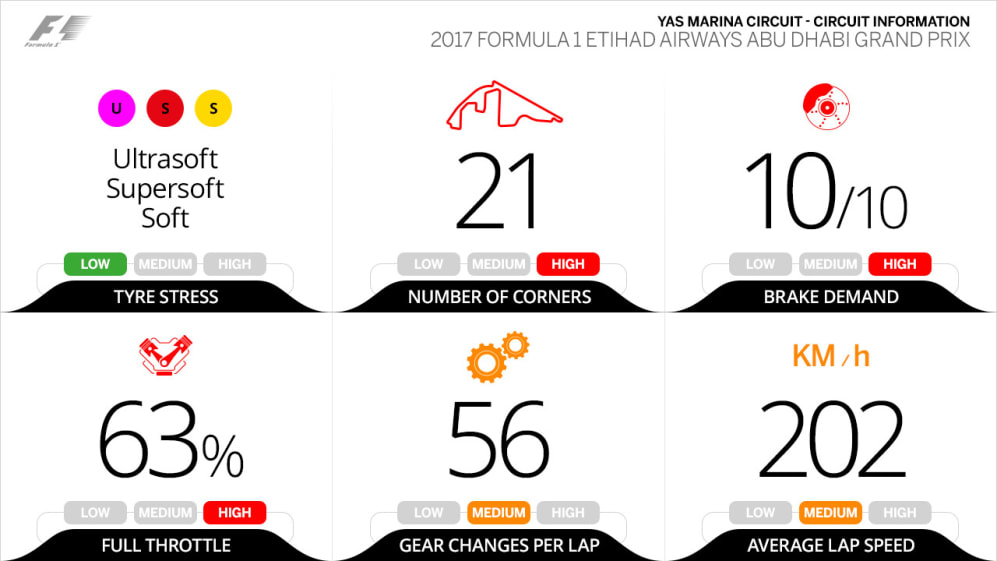 Its high number of corners – the majority of them being low-speed – means that Yas Marina produces one of the slowest lap times of the year. Its three sectors are quite distinct in their characteristics. The first is short and tests the medium- to high-speed performance of the car. The second is dominated by long straights and low-speed turns. And the last is an intense series of low-speed corners. The circuit is a challenge for engineers too: practice sessions take place early in the day, when track temperatures are much higher than those subsequently experienced during the twilight qualifying and race. It means that assessing car requirements accurately is very important. The track is also extremely tough on brakes.
The key corner - Turn 7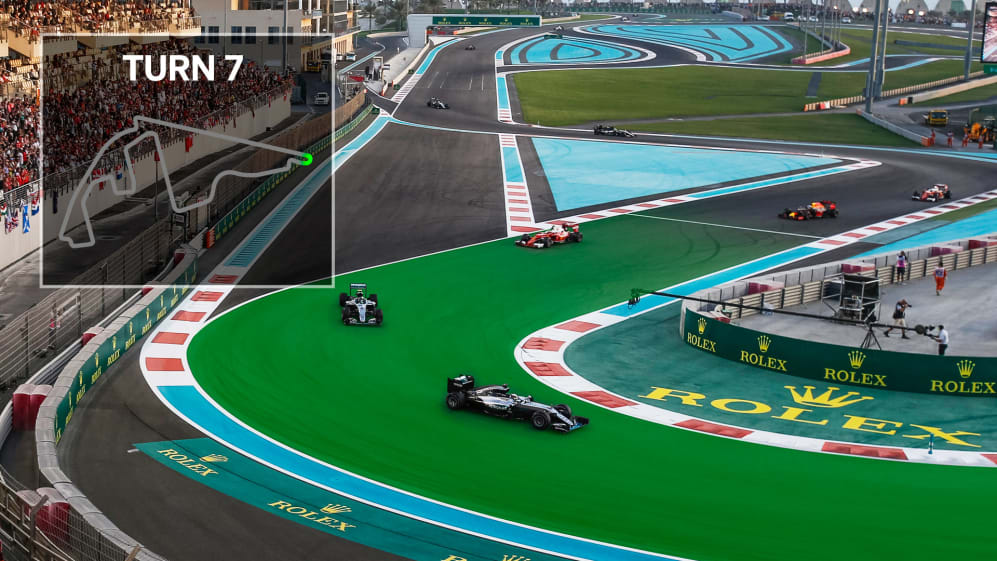 On the surface it may appear to be a non-descript left-hand hairpin. But for all its benign characteristics, this corner is crucial because the longest straight on the lap follows. Drivers need a good exit to maximise what becomes the first of the circuit's two DRS zones – and one of the best overtaking opportunities on the track.
Another 'title' tussle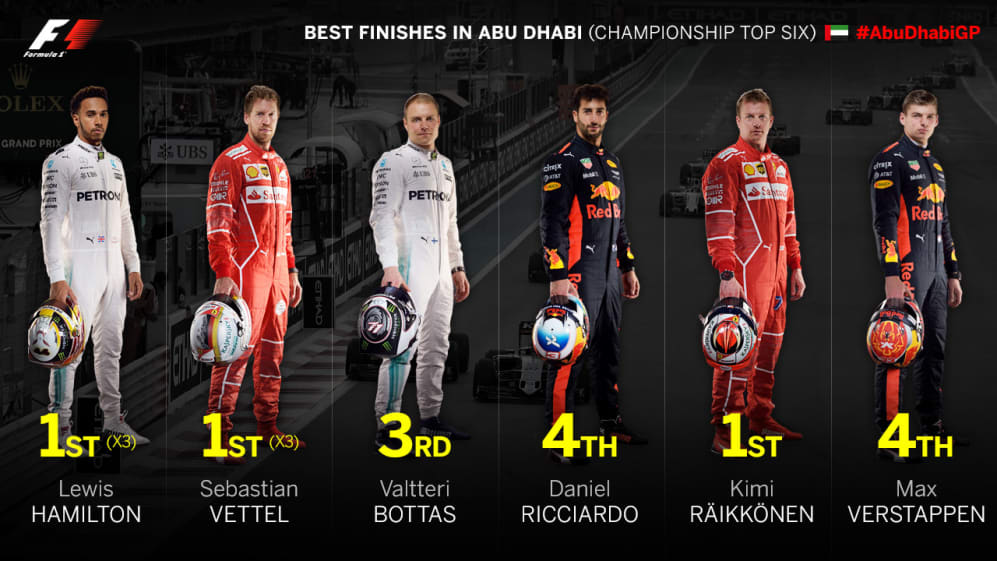 Yas Marina may not be hosting the championship decider this year, but Lewis Hamilton and Sebastian Vettel will go head to head once more – this time in a bid to become the single most successful driver in Abu Dhabi Grand Prix history. Between them they currently have six victories – no other man has triumphed more than once here. Will it be a case of lucky seven for one of them? Could Raikkonen double his win tally? Or will we see an all-new name on the trophy?
A first for Ferrari?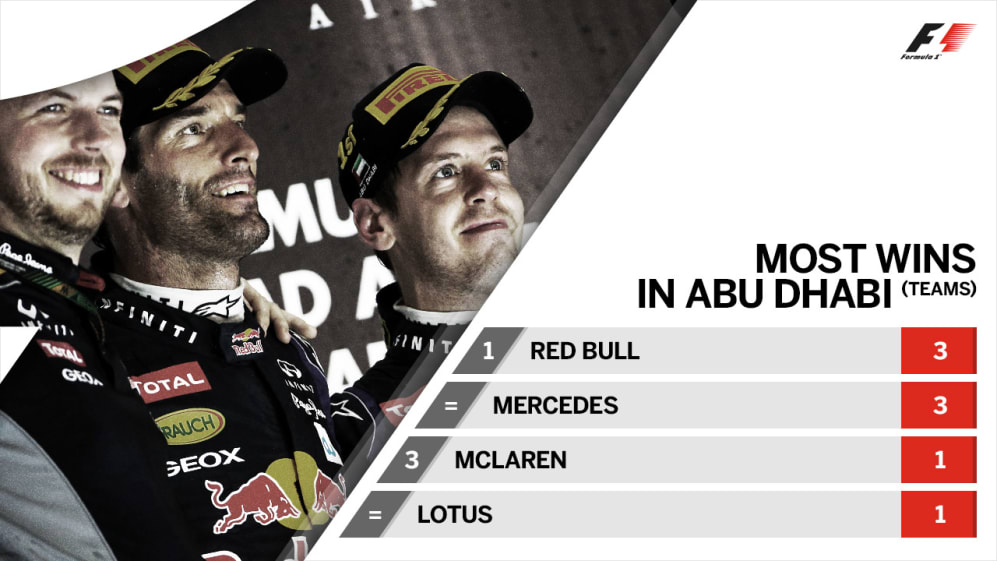 Eight times Ferrari have contested the Abu Dhabi Grand Prix – and eight times they have failed to win. Twice they have finished runner-up – both times courtesy of Fernando Alonso (in 2011 and 2012) – but never have they climbed the podium's top step. Mercedes must be favourite to ensure that run remains unbroken this year, though if Red Bull can pull off an upset, it will be them rather than the Silver Arrows that become the single most successful team at Yas Marina.
Time for a change?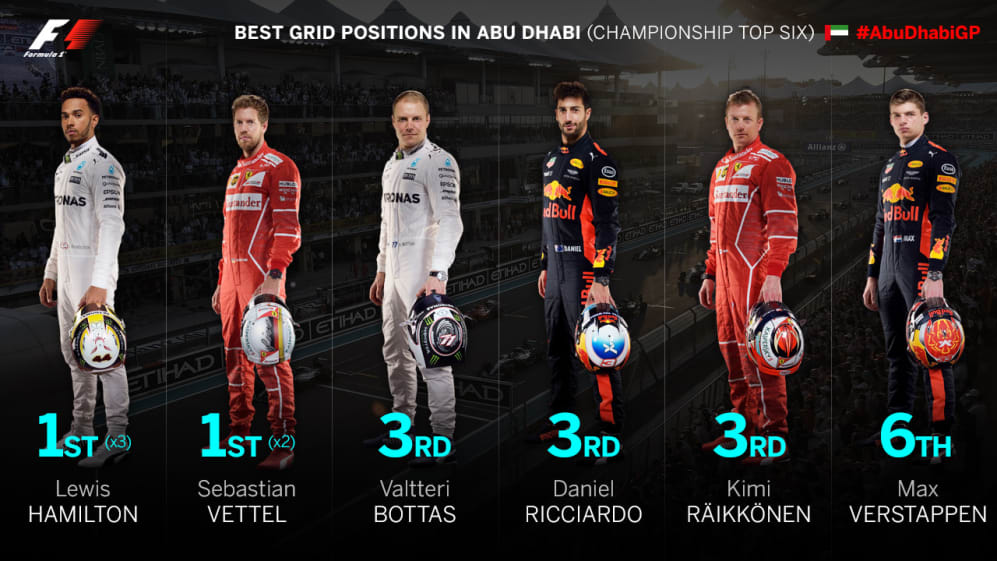 Hamilton and Vettel aside, no other current driver has started an Abu Dhabi Grand Prix from pole position – which perhaps explains the pair's domination of race wins here. Who else has been on the very front of the grid? Mark Webber in 2013 and Nico Rosberg in 2014 and 2015. Of 2017's other leading drivers, not one has even made the front row before.
More names for the rostrum rota?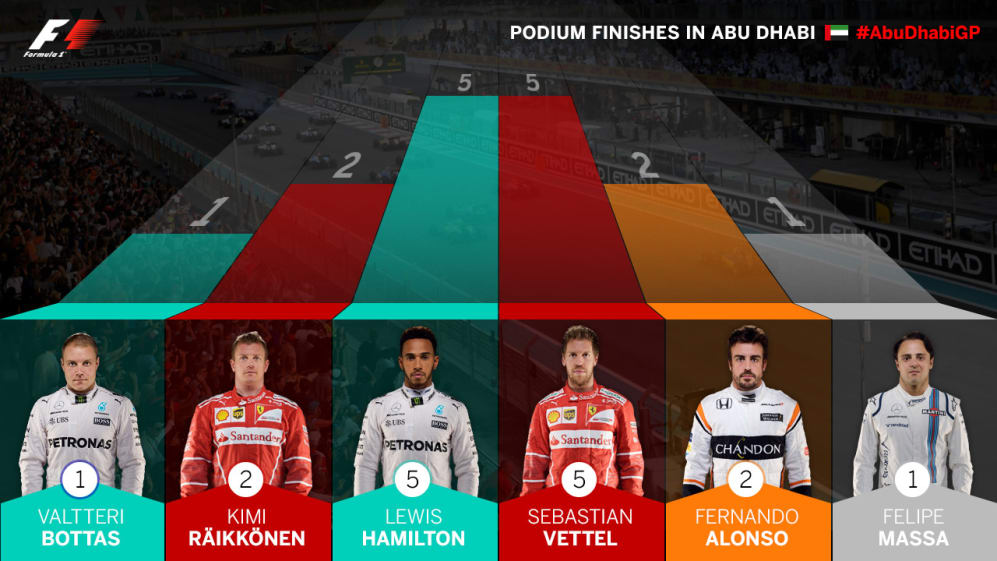 Lance Stroll, Daniel Ricciardo and Max Verstappen have all recorded podium finishes this season – could one or more of them repeat that feat this weekend and take their first top-three finish in Abu Dhabi? The Red Bull duo certainly shouldn't be underestimated – their Renault-powered RB13 has been coming on strong in recent rounds and both men will want to end their 2017 season in style.
Quote unquote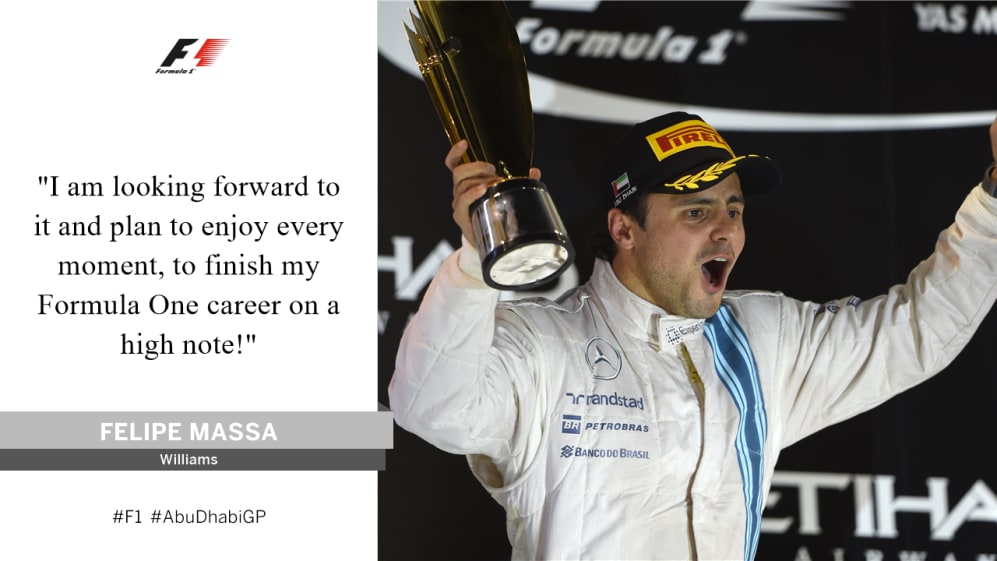 After his unexpectedly brief 'retirement' following the 2016 season, this weekend's Yas Marina race really will be Felipe Massa's last competitive F1 outing. In a career that has spanned close to 270 Grand Prix starts, the Brazilian has scored 11 wins, 16 pole positions, 15 fastest laps and 41 podiums. His best result in Abu Dhabi came in 2014, when he led home then Williams team mate Valtteri Bottas to take second place behind Mercedes' Lewis Hamilton.
Seb playing catch-up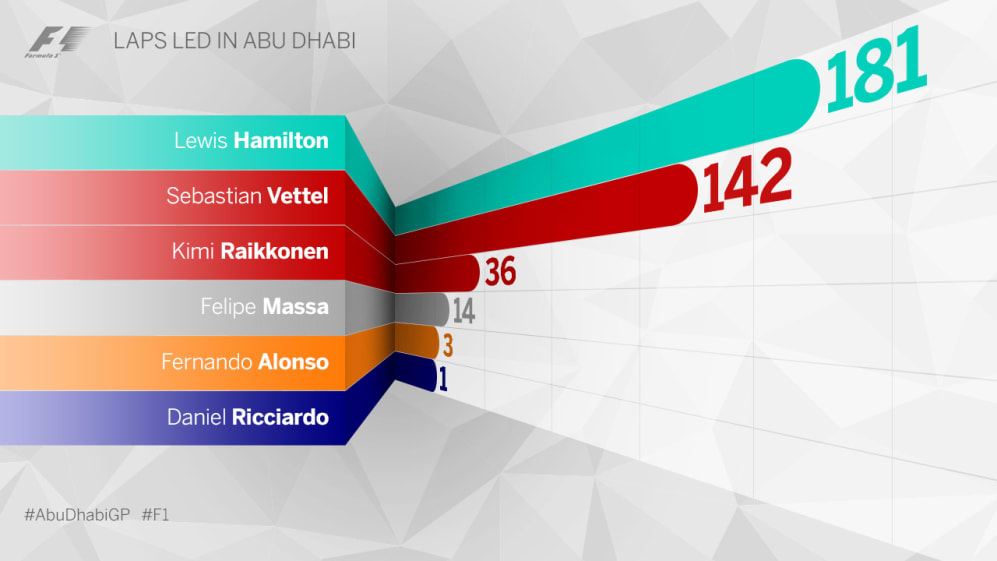 The 2017 Formula 1 Etihad Airways Abu Dhabi Grand Prix is scheduled for 55 laps – Sebastian Vettel will need to lead at least 40 of them if he is to overhaul Lewis Hamilton's record of 181 at the front of the Yas Marina field. Meanwhile, keen to get off the mark will be Max Verstappen and Valtteri Bottas…
The big number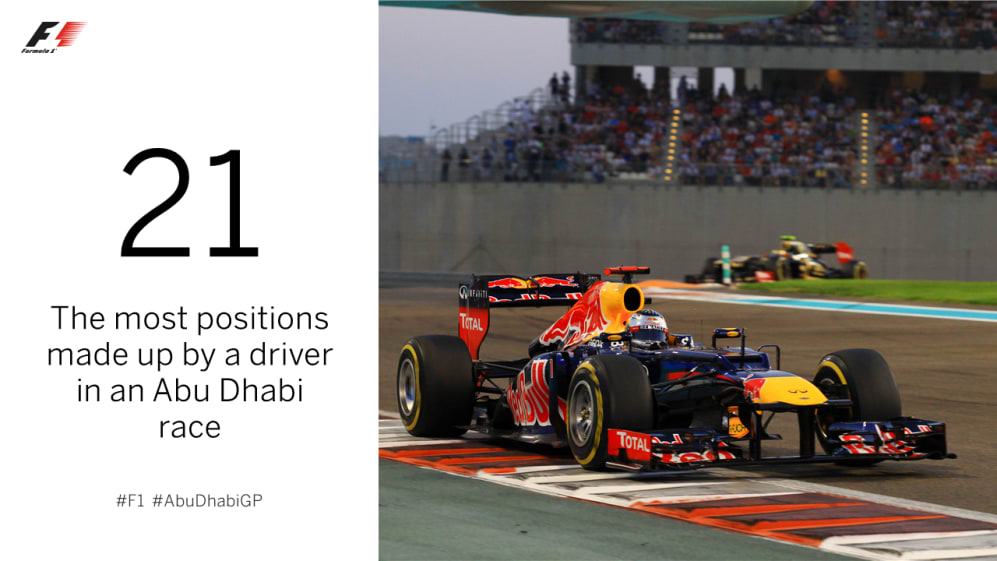 Sebastian Vettel's qualifying time for Red Bull should have put him third on the grid for the 2012 Abu Dhabi Grand Prix. Instead the German found himself starting from the pit lane after he was excluded from Saturday's results for not having enough fuel left onboard to return to the pits and supply a sample as required by the regulations. What followed was a spectacular drive, as over 55 laps Vettel clawed his way back from 24th to an amazing third place, taking the flag just four seconds behind Lotus's Kimi Raikkonen and Ferrari's Fernando Alonso.
Those all-important session times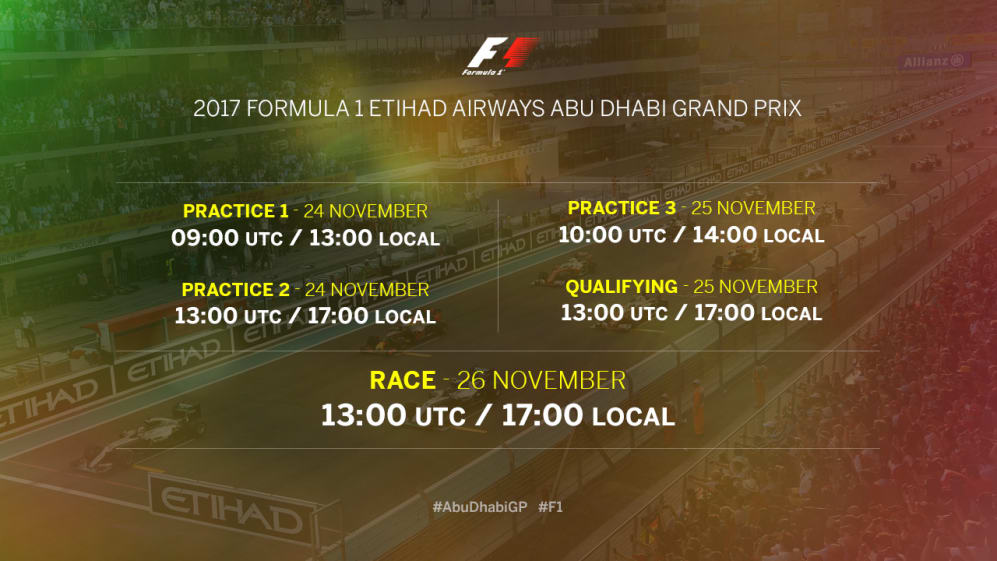 Don't forget, if you are registered with F1® Access (it's free!) you can follow live timing and commentary from Abu Dhabi on Formula1.com, or by downloading the Official F1 App. For more details, click here.