Feature
Need to know: Austria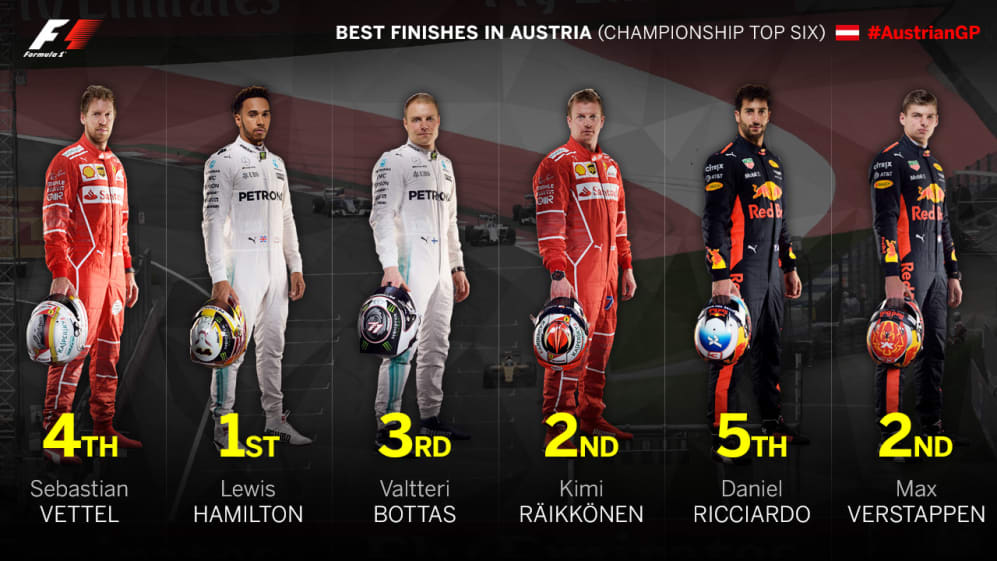 From session times to previous winners, we break down the key facts, stats and information ahead of the ninth round of the season...
Spielberg: The hills are alive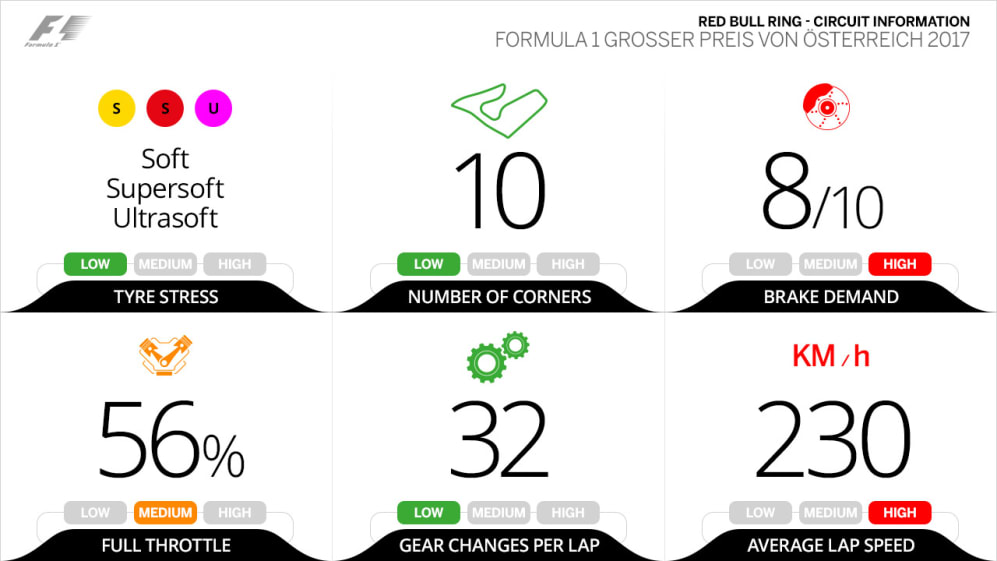 The Red Bull Ring is a braking-and-traction circuit, calling for medium levels of downforce. The balance between the number of corners and lengths of the straights is not dissimilar to the recently-raced-at Montreal track. However, the nature of the corners is substantially different, with flowing turns in place of chicanes, and – thanks to its picturesque mountain setting – some dramatic changes in elevation. It may only be the fourth-shortest track of the year in terms of length, but it's comfortably the shortest in terms of lap time, though that doesn't make it any easier to perfect - quite the opposite in fact as small mistakes become amplified...
The key corner - Turn 3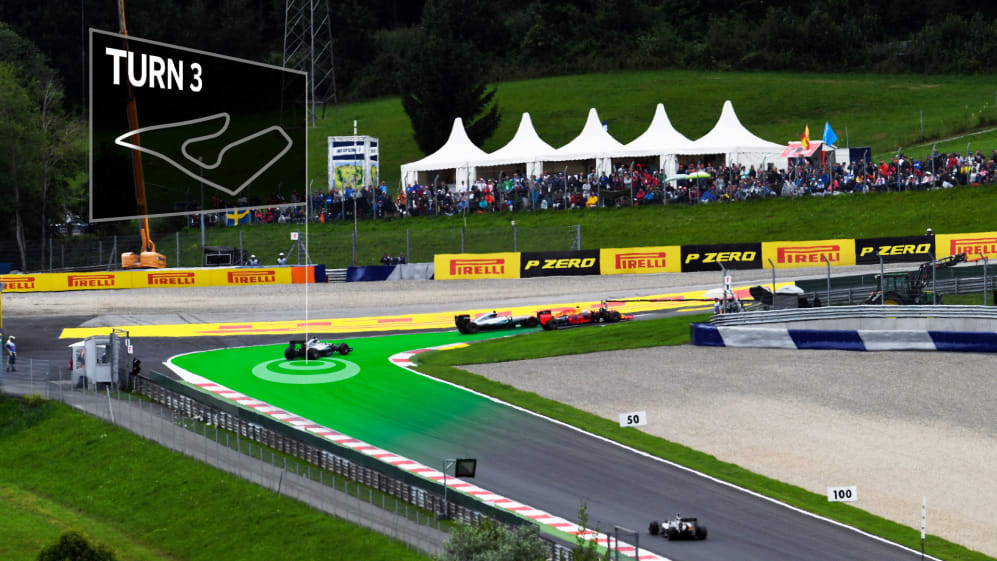 Formally Turn 2 - and now Turn 3 thanks to a tweak to Spielberg's corner numbering - the tight, cambered right-hander is where much of the overtaking happens in Austria, coming as it does after a long flat-out section. With the uphill approach encouraging drivers to brake hard and late, drivers pushing too hard can easily get caught out - just ask Lewis Hamilton and Sebastian Vettel who have both lost control there under braking in recent years. But it's in racing conditions, rather than practice or qualifying, that the corner has really made its mark. Already the scene of multiple incidents over the years, from Coulthard's unfortunate tag of team mate Hakkinen to Takuma Sato's scary crash, the old hairpin added another infamous moment to its chequered history in 2016 when Nico Rosberg and Lewis Hamilton came together on the last lap. Don't rule out further drama this year - especially when 20 cars thunder down to the corner at the start...
Lonely Lewis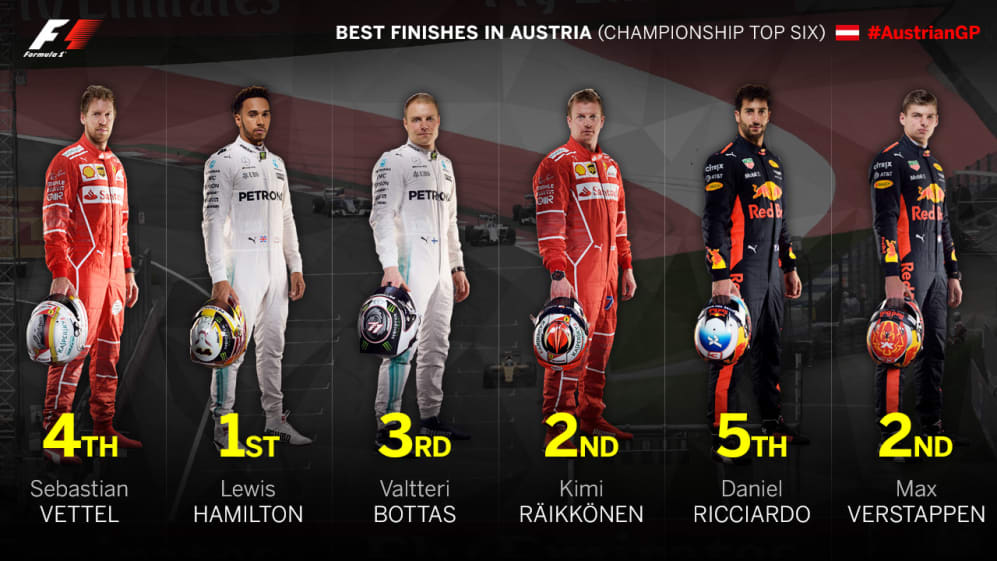 Just one man on the current grid has won in Austria and that's Lewis Hamilton. Of course, Spielberg only returned to the F1 calendar in 2014 after an 11-year absence, so many on the grid have limited experience of the venue - indeed Lance Stroll and Esteban Ocon will be racing there in F1 for the first time. So who has won the other races since the Red Bull Ring's renaissance? Well, not a Red Bull driver ironically. The answer is your reigning world champion Nico Rosberg, victor for Mercedes in both 2014 and 2015.
McLaren memories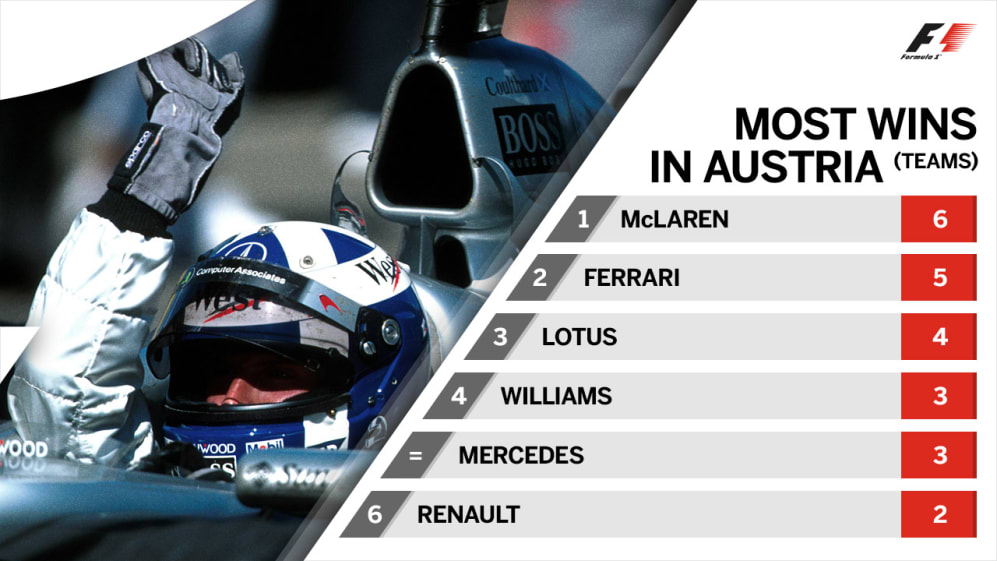 They may have the most victories in Austrian Grand Prix history, but you will need a fairly long memory to remember the last of them – back in 2001 for David Coulthard. It was Ferrari who won the last two races before Spielberg dropped off the F1 schedule in 2003 – both courtesy of Michael Schumacher – but since its return it's been Mercedes all the way thanks to Rosberg and Hamilton. Could the Red Bull Ring finally witness a Red Bull victory on Sunday? There may have been a strong element of good fortune in their Baku win, as there was to Max Verstappen's second place in Spielberg last year, but the recent performance gains found by power unit supplier Renault means Dietrich Mateschitz's team have their best chance yet of winning their home race.
Follow the leader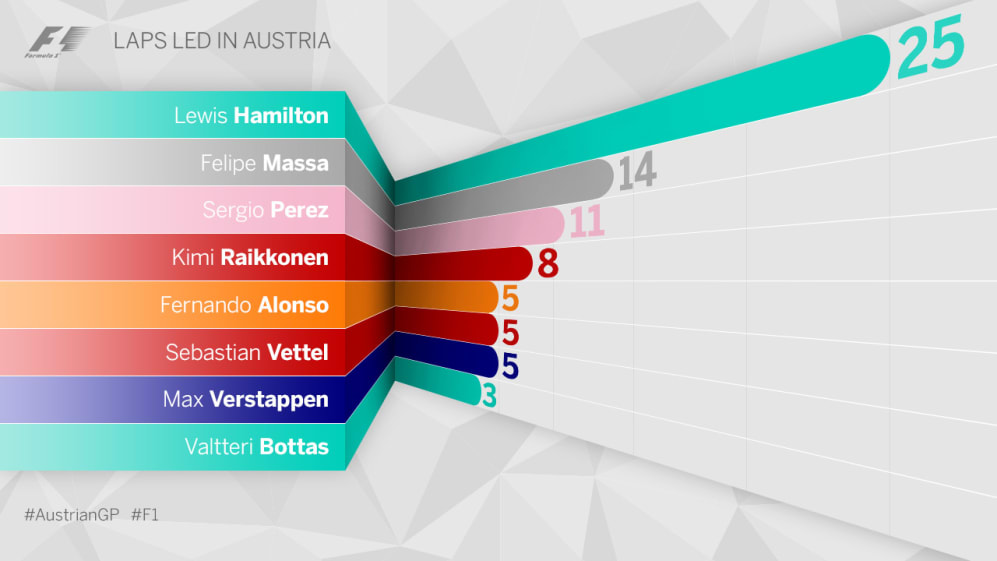 For all Mercedes' dominance in Austria, there's a good spread of drivers who have led laps in the country. Max Verstappen headed the field for five tours last year, while Perez, Bottas, Alonso and Massa all took turns at the front in 2014. Hamilton meanwhile didn't lead a lap until 2015, and has led only 25 in total - considerably fewer than former team mate Nico Rosberg who spent a whopping 144 laps in P1 in Austria, which is more than any other driver in history.
Vettel or Ricciardo?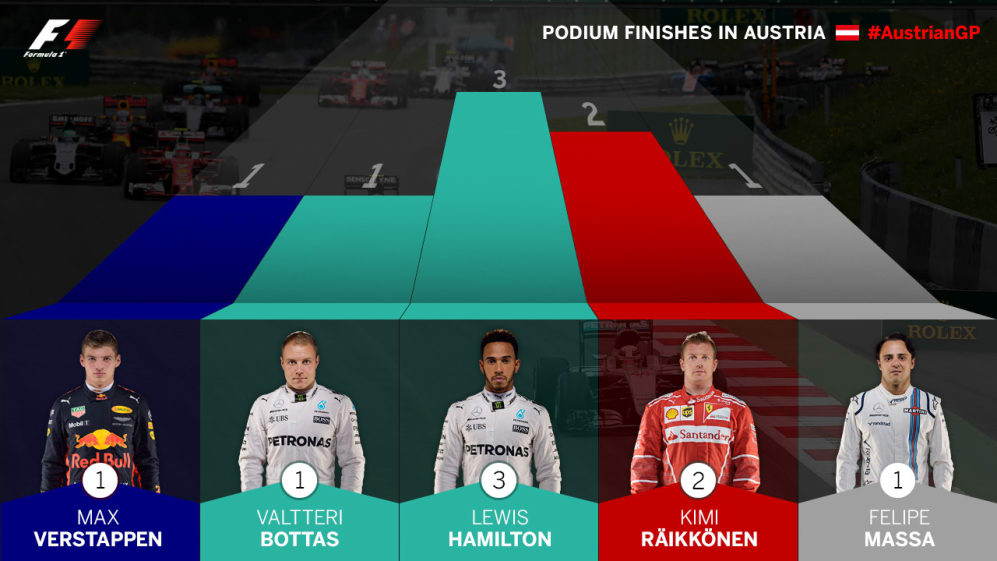 Two men are notable by their absence from the above – world championship leader Sebastian Vettel and Azerbaijan race winner Daniel Ricciardo. Neither has climbed atop the Spielberg rostrum – the closest either came was Vettel's fourth place in 2015, when he missed out to Felipe Massa by barely half a second.
Quote unquote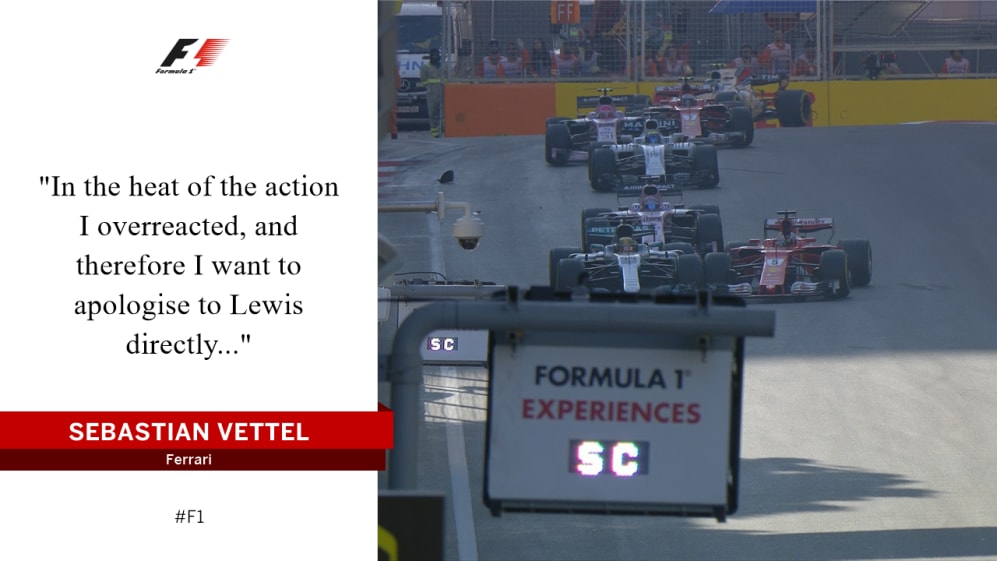 Of all the things said in the build up to Austria, this was the most significant. World championship leader Sebastian Vettel may have appeared unapologetic immediately after the race in Baku, but at an FIA meeting on Monday, the Ferrari driver's contrition and acceptance of responsibility ensured that no further action would be taken over his sideswipe of Lewis Hamilton behind the Safety Car. How any of this will affect the nature of the championship battle between the two drivers (which was once extremely cordial) remains to be seen, but Vettel knows his behaviour is now under the microscope - and it will be for some time...
Those all-important session times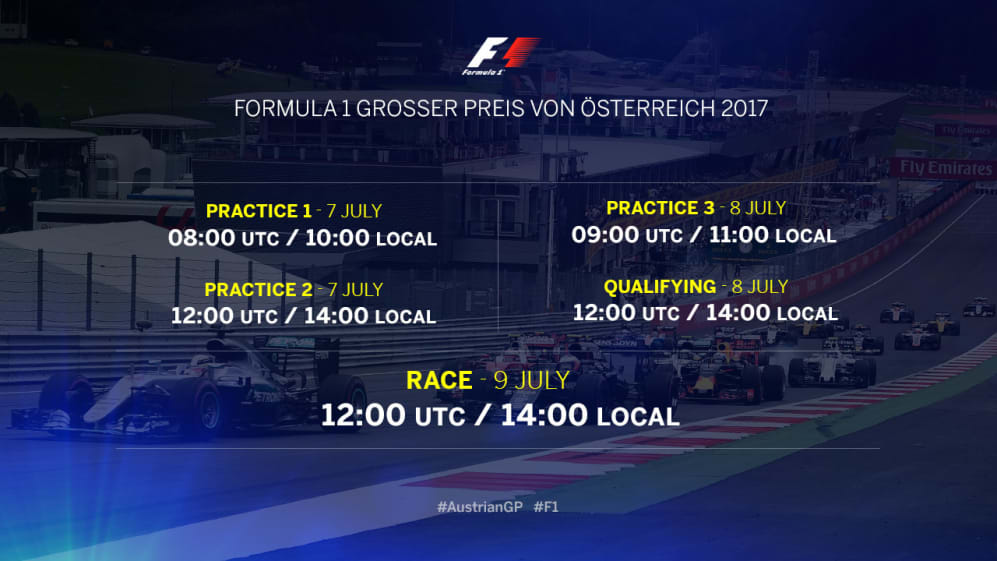 Don't forget, if you are registered with F1® Access (it's free!) you can follow live timing and commentary from Austria on Formula1.com, or by downloading the Official F1 App. For more details, click here.