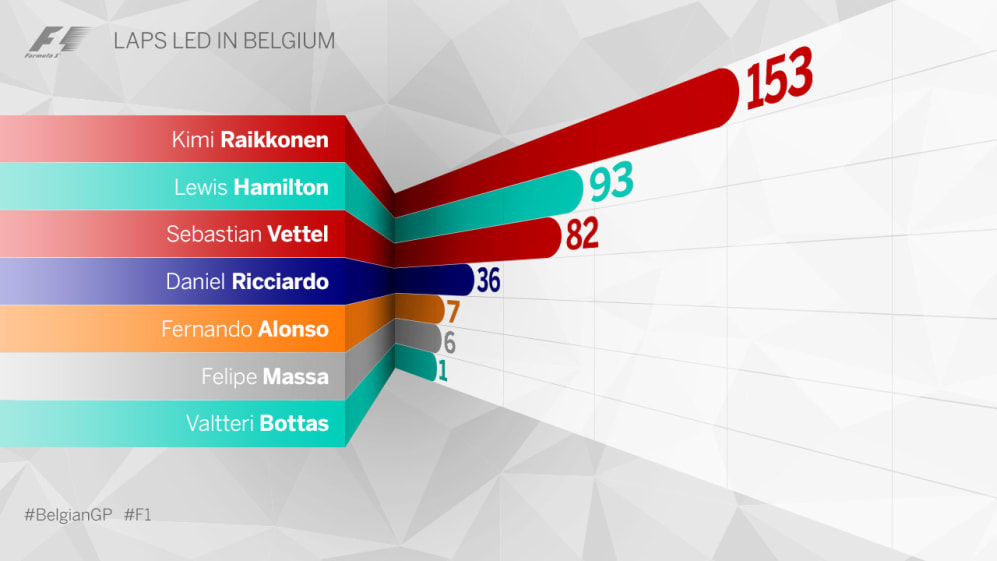 From session times to previous winners, we break down the key facts, stats and information ahead of the 12th round of the season...
Spa-Francorchamps: High-speed history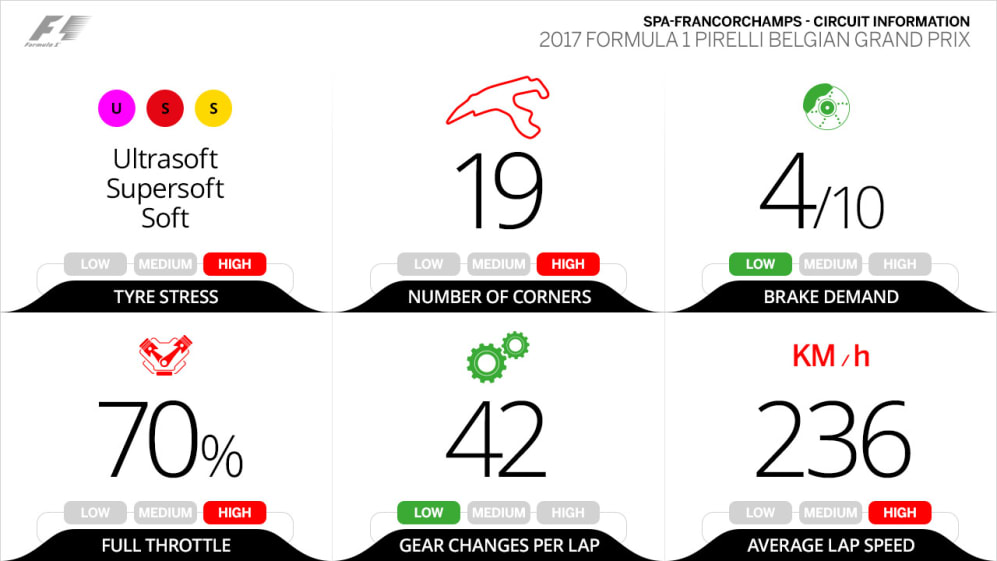 Spa-Francorchamps is one of just four circuits on the current calendar to have featured in the inaugural F1 world championship back in 1950. At 14km, the original track was long and fast. The current iteration – still fast and long, by modern standards – measures 7km and retains many the of the original corners such as La Source, Stavelot, Blanchimont and the famous Eau Rouge, the high-speed flick which drivers approach downhill at around 300km/h before enduring a 1.7g compression at the bottom of the slope and heading steeply up the other side. They all combine to produce one of the fastest average speeds of the year, with around 70 percent of the lap spent at full throttle.
The key corner - Turn 10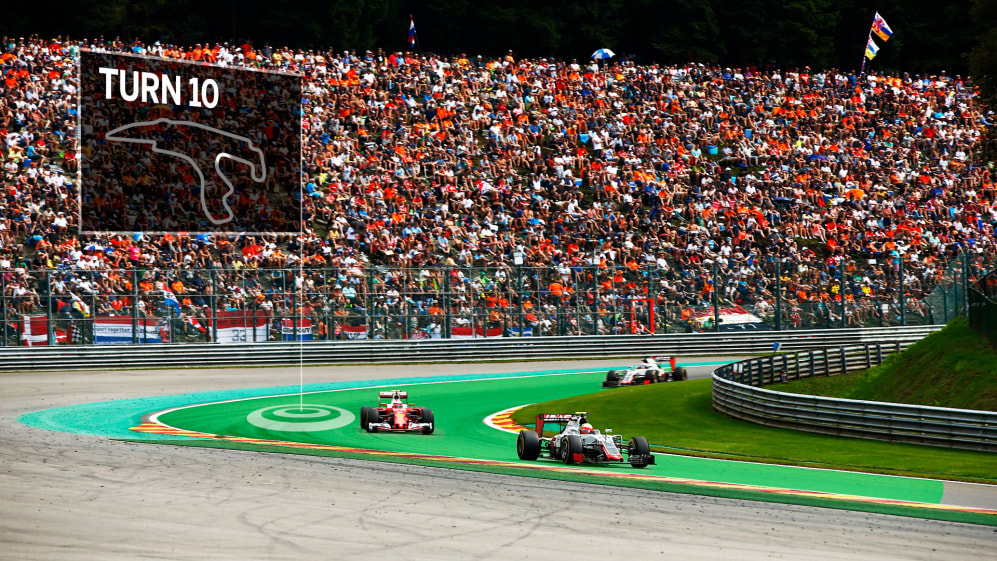 While the iconic Eau Rouge hogs the limelight, a little further round the Spa-Francorchamps lap quietly lies another epic challenge for the F1 driver and his car. Turn 10, more commonly known as Pouhon, is a double apex left-hander, approached downhill and fast – at around 300km/h – with a blind entry. Total commitment is needed to be quick through here.
No catching Kimi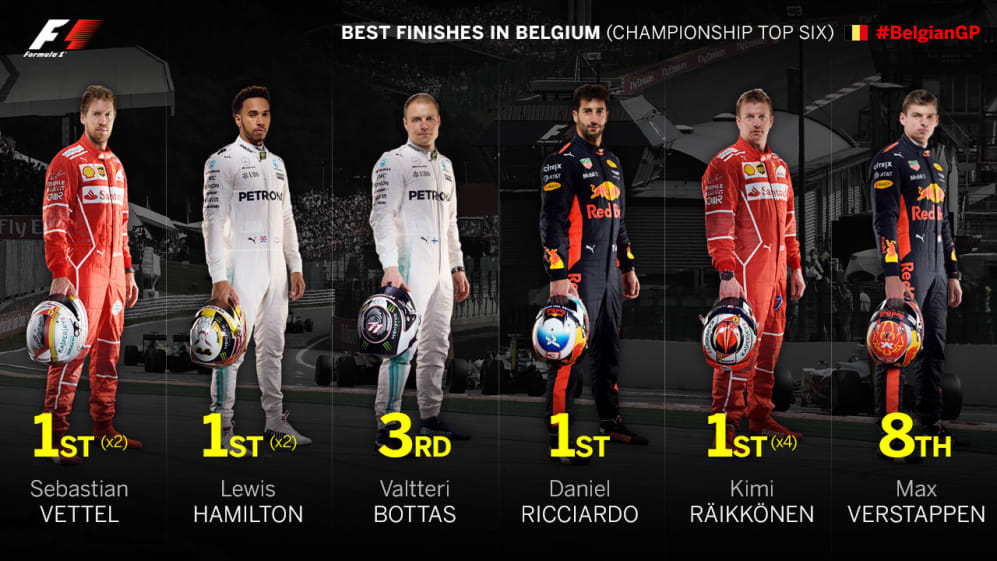 Spa specialist Kimi Raikkonen has double the win tally of any other current driver in Belgium. In fact, his four victories in the Ardennes make up a fifth of his total career wins. Not even Vettel or Hamilton – on two wins apiece – are in a position to match him this weekend, and given Ferrari's current form, could this be the race where the Finn finally climbs back on top of the podium? If Raikkonen does win on Sunday, he will draw level with Ayrton Senna on five Belgian triumphs, leaving him just one short of Michael Schumacher's all-time record.
Eighth time lucky for Ferrari?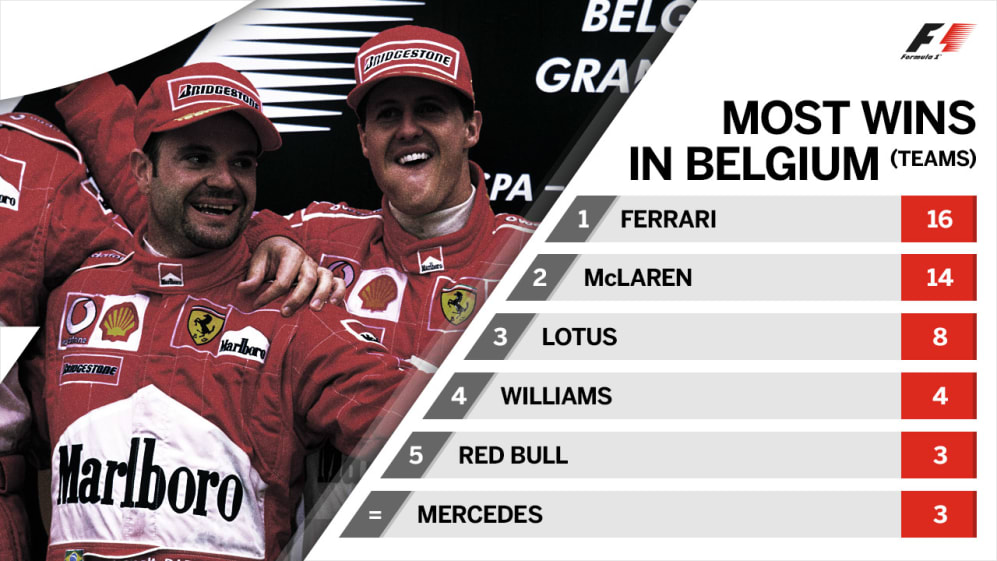 Yes, they have won the Belgian Grand Prix a record 16 times, but Ferrari have not triumphed at Spa since 2009. The man at the wheel on that occasion? Kimi Raikkonen, of course, the Finn beating Force India's Giancarlo Fisichella by just 0.939s. In more recent times it's the Scuderia's title rivals Mercedes who have dominated Spa for the past two seasons, with Lewis Hamilton triumphant in 2015 and then-team mate Nico Rosberg in 2016. Of course, the Silver Arrows probably would have won in 2014 too without Rosberg and Hamilton's famous coming together...
Qualifying not necessarily key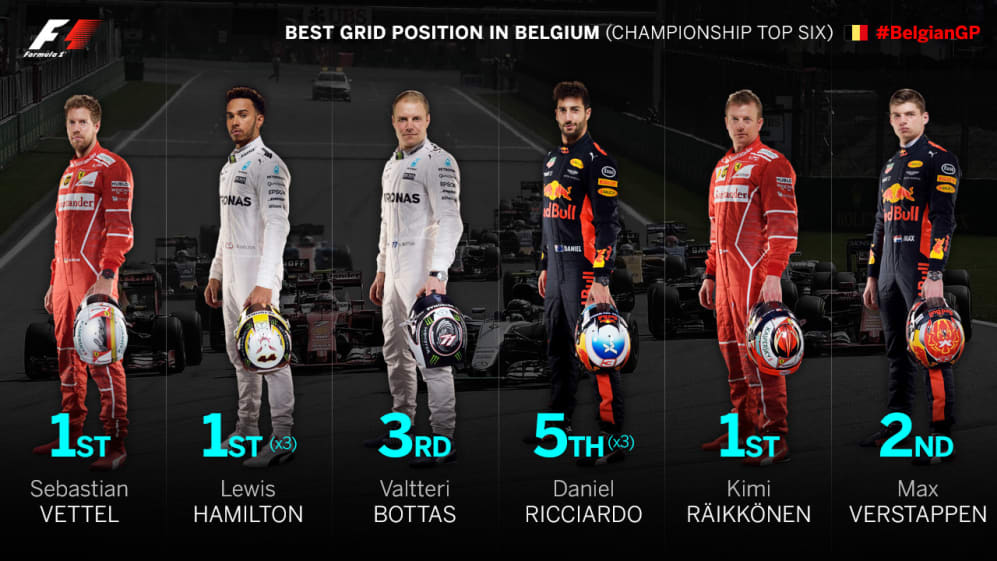 Look at the stats and you could argue that pole positions are harder to come by at Spa than race victories – indeed, four-time winner Raikkonen has started from P1 just once (in fact, one of his wins came from tenth, and another from sixth). So pole isn't a prerequisite for success here - good news then in terms of unpredictability for Sunday afternoon. That's not to say Daniel Ricciardo won't be keen to improve on his qualifying best of P5 here, a result he has achieved on no less than three occasions.
Bottom's up for Bottas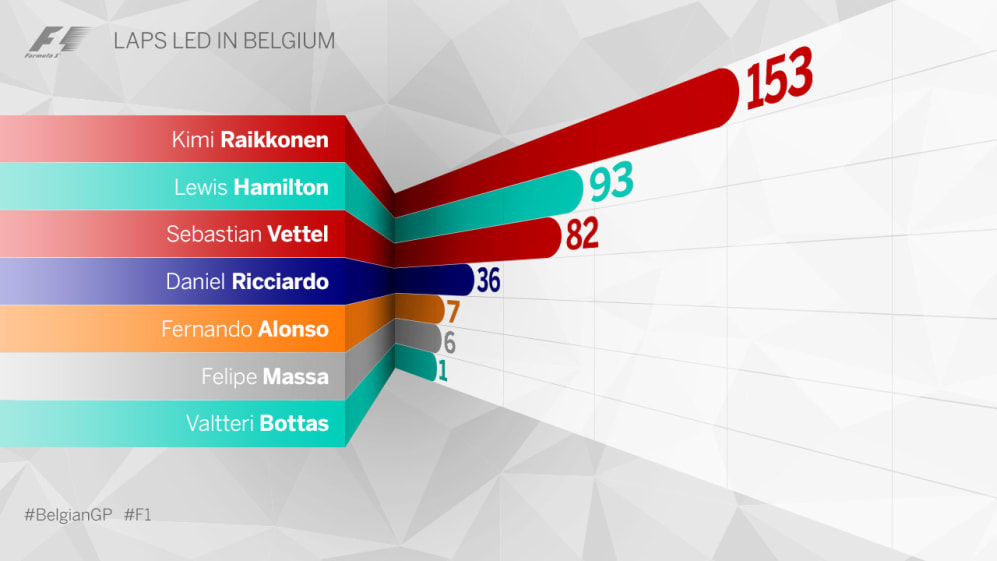 Given that he's won twice this year, Mercedes' Valtteri Bottas has to be the best bet to move up this table on Sunday. With just one solitary lap at the head of the Belgian field, the Finnish driver has plenty of room for improvement – and Felipe Massa and Fernando Alonso (who somewhat surprisingly has never won at Spa) are just five and six laps ahead respectively. As for our runaway leader Raikkonen, just nine more tours in front and he will match Niki Lauda's 162 total – one only beaten by Senna on 211 and Schumacher on 259.
Quote unquote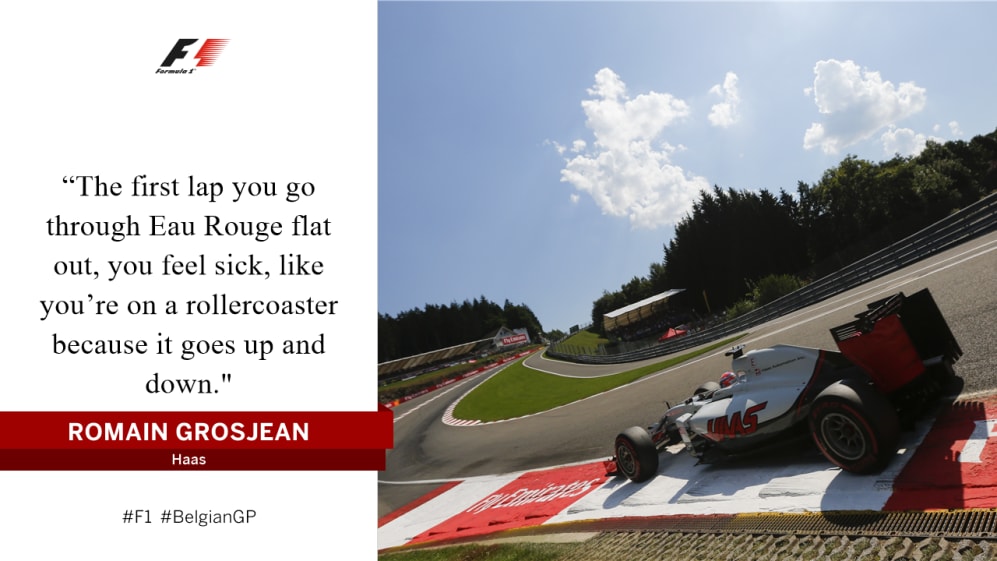 It's the combination of high speed, compression and decompression that make the famed Eau Rouge so daunting. But once that initial fear – that feeling of 'Can I or can't I?' – is overcome, then the body adapts and in the right car, for the best drivers, keeping one's foot on the floor can become almost natural.
Six of the best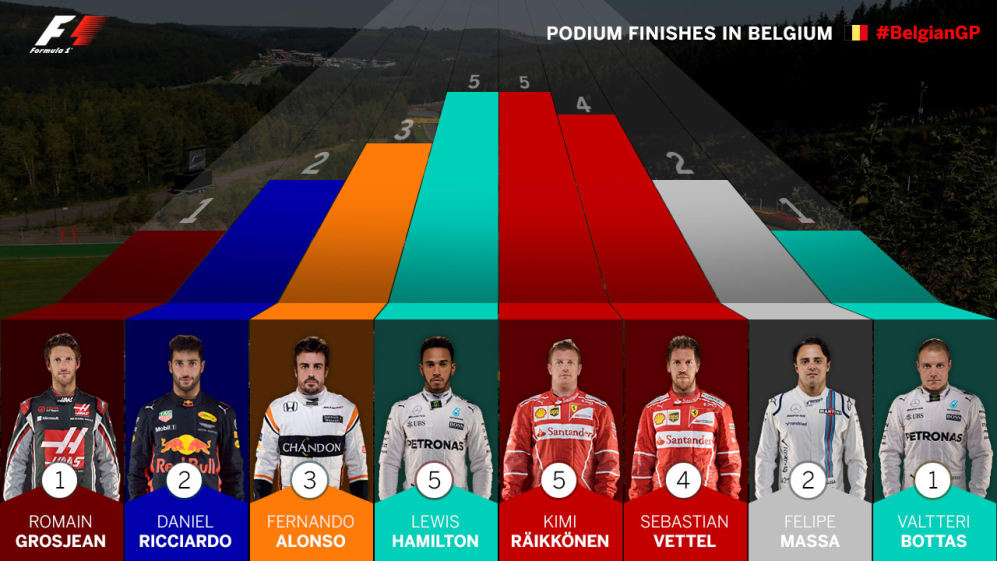 Both Kimi Raikkonen and Lewis Hamilton have the chance to move on to six Spa podiums this weekend. That would put them level with Ayrton Senna in the all-time table, with only Alain Prost (7) and Michael Schumacher (9) ahead. The worrying thing for Raikkonen's rivals is that when he makes the rostrum here, he almost always wins.
The big number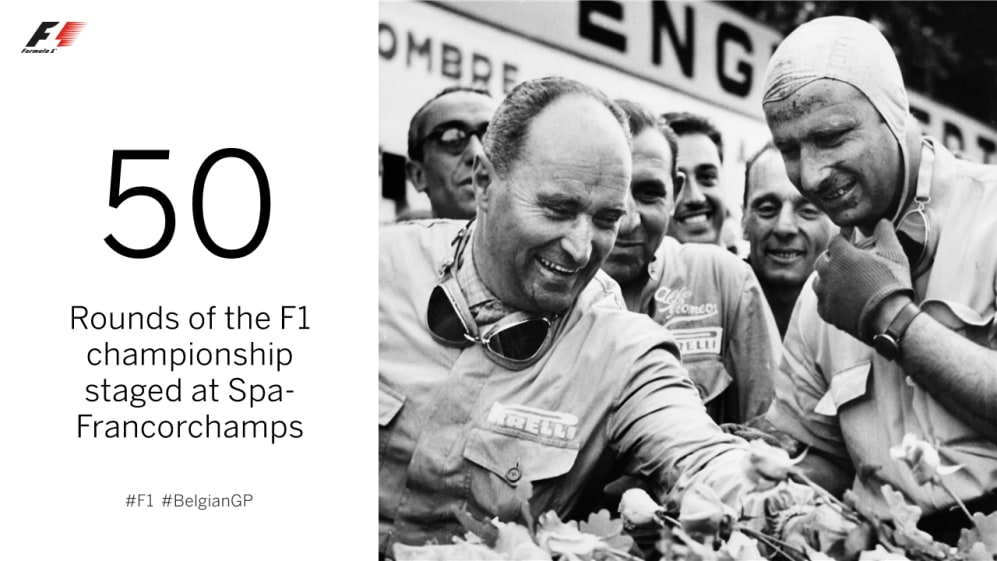 This year sees Spa-Franchorchamps celebrate half a century's worth of Grands Prix since the inauguration of the F1 drivers' championship back in 1950, when the legendary Juan Manuel Fangio (pictured right) won in Belgium from Alfa Romeo team mate Luigi Fagioli (left).
Those all important session times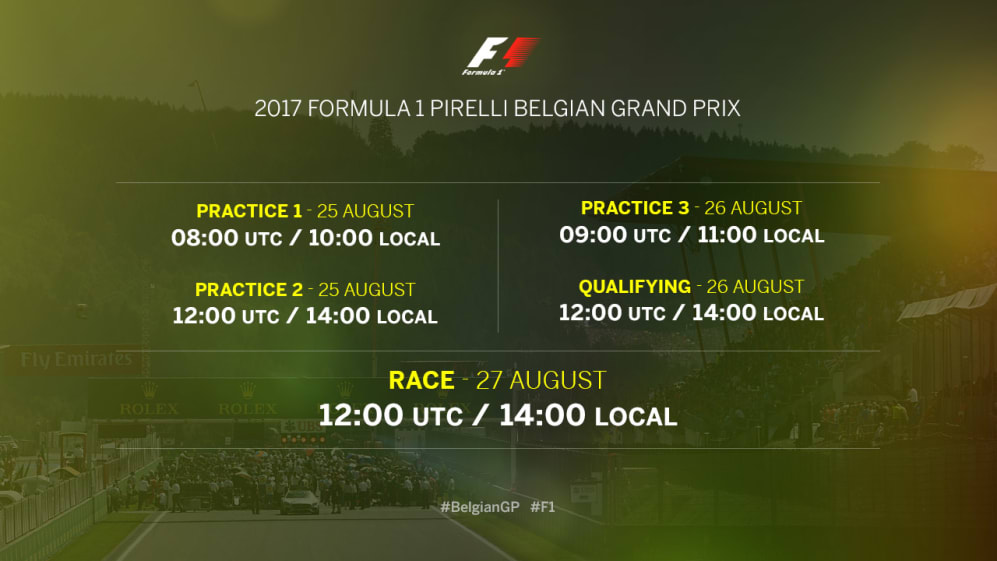 Don't forget, if you are registered with F1® Access (it's free!) you can follow live timing and commentary from Belgium on Formula1.com, or by downloading the Official F1 App. For more details, click here.