Report
Need to know: Brazil
From session times to previous winners, we break down the key facts, stats and information ahead of the 19th round of the season...
Sao Paulo's F1 'super bowl'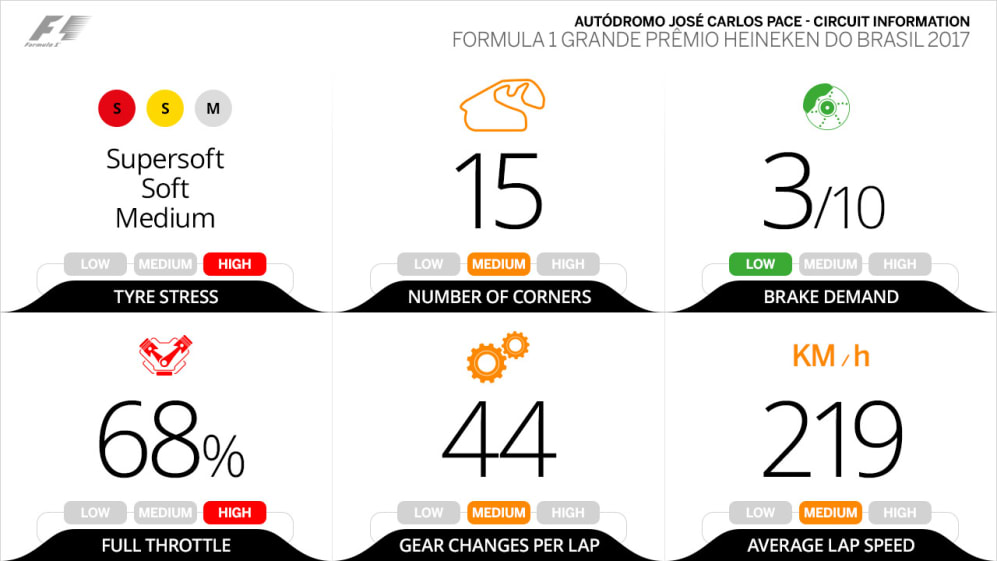 When it first hosted the Brazilian Grand Prix in 1973, Interlagos was a 7.96 km roller-coaster ride around the side of the natural bowl in which the track is located. It was shortened and modernised in the late '80s and the current layout has staged the race every year since 1990. The track was built on marshland between two lakes, hence the name 'Interlagos', and its soft foundations mean bumps appear over time. The undulations also mean the track can get pretty treacherous when it rains – a not infrequent occurrence. Swooping corners and rapid elevation changes make for a great spectacle, but also ask a lot of the car's balance – and its tyres.
The key corner - Turn 12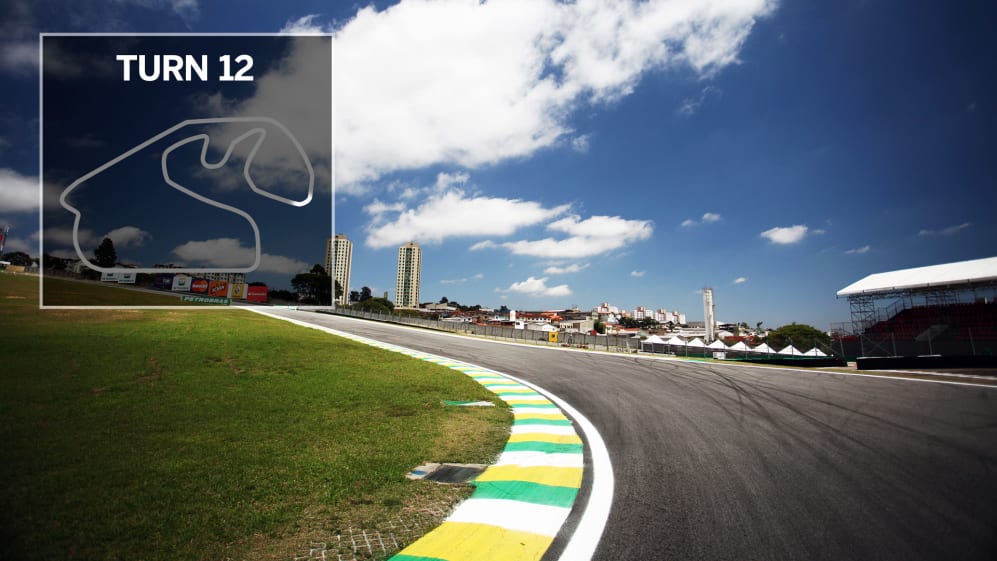 Also known as Juncao, this third-gear left hander is taken at about 130km/h. It's crucial to get the power down cleanly because the long, uphill drag to the start-finish straight follows – at the end of which is one of the best overtaking points on the lap. If you get what is effectively the final corner of the lap wrong, you could be preyed upon into the Senna 'S'...
Brazil a tough nut to crack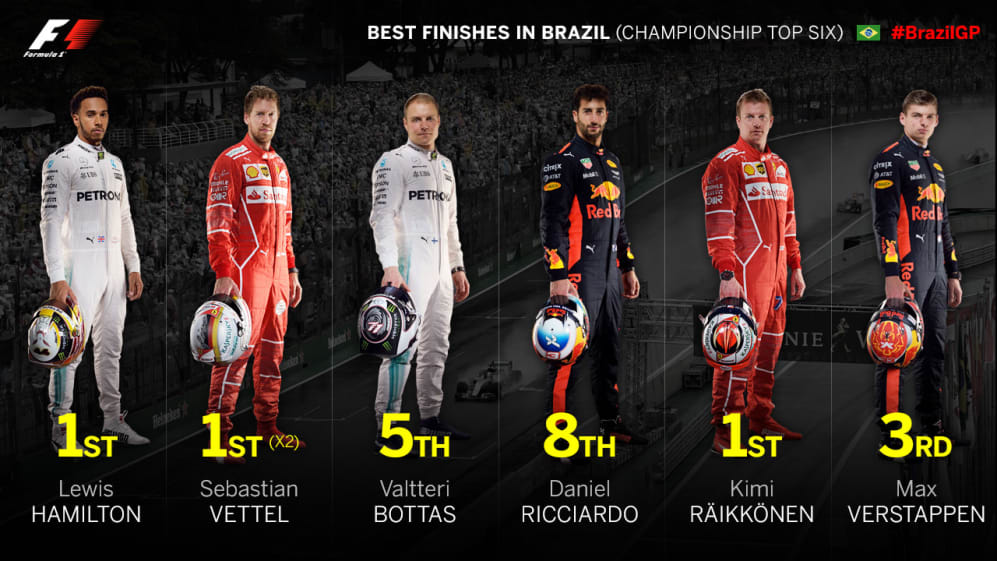 Last time out in Mexico Lewis Hamilton matched Sebastian Vettel's four world title mark. This weekend he could draw level with the German's tally of two Brazil wins. Vettel is the only current driver to have triumphed more than once in Interlagos and, in fact, of the 24 Brazilian Grand Prix winners, only three have exceeded two victories: Alain Prost (6), Michael Schumacher (4) and Carlos Reutemann (3). Could Vettel become the fourth?
McLaren remain untouchable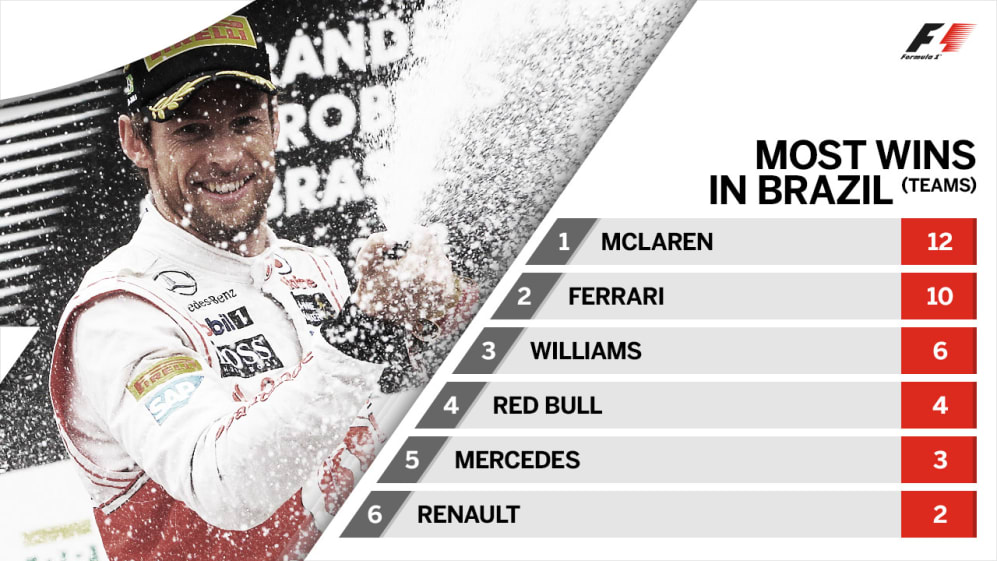 Even if Vettel (or Raikkonen) can bring Ferrari to the fore this weekend, the Italian team will not be able to quite match the 12-win mark of old rivals McLaren, whose first Brazilian triumph came with local hero Emerson Fittipaldi in 1974 and their last with Jenson Button in 2012 – the last occasion on which any team other than Red Bull or Mercedes won at Interlagos.
A maiden pole on the cards?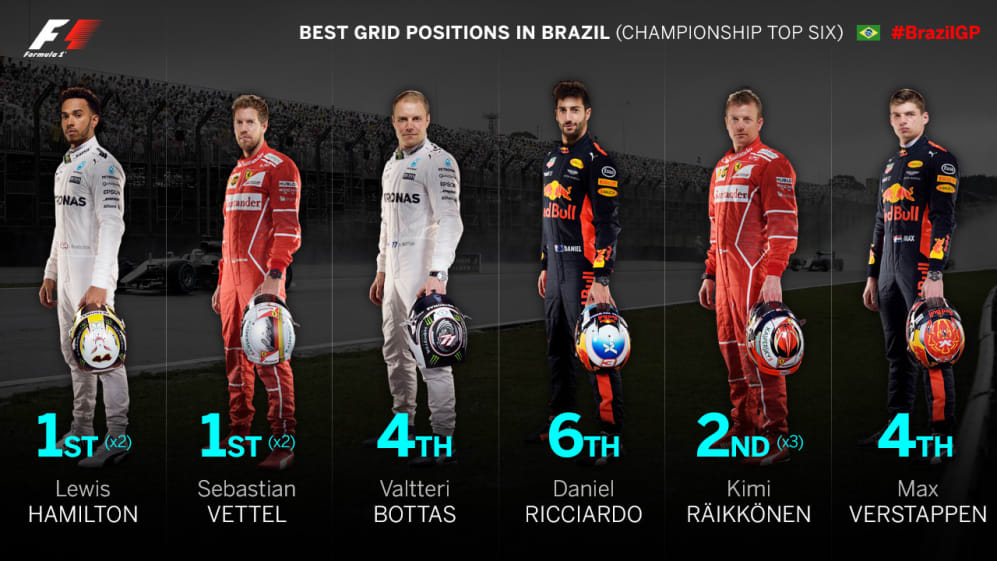 Of the 2017 frontrunners, only those familiar names of Vettel and Hamilton have started from pole position here. But Bottas and Raikkonen certainly shouldn't be ruled out this weekend, and don't discount Red Bull – they split the Ferraris in qualifying last year, and as we saw in Mexico, Max Verstappen is very much a man on form. Glance further down the current standings and you will see that Brazil's Felipe Massa has thrice started his home race from P1, while Fernando Alonso also has an Interlagos pole to his credit. And don't rule out an upset – in 2010, Nico Hulkenberg took the sole pole of his F1 career to date here for Williams when the weather turned wet...
Frustrated Fernando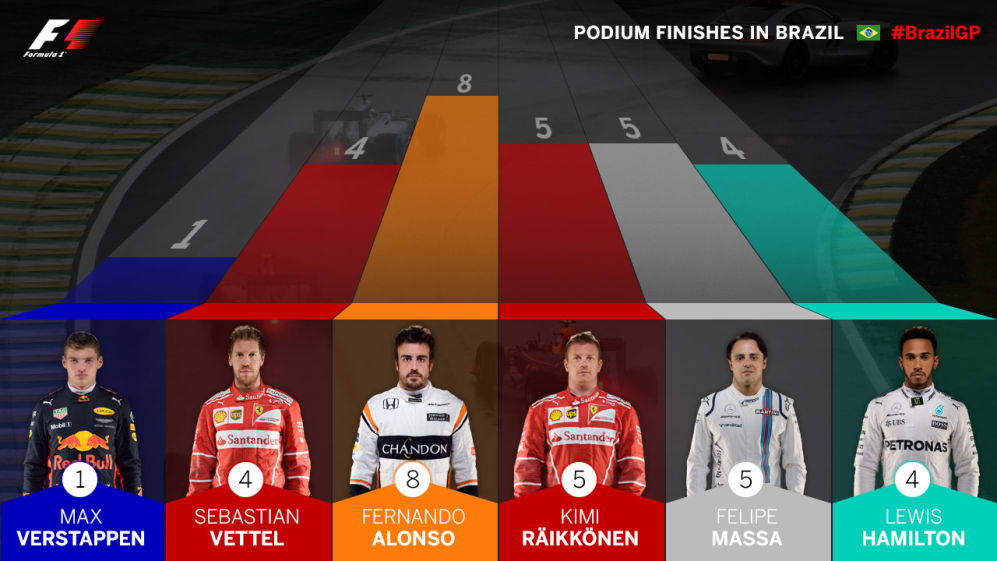 Fernando Alonso heads this table by a country mile – only Michael Schumacher has more rostrums in Brazil. But whereas four of Schumacher's 10 Brazil podiums were victories, Alonso has never won in the South American nation (though he did clinch both his titles there). On top of that, of the current grid's four world champions, the Spaniard is the only one without an Interlagos win - and that's unlikely to change this weekend. Statistically more probable is Bottas and/or Ricciardo joining the podium list above.
Quote unquote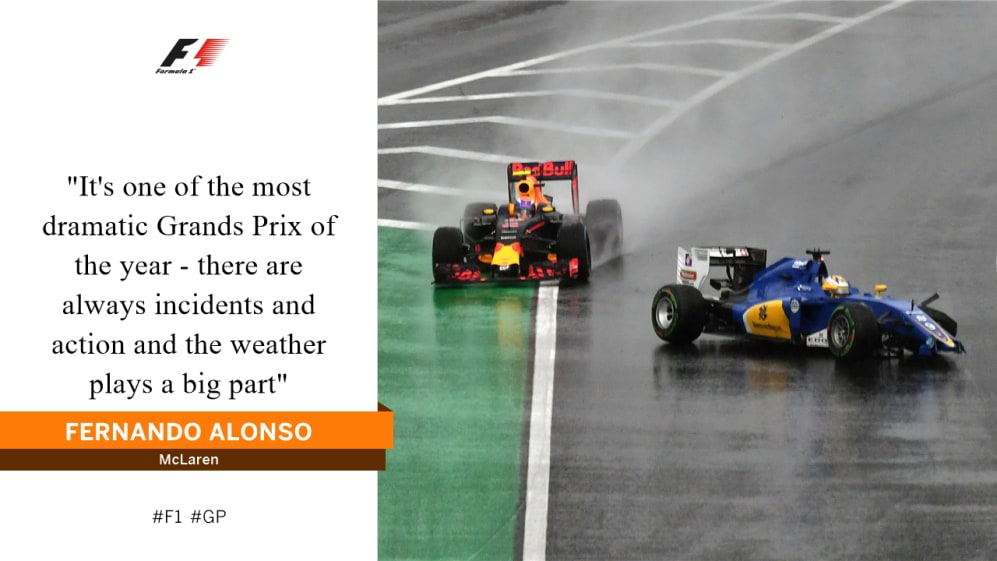 Brazil is one of those races where any seasoned competitor knows to expect the unexpected. Just ask Fernando Alonso – back in 2003 he finished third for Renault, yet never took the chequered flag and never appeared on the podium. Find out how here.
No place like home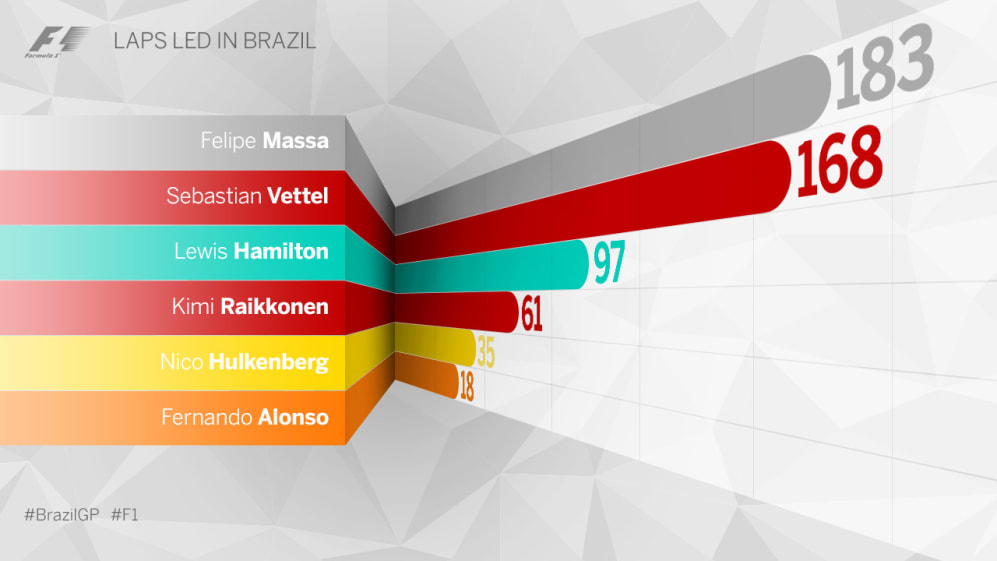 It's perhaps no big surprise to learn that Sao Paulo native Felipe Massa like his home circuit – he's spent more time at the front of the field here than anyone in history bar Michael Schumacher (236 laps). He could slip to third in the all-time table this Sunday, though, if Vettel leads for 16 laps or more – though it's worth noting that the German has never led here for Ferrari. The last time a scarlet car was front of pack in Brazil was back in 2011. The man at the wheel? Felipe Massa, of course!
The big number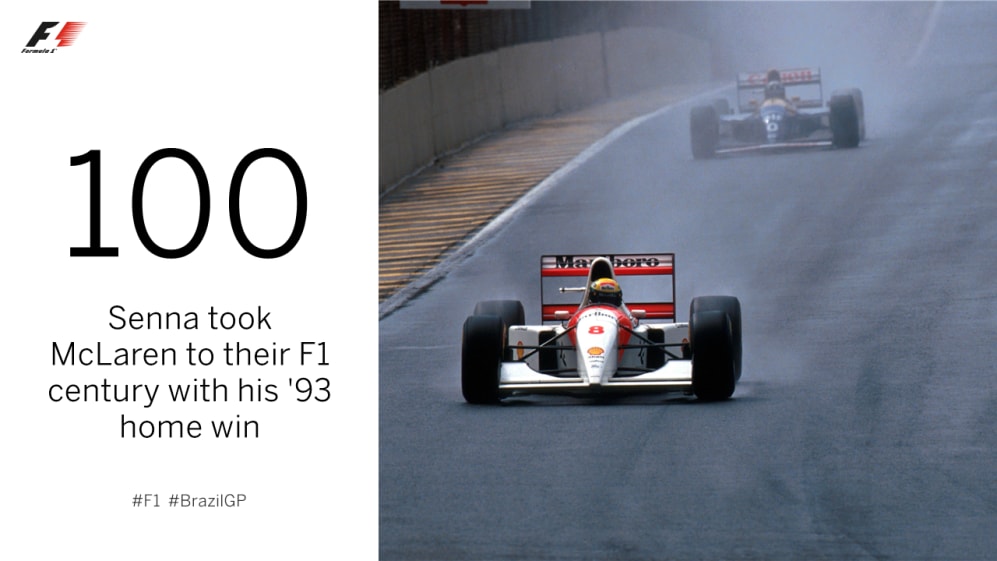 National hero Ayrton Senna took two victories at Interlagos. The first – for McLaren in 1991 – was special because a) he'd waited so long to win on home soil, and b) because he drove much of it stuck in sixth gear. The second – again for McLaren, two years later – was also remarkable, as it marked the British team's 100th Grand Prix win. Sadly, it would be the great Brazilian's last appearance in front the Sao Paolo crowd.
Those all-important session times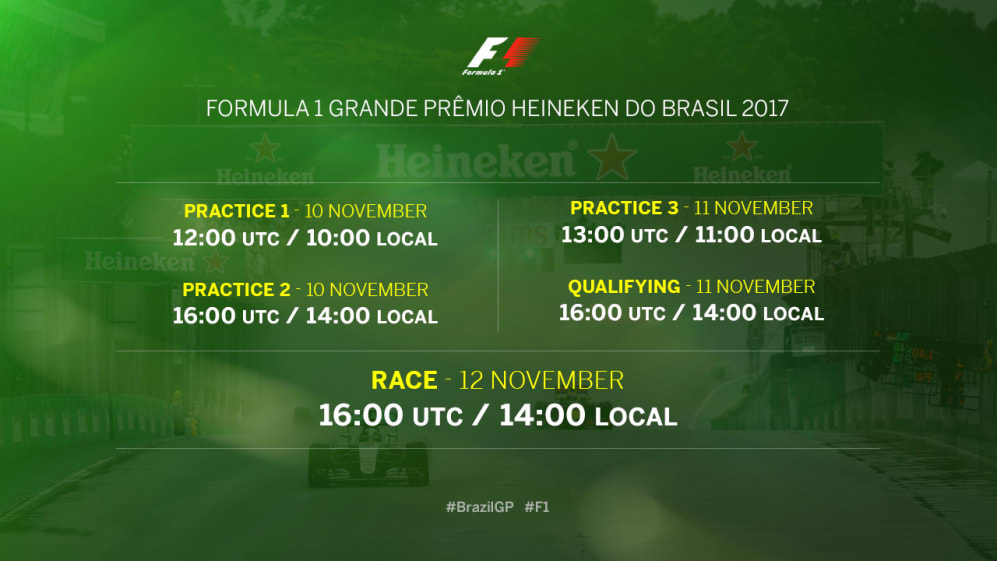 Don't forget, if you are registered with F1® Access (it's free!) you can follow live timing and commentary from Brazil on Formula1.com, or by downloading the Official F1 App. For more details, click here.