Feature
Need to know: China
From session times to previous winners, we break down the key facts, stats and information ahead of the second round of the season...
The essential race details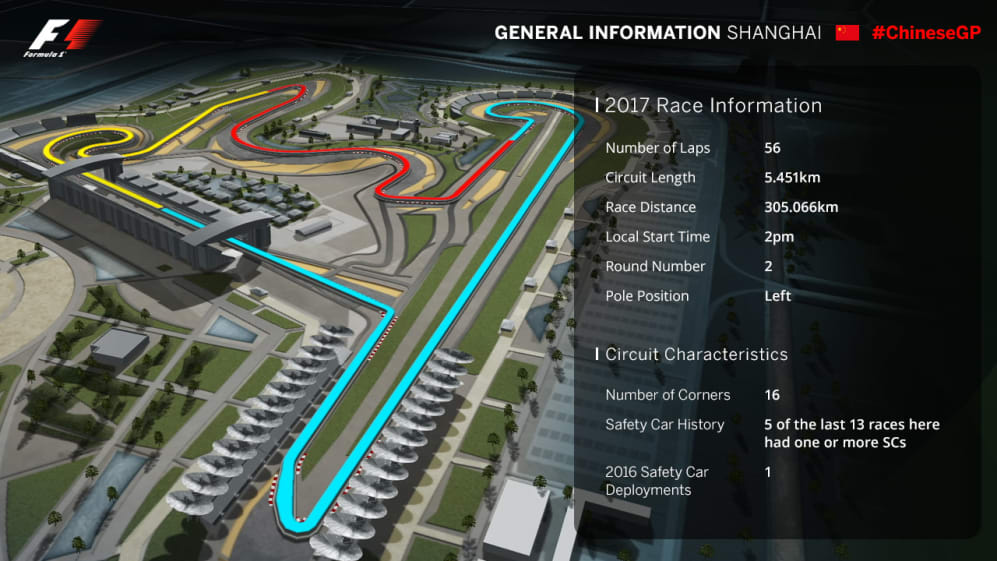 On the calendar since 2004, Shanghai is hosting its 14th Grand Prix this year - though 2017 marks the first times the venue has hosted round two of the championship. Aside from its gargantuan 29,000-seat main grandstand and iconic track-spanning bridges, Shanghai International Circuit is best known for its long back straight, which stretches between the long-apex Turn 13 (sure to test the drivers' necks) and the overtaking hot spot that is the Turn 14 hairpin. At 1.209km, it's the longest straight in F1, eclipsing Abu Dhabi's back stretch by just four metres.
Hamilton the man to beat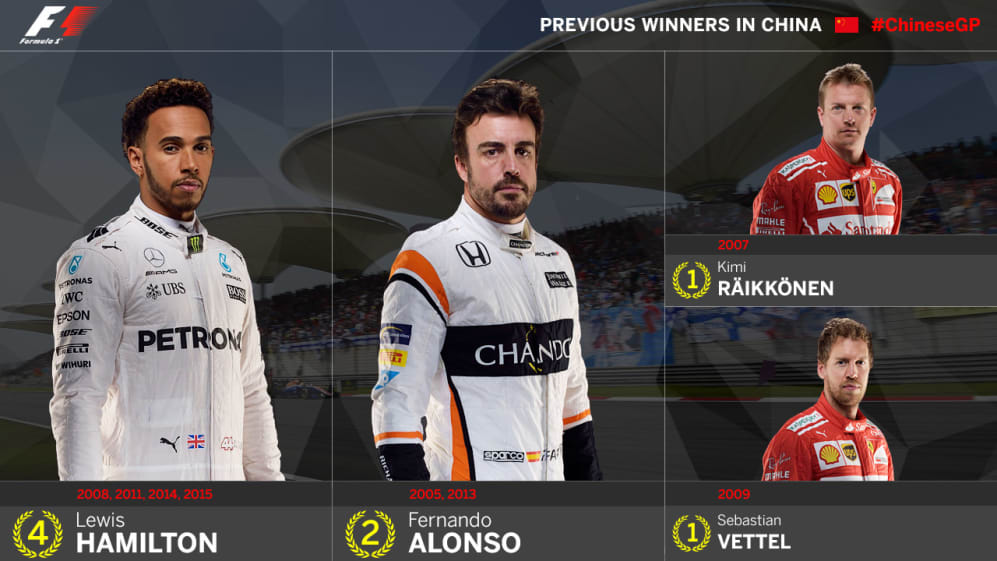 No one can match Lewis Hamilton's record in China - the three-time world champion has won there four times, splitting his wins equally between McLaren and Mercedes. Fernando Alonso, the only other current driver with multiple wins, has also triumphed with different teams, though his Shanghai victories came eight years apart. Ferrari's Kimi Raikkonen and Australia winner Sebastian Vettel have also stood on the top step in China - the latter giving Red Bull their first F1 victory in 2009. For all their dominance in the past, it remains the Milton Keynes-based team's only win in Shanghai.
Can anyone end Mercedes pole streak?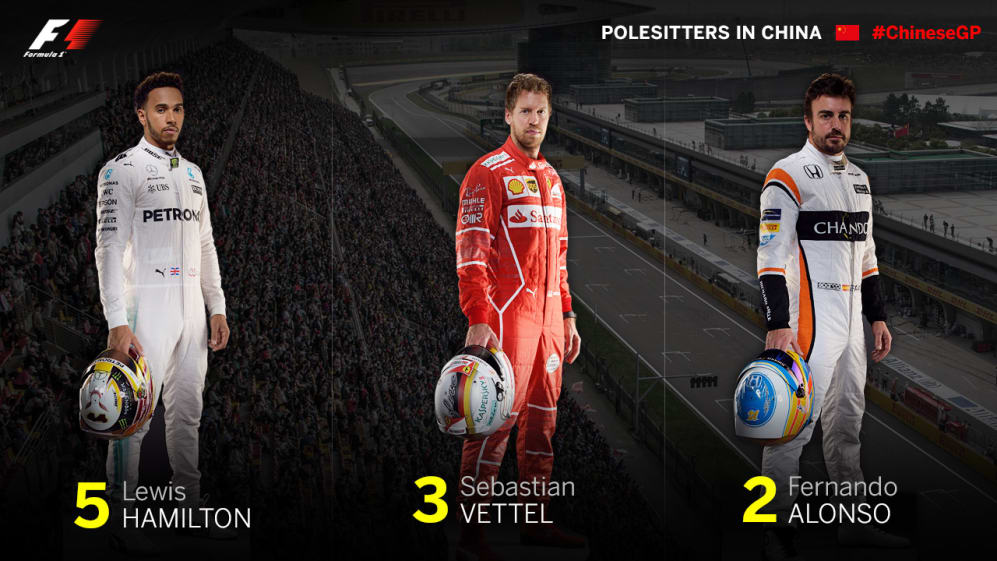 With five poles from 10 attempts, Lewis Hamilton has turned Shanghai into one of his most successful hunting grounds. The Briton has momentum on his side too, having captured pole in three of the last four years. That sequence was interrupted last season when he started 22nd - but pole still remained in the grasp of the Silver Arrows (for the fifth year in a row), this time through Nico Rosberg. Both Sebastian Vettel and Fernando Alonso have multiple poles to their name too - but Vettel's came in three straight years between 2009-2011, while Alonso last started from the front here in 2006...
A 14th different driver on the podium?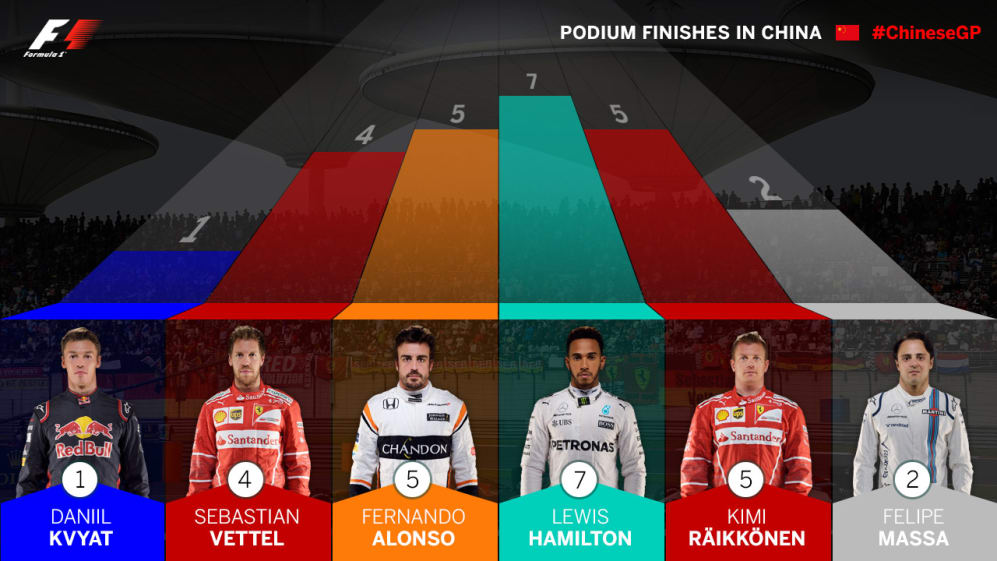 Thirteen drivers in total have stood on the Shanghai podium, with then-Red Bull driver Daniil Kvyat the latest to add his name to the list last year. Of the current crop Felipe Massa enjoyed success with Ferrari in 2007 and '08 - while Vettel's four podiums are evenly split between the Scuderia and previous team Red Bull. Fernando Alonso and Kimi Raikkonen have scored podiums with three different teams - McLaren, Ferrari and Renault / Lotus respectively. Neither man can match Hamilton however - the Briton has seven podiums already, making Shanghai his joint-most successful circuit in terms of top-three finishes (alongside Albert Park). No current driver has more than eight podiums at the same track (Alonso has eight at Interlagos, while Raikkonen has eight in Bahrain)...
Quote unquote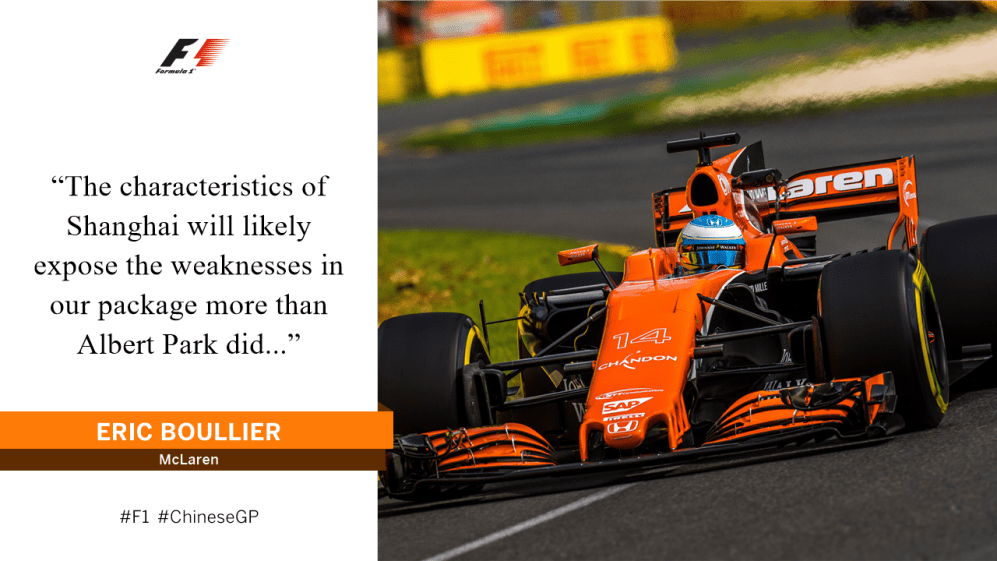 McLaren fans look away now. Fernando Alonso came close to scoring a surprise point in Australia, but neither he nor the team are expecting to be anywhere near as competitive in Shanghai this weekend. Why? Because the Chinese circuit's blend of high-speed straights and medium- and high-speed corners puts a premium on power, energy deployment and acceleration - all areas in which the Honda-engined team are lacking at the moment...
This weekend's big number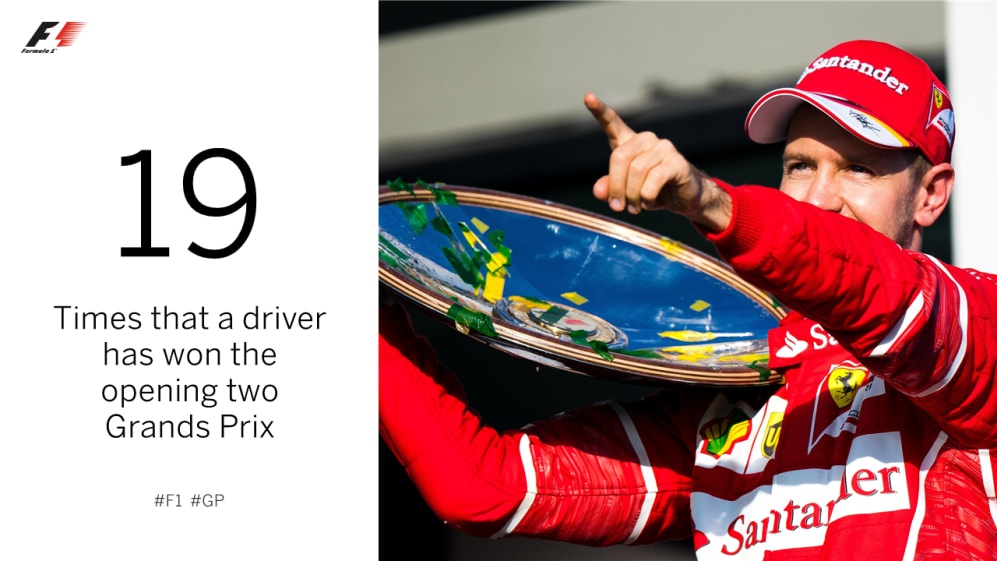 Only 19 times in F1's nearly 70-year history has a driver won the opening two Grands Prix of a championship season (and, with the Indianapolis 500's championship status from 1950-60, only 17 times the opening two races of a season). Michael Schumacher (1994, 2000, 2001, 2004) and Juan Manuel Fangio (1954, 1957) are the only drivers to do it more than once, but Ferrari's Sebastian Vettel could join them if he's victorious this weekend. If the German does win in Shanghai, it's worth noting that only four times has a driver won the first two races of a campaign and not gone on to be world champion in the same season - in 1973, 1976, 1979 and 1982.
Neck and neck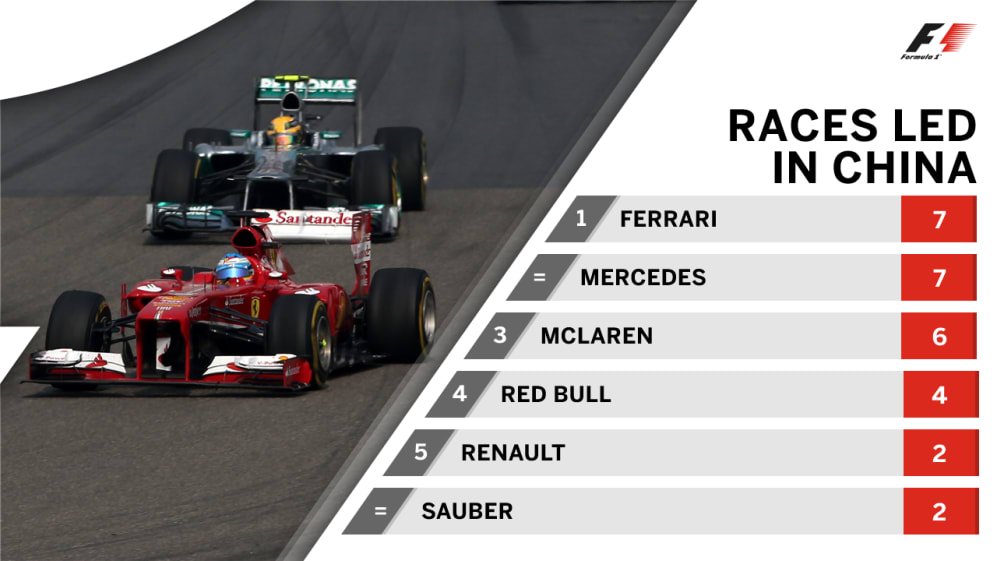 After battling for victory in Australia, most are expecting Ferrari and Mercedes to be the teams fighting for the top step of the podium again in China. Interestingly, not only have the two rivals scored the same number of wins in Shanghai – four apiece – they've also led an identical number of races. But while the Silver Arrows have led at least one lap in each of the last seven Grands Prix in China (and 245 in total), the Prancing Horse have only led one lap in the last two events here (and 133 in total). But which team will have the edge this weekend?
Those all important session times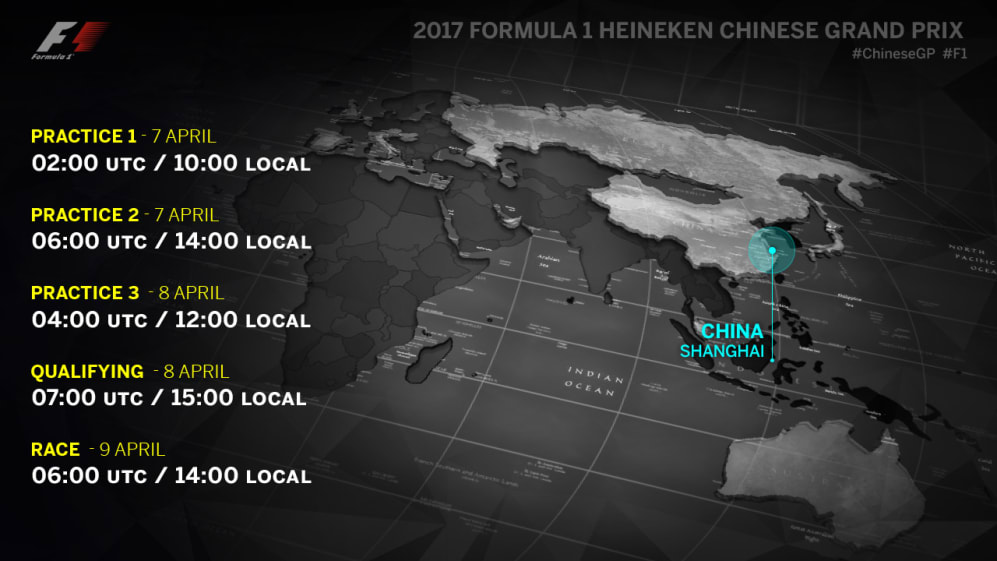 Don't forget, if you are registered with F1® Access (it's free!) you can follow live timing and commentary from Shanghai on Formula1.com, or by downloading the Official F1 App. For more details, click here.