Feature
Need to know: Great Britain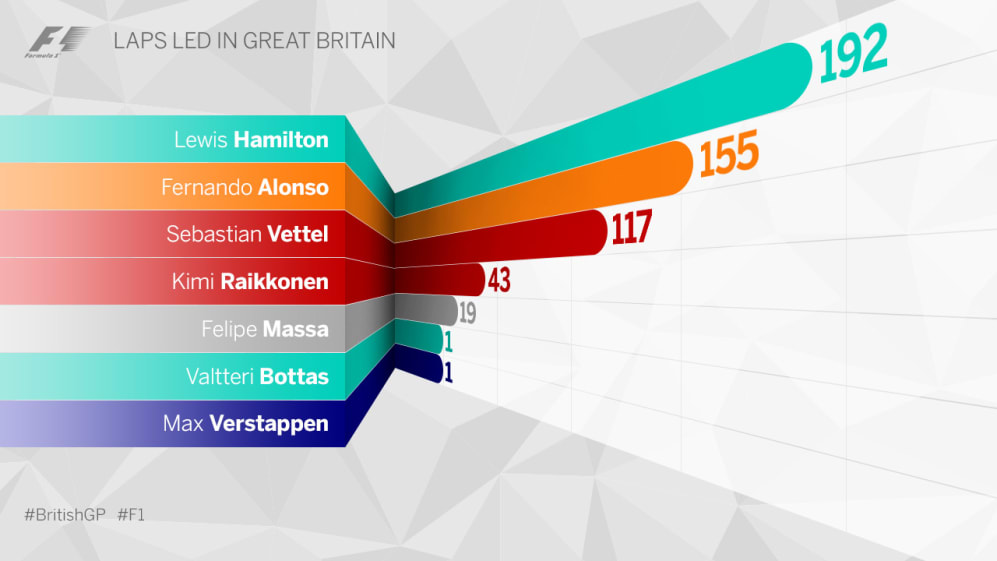 From session times to previous winners, we break down the key facts, stats and information ahead of the tenth round of the season...
Silverstone: Prepare for take off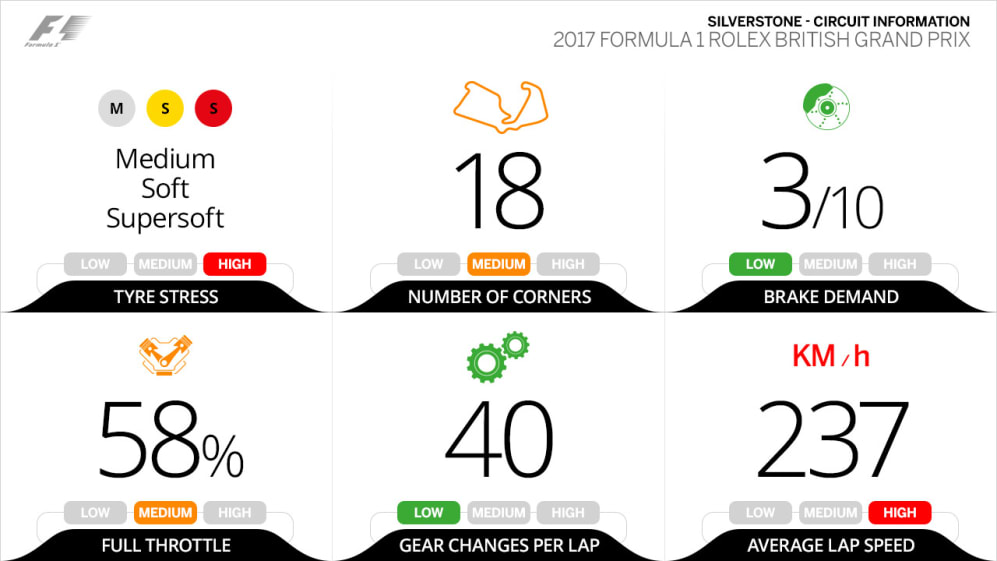 Steeped in both aviation and automotive history, Silverstone is a former World War II bomber base. It opened in 1943 and today's racetrack mostly utilises what were the airfield's perimeter roads. The majority of its layout is comprised of medium- and high-speed corners, allowing drivers to use full throttle for around 60 percent of their lap, with teams running medium to high downforce levels on their cars to enable the huge cornering speeds achieved through the circuit's sweeping turns.
The key corner - Turn 9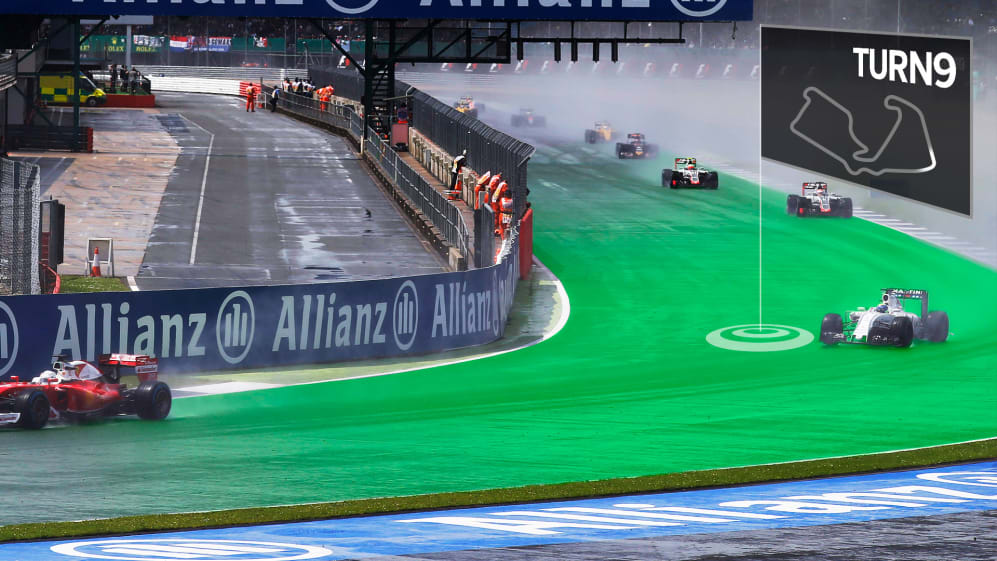 You will struggle to find an F1 driver - indeed any race driver - who does not relish the high-speed challenge that is Copse corner at Silverstone, a surprisingly tight right-hander that opens up at the exit. This year, thanks to the wider tyres and revised aero of the 2017 regulations, it's going to be even quicker - possibly even flat out in eighth gear, which will mean apex speeds exceeding 300km/h. In the words of Red Bull's Daniel Ricciardo: "From Turn 9 to 15, Copse to Stowe, it's some of the coolest sequences… probably [the best] mile of race track we go on all year."
Home hero on the brink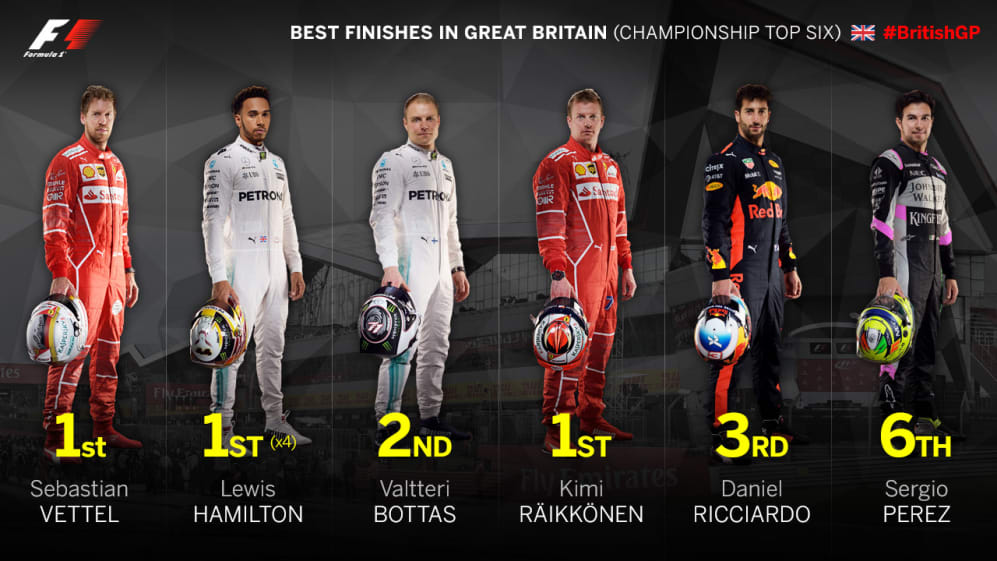 Of the current crop of drivers, one man reigns supreme in the Silverstone winners list – and aptly enough he is British. Lewis Hamilton has triumphed four times in his home race – once in 2008 for McLaren and for the last three years with Mercedes. Former team mate Fernando Alonso has won twice, but none of the 2017 frontrunners has more than a single GB victory. If Hamilton does it again this weekend, he will join compatriot Jim Clark, along with Alain Prost, atop the all-time British Grand Prix winners table.
Forza Ferrari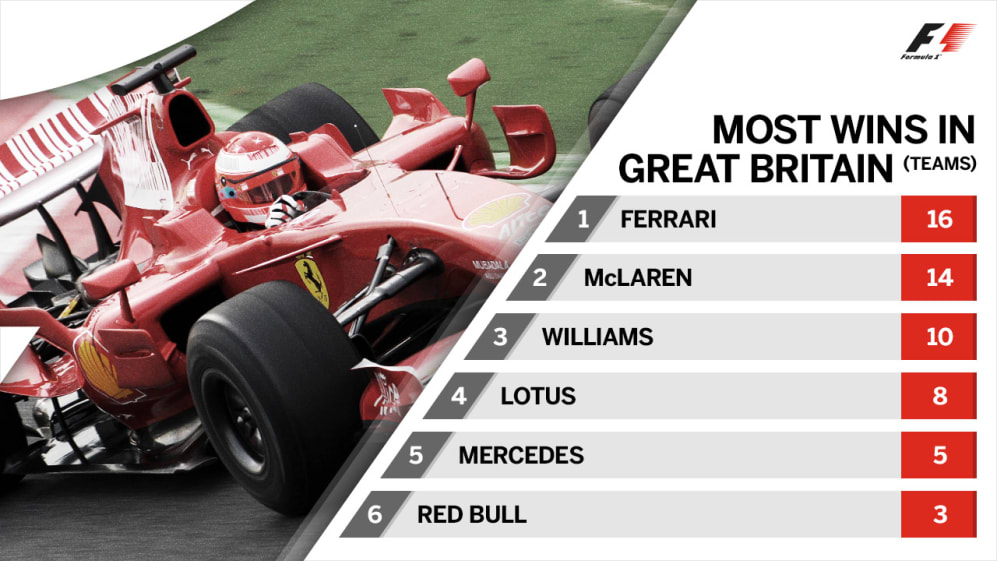 Given that their history of British Grand Prix participation dates back to the second year of the championship in 1951, it's perhaps no surprise to see Ferrari heading this particular table – and current form suggests they have every chance of pulling further away from their rivals this Sunday. It would be their first Silverstone win since Fernando Alonso took them to glory in 2011. By way of contrast, title rivals Mercedes have not lost here since 2012.
Bottas bound to make gains?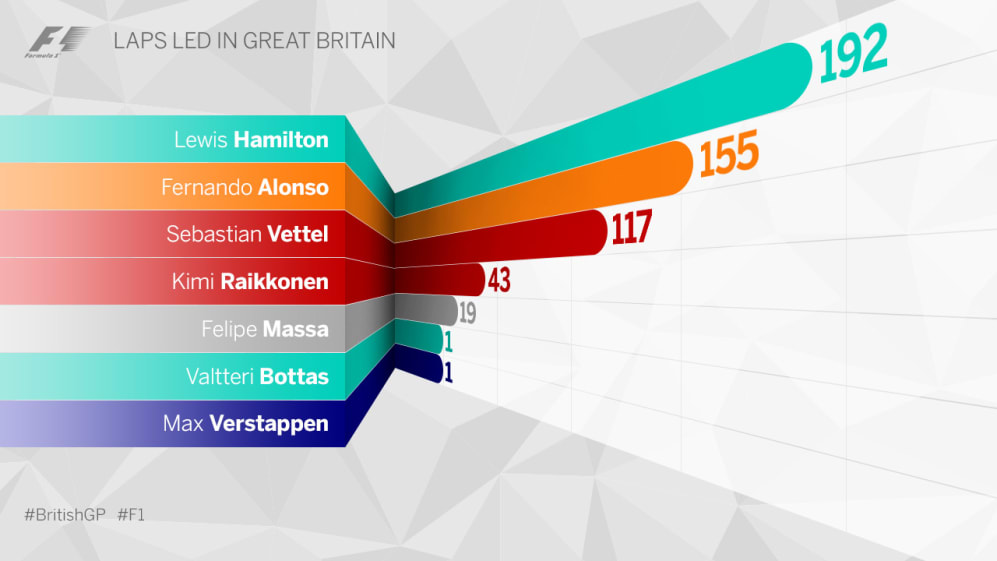 Given that Valtteri Bottas led all but two laps en route to his superb Austrian Grand Prix victory last weekend, what's the betting that he'll take charge of a few more at Silverstone come Sunday? Even if he does, he hasn't any chance of matching his team mate's record just yet – eight more laps at the head of the field and Hamilton will reach his double century on home soil.
The big number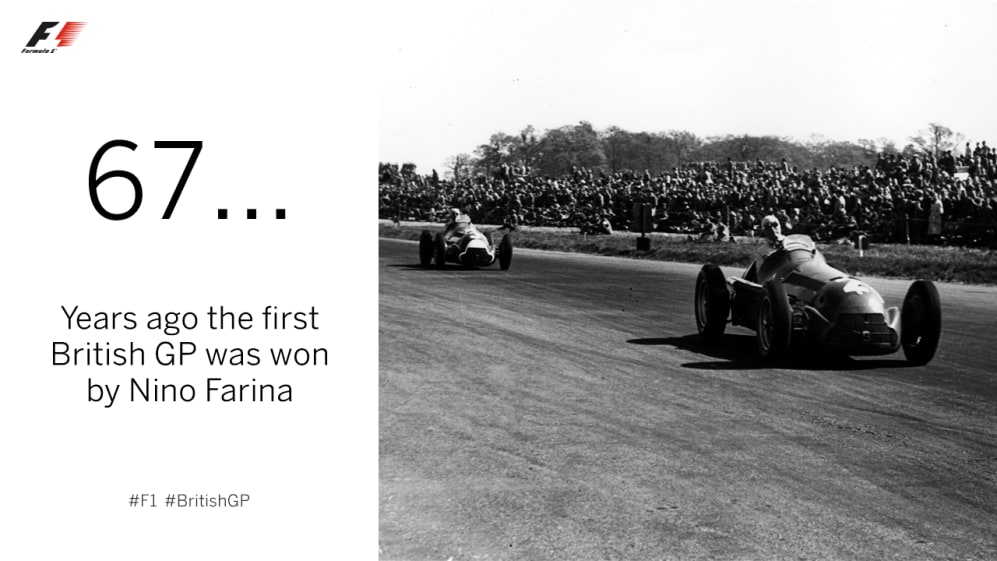 Great Britain is one of only two countries – the other being Italy – to have staged a round of the Formula 1 world championship every year since it began back in 1950. That first race was staged at Silverstone, with a layout measuring 4.649km compared to the current 5.891km, and was dominated by Alfa Romeo, whose drivers finished 1-2-3. Future world champion Nino Farina won from Luigi Fagioli and Reg Parnell, with their nearest rivals a full two laps down.
Can Alonso spring a surprise?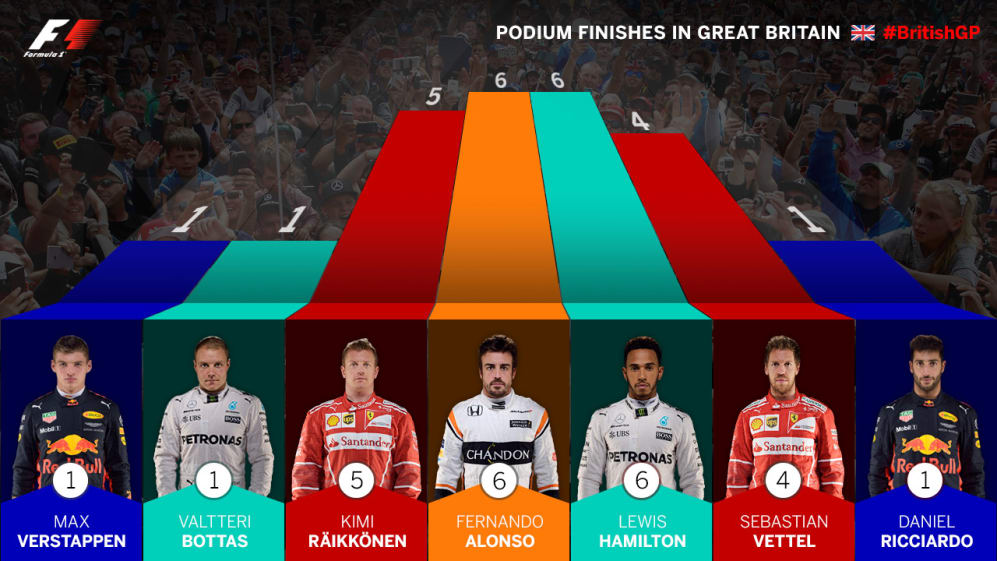 It would take a major upset in form, but were McLaren's Fernando Alonso to finish in the top three on Sunday, he alone would become the most successful current driver – in terms of British Grand Prix podiums at least. Believe the bookies and that accolade is far more likely to be Hamilton's come the chequered flag, though it's worth noting that Ferrari's Kimi Raikkonen is also just one away from the magic number six at Silverstone.
Qualifying king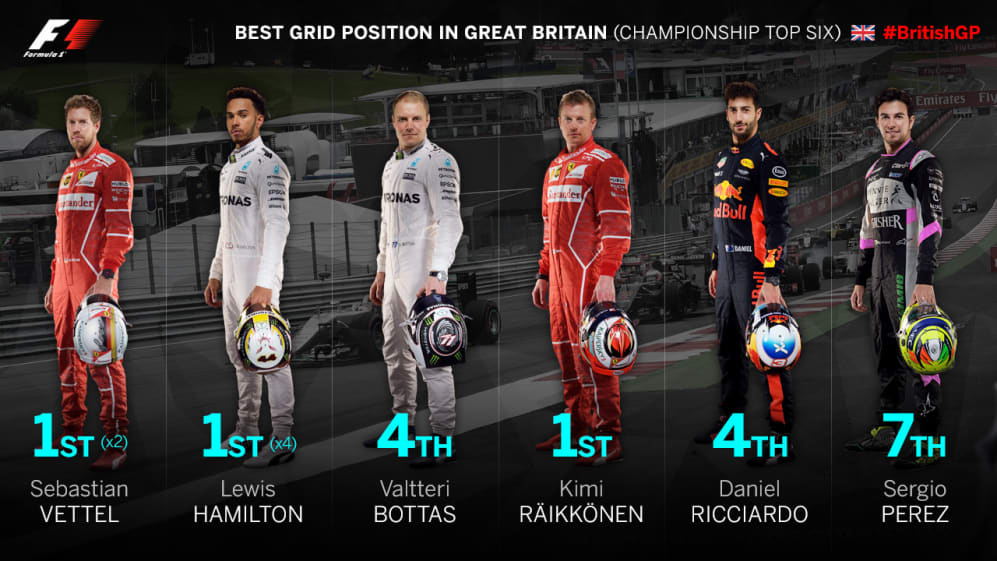 No man in history has more F1 Silverstone poles than Hamilton, and (with five) it's only the aforementioned Clark with more British Grand Prix poles overall. But of more concern to the local lad than record books this weekend will be the threat of championship leader Sebastian Vettel – no stranger himself to the P1 grid slot at the famed Northamptonshire circuit. Meanwhile, the likes of Daniel Ricciardo and Valtteri Bottas will be out to claim their first-ever front row starts on UK soil.
Quote unquote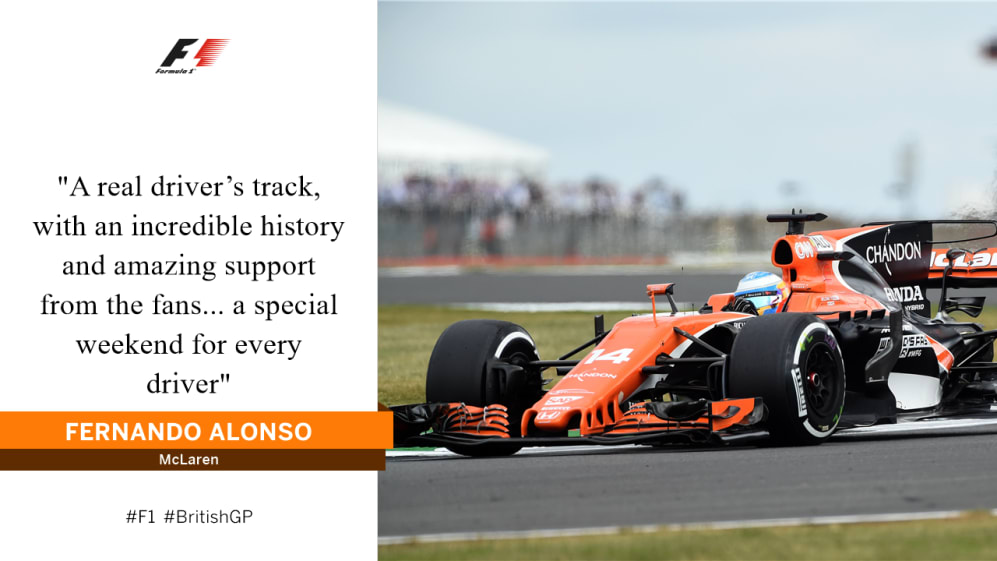 Fernando Alonso's comments above sum up the thoughts of many on the grid when it comes to Silverstone and the British Grand Prix - home race for the majority of the teams and many who work for them. Alonso may have the prospect of more grid penalties for this weekend's race, but that won't stop him and his McLaren colleagues enjoying every minute of competing on their local tarmac.
Those all important session times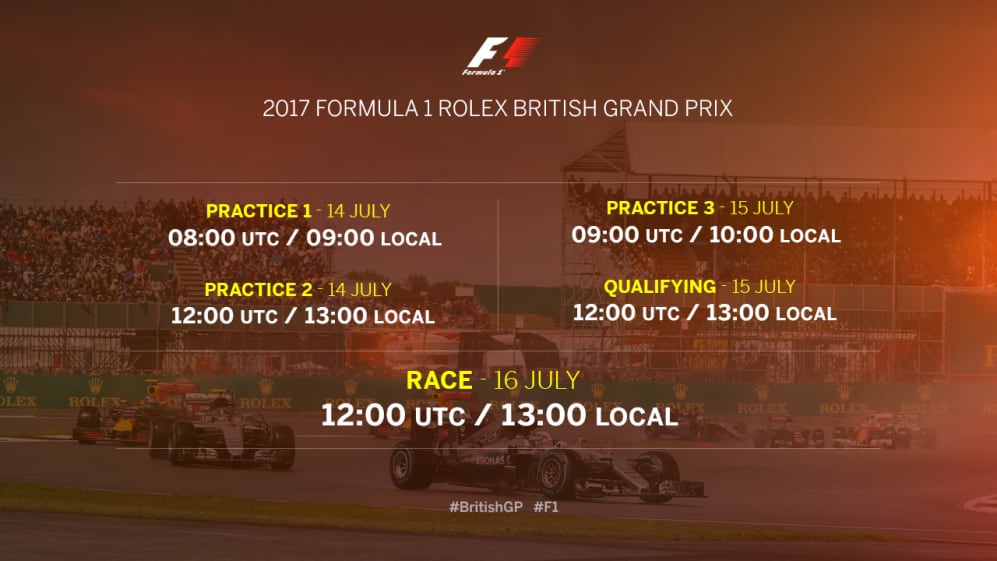 Don't forget, if you are registered with F1® Access (it's free!) you can follow live timing and commentary from Silverstone on Formula1.com, or by downloading the Official F1 App. For more details, click here.