Feature
Need to know: Hungary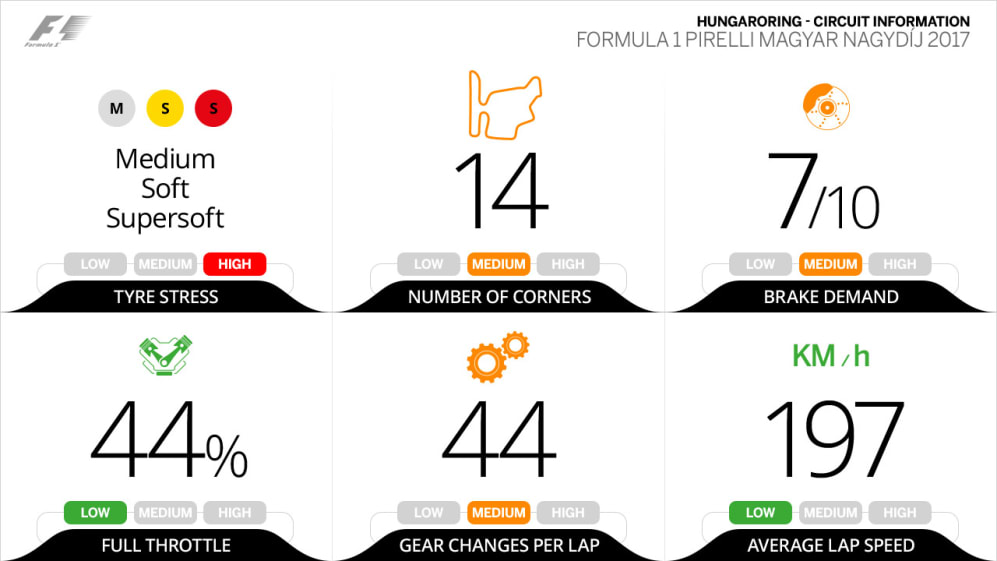 From session times to previous winners, we break down the key facts, stats and information ahead of the 11th round of the season...
Hungaroring: Let's twist again
According to the cliche, the Hungaroring is like 'Monaco without the walls'. But there is an element of truth to this, in that it's tight and twisty throughout, aside from a big long straight across the start and finish line. It has many low- and medium-speed corners, which demand stability on corner entry and strong traction on the exit. It's quite hard on both the front and rear tyres so overall it can be characterised as a tough handling circuit. And as the circuit is not used that often, the track surface tends to start off rather green, with grip steadily improving as rubber is laid down throughout the weekend.
The key corner - Turn 14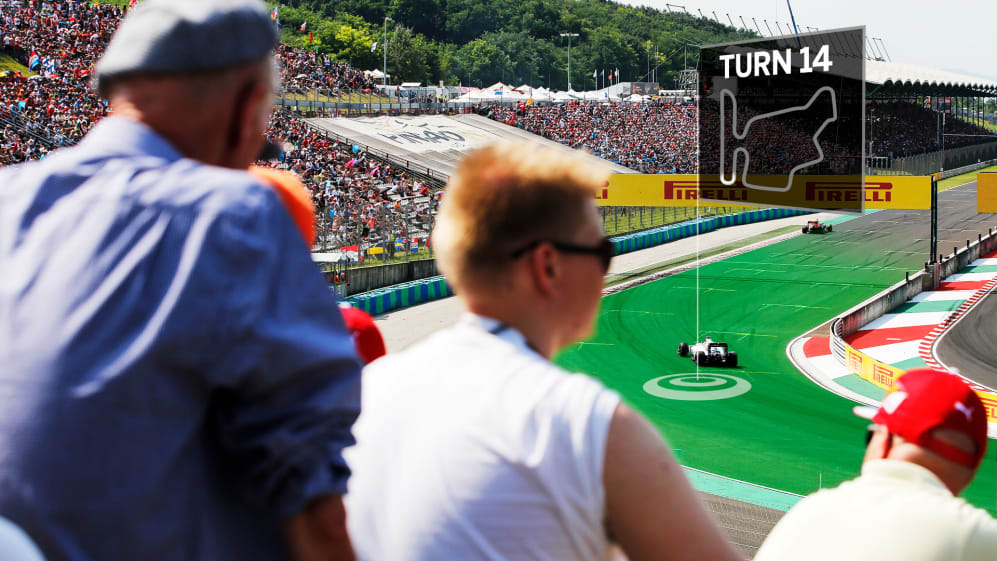 The last three corners of the Hungaroring are all difficult, but get Turn 14 wrong – a tricky 180-degree right-hander – and you will be paying the price all the way down the track's longest straight. Approached uphill and taken in third gear, a driver may be tempted to wave to the fans as the huge grandstands come into view. Instead, he should concentrate on using the whole track on entry, finding the perfect line to avoid the bump in the middle of the corner, and then getting the best possible exit to ensure maximum straight-line speed on the subsequent run down to Turn 1. A car needs good front-end grip to hold it at the apex, but traction is also important to ensure that critical speed coming out of the turn. If a driver doesn't achieve that, he may quickly find a chasing rival sailing past at well over 300km/h.
Hamilton has the hunger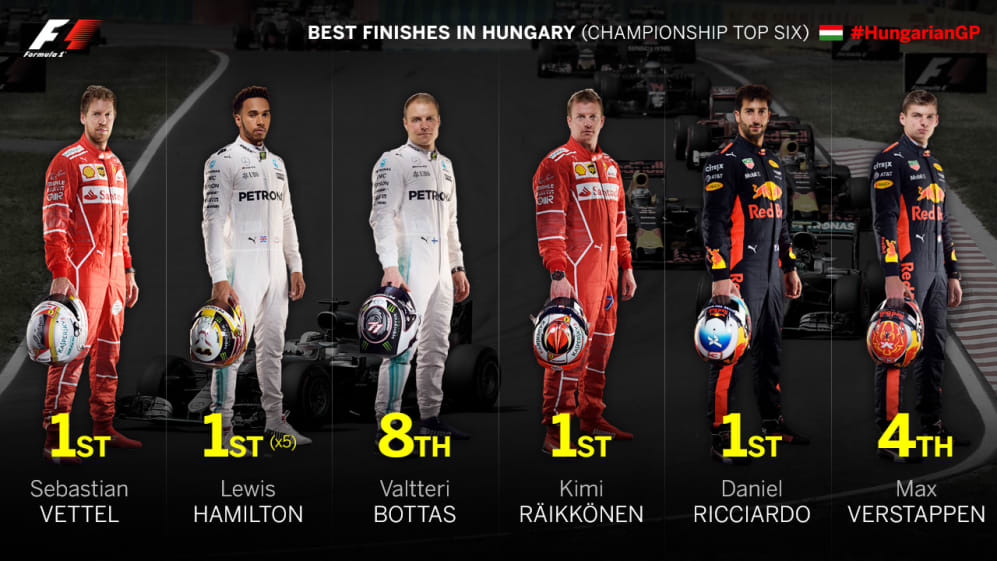 The Hungaroring has been staging Grands Prix for over three decades, but remarkably, in that time only three drivers have won more than twice here – and all three are all-time greats: Ayrton Senna (three times), Michael Schumacher (four times), and Lewis Hamilton (five times). Thus to say that Hamilton is a Budapest specialist is something of an understatement. Four of his current rivals have also tasted victory here, but none of them more than once.
Mercedes seeking an elusive double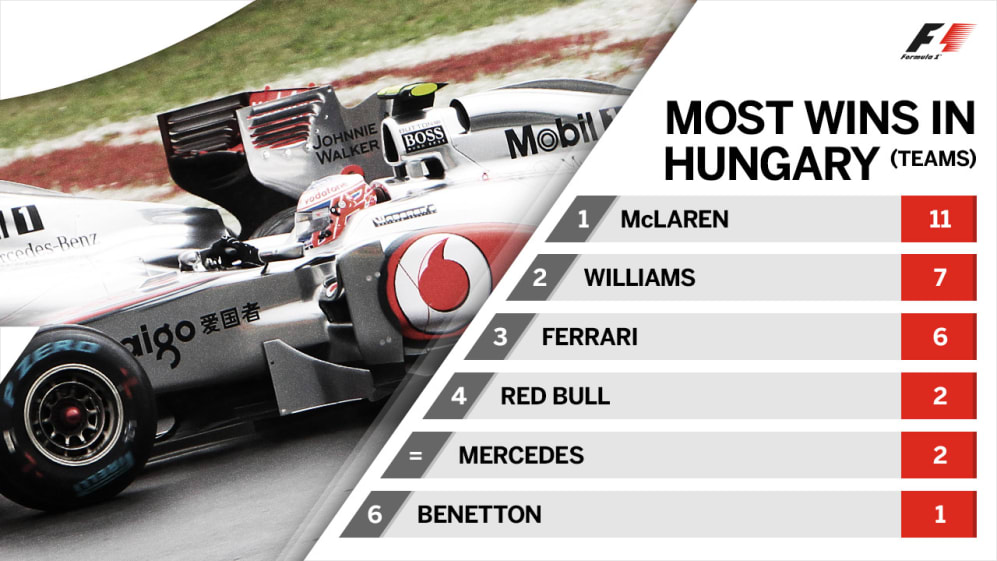 Hamilton was the last man to give them a Hungary win back in 2012, but 10 triumphs prior to that mean McLaren are still the runaway leaders at the top of this list. Also worth noting is that no team since the Woking squad in 2011-12 has won back-to-back Budapest races – which given Mercedes' victory last year, perhaps bodes well for Ferrari or Red Bull this weekend…
Front-row fever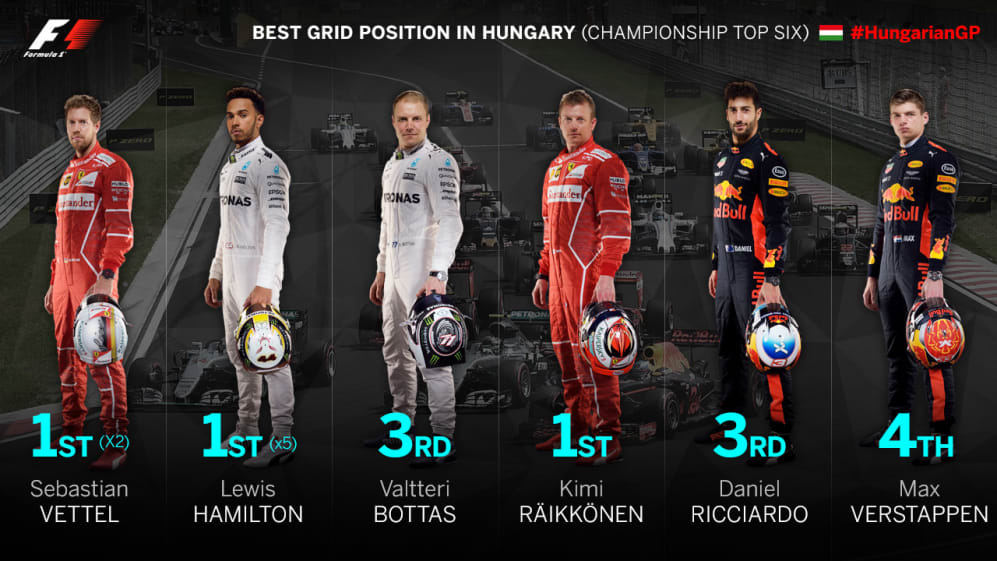 Hamilton's stranglehold on Hungary qualifying is almost as tight as his grip on race wins. In the all-time list only Schumacher has more poles here, with seven to Hamilton's five. The rest of the current grid are left trailing, with Sebastian Vettel and Fernando Alonso on two apiece, and Kimi Raikkonen on one. Valtteri Bottas, Daniel Ricciardo and Max Verstappen have yet to break on to the front row in Budapest – could that change this weekend?
Time for some new entries?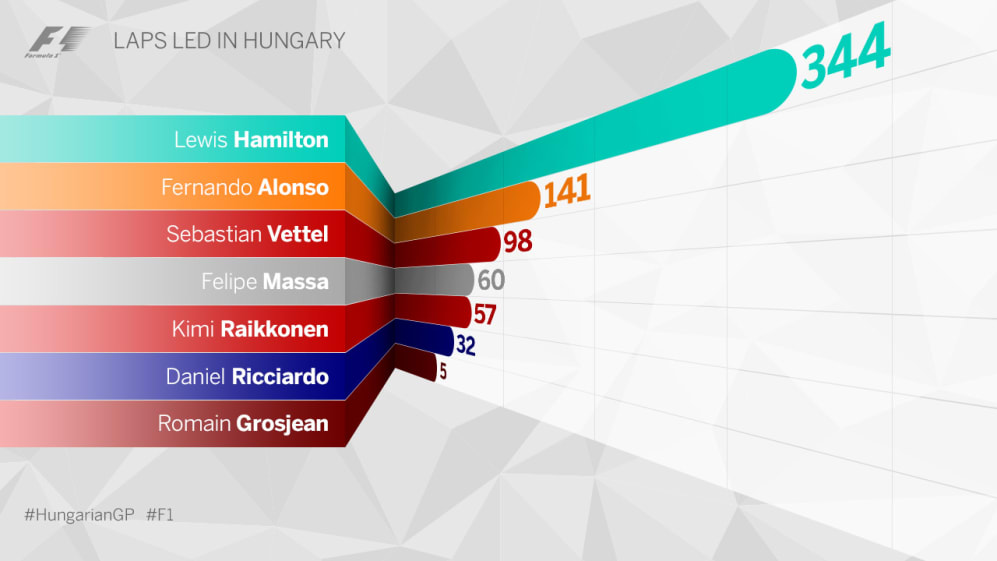 No surprise to see Hamilton's name topping this list too. Perhaps more surprising is Felipe Massa's appearing in fourth place, despite the fact he has never won the race – unlike Raikkonen and Ricciardo immediately behind him. The question now is whether the up-and-coming young guns such as Bottas and Verstappen can add their names to the list in 2017?
Quote unquote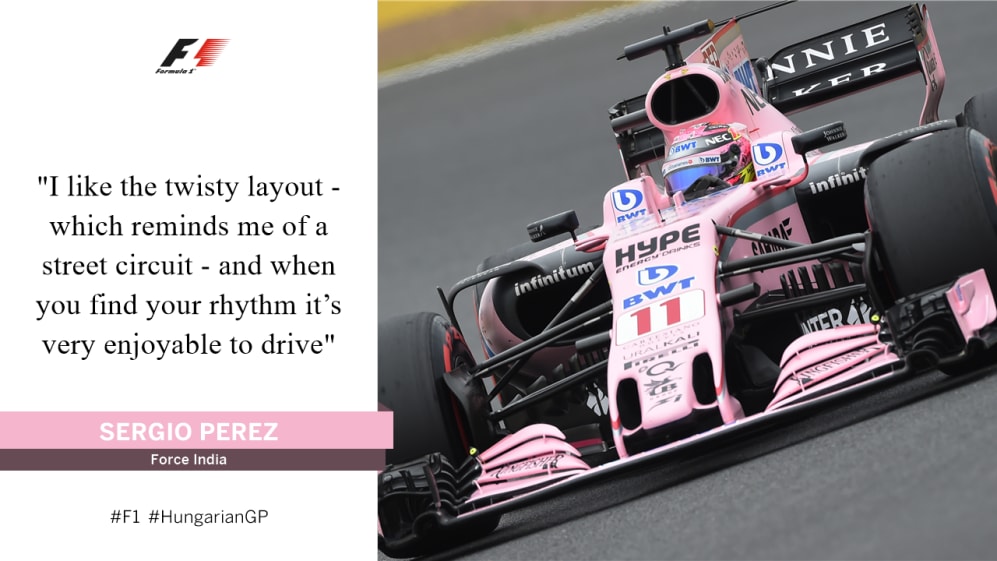 The Hungaroring can be a source of immense joy or immense frustration for a driver, such is the way that one corner generally flows into another, with very little respite in terms of straights. Get one turn even slightly wrong and it can kill your lap time. However, when it all comes together it can make for one of the most satisfying experiences on the F1 calendar – as Sergio Perez will attest.
A record for Raikkonen?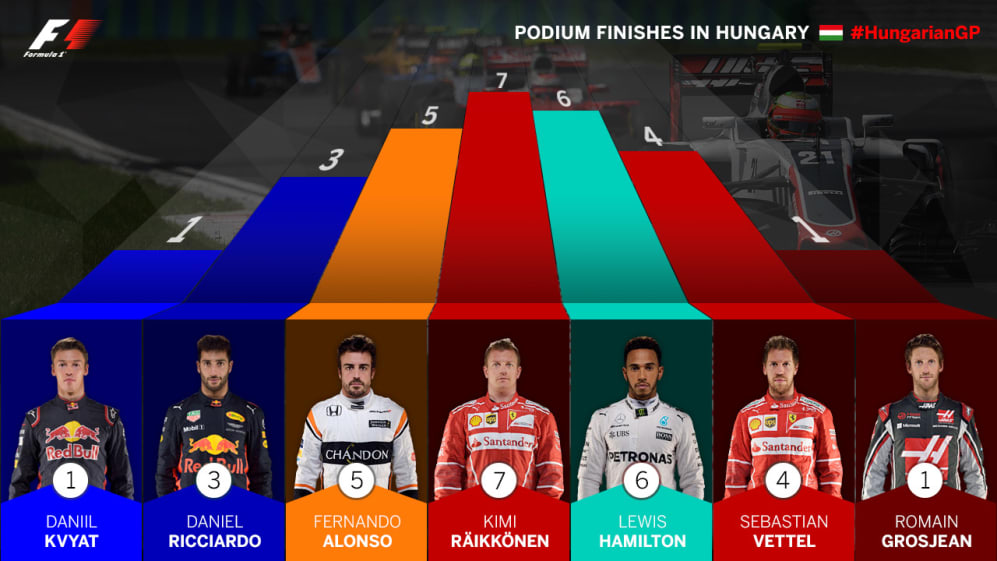 Hamilton may rule the roost on most counts in Hungary, but even he can't match the sheer consistency of Kimi Raikkonen in terms of podium appearances. The Finn's total of seven top-three showings here is surpassed by no one - and matched only by Senna and Schumacher. And given his flying form at Silverstone, who would bet against him seizing the record outright come Sunday?
The big number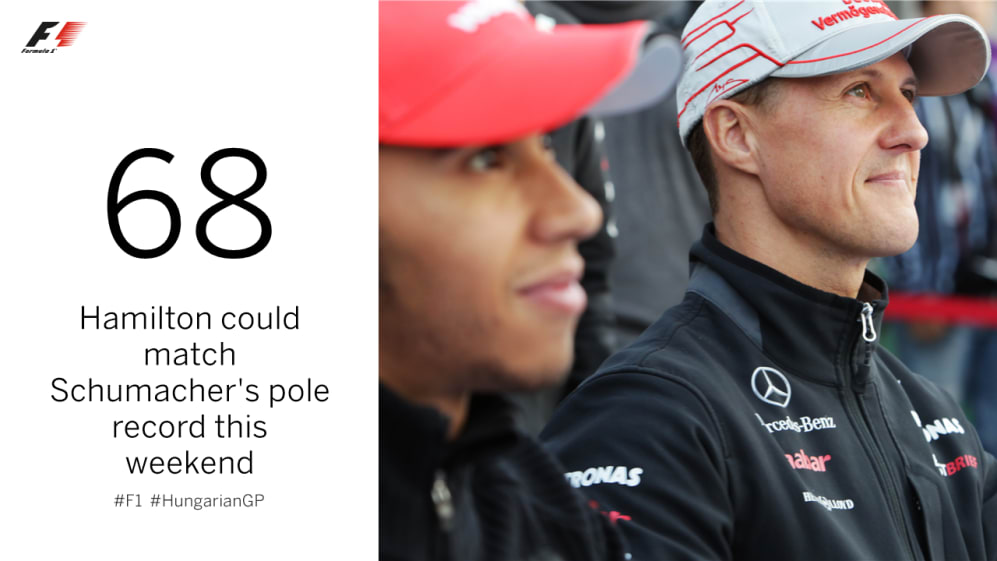 We recently saw Lewis Hamilton equal – and then surpass – the career pole position tally of his hero Ayrton Senna. In Hungary he could reach an even bigger qualifying benchmark – matching Michael Schumacher's all-time record of 68 poles. How likely is it? Well, Mercedes have secured P1 on the Budapest grid for the last four years, though only twice was it Hamilton at the wheel – suggesting that team mate Valtteri Bottas could be his biggest rival on Saturday.
Those all important session times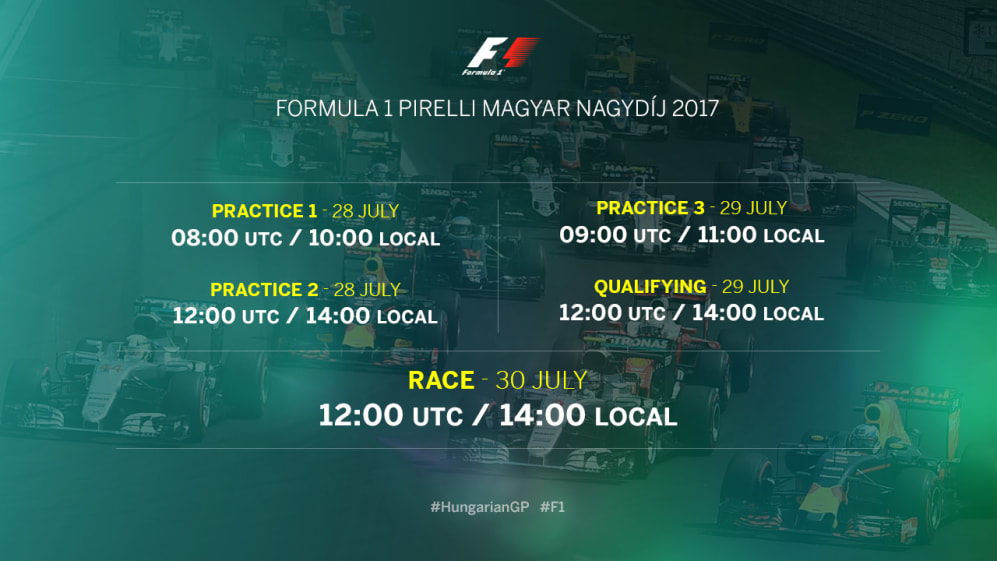 Don't forget, if you are registered with F1® Access (it's free!) you can follow live timing and commentary from Hungary on Formula1.com, or by downloading the Official F1 App. For more details, click here.