Feature
Need to know: Italy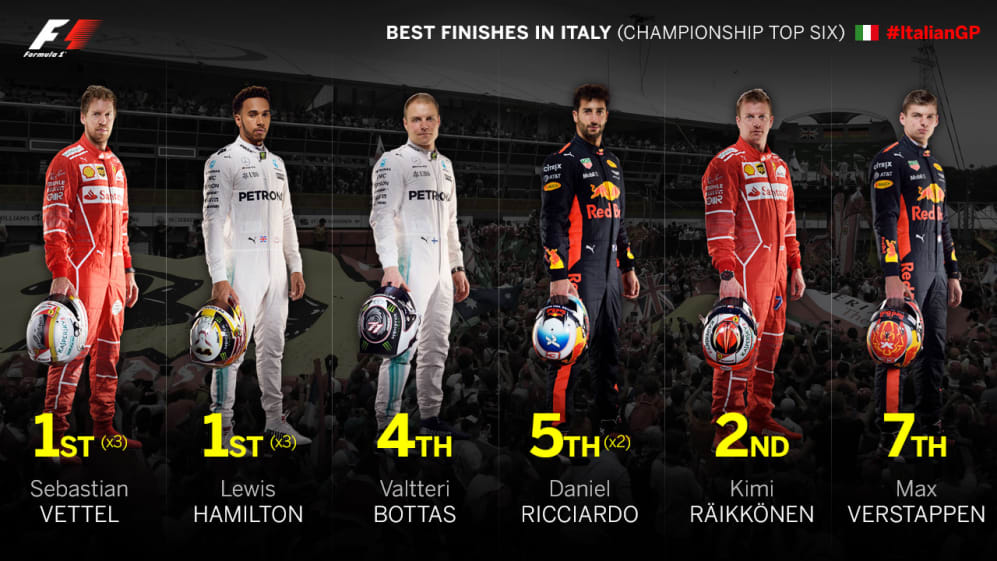 From session times to previous winners, we break down the key facts, stats and information ahead of the 13th round of the season...
Autodromo Nazionale Monza: the fastest of them all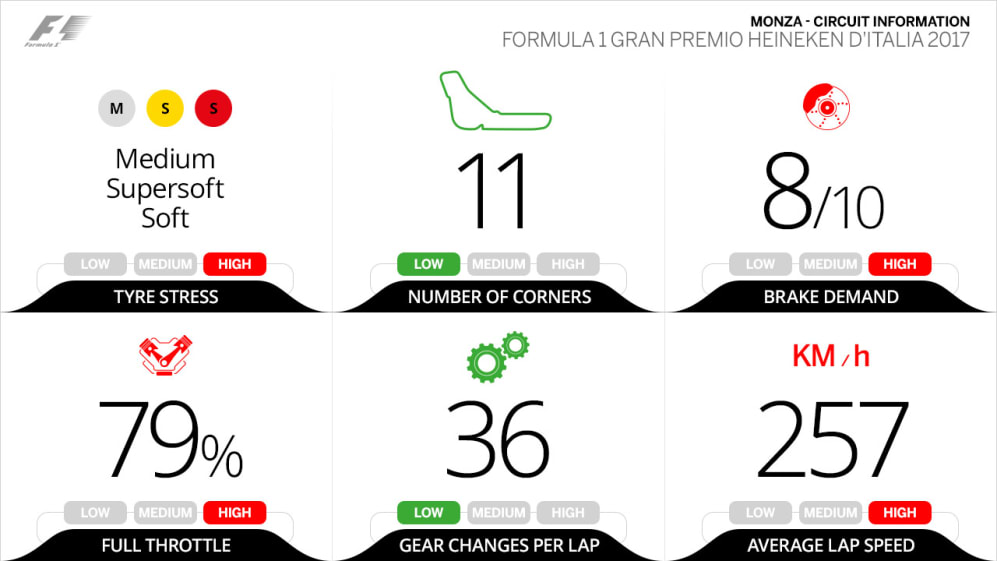 Spa was quick, but there's a reason why Monza is nicknamed the 'Temple of Speed'. It may have a couple of fiddly chicanes but drivers spend the majority of time at the Italian track with their foot firmly planted on the loud pedal. In terms of set-up, it's not quite as simple as just trimming off downforce however - whilst straightline speed is prized, just as important is having a car that accelerates off the corners well and is comfortable tackling the kerbs at the chicanes. And of course stability in the numerous heavy braking zones is a must too, though fortunately for the drivers their brakes have long straights to cool off on in between the big stops.
The key corner - Turn 11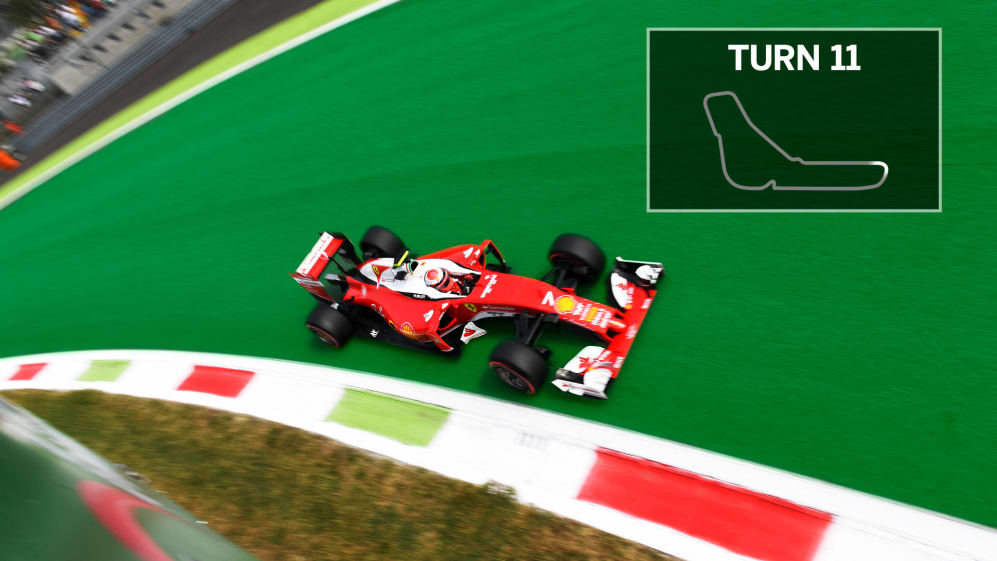 Don't be misled. Yes, many drivers will tell you the legendary Parabolica is no longer the challenge it once was, thanks to its gravel traps being replaced by asphalt run-off, but that doesn't lessen its importance to a fast tour of Monza. The 180-degree right-hander eases towards the exit and it's crucial to get back on the power early, because the longest straight of the lap follows. Overdo it though – and it's easy to get duped into doing so thanks to that increasing radius – and you will lose even more time, costing you crucial top speed on the run down to Turn 1.
Title contenders all tied up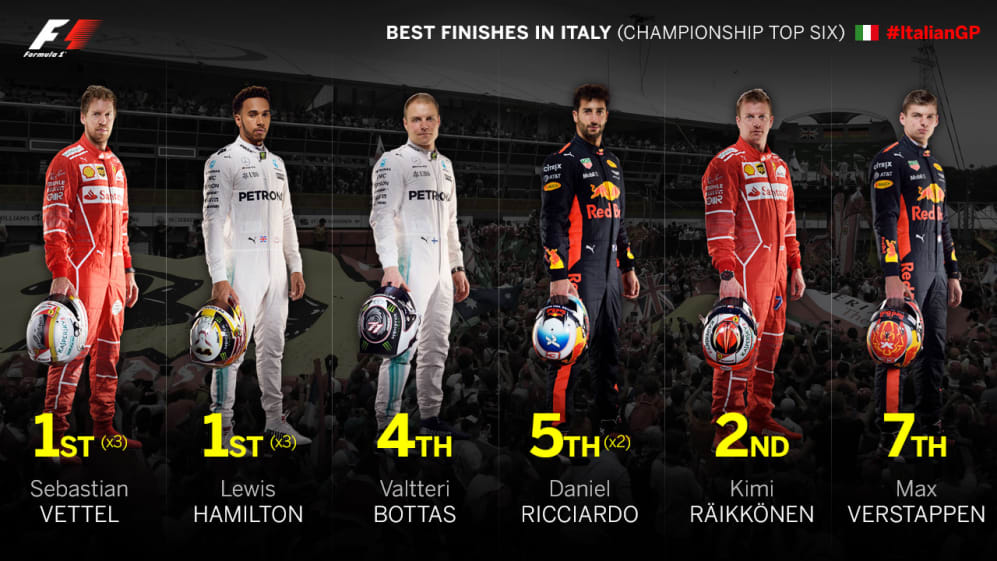 Of the present grid, no driver has won more times in Italy than championship rivals Sebastian Vettel and Lewis Hamilton - three. Hence if either triumphs on Sunday, he will be become the current 'King of Monza', drawing level with second-placed Nelson Piquet in the all-time table, just one shy of Michael Schumacher's outright record. Fernando Alonso is the only other current driver to have won on Italian soil (doing so twice), but the Spaniard is highly unlikely to be a threat this year, meaning that if Hamilton and Vettel falter we will have a first-time Monza winner for 2017.
The Tifosi expects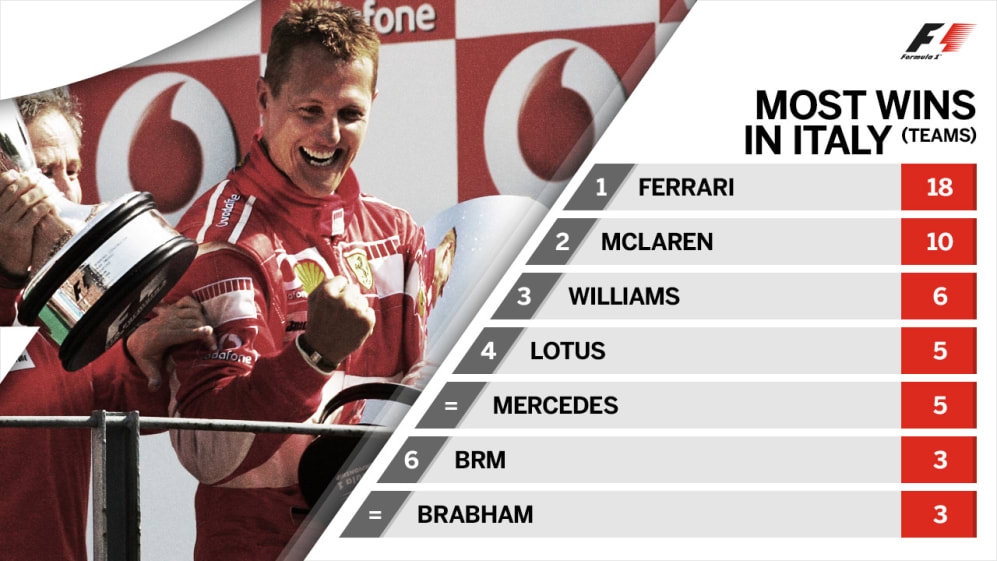 Given the passion that the Prancing Horse evokes in its homeland, it is only fitting that Ferrari have far and away the most wins in Italy. The first came in 1951 with Alberto Ascari, but not since 2010 have the Tifosi had true cause to celebrate, when Fernando Alonso last took the chequered flag for them at Monza. Thus, given the team's current form there will be a huge weight of expectation upon Vettel and Raikkonen this weekend.
Hamilton record-chasing again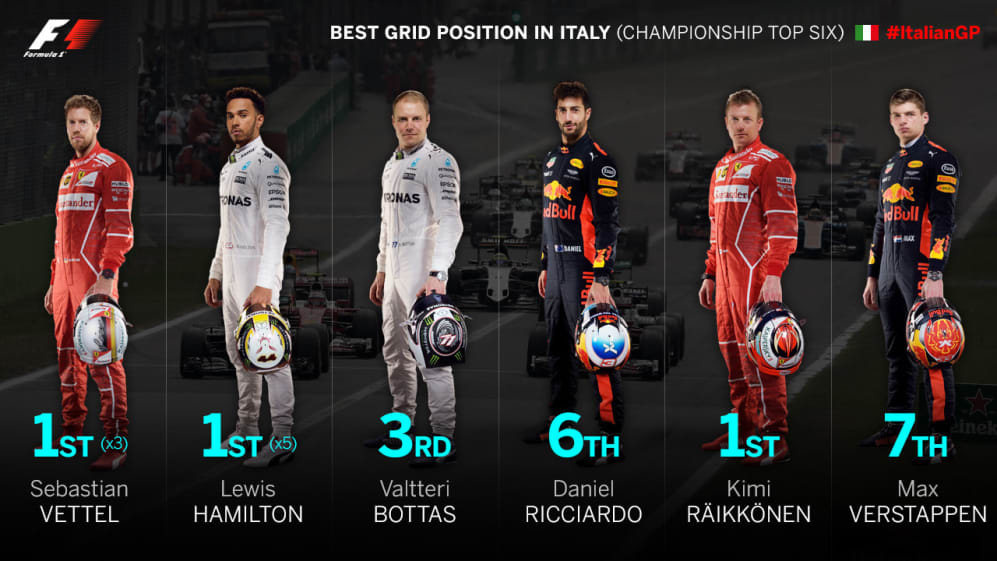 Hamilton has been on pole here for the last three years and five times in total – a tally beaten by no one and matched only by legends Juan Manuel Fangio and Ayrton Senna. There's no question that Mercedes have the outright grunt required for a quick lap of Monza, and Hamilton needs just one more pole to take sole charge of the all-time record from Michael Schumacher. But Spa - and Ferrari's form on a track many thought they might struggle to match the Silver Arrows at - suggests the Brit won't have it all his own way, and neither Sebastian Vettel nor team mate Kimi Raikkonen are strangers to taking the top grid slot in Italy.
Two between two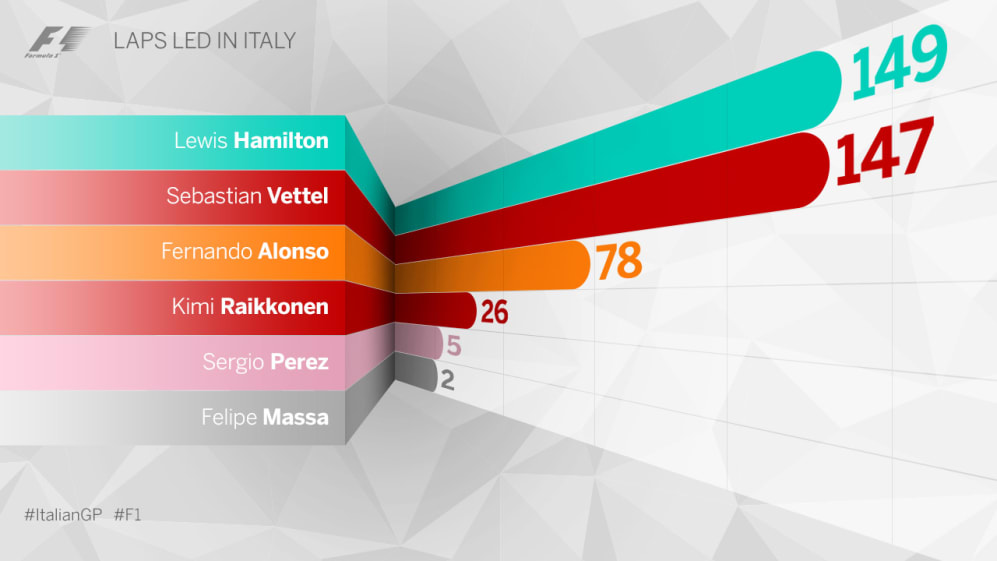 Just a couple of laps is what separates how long Hamilton and Vettel have spent at the head of the field in Italy, so it's anyone's guess as to who will be in front come Sunday evening. If Hamilton were to lead every lap this year, he would move from seventh to fourth in the all-time table, just one lap behind hero Ayrton Senna (203), three adrift of Michael Schumacher (205), and only 15 shy of outright leader Alberto Ascari (217).
Quote unquote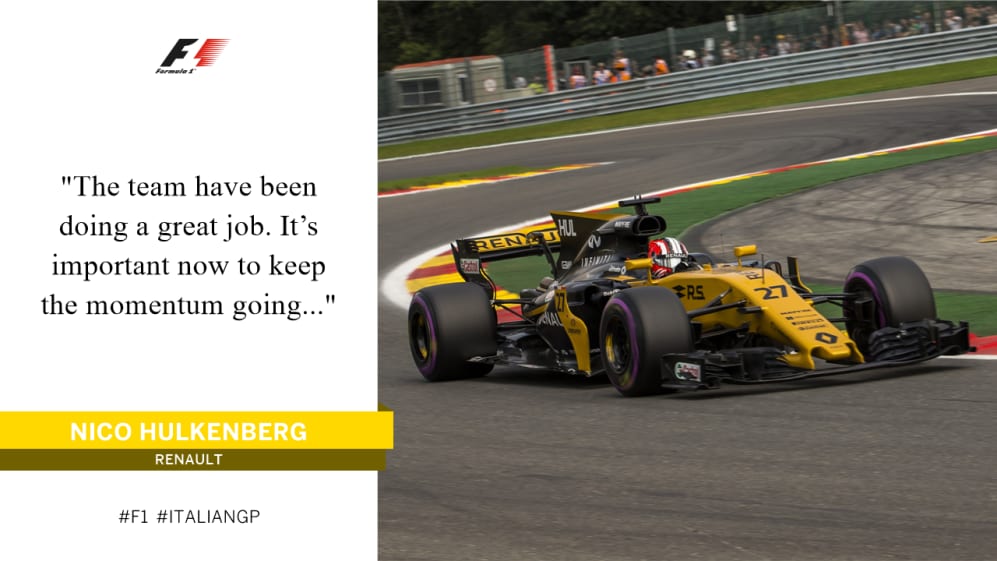 They may be eighth in the constructors' stakes heading to Italy, but no one outside the top three arrives with more momentum that Renault. The Enstone team have managed 16 points since Great Britain, which is more than the four teams immediately above them in the standings: Force India (14), Williams (5), Toro Rosso (7) and Haas (6). Nico Hulkenberg has, of course, scored everyone of those points - and the 18 others they've notched this season. Can the German keep his brilliant streak going in Italy - and will this be the race that unlucky team mate Jolyon Plamer joins him in the top ten?
Forza Fernando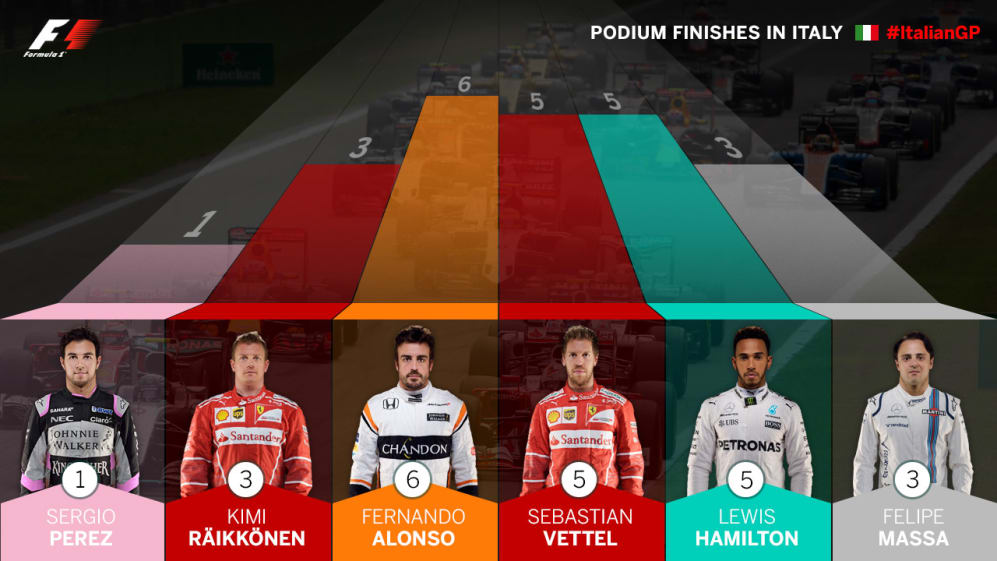 He may not lead the win stakes, but when it comes to sheer consistency at the Italian Grand Prix, Fernando Alonso has but one peer: only Michael Schumacher – with eight – has claimed more podiums. Vettel and Hamilton could draw level with the Spaniard on Sunday, while the likes of Ricciardo and Verstappen will be hoping the big guns slip up and allow them to grab a maiden top-three finish in Monza.
The big number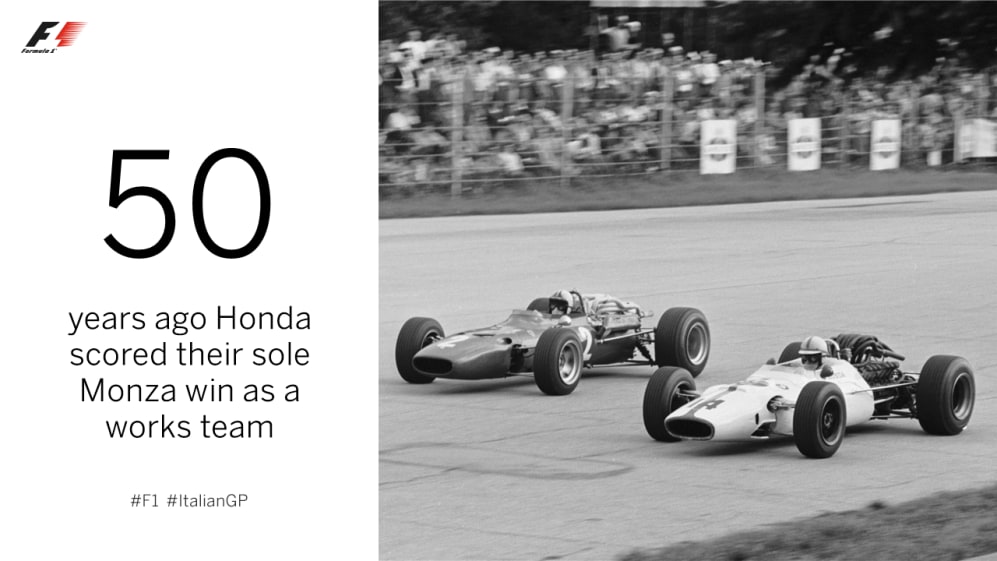 It may seem a fairty-tale scenario for 2017, but half a century ago Honda were beating Ferrari on their home turf. It was the Japanese company's second F1 victory, as their new RA300 car won on debut with John Surtees (pictured right) behind the wheel. To mark the anniversary, there will be a demo run of this very machine ahead of Sunday's race in Monza. Honda have since won the Italian Grand Prix another five times as an engine supplier (six if you count Jordan's Mugen-Honda powered triumph in 1999), but their 1967 victory remains their only one as a team.
Those all important session times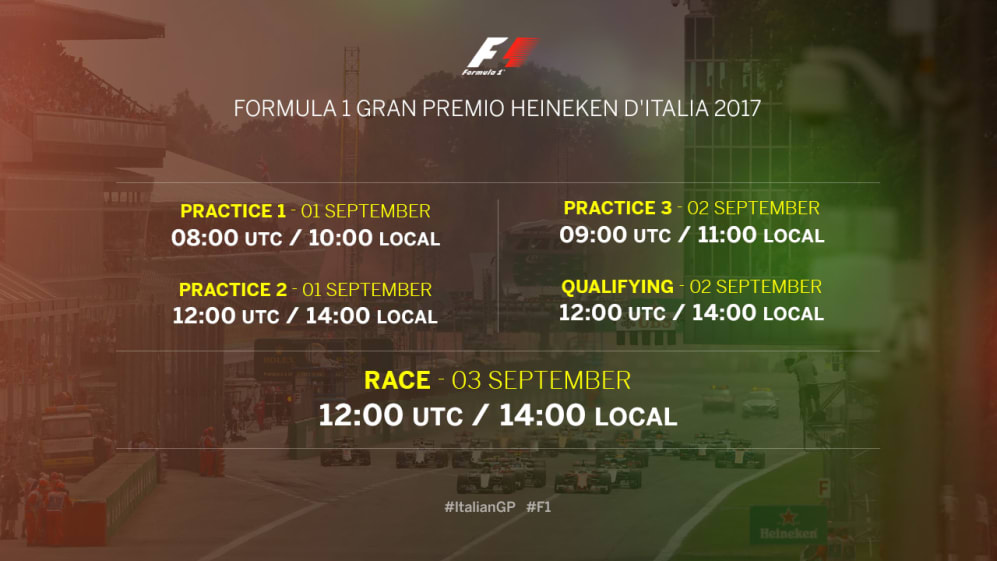 Don't forget, if you are registered with F1® Access (it's free!) you can follow live timing and commentary from Italy on Formula1.com, or by downloading the Official F1 App. For more details, click here.