Feature
Need to know: Japan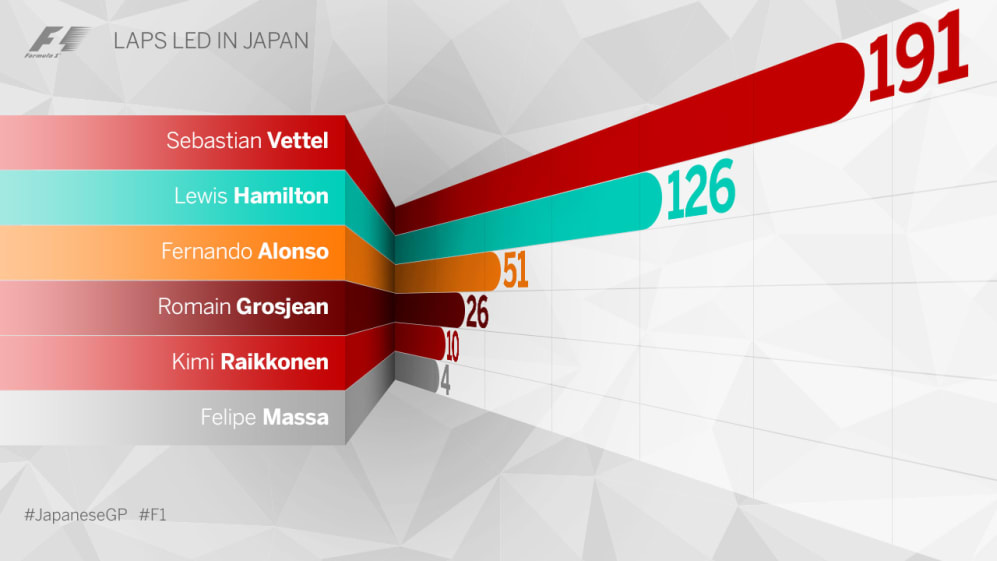 From session times to previous winners, we break down the key facts, stats and information ahead of the 16th round of the season...
Suzuka International Racing Course: Eight is great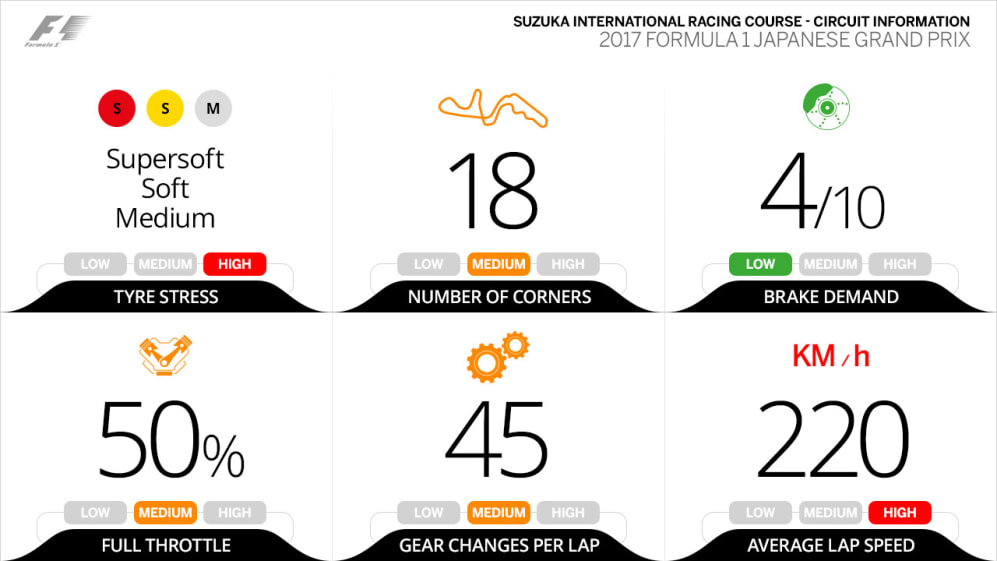 Suzuka's figure-of-eight layout makes it unique – it's the only circuit on the F1 calendar with this configuration (crossing at Degner Two/130R), which creates a relatively equal split of right- and left-hand turns. Owned by the Honda Motor Company, Suzuka Circuit has been a regular fixture on the F1 schedule since 1987. Designed by Dutchman John Hugenholtz in 1962, it's renowned as an excellent test track due to its eclectic mix of corners and remains much loved by drivers. With age comes idiosyncrasies too – narrowness combined with numerous gravel traps means cars can end up beached after only relatively minor mistakes; and when it rains (not uncommon here), surface undulations mean streams flow across the track, which can lead to aquaplaning.
The key corner - Turn 9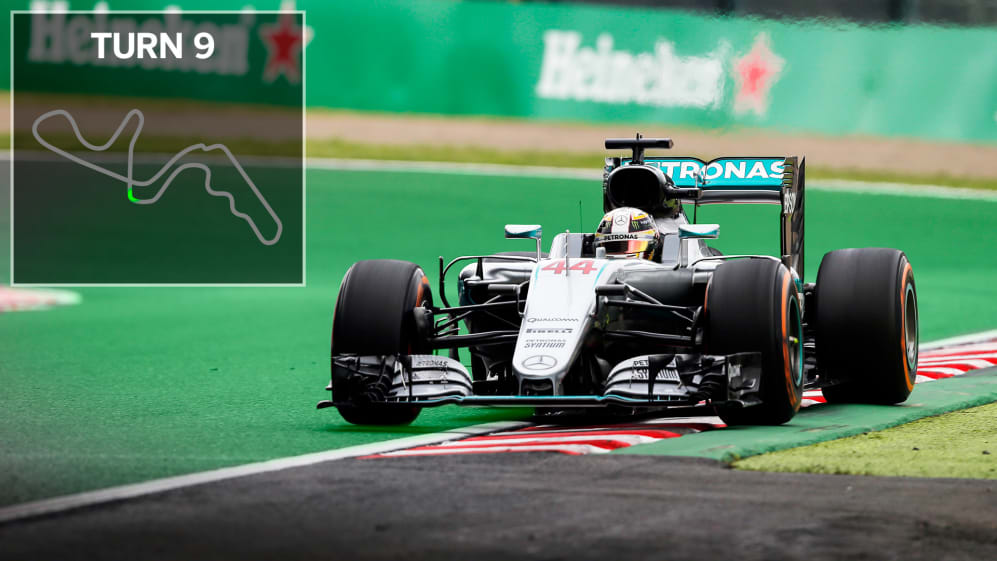 This fourth-gear right-hander passes underneath the (far more famous) 130R on exit, helping to create Suzuka's aforementioned figure-of-eight shape. Also known as 'Degner Two', this corner is relatively slow, but a bump on entry makes it difficult to get the car into the apex. There's very little run-off due to the bridge, so the smallest of mistakes can prove very costly.
An exclusive trio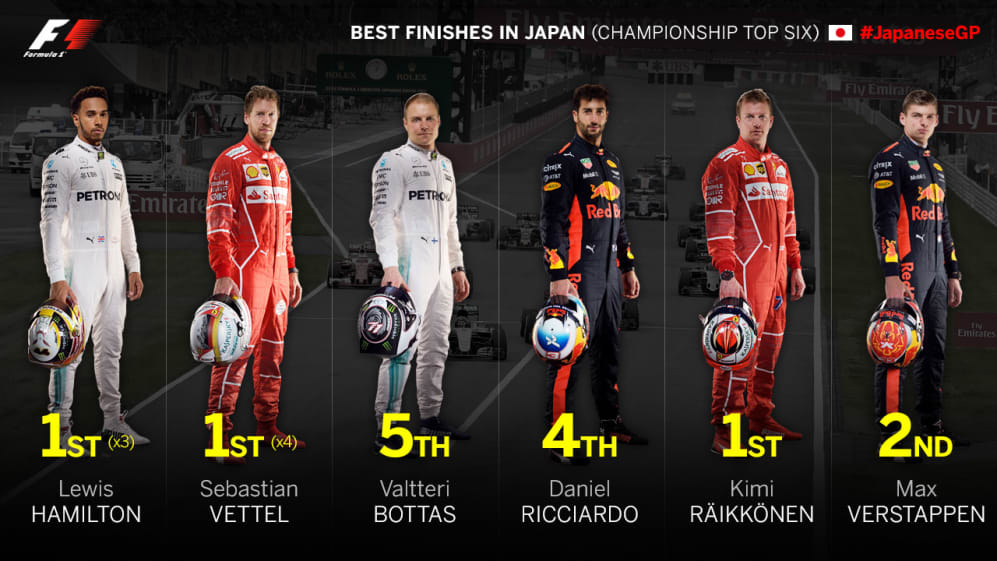 Only three men in history have won more than twice in Japan – and two of them are on the current grid. That top three cannot change in order this weekend – victory for Lewis Hamilton would leave him one shy of Sebastian Vettel's four-win tally, while a Vettel triumph would still leave him one short of compatriot Michael Schumacher's outright record of six. The joker in the pack? Fernando Alonso, who could draw level with Hamilton were he to pull off the unlikeliest of McLaren wins on Honda's home turf. Also interesting to note – only two of Hamilton's Japan victories came at Suzuka. The other was at Mount Fuji in 2007, one of just four occasions in 33 years on which the race has strayed from its current home.
Honda hoorah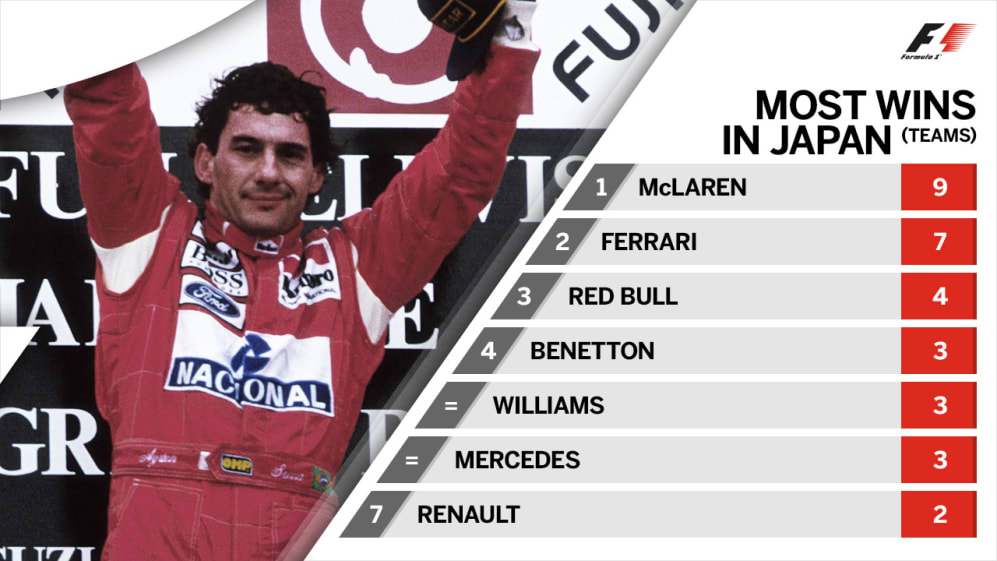 Their partnership may be ending soon, but the only team on the grid with a Japanese engine – McLaren – is also the most successful in Japan. And two of their nine victories did come with Honda power – for Ayrton Senna in 1998 and Gerhard Berger in 1991. In more recent times it's been Mercedes and Red Bull who have dominated at Suzuka – between them they have won seven of the last eight races, with the last three going to the Silver Arrows.
Front row pretenders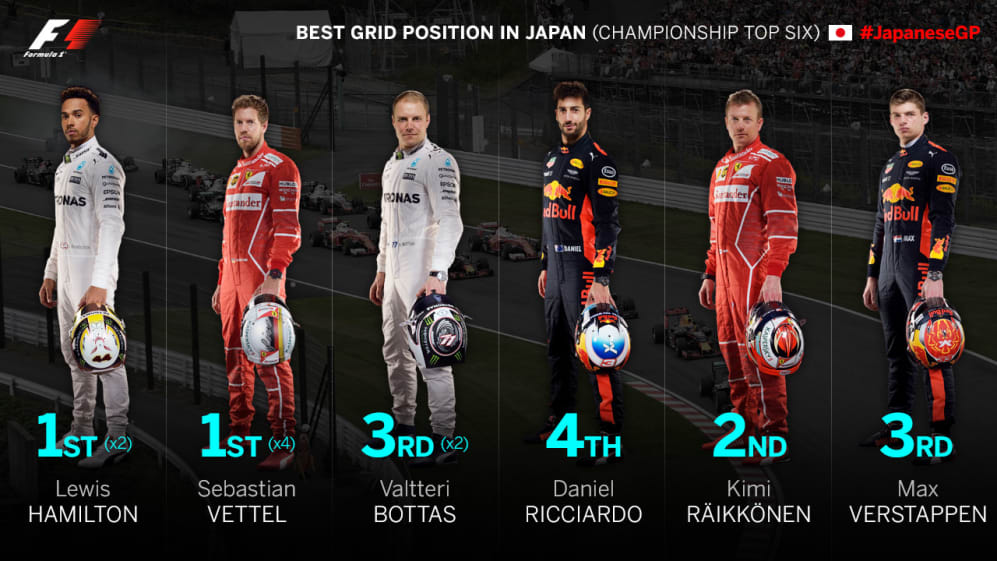 It is Schumacher who again reigns supreme in the Japan qualifying stakes, with eight poles – twice as many as nearest rival Vettel, who in turn is untouchable among his peers. The question this weekend is, even if they can't take pole, can any of the grid's rising stars break onto the Suzuka front row for the first time. Neither Valtteri Bottas, Daniel Ricciardo, nor Max Verstappen has ever started from a top-two spot here…
Seb's double century beckons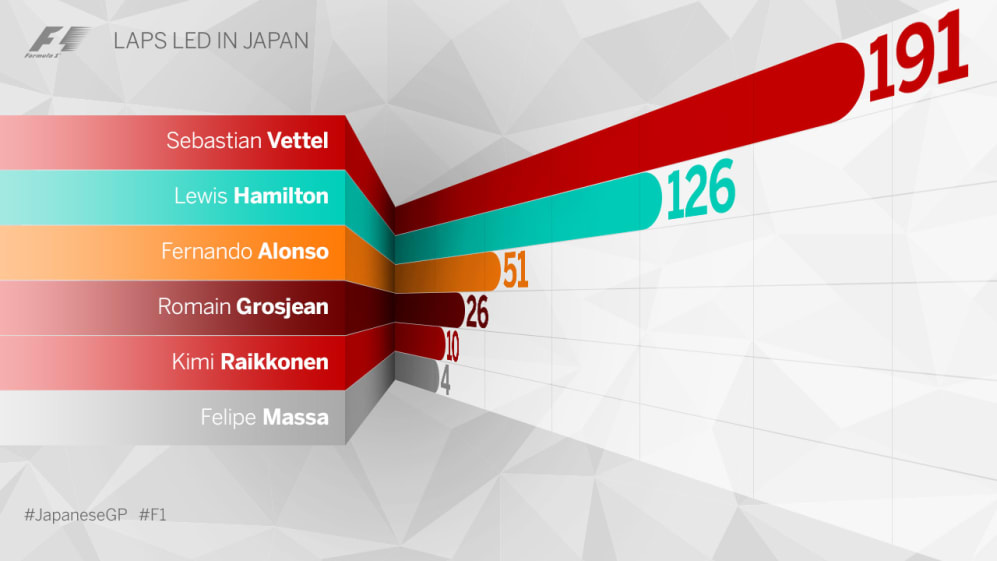 Just nine laps at the head of the Suzuka field on Sunday will see Vettel hit the 200 mark – still well shy of Schumacher's 309 record, but impressive nonetheless. Arguably of more interest is those missing from the Japan leaders list, which contains just six of the current field. Not among them are those familiar names of Bottas, Ricciardo and Verstappen.
Quote unquote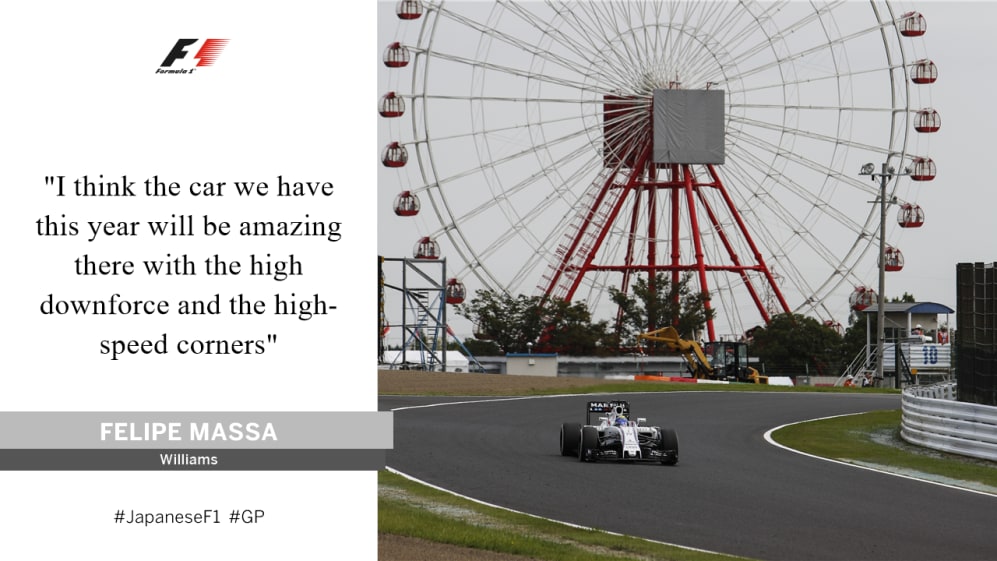 The drivers invariably love Suzuka and will tell you that with a good car, it makes for one of the greatest ever experiences behind the wheel of an F1 machine. Williams' Felipe Massa is among those confident that his will work well there this weekend, but regardless of their prospects, his colleagues can't wait to get to Japan - and not just because of the track. "The fans are absolutely amazing, passionate and very polite and the Japanese culture is just so different and attractive," says Toro Rosso's Carlos Sainz, with Red Bull stablemate Daniel Ricciardo echoing the affection for all things Japan: "I love all the local food, I actually have a table booked at a sushi restaurant that I have wanted to visit since last year."
Can Kimi convert?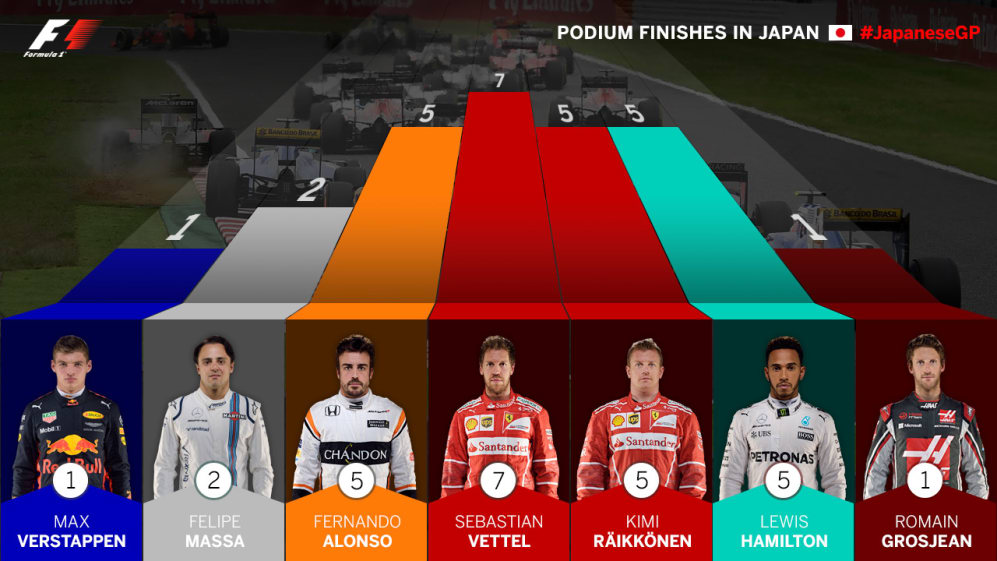 Five times Kimi Raikkonen has been on the podium in Japan, but only once has he won – with McLaren back in 2005. That compares with four wins from seven for Vettel, three from five for Hamilton, and two from five for Alonso. It's a record he'll be keen to change on Sunday. Meanwhile, the likes of Bottas and Ricciardo will be equally eager to claim their maiden rostrum appearances at Suzuka.
The big number
…and Aguri Suzuki. Kobayashi's was the most recent and came for Sauber in 2012, while Suzuki took his from ninth on the grid for Lola back in 1990. Both men finished third – the best F1 result achieved by a Japanese driver, along with Takuma Sato's P3 for BAR at the 2004 United States Grand Prix.
Those all-important session times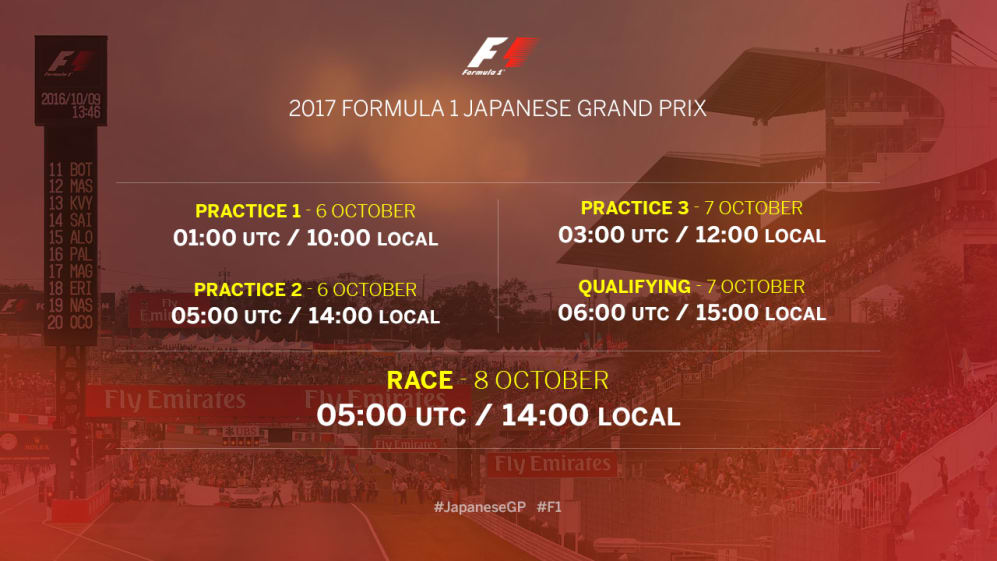 Don't forget, if you are registered with F1® Access (it's free!) you can follow live timing and commentary from Japan on Formula1.com, or by downloading the Official F1 App. For more details, click here.