Feature
Need to know: Malaysia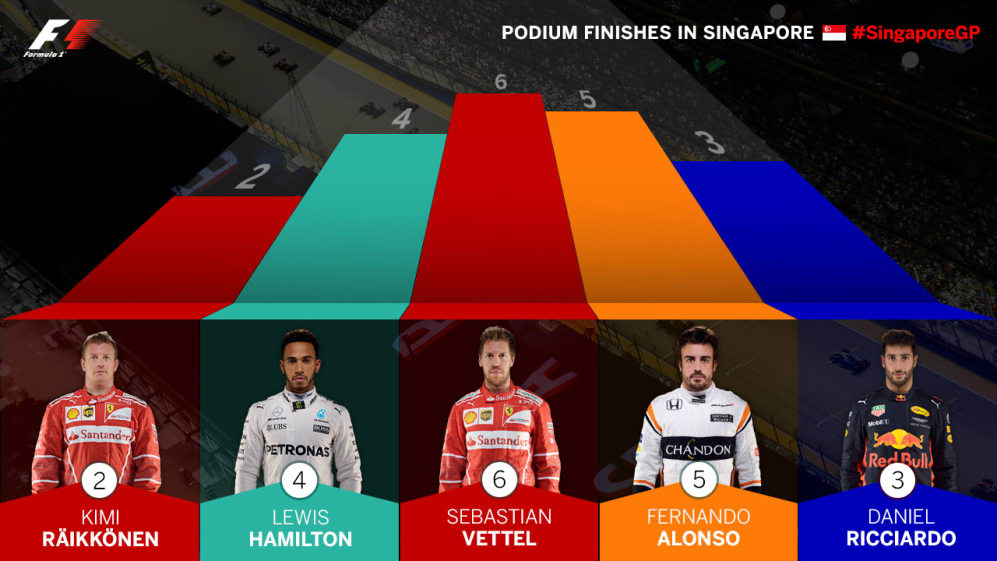 From session times to previous winners, we break down the key facts, stats and information ahead of the 15th round of the season - the final Grand Prix to be staged in Malaysia for the foreseeable future...
Sepang International Circuit: The original Tilke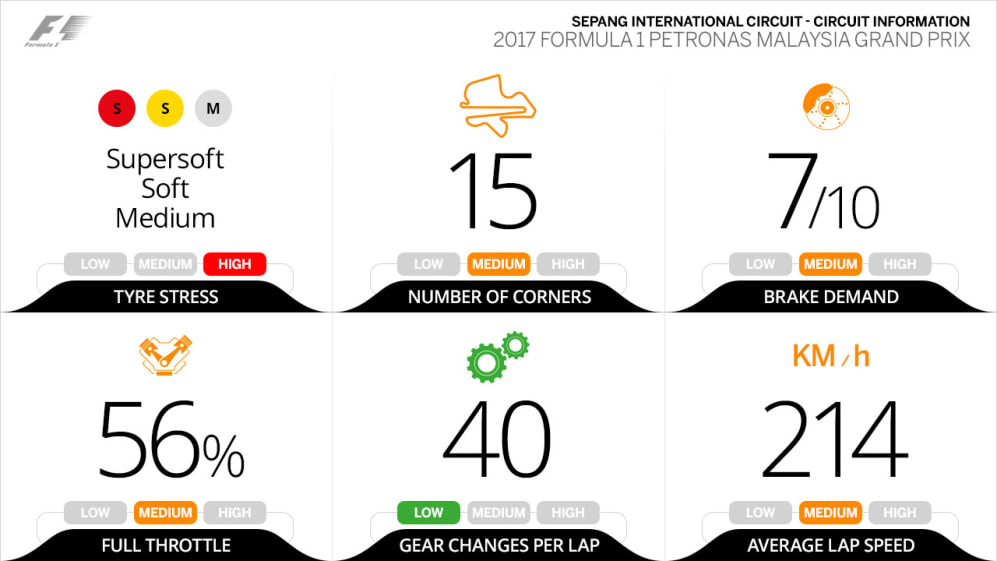 Sepang was the first F1 track to be designed by renowned circuit architect Hermann Tilke. It has an interesting mix of medium and high-speed corners, but the biggest single challenge for the teams is cooling. The ambient temperature rarely drops below 30 degrees Celsius at this time of year, which places added pressure on the cooling of the power unit in particular. They also have to watch out for the rain – when it rains in this part of the world, it usually pours. In 2009 the race had to be stopped after 31 laps due to a flooded racetrack and the later-than-normal start time of 3pm leaves the race vulnerable to a late-afternoon thunderstorm.
The key corner - Turn 14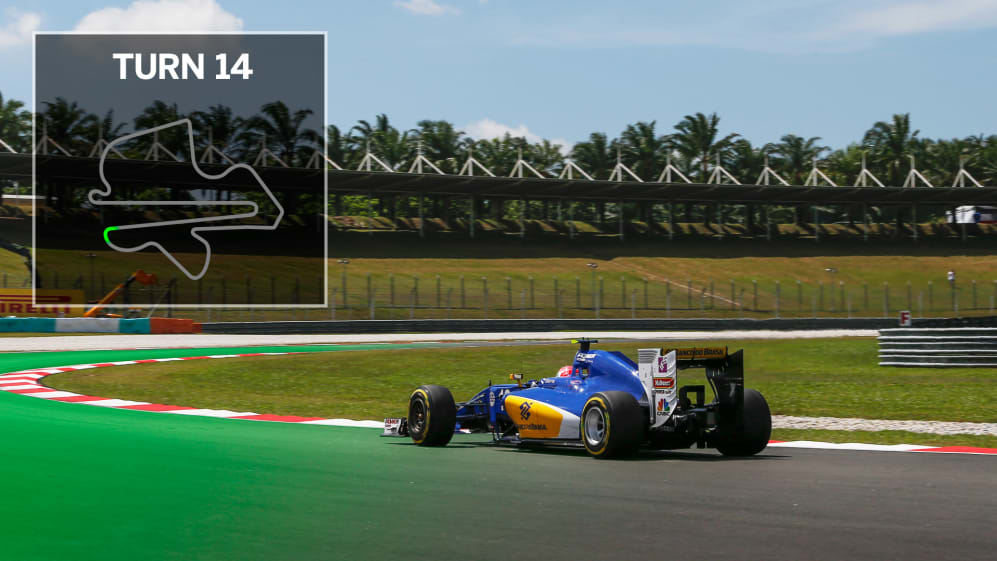 Visually it may not be one of the circuit's instantly recognisable turns, but this tightening, understeer-inducing right-hander plays a crucial role in a fast lap of Sepang. It loads up the outside tyres and it's important to get the car into the apex and get the power down early, because the longest straight on the track follows – along which there is the second DRS zone – with cars hitting speeds of around 330km/h.
Vettel set to retain his record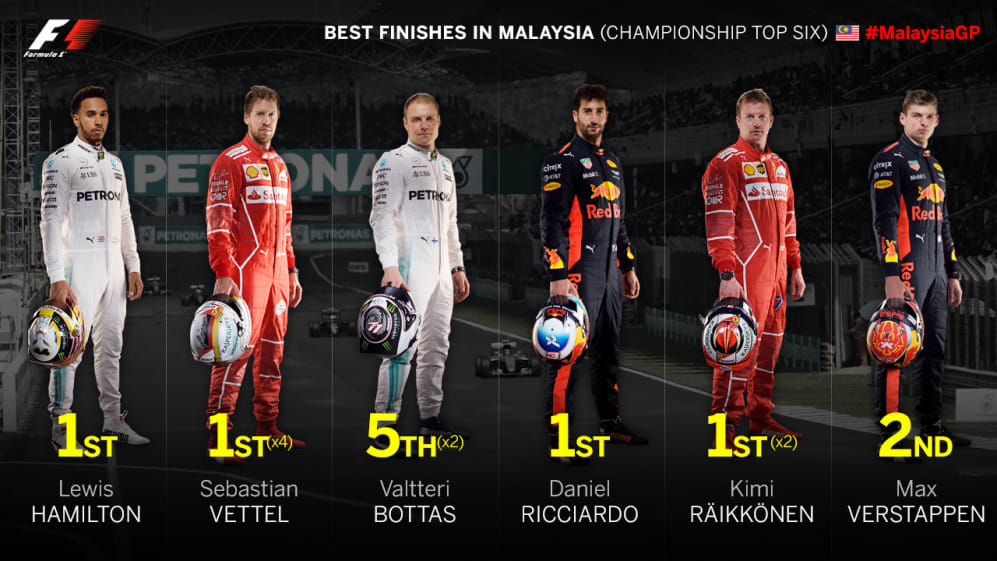 No man has won more Malaysian Grands Prix than Sebastian Vettel – and it is a record he will hold onto whatever happens on Sunday barring Fernando Alonso, a three-time victor at Sepang, scoring the unlikeliest of triumphs for McLaren. Should Vettel take the spoils, he will have finished first in more than a quarter of the Kuala Lumpur races.
Red Bull on repeat?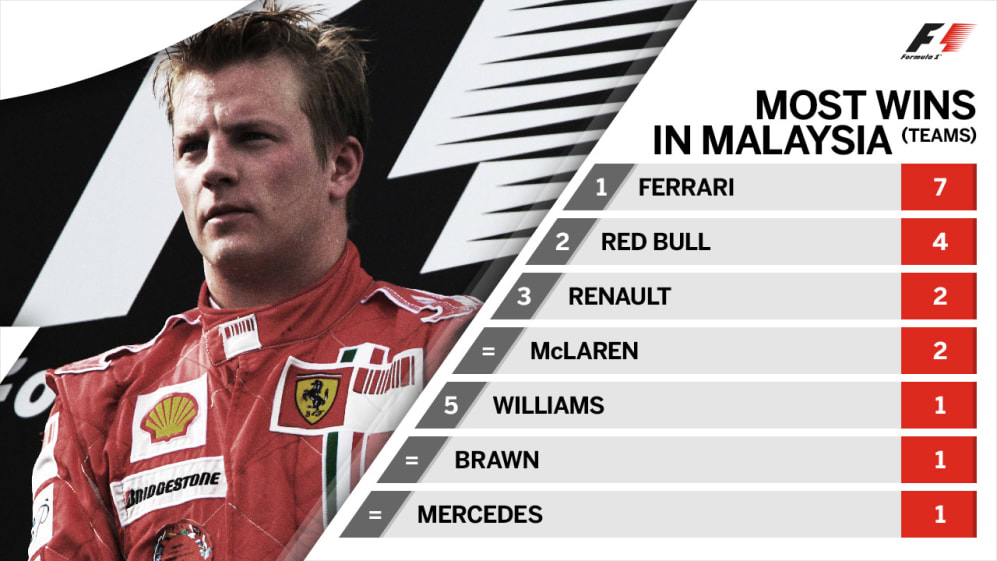 Despite their domination of Formula 1 racing in recent seasons, Mercedes have only ever triumphed once in Malaysia – in 2014 when Lewis Hamilton and Nico Rosberg cruised to a crushing one-two for the Silver Arrows. It is arch-rivals Ferrari who have consistently found the winning touch at Sepang, from Eddie Irvine in the inaugural 1999 race to Sebastian Vettel in 2015. But don't forget Red Bull. The Milton-Keynes squad have claimed four Kuala Lumpur wins and Daniel Ricciardo and Max Verstappen finished first and second last season.
Can Lewis match Michael?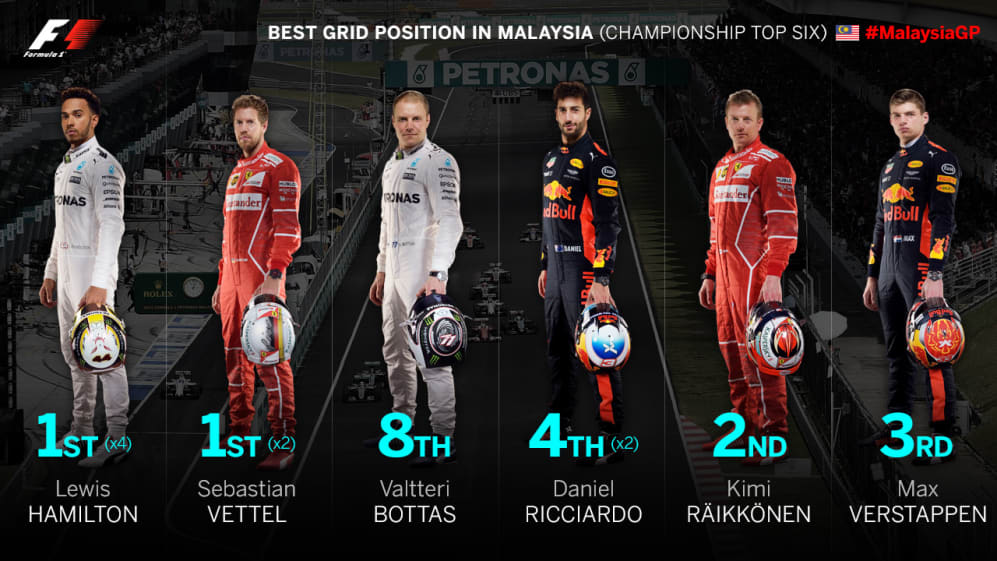 If he tops qualifying in Sepang on Saturday, Lewis Hamilton will share top spot in the all-time Malaysia poles list with the legendary Michael Schumacher. Past form suggests Vettel will, unsurprisingly, be the man most likely to stop him achieving that feat – neither Red Bull driver has ever made the front row here, Kimi Raikkonen has never secured pole position, and compatriot Valtteri Bottas's best grid slot was a midfield eighth.
Can Vettel be caught?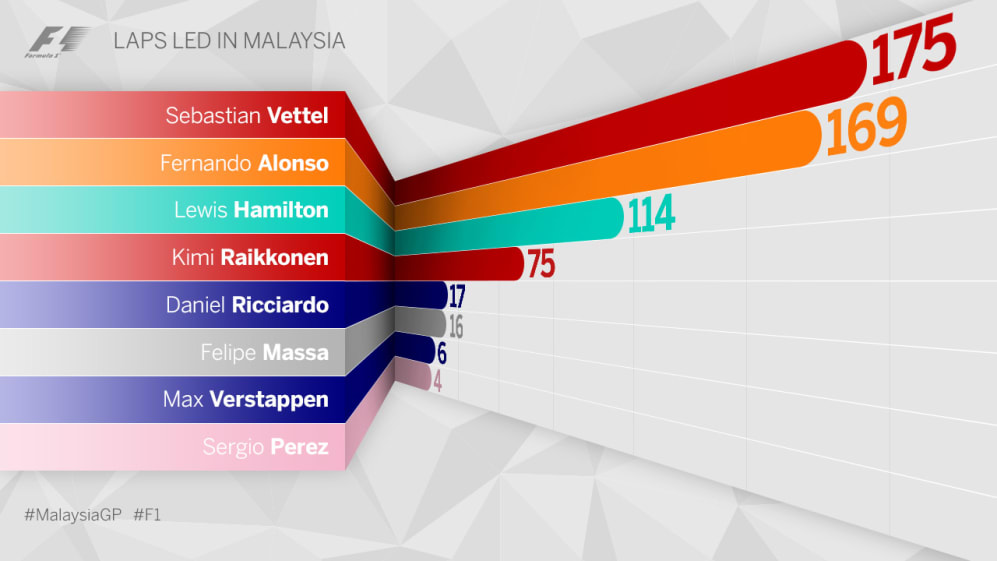 Even were Lewis Hamilton to lead every lap of Sunday's Malaysian finale he would still fall short of Sebastian Vettel's current tally of 175 tours at the head of the field. Indeed the only man with a chance of reeling in the German is one whose name keeps cropping up in this feature – Fernando Alonso. At the opposite end of the scale, one current frontrunner is notable for his absence from this list: could Valtteri Bottas join it this weekend?
Quote unquote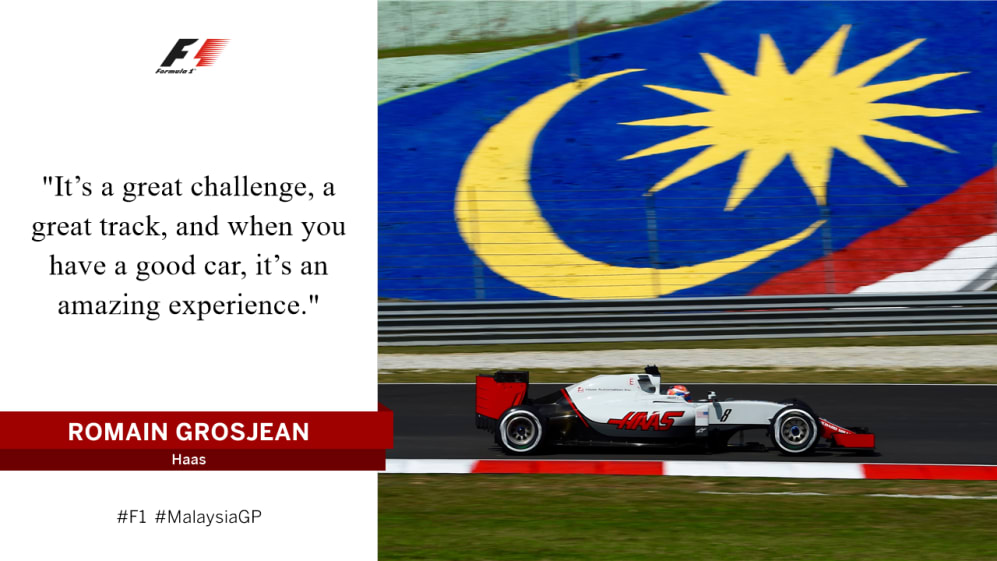 One thing is for sure - Sepang is going to be sorely missed by the drivers. Many of them rate it among their favourite circuits - or in Haas's Romain Grosjean's case, as his very favourite. Force India's Esteban Ocon echoes his compatriot's sentiment, saying: "It's sad we will be racing here for the last time because it's such a cool track. I am going to miss it!"
Will three become one?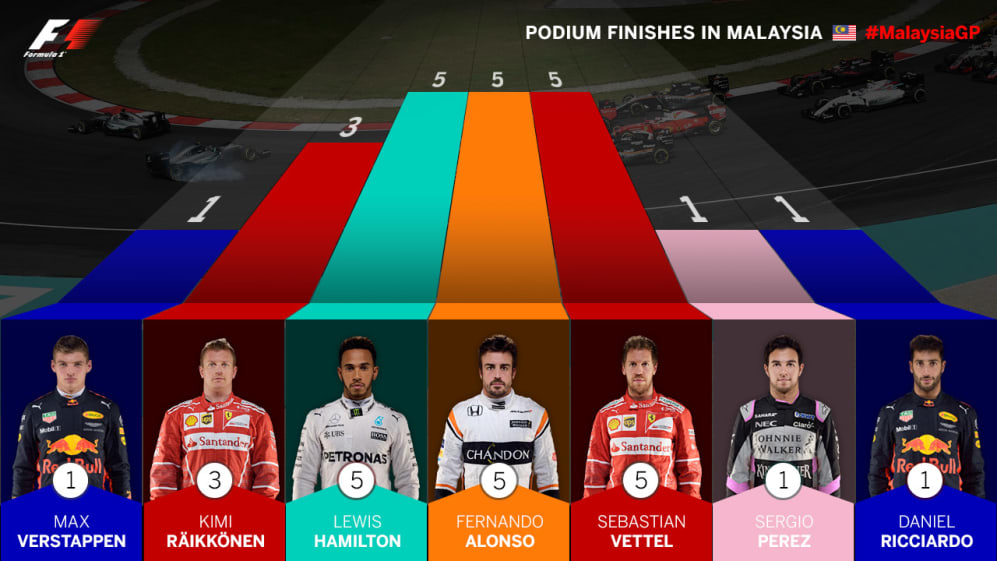 We could leave Malaysia with one man topping the all-time Sepang podium list. Equally, we could in theory depart with three drivers sharing that honour. The latter would require one of two scenarios: Alonso, Vettel and Hamilton all finishing the race in the top three – or none of them making the top three. Recent form suggests both are highly unlikely – more probable is that Vettel and Hamilton sign off their Malaysian Grand Prix careers with six rostrum results apiece.
The big number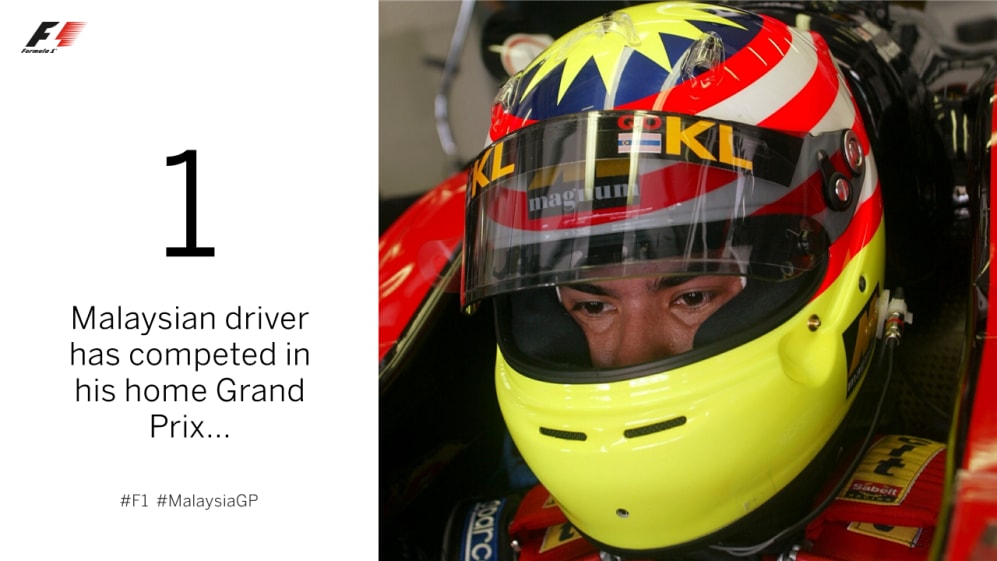 ...and that man was Alex Yoong, who started last on the grid for Minardi in 2002, before retiring from the race with gearbox problems on lap 30. It was one of 14 F1 starts for the Kuala Lumpur local, whose best finish was seventh place in Australia the same year. Compatriot Fairuz Fauzy is the only other Malaysian to have appeared in a Grand Prix weekend - five times with Lotus in 2010, but in practice sessions only.
Those all-important session times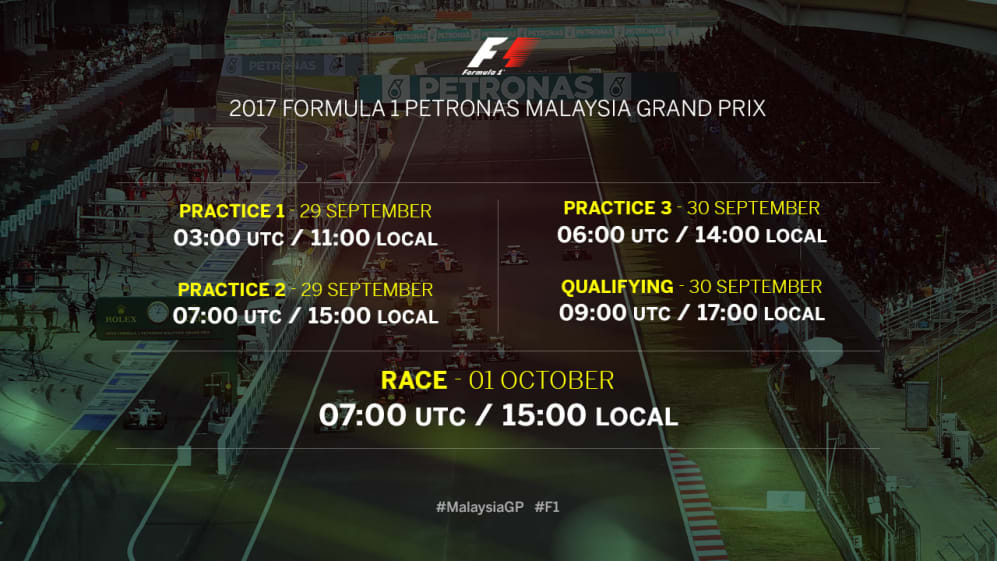 Don't forget, if you are registered with F1® Access (it's free!) you can follow live timing and commentary from Malaysia on Formula1.com, or by downloading the Official F1 App. For more details, click here.