Feature
Need to know: Mexico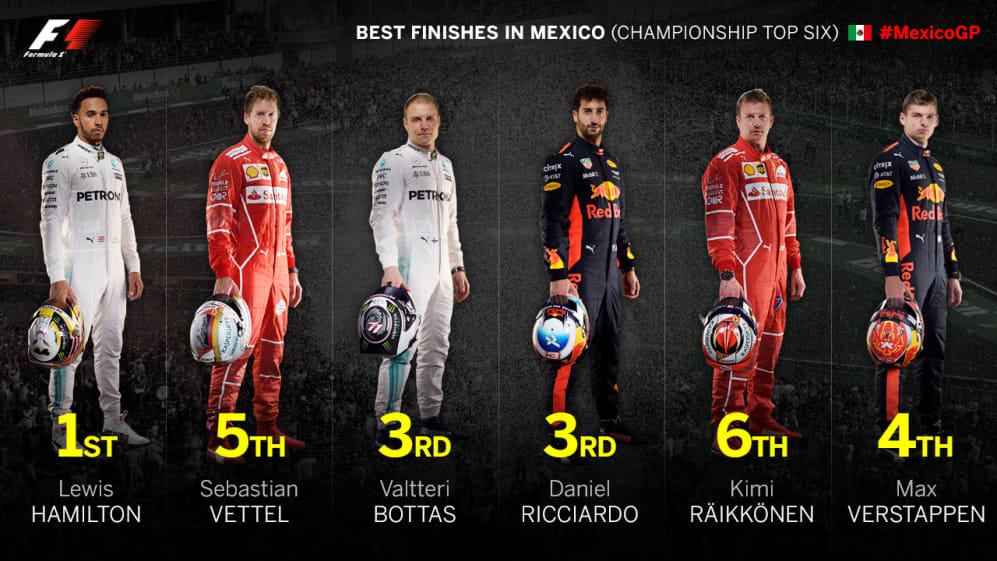 From session times to previous winners, we break down the key facts, stats and information ahead of the 18th round of the season...
Autodromo Hermanos Rodriguez: Flying high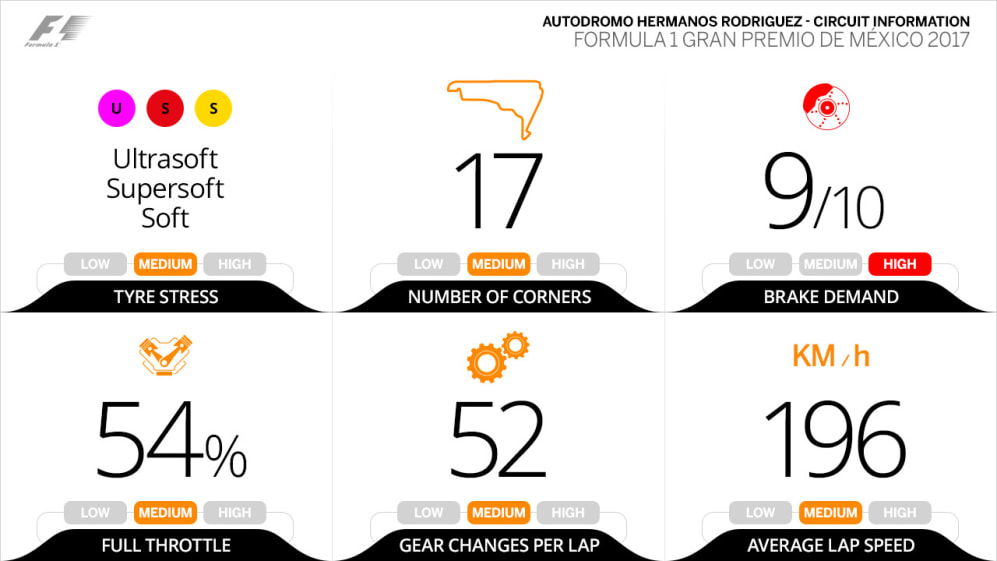 Its altitude makes the Autodromo Hermanos Rodriguez unique - situated at just over 2,200m above sea level, the circuit is the highest on the F1 calendar and that has implications on car performance. There is only 78 percent of the oxygen available at sea level, which means the internal combustion element of the power unit produces less power and the brakes are harder to cool in the thin air. In fact, the track is incredibly hard on brakes, with only Canada and Abu Dhabi asking more of an F1 car's stopping power.
The key corner - Turn 16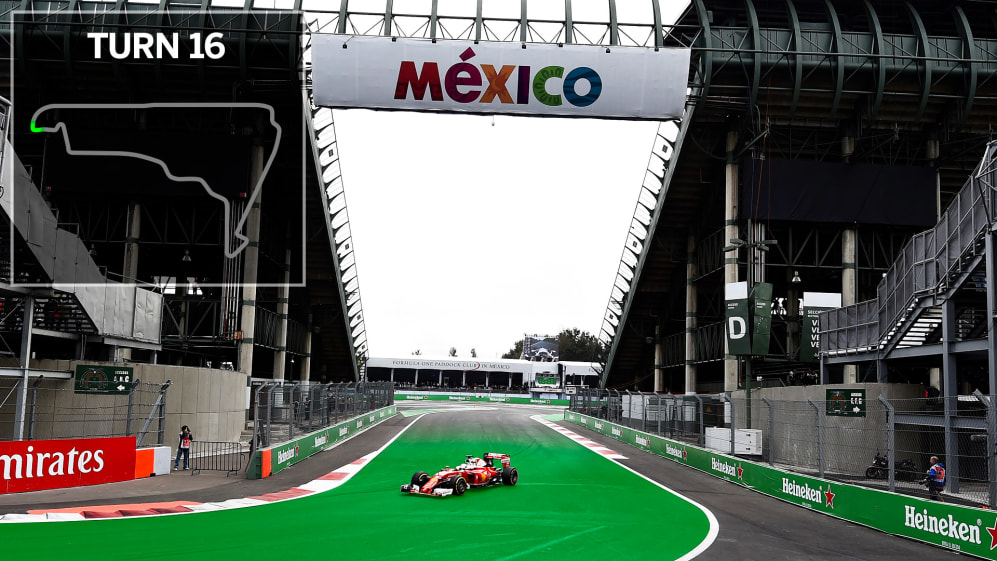 The stadium section is one of the signature images conjured up when you picture the Autodromo Hermanos Rodriguez. Entry is via the right-handed Turn 12, which requires heavy braking after the long back straight – but which can also present an overtaking opportunity for the very brave. Entering the immense amphitheatre of grandstands, the drivers must feel like gladiators emerging into the arena. Once there, though, it's a relatively low-speed battle as they round the incredibly slow Turn 13 hairpin, before preparing to exit the stadium via the double-hander comprised of Turns 14 and 16 (Turn 15 between is barely a kink). Sixteen is the one they really need to get right and in which finding maximum traction is critical, since it leads on to the 1.3 kilometre main straight where maximum speed means everything to lap time.
Hamilton's second, or a Mexico first?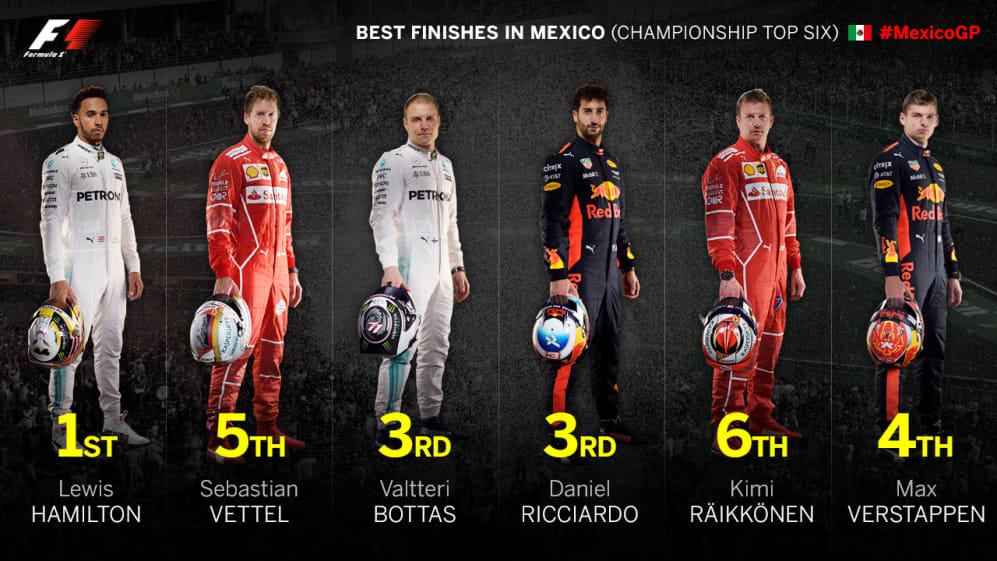 Just one driver on the current grid has won in Mexico and that is championship leader Lewis Hamilton, victorious in 2016. And who triumphed in 2015 when the race returned to the calendar? His then Mercedes team mate, of course – our reigning world champion Nico Rosberg. If Hamilton is first again on Sunday he will join an exclusive club of two-time Mexican winners (no man has won three times), which currently contains the illustrious names of Jim Clark, Nigel Mansell and Alain Prost.
Domination difficult
Over its 18-race history, Mexico has averaged a different winning team every other event. In other words, dominating here is not easy. Of the current squads, McLaren and Williams lead Ferrari and Mercedes by a single victory, while Red Bull have yet to get their name on the board.
Who can mix it with Mercedes?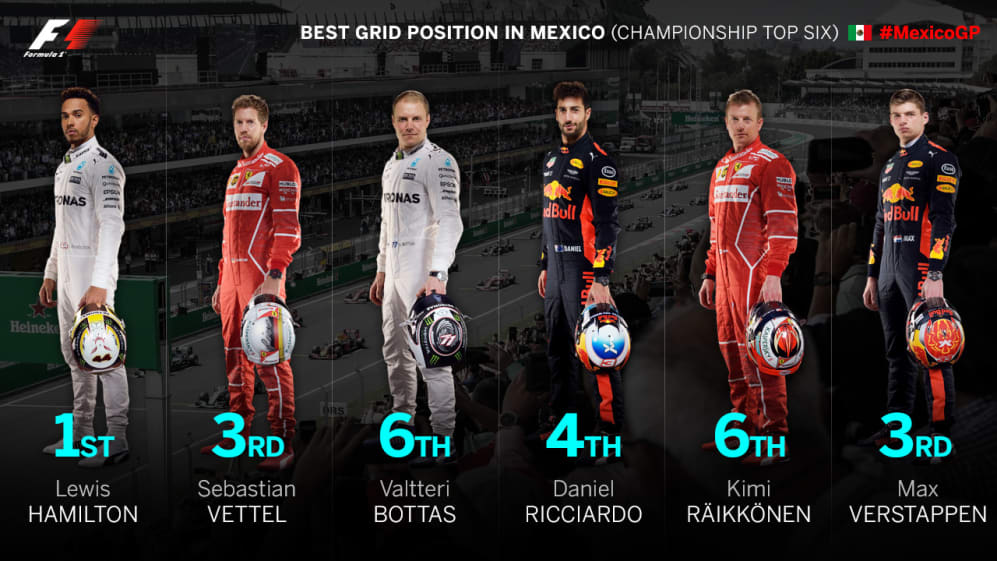 Again only Hamilton has started from pole here. In fact no other current driver has even been on the front row, which was locked out by Mercedes the past two seasons. Best ever qualifier in Mexico? The aforementioned Jim Clark, with four pole positions, closely followed by Ayrton Senna on three.
Regular Ricciardo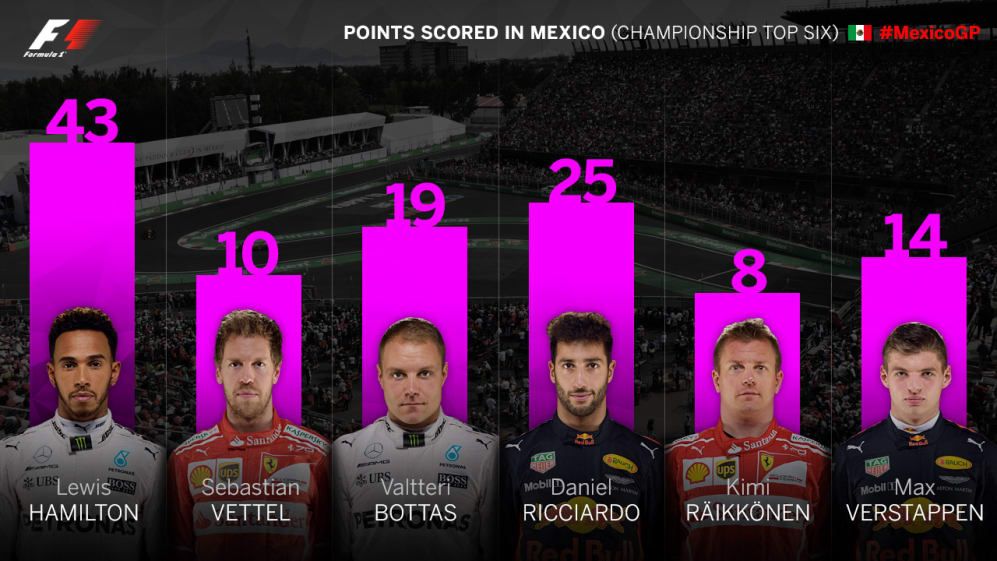 Here we see it's a Red Bull driver rather than a Ferrari man who has been most consistent after Hamilton in Mexico. Daniel Ricciardo's 25 points may trail Hamilton's 43 by some margin, but equally they put him well clear of Vettel's meagre 10 – a tally the German will need to increase significantly on Sunday if he is to have any chance of keeping his marginal title hopes alive.
Quote unquote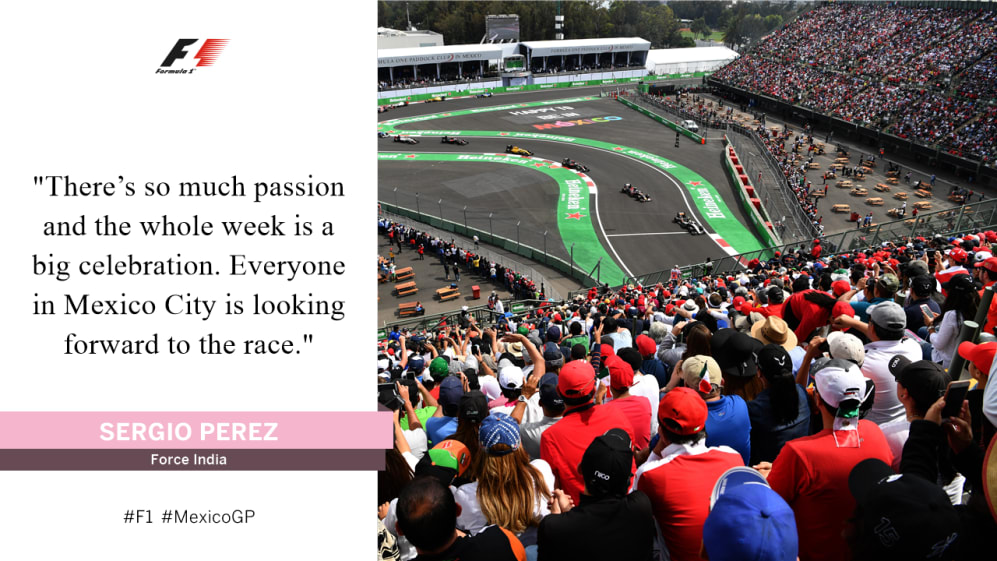 The Mexican fans love their F1 racing. If you need further proof, take a seat in the Autodromo Hermanos Rodriguez's amazing stadium section and hear the roar as the cars speed through – particularly when the man at the wheel is local hero Sergio Perez. But Perez is not the only driver who loves the Mexican welcome – they all do. "You get a good feeling for the atmosphere on the track parade, especially when you say hi to more than 200,000 people, which is pretty special," says Carlos Sainz. "You really see the passion of the fans."
Perez on point at home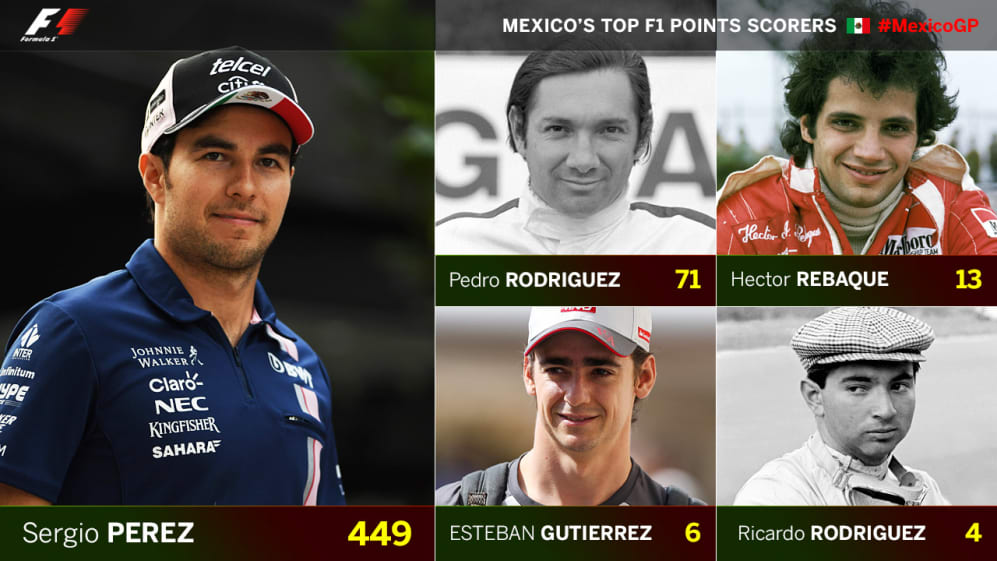 Just six Mexican drivers have started a Grand Prix, but five of those have scored points – and in Sergio Perez's case, lots of them. First to get on the board back in 1962 was Ricardo Rodriguez, followed in 1964 by elder brother Pedro. It was a 14-year wait before Hector Rebaque added his name in 1978, and then a mammoth 33 years before Perez joined the list in 2011, followed by Esteban Gutierrez in 2013. The only Mexican to race but never score? Moises Solana, who made eight starts between 1963 and 1968, with a best result – one which would earn him a point today – of tenth place in his home race in 1964.
The big number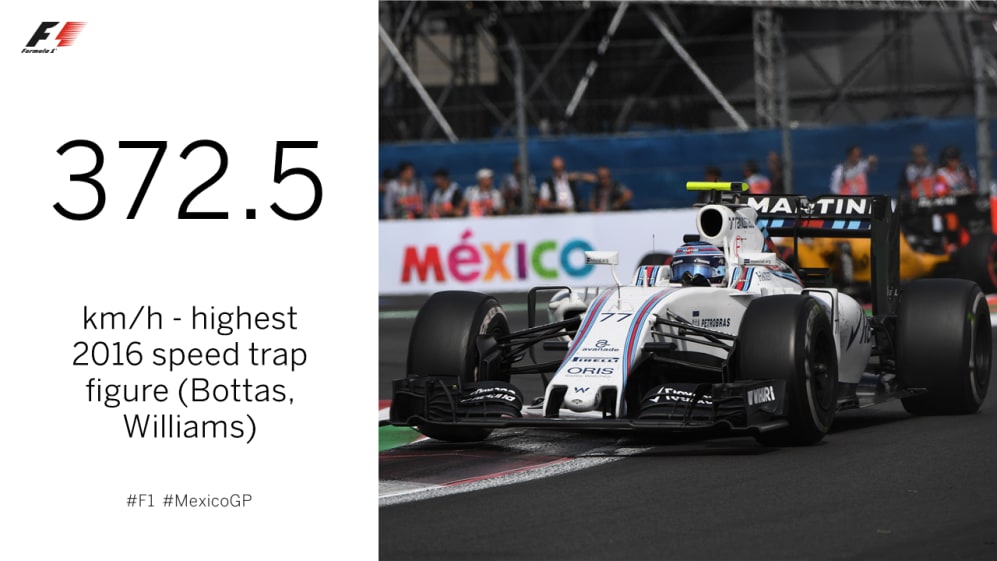 The top speeds reached in Mexico are immense - in last year's race Valtteri Bottas was clocked at an incredible 231 mph at the end of the huge pit straight. Yet bizarrely, average speeds are rather modest - around 195 km/h - thanks to the more intricate nature of much of the track layout. In fact, on the current F1 calendar only the street circuits of Monaco and Singapore have lower average figures.
Those all-important session times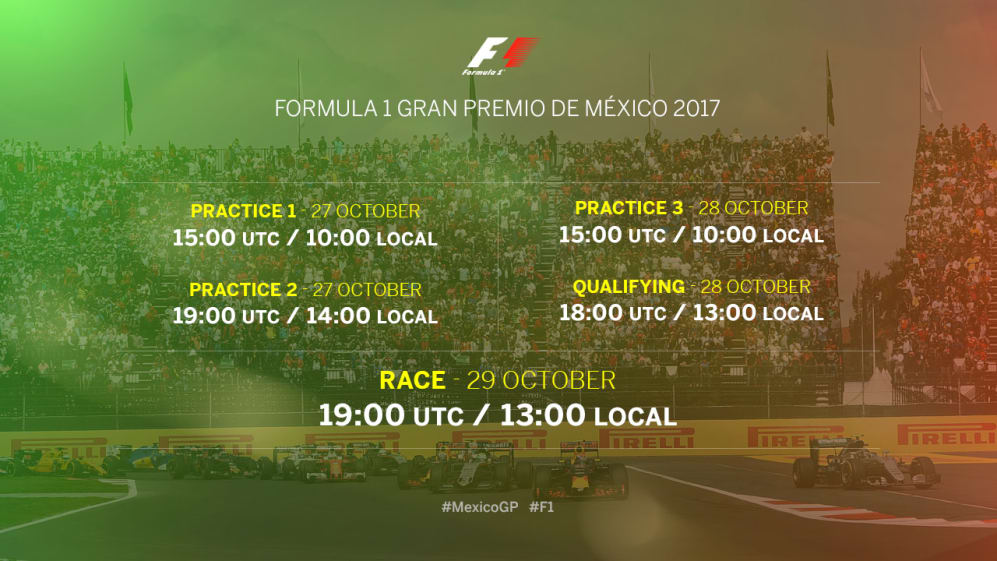 Don't forget, if you are registered with F1® Access (it's free!) you can follow live timing and commentary from the Mexico on Formula1.com, or by downloading the Official F1 App. For more details, click here.