Feature
Need to know: Monaco
From session times to previous winners, we break down the key facts, stats and information ahead of the sixth round of the season...
__Monte Carlo: a unique proposition __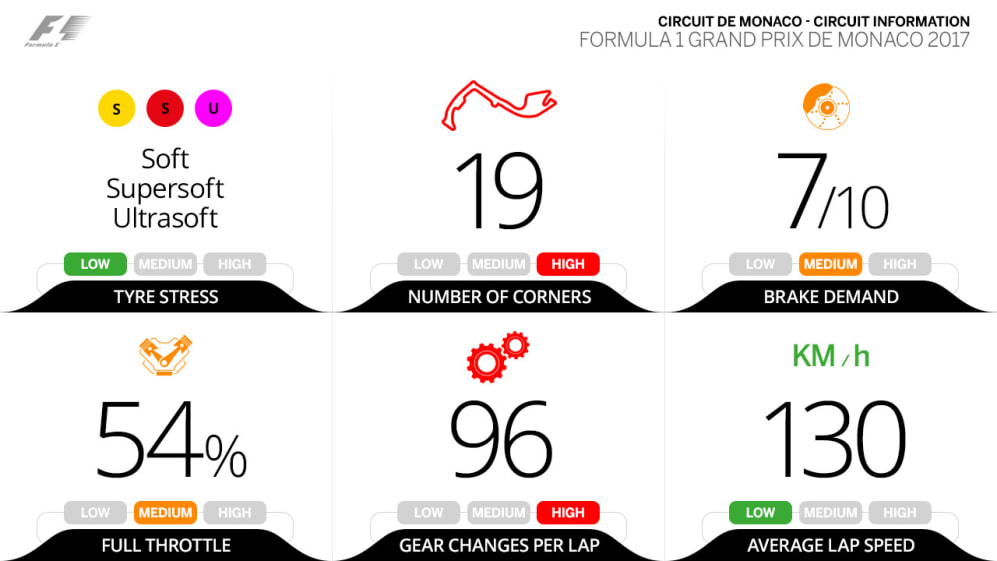 To many the jewel in F1's glittering crown, Monaco remains a challenge all of its own, having changed little since it first staged a world championship race in 1950. Three-time world champion Nelson Piquet described driving at Monaco as akin to "riding a bicycle around your living room", and on the face of it, dropping the world's fastest racing machines onto 3.337km of twisty, undulating asphalt is indeed absurd – even more so when you consider the track features both the tightest corner of the season and the sport's only indoor bend. However, the drivers relish the challenge – and with the walls so close it definitely doesn't feel like they are racing at the slowest average speed of the year. And speaking of walls, they'll probably feel even closer this year thanks to the increased width of the 2017 cars…
The key corner
Ste Devote, Mirabeau, Portier, Rascasse - Monaco is awash with iconic corners, each with a history of its own. But at a circuit at which overtaking is extremely difficult, the key corner has to be the harbour-side chicane – the best location for having a lunge up the inside of an opponent. Approached at flat-out speeds with the drivers' eyes still readjusting after the darkness of the tunnel, the chicane has a bumpy, slightly downhill braking zone which has caught out more than its fair share of over the years. Expect to see plenty of cars cutting across the run-off area during practice and qualifying – something for which they'll face punishment if they do it during the race.
Can Ricciardo join the ruling elite?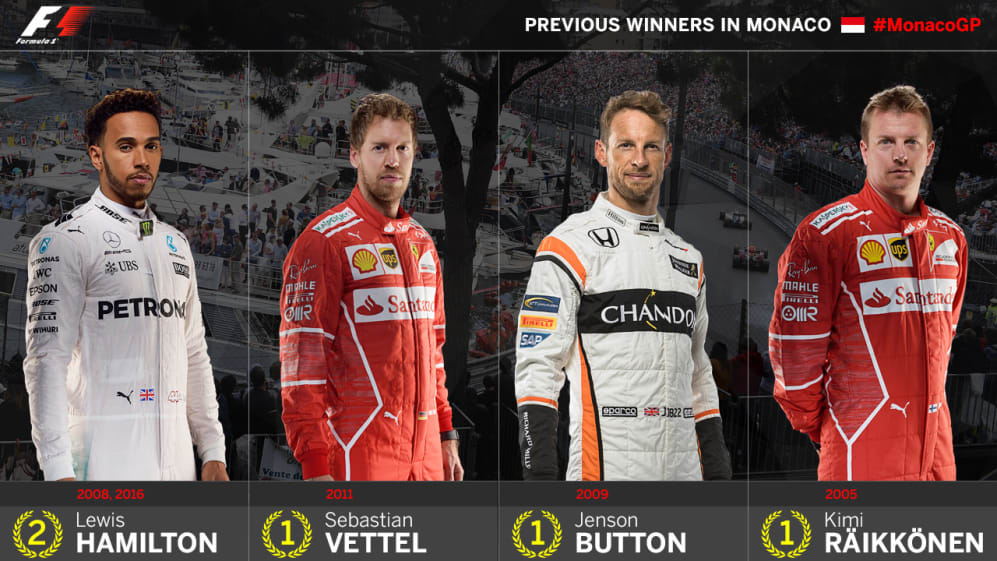 Had it not been for Red Bull's infamous tyre mix-up in last year's race, Daniel Ricciardo would almost certainly already be on the Monaco winners' list. As is stands, he is still waiting to break into a very exclusive club – you may have noticed that every driver above has been a Formula 1 world champion. In fact, the only non-champion to have won in the Principality in the past decade was an Australian at the wheel of a Red Bull: Mark Webber. A good omen for Ricciardo perhaps?
Bottas out to break points duck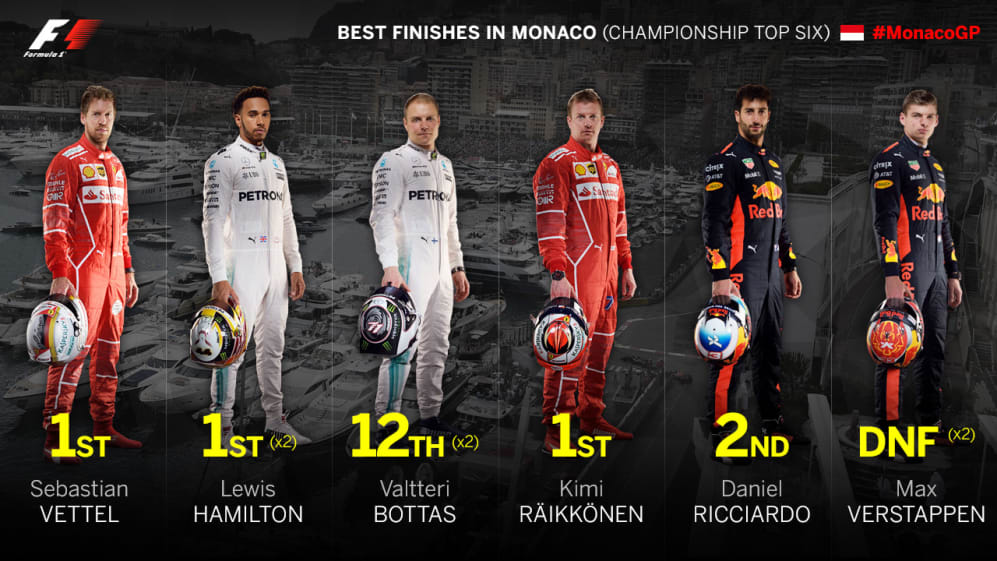 Three times he has finished in Monaco and three times he has failed to make the top ten, with two 12th places and a 14th. Could this be the year that Valtteri Bottas sets the record straight? Given that his DNF in Spain aside, he is yet to finish outside the top six in 2017, you would have to put money on the Finn coming away with at least a few more points in the bank, even if he doesn't hit the jackpot as it were.
'New boys' to find their feet in qualifying?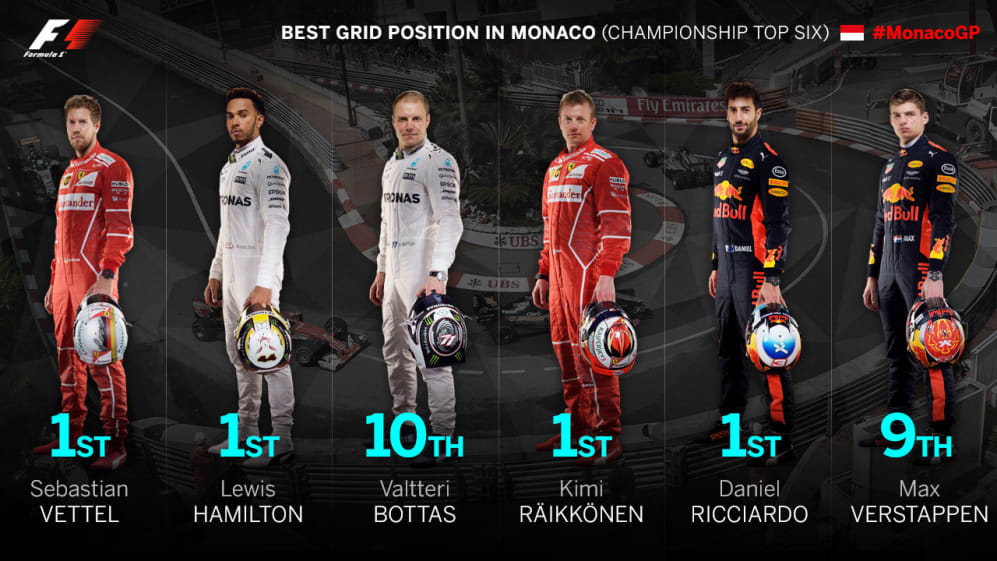 It sounds cliched, but it's true – in Monaco, qualifying is everything. Overtaking is near impossible around the narrow street circuit, so start off the first couple of rows of the grid and your chances of victory are slim to say the least. But here's the dilemma – push just a little too hard in your bid for pole and you are in the wall; take it just a little too easy and you'll find yourself at the back of the pack. Experience is key – of the current top six drivers in the standings, the champions and multiple Grand Prix winners have all achieved P1 on the Monte Carlo grid. By contrast, those with 'only' one F1 win to their name have struggled to crack the top ten. It's something both Bottas and Verstappen will be very keen to change this weekend.
To finish first, first you have to finish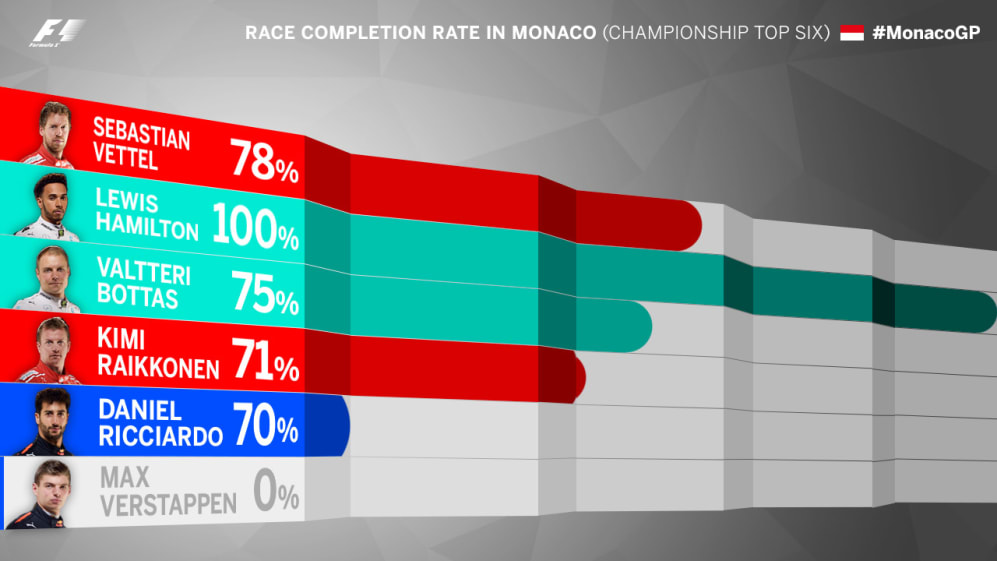 With the barriers rarely more than a few inches away in corners, nowhere are mistakes punished more heavily than in Monaco – hence simply finishing the race could be considered something of an achievement in itself. Big respect then to Lewis Hamilton, who has reached the chequered flag in every race he has started here – all 10 of them. It's a record none of his contemporaries can match and an achievement the depth of which is highlighted by Max Verstappen, who despite being F1 racing's latest superstar, has failed to avoid the barriers on his two Monte outings to date...
Quote unquote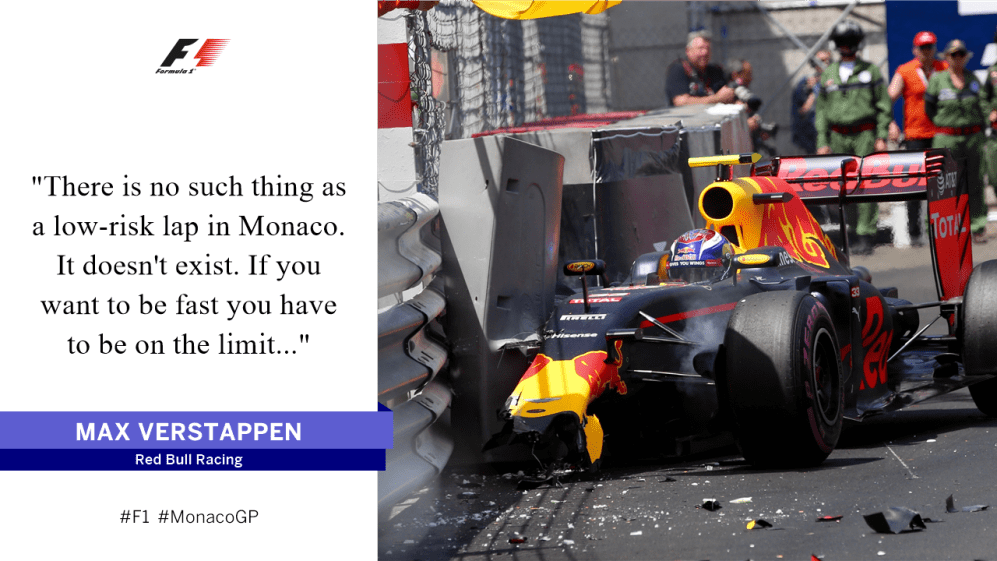 As someone who has crashed out of the last two races in Monaco, the aforementioned Max Verstappen knows better than most the dangers of overstepping the mark at the iconic street track. "It doesn't affect my confidence heading back there," says the Dutchman, whose shunt in last year's race was his third that weekend. "It just makes me want to do better this year and learn from my mistakes." By contrast, Verstappen's team mate (and fellow Monaco resident) Daniel Ricciardo has proved himself something of a Monaco specialist, having taken pole and finished a close second last year – his second podium in the last three races there. Will he be Red Bull's top man again this season?
The magnificent seven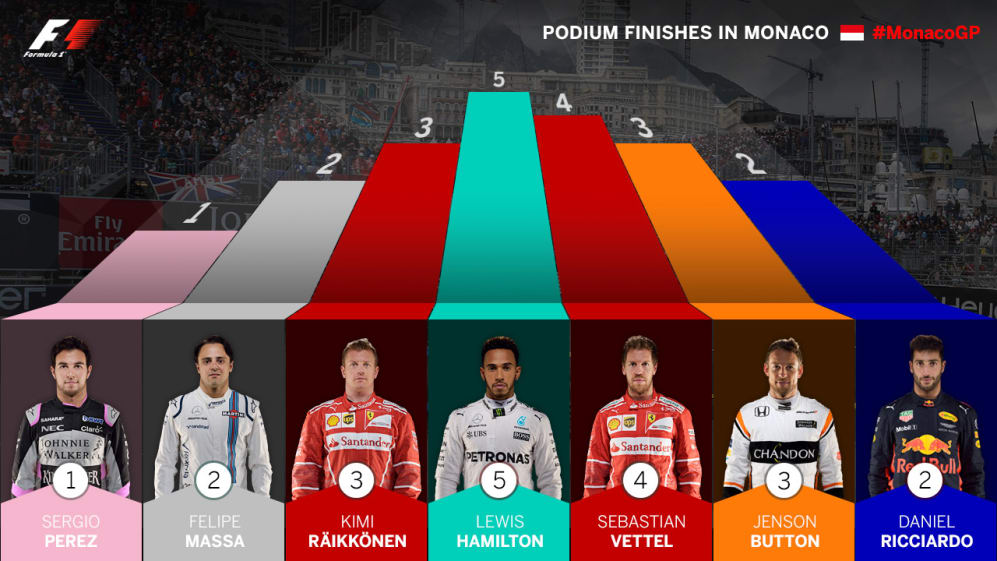 It says something about the calibre of the current grid that no less than seven of them have a top-three finish in Monaco to their name, with Sergio Perez the most recent to join the list after his splendid third place for Force India last year. Based on 2017 form to date, Valtteri Bottas must be deemed the man most likely to boost the ranks come Sunday.
Oh how the mighty have fallen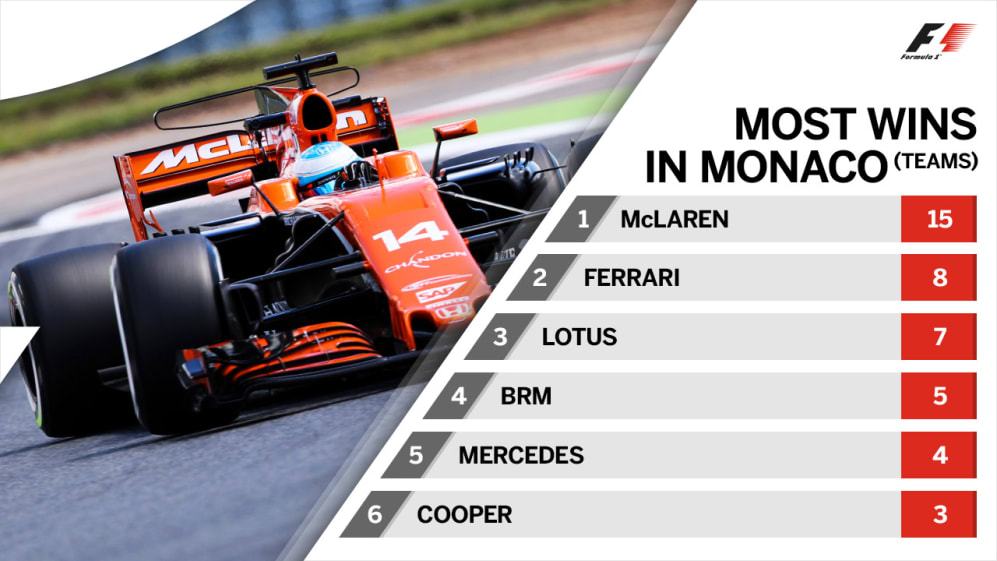 One team tower above their rivals at the top of the Monaco winners' list. Despite a history much shorter than second-placed Ferrari, McLaren have almost twice as many wins as the Scuderia here. Their heyday was the Prost-Senna era of the mid 1980s and early '90s. In fact, between 1984 and 1993, McLaren lost just once in the Principality, in a period that included six successive wins – a record surely unlikely to ever be broken. This year? Fernando Alonso's seventh on the grid in Spain showed that the MCL32 does have hidden depths, ones which may give the Woking team an unexpected boost in this unique setting. The only catch is Alonso is not here. The question now is how quickly his stand-in can get up to speed...
__Can Button cap comeback with another points finish? __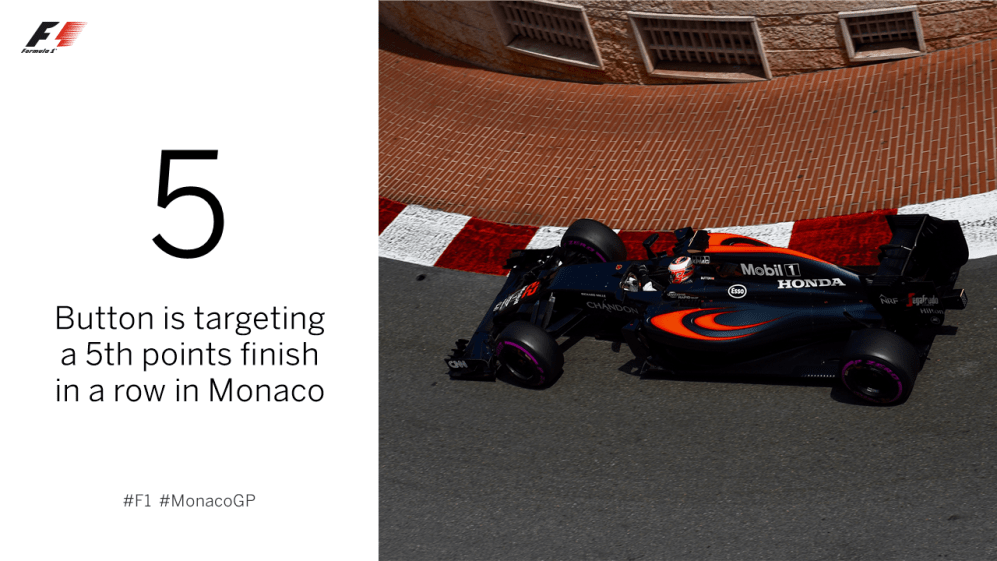 Having missed just five races since what was supposed to be his 'swansong' Grand Prix in Abu Dhabi last year, Jenson Button returns to action this weekend in place of Fernando Alonso, who is in America contesting the Indianapolis 500. Button, who won in Monaco in 2009, has finished in the points in each of the last four years in the Principality – but what chance a fifth successive top ten? On the face of it, it looks difficult – McLaren have finished no higher than 12th this year, while Button is yet to drive the MCL32 in real life. However, with ultimate power far less important in Monaco than at other tracks, could this be the weekend where McLaren, whose chassis is highly regarded, come good?
Don't forget the action starts earlier in Monaco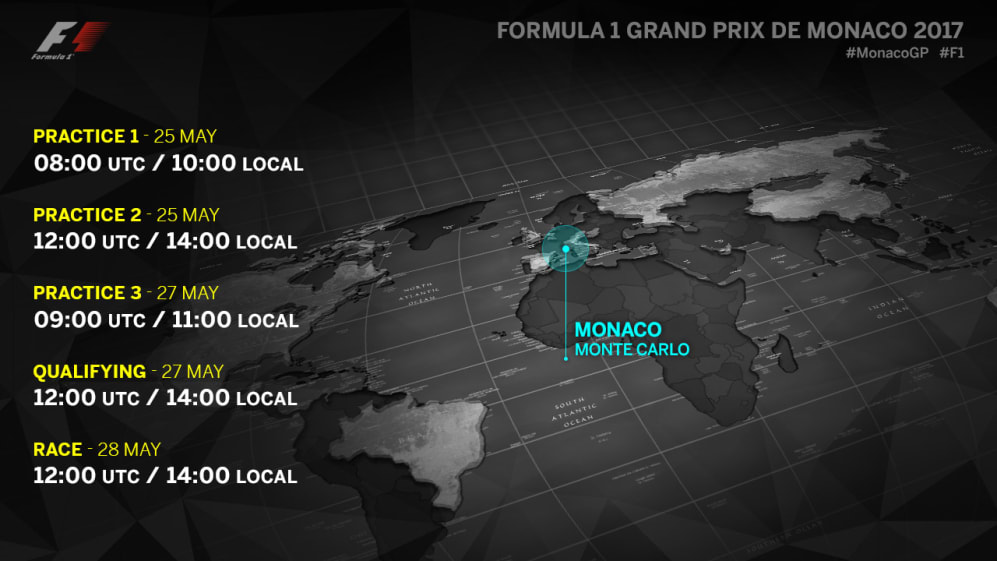 Another way in which Monaco is unique is in its timetable, with the first two practice sessions traditionally taking place on Thursday instead of Friday. As always, if you are registered with F1® Access (it's free!) you can follow live timing and commentary from all sessions on Formula1.com, or by downloading the Official F1 App. For more details, click here.