Feature
Need to know: Singapore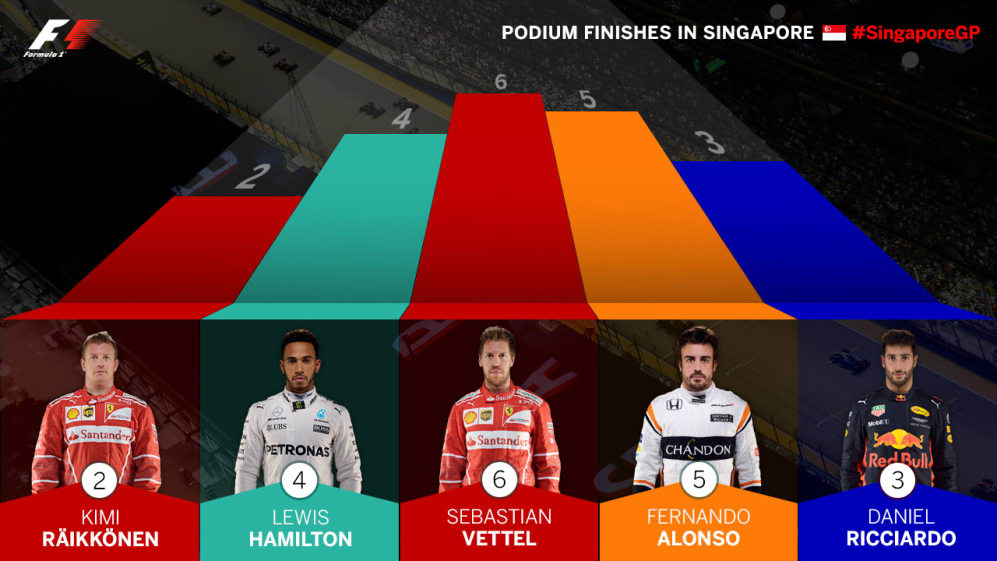 From session times to previous winners, we break down the key facts, stats and information ahead of the 14th round of the season...
Marina Bay Street Circuit: tripping the light fantastic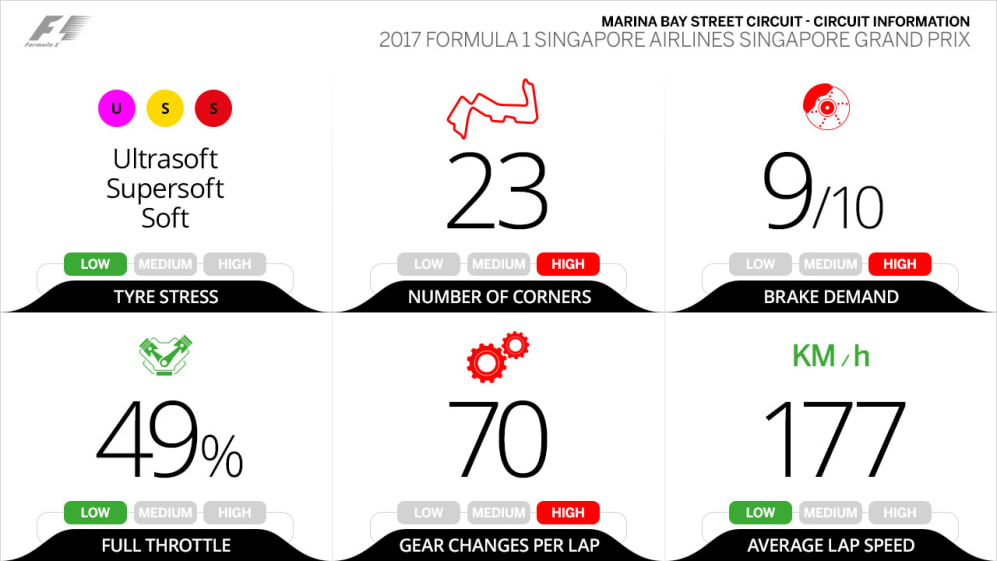 It's F1 racing's original night race, and while racing under floodlights is not an issue for the men at the wheel, the sheer physicality of the event is. A relentless 23 corners – more than any other current circuit – combine with extreme temperatures and sky-high humidity to form a supreme challenge not just to the drivers' fitness, but also their powers of concentration and mental endurance. There are numerous bumps, overtaking opportunities are few, the unforgiving walls are never far away and at least one safety-car appearance is almost certain. No surprise then that only the very best tend to win here.
The key corner - Turn 7
One of the few places you can pass in Singapore is Turn 7, the 90-degree left hander that comes at the end of the fastest part of the circuit – the long, right-hand sweep through Turn 6 that forms the first of the track's two DRS zones. Drivers approach flat out in eighth gear at around 320 km/h, before braking heavily down to 120 km/h in third. When you are also trying to overtake a rival, getting that wrong is not difficult and there have been plenty of flashpoints here over the years, notably Lewis Hamilton's comings-together with Mark Webber and Felipe Massa in 2010 and 2011 respectively.
Race of champions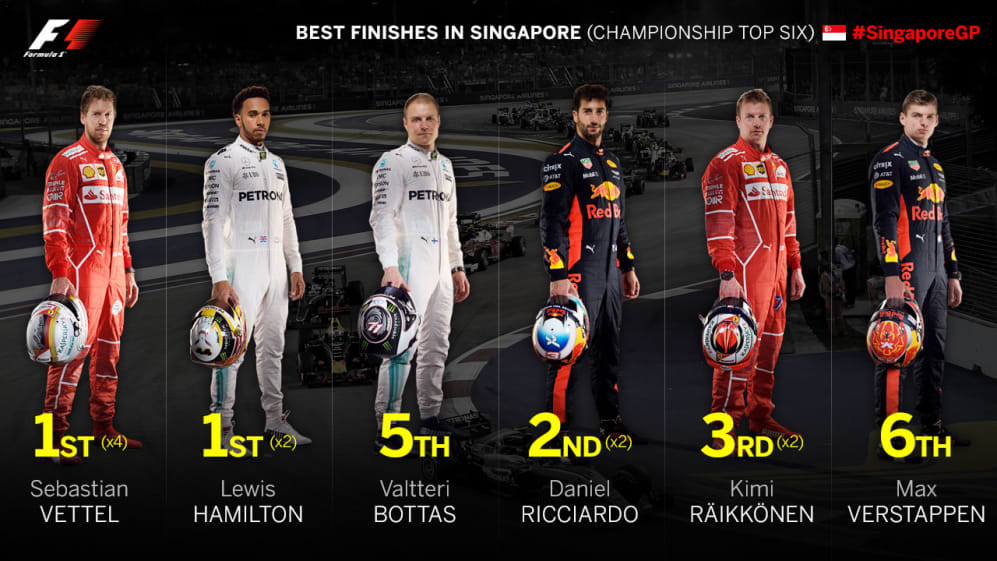 If Valtteri Bottas, Daniel Ricciardo or Max Verstappen is victorious this weekend, it could be a very good omen for their F1 careers - every driver to have won in Singapore has either been, or has gone on to be, a world champion. Of course, that would mean overcoming Sebastian Vettel, a man whose affinity with the floodlit circuit is unrivalled, and whose Ferrari car is favourite among the pundits to be the quickest machine here in 2017.
Red Bull's crown under threat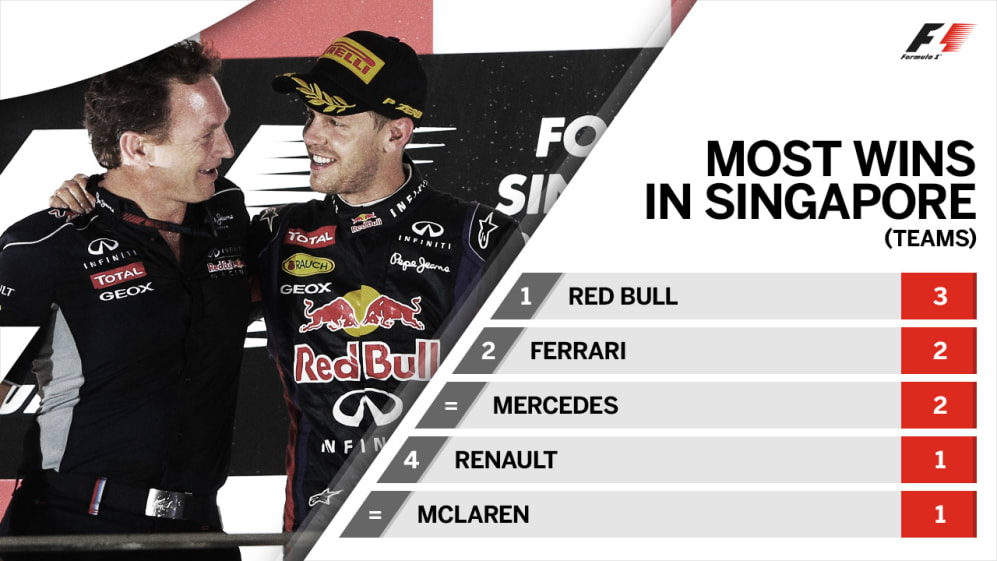 No team has won more Singapore Grands Prix than Red Bull. But if either of 2017's two frontrunners takes victory this weekend they will draw level with the Milton Keynes squad. Red Bull's last win – indeed their only win of the season thus far – was on another city-centre street circuit, in Azerbaijan, so don't count out Ricciardo or Verstappen on Sunday. Could an even bigger outsider cause an upset? It's worth remembering that Renault took the spoils here in 2008, having not won a race prior to that all season…
Third time lucky for Ricciardo?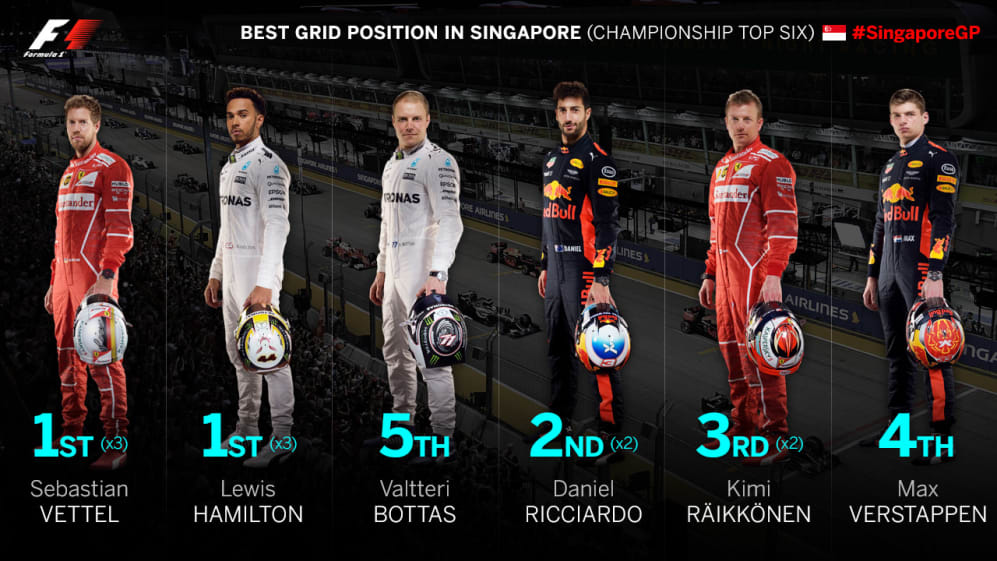 Between them, Sebastian Vettel and Lewis Hamilton have two-thirds of the pole positions achieved in Singapore. Of the other current drivers, only Fernando Alonso and Felipe Massa have started from P1 here, both on just one occasion. The 'nearly man'? That has to be Daniel Ricciardo. The Red Bull driver was third on the grid in 2014, second in 2015 and again made the front row last year. Could he go one step better in 2017? Based on the speed he showed last time out in Italy, anything is possible!
Can anyone complete the top ten?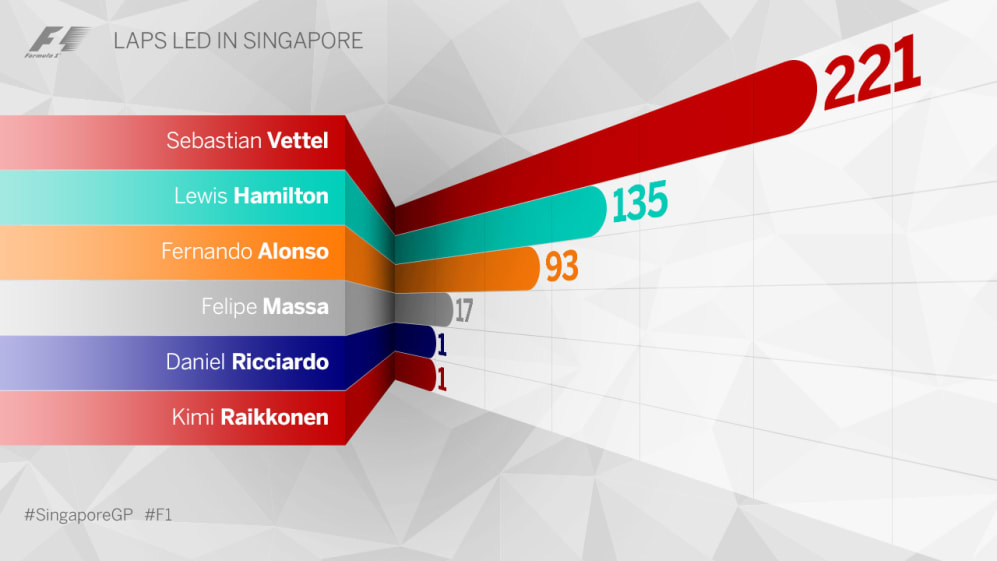 Only one man has led more than 200 laps in Singapore – and it's a record that Sebastian Vettel is not going to lose this weekend regardless of the race outcome. Theoretically Fernando Alonso could become only the third member of the '100-plus' club. More likely is that, as with podium finishes, someone new will take the current nine-name list into double figures, joining the likes of Nico Rosberg, Jarno Trulli and Jenson Button. Obvious candidates have to be Valtteri Bottas and Max Verstappen.
Quote unquote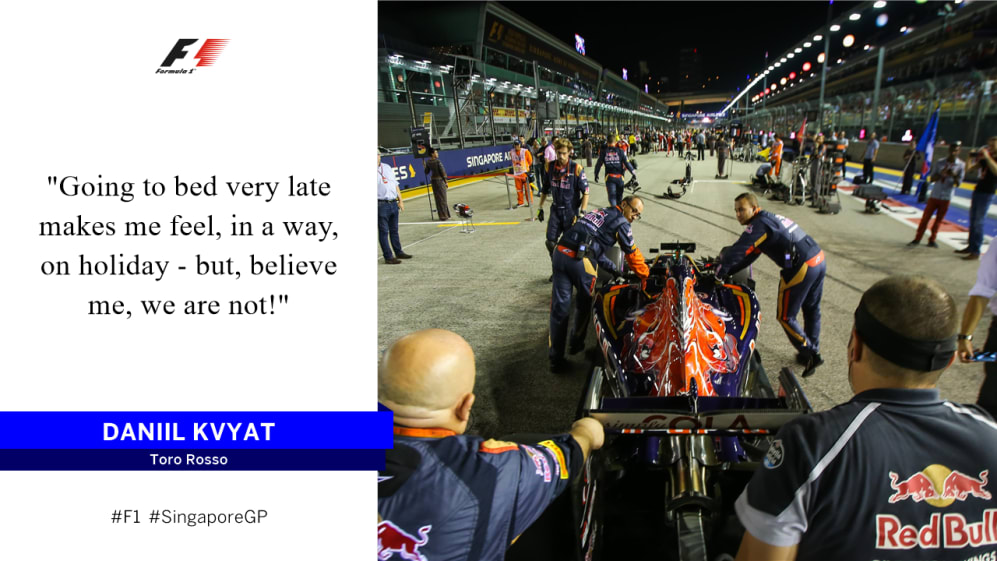 Yet another oddity of the Singapore weekend is that in order to best accommodate the night-race timetable, the whole F1 paddock remains on European time. That means waking up late, in time to get to the circuit mid-afternoon, having dinner at 3 in the morning and heading to bed near dawn – usually in a hotel featuring black-out windows. Daniil Kvyat above is a fan, as is Force India's Esteban Ocon: "It's my favourite weekend schedule – I am someone who sleeps a lot and in Singapore I can get my 12 hours per night!"
Seb looking for lucky seven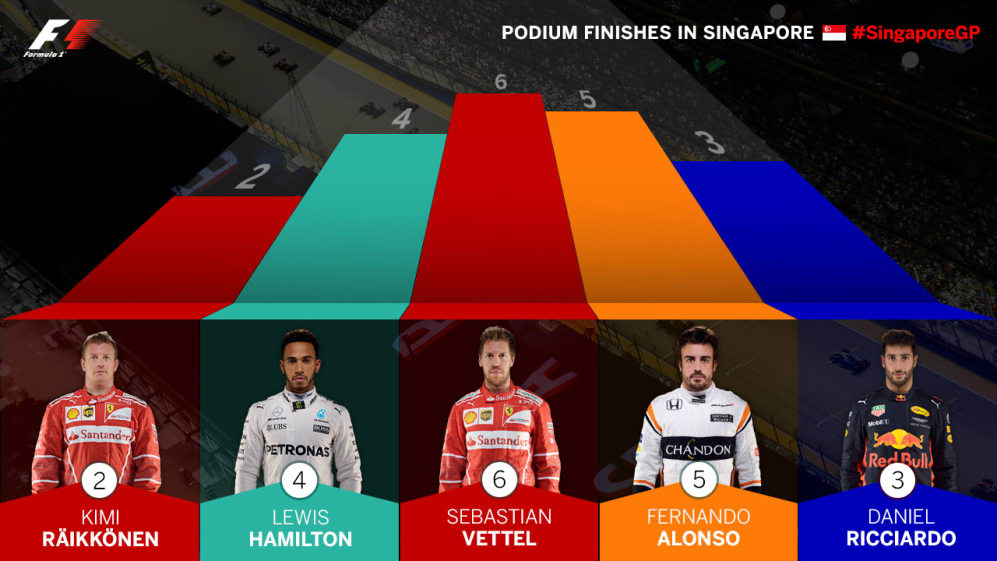 Given his Singapore win count, it's no surprise to see Vettel topping this table. The other 'Mr Consistency' here is Fernando Alonso, who has always excelled on the Marina Bay streets, winning the inaugural race in 2008 and triumphing again in 2010. However, the formbook suggests his rostrum tally will most likely be matched by Lewis Hamilton this weekend. And if someone other than the five men above finishes in the top three, they will become only the tenth driver to have stood atop the Singapore podium, the others being Mark Webber, Jenson Button, Timo Glock and Nico Rosberg.
The big number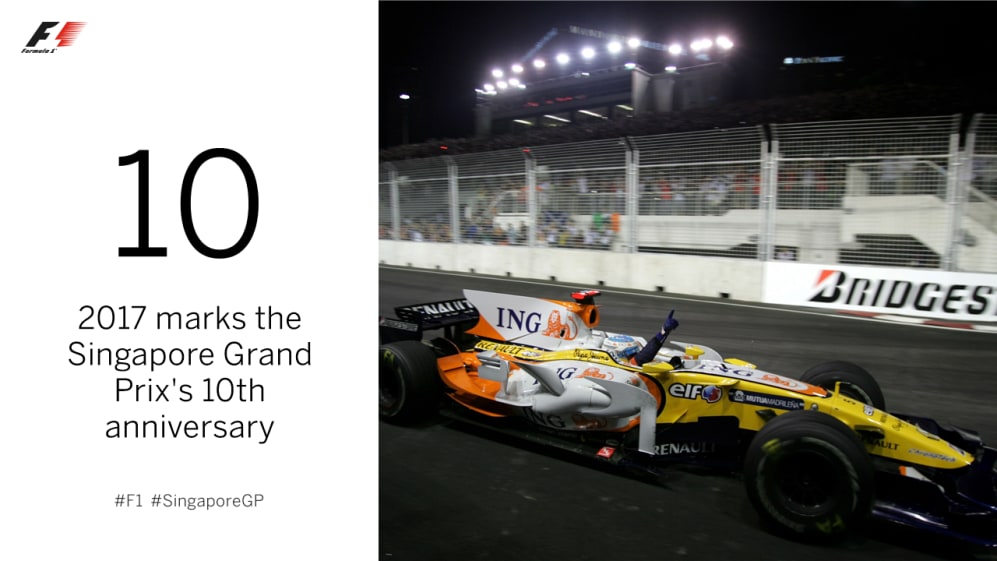 First run in 2008 when Fernando Alonso won after team mate Nelson Piquet's infamous crash, the Marina Bay race – the first F1 championship round staged at night – remains among the most breathtaking spectacles on the calendar. But motor racing isn't new to the city-state – there was a non-championship Singapore Grand Prix on the Thomson Road street circuit between 1961 and '73.
Those all important session times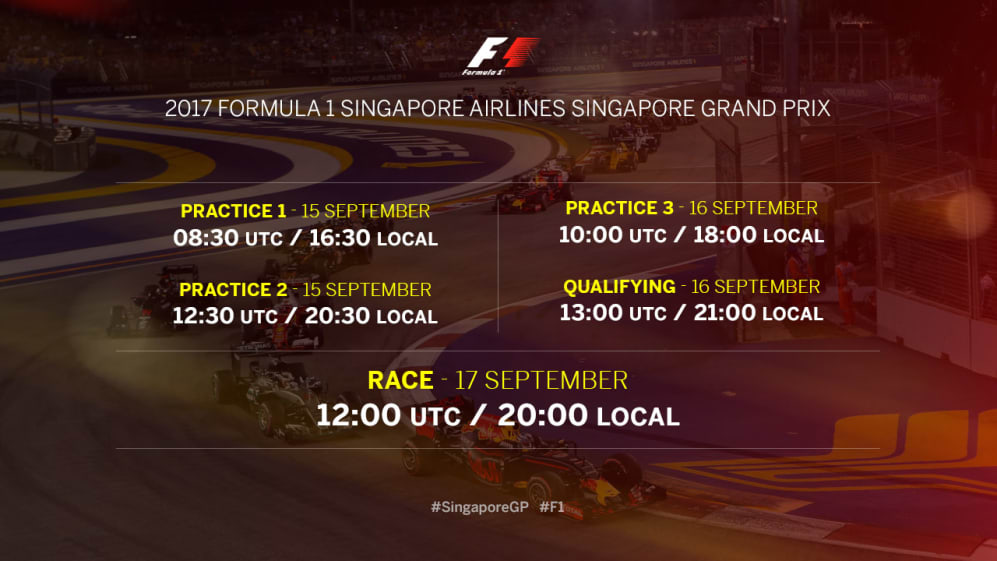 Don't forget, if you are registered with F1® Access (it's free!) you can follow live timing and commentary from Singapore on Formula1.com, or by downloading the Official F1 App. For more details, click here.