Feature
Need to know: USA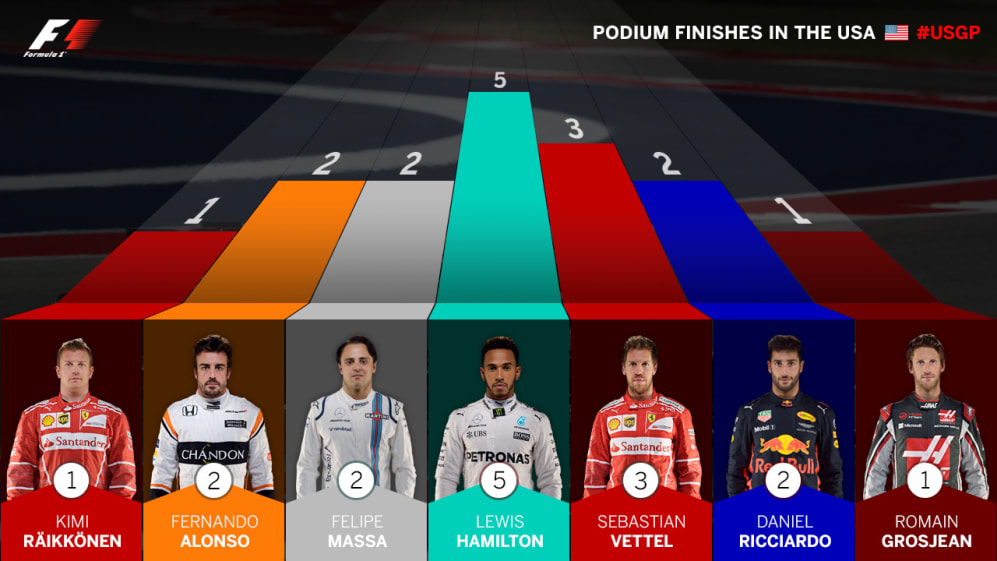 From session times to previous winners, we break down the key facts, stats and information ahead of the 17th round of the season...
Circuit of The Americas: An eclectic masterpiece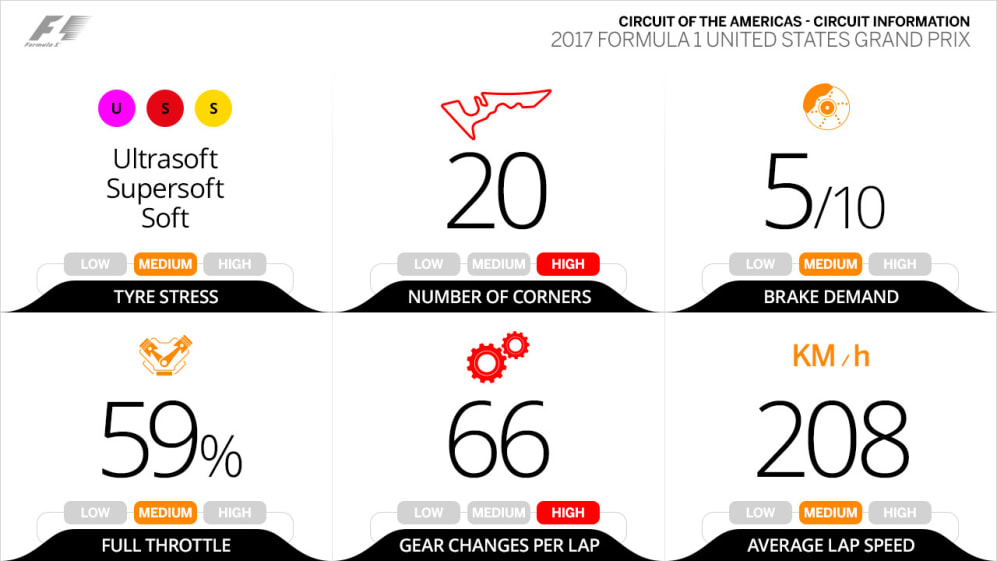 The Circuit of The Americas (COTA) is the 10th US venue to have staged a Grand Prix, but the first purpose-built F1 facility, and has been a regular fixture on the calendar since its 2012 debut. Eclectic is the word for its Hermann Tilke-created layout: it has more fast turns than Spa-Francorchamps and more slow corners than the Hungaroring – a combination that makes the track a huge challenge for both engineers and drivers. The climate also has to be considered: in October it gets quite cold at night, yet the midday sun pushes the thermometer into the high 20s Celsius. This means the temperature swing is extreme, at least in a Formula 1 sense, and that makes it hard to balance the car from one on-track session to the next.
The key corner - Turn 1
From the outset it was clear that with its dramatic gradient change, Turn 1 was always going to become one of Austin's trademark elements – and so it has proved. The apex of this left-hander is the highest point on the lap and the steep uphill approach allows the drivers to brake very late. The corner is blind, requiring precision and commitment, and a good exit is vital because a high-speed section follows. It is also an excellent overtaking opportunity – though we've seen plenty of drivers get it wrong while attempting a pass there...
The United States of Hamilton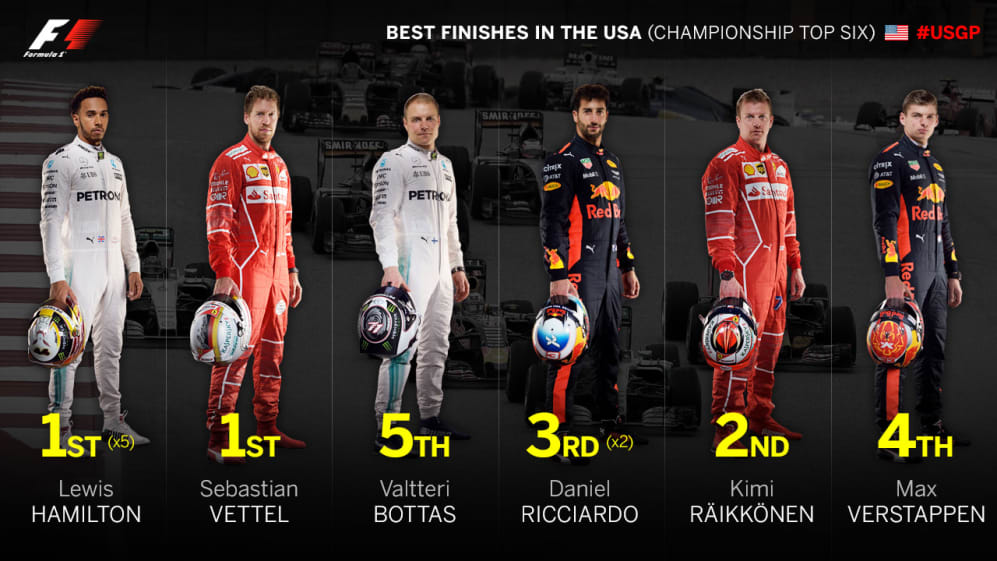 If you follow Lewis Hamilton on social media you will know that he loves the US, and spends a lot of time there. It's perhaps no coincidence then that he has dominated his opposition on American soil, winning no less than five times – no other current driver has more than one victory. He first triumphed at Indianapolis for McLaren in 2007 and has taken the Austin honours for Mercedes the past three years in a row.
Ferrari missing that Texan touch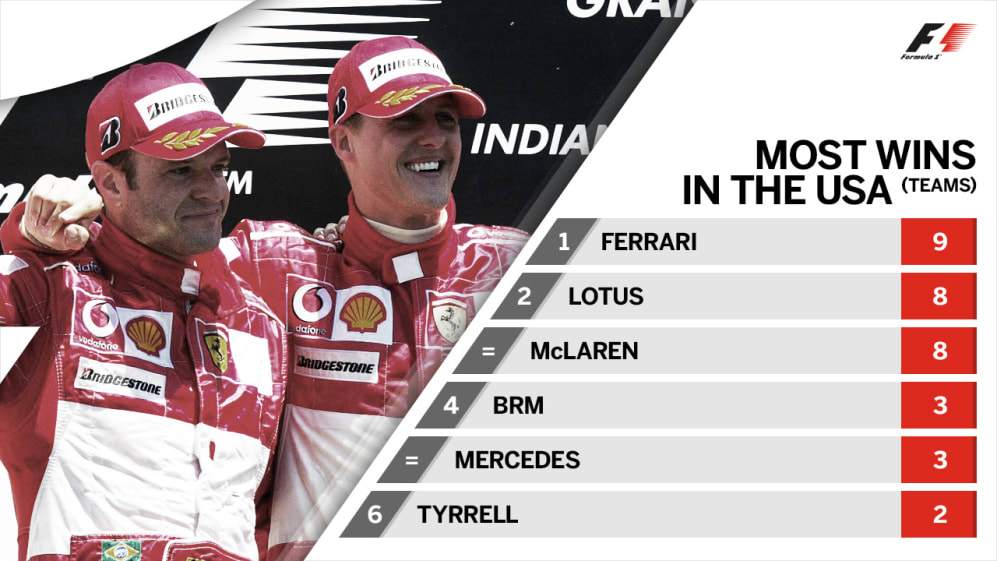 Ferrari might top this table, but it's worth noting that none of their nine US wins have come in Austin. They were the dominant force at Indianapolis at the start of the century, but in Texas they have never bettered the third place they achieved with Fernando Alonso at the inaugural 2012 race. Mercedes have won three of the five Grands Prix to date at the Circuit of The Americas, with Mercedes-powered cars winning four of the five, the other going to the Renault-engined Red Bull of Sebastian Vettel back in 2013.
No matching Michael this year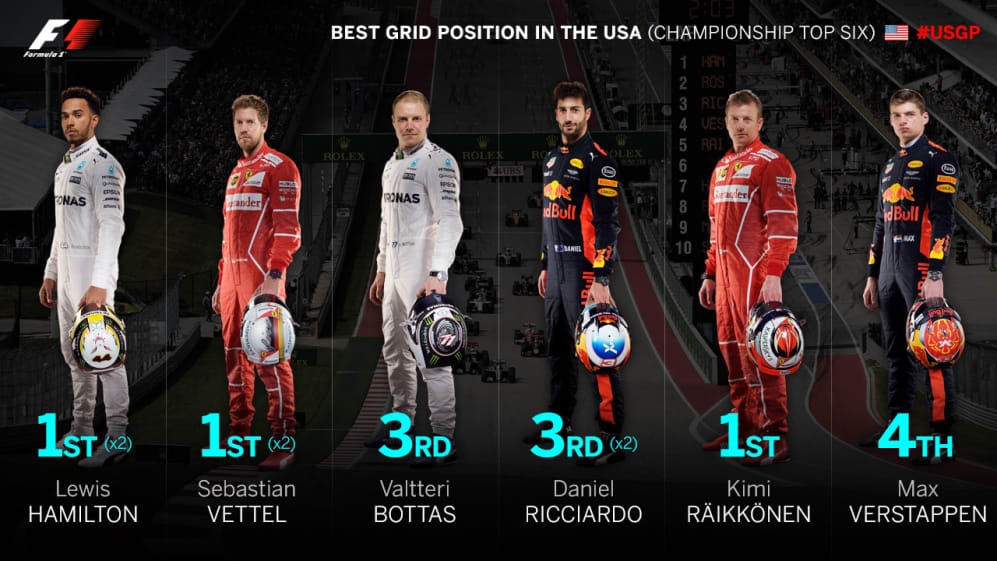 Neither Red Bull driver has ever made the front row in America, whereas three of the four Mercedes and Ferrari drivers have been on pole position (albeit with Kimi Raikkonen's only P1 start coming at Indianapolis). It's a pattern that may well not change this weekend, when Lewis Hamilton and Sebastian Vettel will be slogging it out to become the best current US qualifier, both hunting their third pole here. That would put them level with the late Graham Hill on three, still one shy of Michael Schumacher's outright record of four.
Century, double century, or both?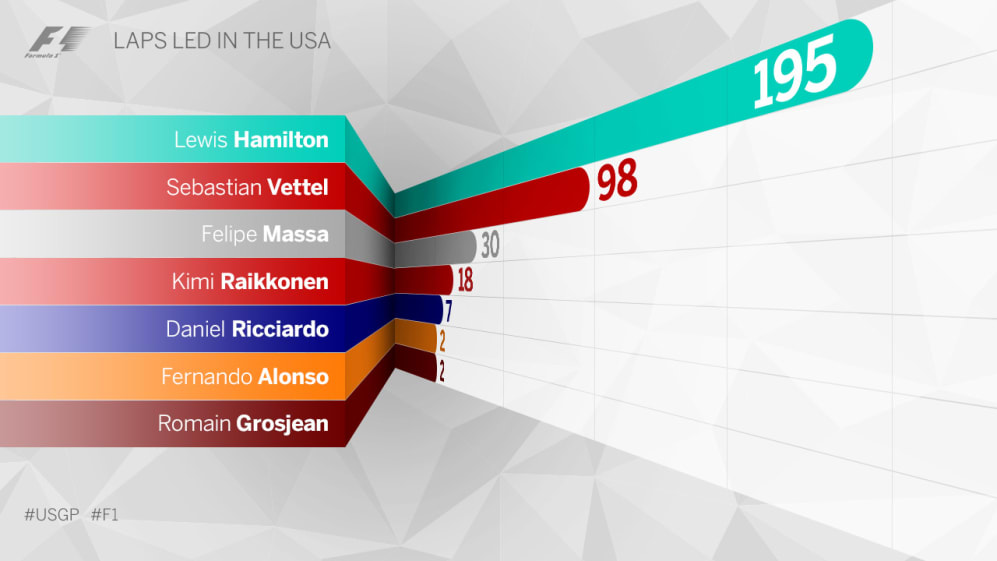 Lewis Hamilton needs to head the field for just five laps on Sunday to hit the magic 200 mark in the US, though even if he reaches that milestone he'll still be 138 down on Michael Schumacher's record. Similarly, just two laps at the front for Vettel would see the German make it to a century of laps led in the States. The two laps Romain Grosjean has led in America, meanwhile, came in 2013 when he was driving for Lotus. He hasn't led a race since.
Quote unquote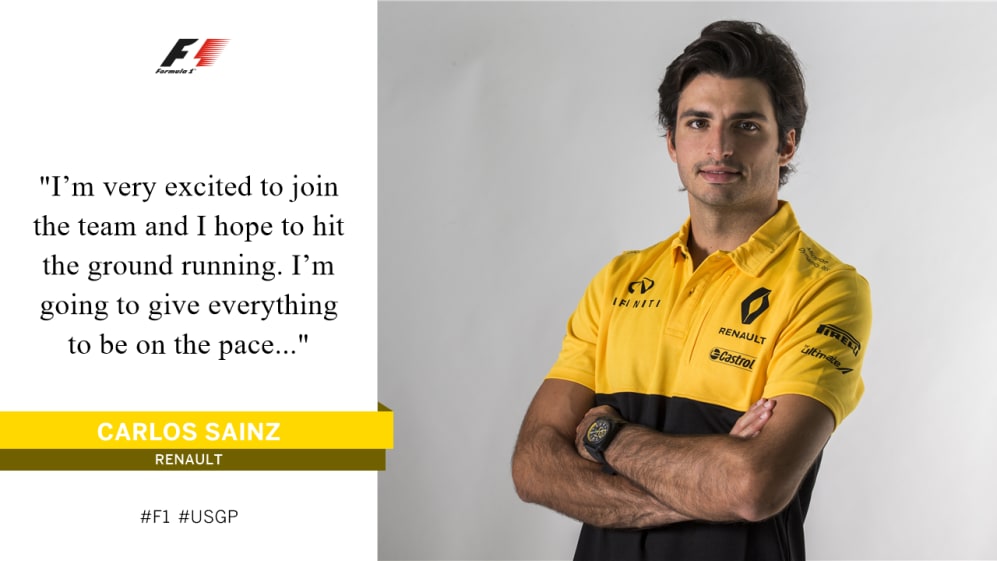 Having grown up watching Fernando Alonso win world championships for Renault, Carlos Sainz makes an early switch to the French manufacturer this weekend, with preparations for 2018 in mind. "It gives us an advantage, says Cyril Abiteboul, Renault Sport Racing's Managing Director, "to use these final four races with Carlos in the car as a transitional period and get him up to speed with the car and the team." Sainz's departure from Toro Rosso, combined with Pierre Gasly's tempeorary return to Japan, Daniil Kvyat's return and Brendon Hartley's arrival (more on which below), mean the Italian team will become the first since Lotus in 1994 to field completely different driver line-ups in two consecutive races.
Edging closer to another record?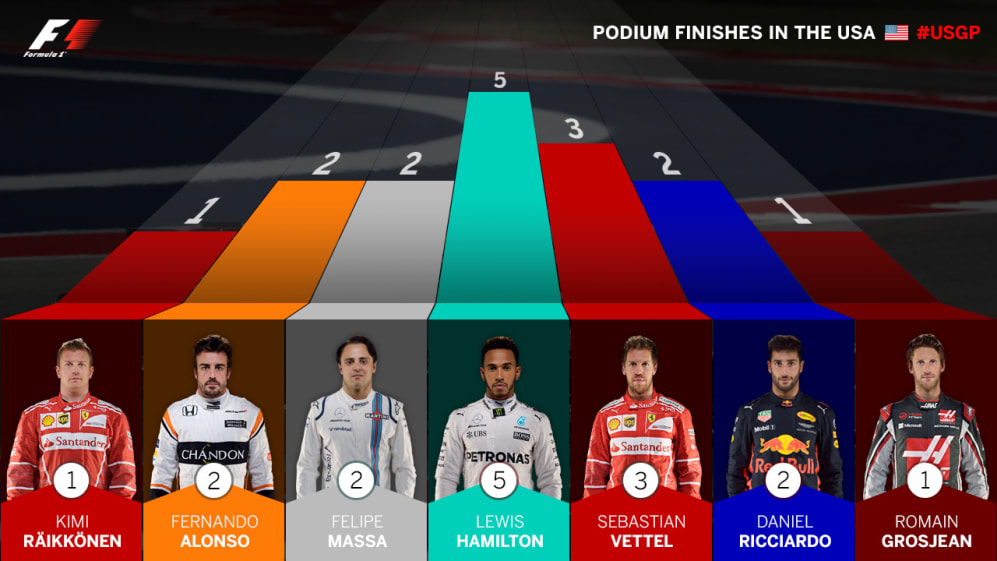 Podiums is another statistic where one more would put Lewis Hamilton level with Graham Hill, on six, and also one short of Michael Schumacher's all-time marker of seven. The more observant among you will have noticed that all five of his rostrum appearances have been wins – in fact only one of his six US Grand Prix appearances has resulted in anything else: a fourth place at Austin in 2013.
The big number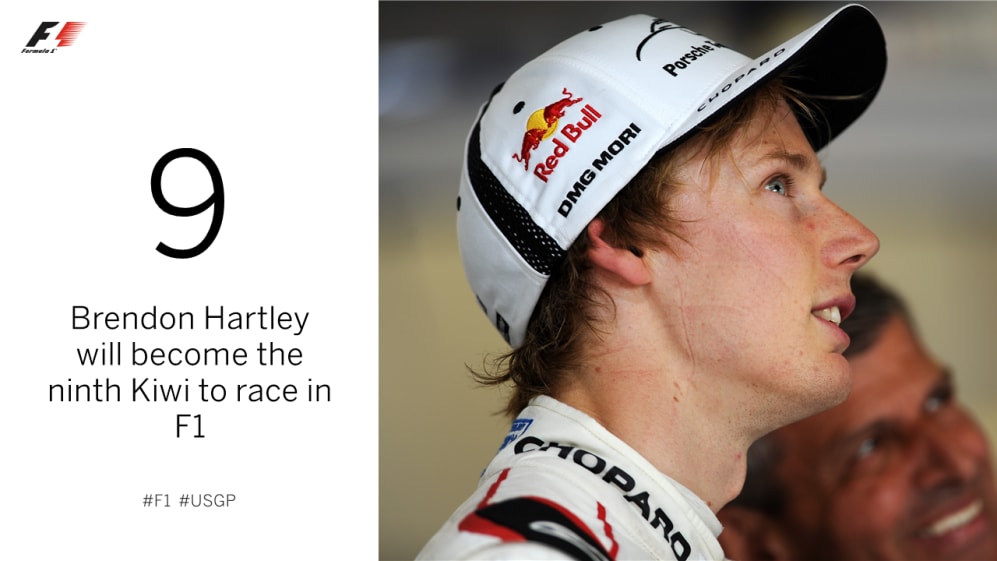 It's 33 years since a New Zealander last started a world championship Grand Prix. Mike Thackwell was 23 when he made his second and final F1 start in Canada in 1984. At 27, Toro Rosso rookie Brendon Hartley is a little older, but comes with a stellar pedrigree. The former Red Bull young driver won this year's Le Mans 24 Hours and, with two races remaining, is odds on favourite to scoop a second World Endurance Championship crown in three years. He'll also be making his debut 50 years on from countryman Denny Hulme's world title success - a lucky omen?
Those all-important session times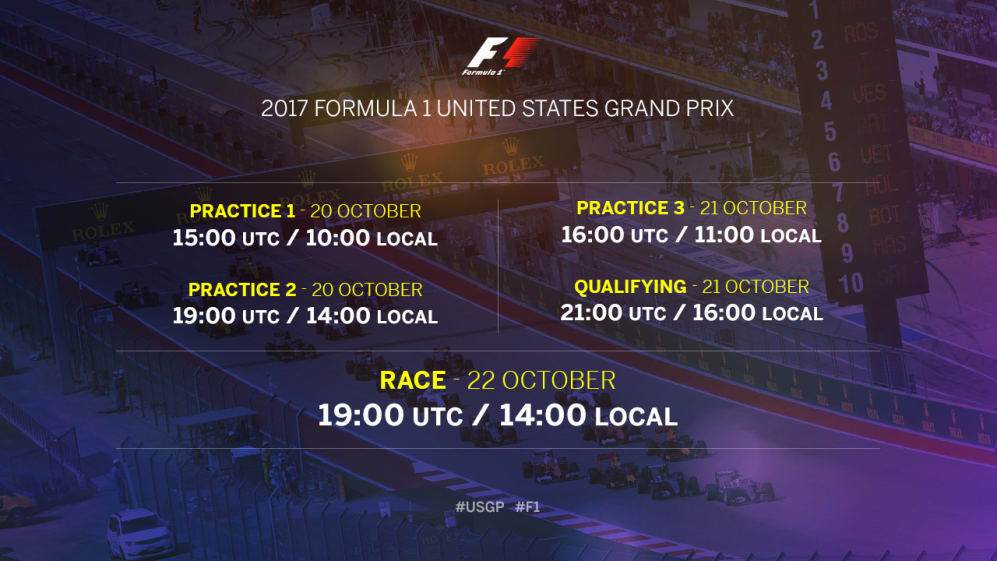 Don't forget, if you are registered with F1® Access (it's free!) you can follow live timing and commentary from the USA on Formula1.com, or by downloading the Official F1 App. For more details, click here.